Zusammenfassung
Hintergrund
Das sagittale Gleichgewicht ist von einem komplexen Zusammenspiel der spinalen Krümmungen, der Beckenform und -einstellung, aber auch von der Position der Gelenke der unteren Extremität abhängig. Degenerative Prozesse, wie die Einsteifung einzelner Wirbelsäulenabschnitte, dem Nachlassen der Muskulatur oder der Verminderung von Bewegungsumfängen der Gelenke, führen nach dem Ausschöpfen aller Kompensationsmechanismen zur Imbalance der Wirbelsäule.
Fragestellung
Ausgehend von einer standardisierten Bildgebung müssen im Rahmen einer biomechanischen Analyse Kompensationsmechanismen identifiziert werden, das ursprüngliche sagittale Wirbelsäulenprofil antizipiert werden und in die Planung des korrigierenden Eingriffs eingerechnet werden.
Ergebnisse
In der vorliegenden Übersichtsarbeit werden die wichtigsten globalen und spinopelvinen Parameter zur biomechanischen Analyse des Wirbelsäulenprofils dargestellt. Darüber hinaus werden Normvarianten des Wirbelsäulenprofils erörtert, Kompensationsmechanismen aufgezeigt und die Planung der sagittalen Rebalancierung des Wirbelsäulenprofils nach dem Full-balance-integrated-Modell dargestellt.
Abstract
Background
Sagittal balance is dependent on a complex interplay of the spinal curves, shape and setting of the pelvis, but also the position of the joints of the lower limb. Degenerative processes such as stiffening of the spine, aging of musculature, or reduction of the range of motion of the joints lead to imbalance of the spine after all compensatory mechanisms have been exhausted.
Objectives
Based on standardized imaging, compensation mechanisms must be identified within a biomechanical analysis of the spine, the original sagittal spine profile anticipated and included in the planning of the corrective intervention.
Results
This review presents the most important global and spinopelvic parameters for the biomechanical analysis of the spine. In addition, normal variations of the sagittal alignment are discussed, compensation mechanisms are shown, and the planning of the rebalancing of the sagittal alignment is shown according to the full balance integrated model.
This is a preview of subscription content, log in to check access.
Access options
Buy single article
Instant access to the full article PDF.
US$ 39.95
Price includes VAT for USA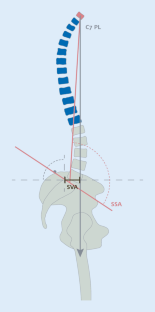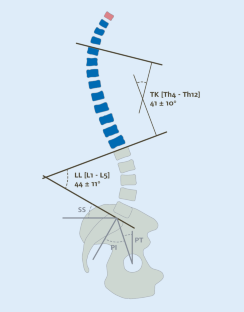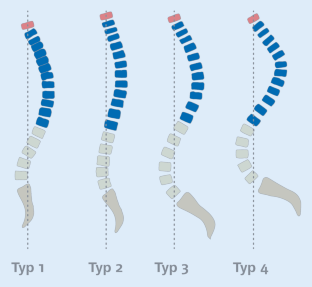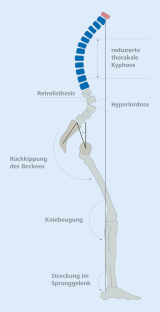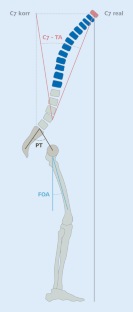 Abbreviations
BWK:

Brustwirbelkörper

CT :

Computertomographie

FBI :

"Full balance integrated"

FOA :

"Femur obliquity angle"

HWK :

Halswirbelkörper

LL :

Lumbale Lordose

LWK :

Lendenwirbelkörper

LWS :

Lendenwirbelsäule

MRT :

Magnetresonanztomographie

PI :

Pelvine Inzidenz

PL :

"Plumb line"

PT :

"Pelvic tilt"

PTCA :

"Pelvis tilt compensation angle"

SS :

"Sacral slope"

SSA:

Spinosakraler Winkel

SVA :

Sagittal-vertikale Achse

SWK :

Sakralwirbelkörper

TA :

"Translation angle"

TK :

Thorakale Kyphose

ZL :

Zervikale Lordose
Literatur
1.

Barrey C, Roussouly P, Perrin G, Le Huec J‑C (2011) Sagittal balance disorders in severe degenerative spine. Can we identify the compensatory mechanisms? Eur Spine J 20:626–633. https://doi.org/10.1007/s00586-011-1930-3

2.

Boulay C, Tardieu C, Hecquet J et al (2006) Sagittal alignment of spine and pelvis regulated by pelvic incidence: standard values and prediction of lordosis. Eur Spine J 15:415–422. https://doi.org/10.1007/s00586-005-0984-5

3.

Cobb JR (1948) American Academy of Orthopaedic Surgeons, ed instructional course lectures

4.

Duval-Beaupère G, Schmidt C, Cosson P (1992) A barycentremetric study of the sagittal shape of spine and pelvis: the conditions required for an economic standing position. Ann Biomed Eng 20:451–462

5.

Glassman SD, Bridwell K, Dimar JR et al (2005) The impact of positive sagittal balance in adult spinal deformity. Spine 30:2024–2029. https://doi.org/10.1097/01.brs.0000179086.30449.96

6.

Huec JC, Leijssen P, Duarte M, Aunoble S (2011) Thoracolumbar imbalance analysis for osteotomy planification using a new method: FBI technique. Eur Spine J 20:669–680. https://doi.org/10.1007/s00586-011-1935-y

7.

Koller H, Zenner J, Ferraris L, Meier O (2009) Sagittale Balance und posttraumatische Fehlstellungen der Brust- und Lendenwirbelsäule. Teil 1. Orthop Unfallchir Up2date 4:277–290. https://doi.org/10.1055/s-0029-1215083

8.

Legaye J, Duval-Beaupère G, Hecquet J, Marty C (1998) Pelvic incidence: a fundamental pelvic parameter for three-dimensional regulation of spinal sagittal curves. Eur Spine J 7:99–103. https://doi.org/10.1007/s005860050038

9.

Mac-Thiong J‑M, Berthonnaud É, Dimar JR et al (2004) Sagittal alignment of the spine and pelvis during growth. Spine 29:1642–1647. https://doi.org/10.1097/01.BRS.0000132312.78469.7B

10.

Mac-Thiong J‑M, Labelle H, Berthonnaud E et al (2007) Sagittal spinopelvic balance in normal children and adolescents. Eur Spine J 16:227–234. https://doi.org/10.1007/s00586-005-0013-8

11.

Morvan G, Mathieu P, Vuillemin V et al (2011) Standardized way for imaging of the sagittal spinal balance. Eur Spine J 20(Suppl 5):602–608. https://doi.org/10.1007/s00586-011-1927-y

12.

Pesce V, Piazzolla A, Moretti L et al (2013) The vertebral biomechanic previous and after kyphoplasty. Aging Clin Exp Res 25:71–74. https://doi.org/10.1007/s40520-013-0073-2

13.

Roussouly P, Gollogly S, Berthonnaud E, Dimnet J (2005) Classification of the normal variation in the sagittal alignment of the human lumbar spine and pelvis in the standing position. Spine 30:346–353. https://doi.org/10.1097/01.brs.0000152379.54463.65

14.

Savage JW, Patel AA (2014) Fixed sagittal plane imbalance. Global Spine J 4:287–296. https://doi.org/10.1055/s-0034-1394126

15.

Schwab F, Lafage V, Boyce R et al (2006) Gravity line analysis in adult volunteers: age-related correlation with spinal parameters, pelvic parameters, and foot position. Spine 31:E959–E967. https://doi.org/10.1097/01.brs.0000248126.96737.0f

16.

Vaz, Roussouly, Berthonnaud, Dimnet (2002) Sagittal morphology and equilibrium of pelvis and spine. Eur Spine J 11:80–87. https://doi.org/10.1007/s005860000224
Ethics declarations
Interessenkonflikt
F. Völlner und J. Grifka geben an, dass kein Interessenkonflikt besteht.
Dieser Beitrag beinhaltet keine von den Autoren durchgeführten Studien an Menschen oder Tieren.
About this article
Cite this article
Völlner, F., Grifka, J. Biomechanische Aspekte der präoperativen Planung: Was ist wirklich wichtig?. Orthopäde 48, 44–49 (2019). https://doi.org/10.1007/s00132-018-03673-7
Schlüsselwörter
Wirbelsäule

Sagittale Balance

Sagittales Alignment

Kompensationsmechanismen

Therapieplanung
Keywords
Spine

Sagittal balance

Sagittal alignment

Compensatory mechanisms

Treatment planning