Zusammenfassung
Viele Fehlbildungen an Hand und Unterarm wie Polydaktylien, Oligodaktylien, Syndaktylien oder Radiusaplasien sind bereits direkt nach der Geburt ersichtlich, und die Neugeborenen werden frühzeitig in entsprechenden Zentren vorstellig. Andererseits werden Orthopäden nicht selten mit Fehlbildungen an Hand und Unterarm konfrontiert, die erst während des Wachstums klinisch auffällig werden. Diese Übersichtsarbeit soll solche typischen Fehlbildungen darstellen, die regelmäßig in der Praxis den Patienten und meist mehr noch die Eltern verunsichern. Neben der entsprechenden Diagnostik und den Differenzialdiagnosen werden die konservativen und operativen Therapieoptionen aufgezeigt.
Abstract
Many congenital malformations of the hand and forearm, e. g. polydactyly, thumb duplication, syndactyly and radial aplasia, are already evident at birth and newborns are promptly referred to specialized departments. In contrast, orthopedic surgeons are often confronted with malformations of the hand and forearm, which gradually become clinically conspicuous during growth. This review article focuses on these specific malformations, which regularly upset the patients in practice and in most cases the parents even more so. In addition to the diagnostics and differential diagnostics, the conservative and surgical treatment options are presented.
This is a preview of subscription content, log in to check access.
Access options
Buy single article
Instant access to the full article PDF.
US$ 39.95
Price includes VAT for USA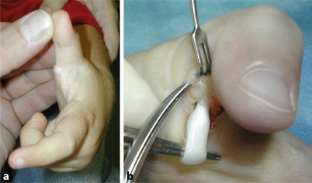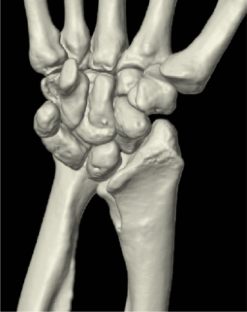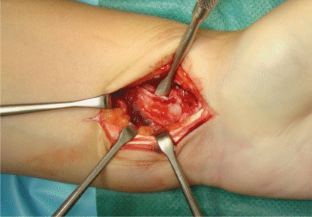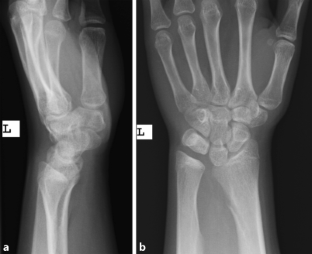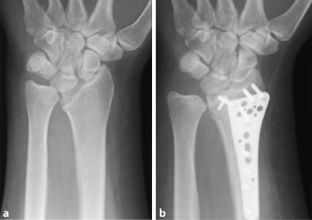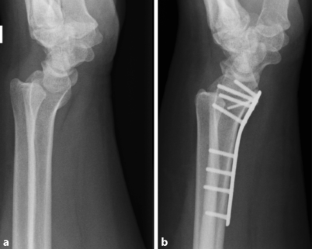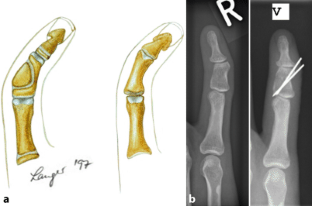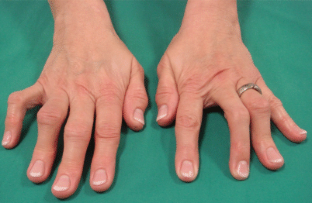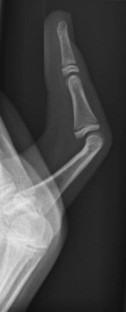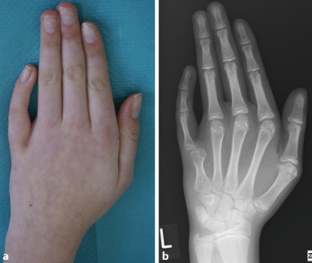 Literatur
1.

Matussek J, Heers G, Hofbauer R, Grifka J (2010) Angeborene skelettale Fehlbildungen in der Kinderorthopädie. Orthop Unfallchir up2date 5:403–408

2.

Hülsemann W, Mann M, Winkler F (2016) Differential diagnoses of trigger thumb. Handchir Mikrochir Plast Chir 48:25–29

3.

Bauer AS, Bae DS (2015) Pediatric trigger digits. J Hand Surg Am 40:2304–2309

4.

Steenwerckx A, De Smet L, Fabry G (1996) Congenital trigger digit. J Hand Surg Am 21:909–911

5.

Farr S, Grill F, Ganger R, Girsch W (2014) Open surgery versus nonoperative treatments for paediatric trigger thumb: a systematic review. J Hand Surg Eur Vol 39:719–726

6.

Würfel A, Hofmann-von Kap-herr S, Schumacher R (1995) Kirner deformity. Klin Padiatr 207(6):356–358

7.

Benatar N (2004) Kirner's deformity treated by distal detachment of the flexor digitorum profundus tendon. Handchir Mikrochir Plast Chir 36:166–169

8.

Lee J, Ahn JK, Choi SH, Koh EM, Cha HS (2010) MRI findings in Kirner deformity: normal insertion of the flexor digitorum profundus tendon without soft-tissue enhancement. Pediatr Radiol 40:1572–1575

9.

Fairbank SM, Rozen WM, Coombs CJ (2015) The pathogenesis of Kirner's deformity: A clinical, radiological and histological study. J Hand Surg Eur Vol 40:633–637

10.

Cheung K, Upton J (2015) Cornelia de Lange syndrome. J Hand Surg Am 40:2501–2503

11.

Hamish L, Smith P (2000) Kirner deformity. In: Gupta A, Kay S, Scheker LR (Hrsg) The growing hand. Mosby, London, S 301–302

12.

Khalid S, Khalid M, Zaheer S, Ahmad I, Ullah E (2012) Kirner's deformity misdiagnosed as fracture: a case report. Oman Med J 27:237–238

13.

Carstam N, Eiken O (1970) Kirner's deformity of the little finger. Case reports and proposed treatment. J Bone Joint Surg Am 52:1663–1665

14.

Kozin SH, Zlotolow DA (2015) Madelung Deformity. J Hand Surg Am 40:2090–2098

15.

Vickers D, Nielsen G (1992) Madelung deformity: surgical prophylaxis (physiolysis) during the late growth period by resection of the dyschondrosteosis lesion. J Hand Surg Br 17:401–407

16.

Spies CK, Hahn P, Leclère FM, Unglaub F (2014) A 15-year-old adolescent presenting both Madelung deformity with Vickers' ligament and additional palmaris profundus muscle. Handchir Mikrochir Plast Chir 46(3):199–201

17.

Pillukat T, Schoonhoven J van (2009) The hemiresection-interposition arthroplasty of the distal radioulnar joint. Oper Orthop Traumatol 21:484–497

18.

Haferkamp H (2012) Kapandji-Sauvé procedure with distal radioulnar fusion and segmental resection of the ulna. Oper Orthop Traumatol 24:13–22

19.

Löw S, Herold A, Eingartner C (2014) Standard wrist arthroscopy: technique and documentation. Oper Orthop Traumatol 26(6):539–46

20.

Kirchberger MC, Unglaub F, Mühldorfer-Fodor M, Pillukat T, Hahn P, Müller LP, Spies CK (2015) Update TFCC: histology and pathology, classification, examination and diagnostics. Arch Orthop Trauma Surg 135(3):427–37

21.

Goldfarb CA, Wall LB (2015) Osteotomy for clinodactyly. J Hand Surg Am 40:1220–1224

22.

Winkler FJ, Mann M, Habenicht R, Hülsemann W (2016) Epiphyseal bar resection for correction of clinodactyly. Handchir Mikrochir Plast Chir 48:41–47

23.

Vickers D (1987) Clinodactyly of the little finger: a simple operative technique for reversal of the growth abnormality. J Hand Surg Br 12:335–342

24.

Frank U, Krimmer H, Hahn P, Lanz U (1997) Surgical therapy of camptodactyly. Handchir Mikrochir Plast Chir 29:284–290

25.

Foucher G, Loréa P, Khouri RK, Medina J, Pivato G (2006) Camptodactyly as a spectrum of congenital deficiencies: a treatment algorithm based on clinical examination. Plast Reconstr Surg 117:1897–1905

26.

Nguyen ML, Jones NF (2009) Undergrowth: brachydactyly. Hand Clin 25:247–255

27.

Matsuno T, Ishida O, Sunagawa T, Ichikawa M, Ikuta Y, Ochi M (2004) Bone lengthening for congenital differences of the hands and digits in children. J Hand Surg Am 29:712–719
Ethics declarations
Interessenkonflikt
F. Unglaub ist regelmäßig als Referent der Firma Medartis, Basel, Schweiz, tätig. M.F. Langer, P. Hahn, L.P. Müller, F. Cakmak und C.K. Spies geben an, dass kein Interessenkonflikt besteht.
Dieser Beitrag beinhaltet keine von den Autoren durchgeführten Studien an Menschen oder Tieren.
Additional information
Redaktion
C. Chiari, Wien
R. von Eisenhart-Rothe, München
H. Gollwitzer, München
J. Grifka, Bad Abbach
M. Jäger, Essen
A. Meurer, Friedrichsheim
CME-Fragebogen
CME-Fragebogen
Was ist hinsichtlich Diagnostik und Therapie beim Pollex rigidus zu beachten?
Er darf nicht mit einer Strecksehnenverletzung des Daumens aufgrund der Streckunfähigkeit des Daumenendglieds verwechselt werden.
Er wird fast immer konservativ therapiert.
Er wird aufgrund der komplizierten Operationstechnik selten operativ behandelt.
Eine Röntgenaufnahme ist obligat.
Bei der operativen Technik wird auf Blutleere verzichtet.
Der Pollex flexus congenitus …
ist eine sehr seltene Fehlbildung.
tritt meist mit Syndromen auf.
hat keine Konsequenz für die motorische Entwicklung des Daumens.
hat eine knöcherne Ursache.
kann durch eine verhältnismäßig einfache Operation therapiert werden.
Was ist bei der Diagnostik der Kirner-Deformität zu beachten?
Sie darf nicht mit einer Fraktur verwechselt werden.
Sie tritt am häufigsten am Daumen auf.
Sie ist gekennzeichnet durch ein Fehlwachstum nach dorsoulnar.
Sie wird meist durch die starken funktionellen Einschränkungen auffällig.
Sie tritt fast nur einseitig auf.
Wie wird die Dystelephalangie therapiert?
In seltenen Fällen durch eine Korrekturosteotomie
Eine Therapie ist immer überflüssig.
Mit frühzeitigen redressierenden Gipsverbänden
Nach Epiphysenfugenschluss sehr gut mit Orthesen
Mit einer operativen Sehnenverlagerung
Was charakterisiert eine Madelung-Deformität?
Ein atypisches radioulnares Band
Eine verstärkte palmare Inklination des Radius
Eine ulnare Deviation aller Finger
Eine Überlänge des Radius
Eine Synostose zwischen Radius und Ulna
Wie würden Sie die Eltern eines 10-jährigen Mädchens mit einem dorsal prominenten Ulnakopf und einer Einschränkung des Handgelenkes hinsichtlich Diagnostik und Therapie bei einer Madelung-Deformität beraten?
Nach dem 30. Lebensjahr sind meist Korrekturosteotomien erforderlich.
Wird entsprechend dem Alter des Patienten und des Wachstumszustandes therapiert
Auf eine Röntgenaufnahme kann verzichtet werden.
Die Diagnose wird mit einer MRT-Aufnahme gestellt.
Eine Operation ist sehr selten erforderlich.
Ein 8‑jähriges Mädchen wird mit einer radialen Deviation beider Kleinfinger vorgestellt. Wie beraten Sie die Eltern?
Es handelt sich am ehesten um eine Kirner-Deformität.
Eine funktionelle Einschränkung besteht fast nie.
Die Deformität ist meist mit Syndromen vergesellschaftet.
Die Deformität ist durch eine Fehlinsertion der oberflächlichen Beugesehne verursacht.
Eine genetische Untersuchung ist unumgänglich.
Eine Klinodaktylie …
wird häufig beim Neugeborenen auffällig.
zeigt häufig eine starke funktionelle Einschränkung.
tritt meist beidseitig auf.
kann zuverlässig nur mit der MRT diagnostiziert werden.
ist eine rein radiologische Diagnose.
Wie stellt sich die Kamptodaktylie radiologisch dar?
Durch eine Überlänge der Ulna
Durch eine Verknöcherung zwischen Radius und Ulna
Durch eine deutliche Hyperextension des Mittelglieds
Durch eine Flexion im PIP-Gelenk mit palmarer Kerbe am Hals der Grundphalanx
Durch eine Verbreiterung der Wachstumsfugen aller Finger
Wie würden Sie ein 12-jähriges Mädchen mit Kamptodaktylie im Stadium 1 nach Frank behandeln?
Mit einer Korrekturosteotomie
Kontrolle und Anleitung zu Dehnungsübungen
Frühzeitige operative Therapie, unabhängig von der Beugestellung des PIP-Gelenks
Redressierenden Gipsverbänden
Sehnentransposition
About this article
Cite this article
Unglaub, F., Langer, M.F., Hahn, P. et al. Fehlbildungen an Hand und Unterarm. Orthopäde 45, 631–642 (2016). https://doi.org/10.1007/s00132-016-3282-5
Schlüsselwörter
Pollex rigidus

Kirner-Deformität

Klinodaktylie

Differenzialdiagnosen

Therapie
Keywords
Trigger thumb

Kirner deformity

Clinodactyly

Differential diagnostics

Therapy