Zusammenfassung
Hintergrund
Veränderungen der Patellaposition (Höhe, Verkippung und Lateralisation) sowie die Patellofemoralarthrose können potentiell das Ergebnis nach Implantation einer unikompartimentellen Knieendoprothese beeinflussen.
Fragestellung
Der Beitrag evaluiert den Einflusses dieser Parameter auf das postoperative klinische Ergebnis.
Material und Methode
Es erfolgt eine Literaturanalyse über PubMed.
Ergebnisse
Es konnten 12 relevante Studien (3 über Patellahöhe, 2 über Verkippung und Lateralisation, 7 über Patellofemoralarthrose) identifiziert werden. Bezüglich der Patellahöhe zeigten 2 von 3 Studien eine postoperative Reduktion der Patellahöhe. Hinsichtlich der Patellaverkippung und -lateralisation konnte lediglich eine der beiden Studien die postoperative Patellalateralisation als Einflussparameter für ein schlechtes klinisches Ergebnis identifizieren. Die radiologisch manifeste Patellofemoralarthrose hat keinen Einfluss auf das funktionelle Ergebnis nach Schlittenprothesenimplantation, es sei denn, die laterale Patellafacette ist isoliert betroffen. Ein präoperativ bestehender vorderer Knieschmerz beeinflusst die postoperative Kniegelenkfunktion nicht.
Schlussfolgerungen
Die vorliegende Literaturlage erlaubt keine sicheren Aussagen über den Einfluss der Patellaposition auf das funktionelle Ergebnis nach unikompartimentellem Kniegelenkersatz. Bei korrekter Patientenselektion können trotz Patellofemoralarthrose gute Ergebnisse erreicht werden.
Abstract
Background
Changes of patellar position (height, tilt, and shift) and arthritis of the patellofemoral joint might potentially influence outcome after unicompartmental knee replacement.
Objectives
The purpose of this work is to evaluate the influence of the aforementioned parameters on postoperative outcome.
Methods
Literature analysis via PubMed.
Results
A total of 12 relevant studies (three about Patellar height, two about patellar tilt and shift, seven about patellofemoral osteoarthritis) could be identified. Regarding Patellar height, two out of three studies demonstrated a postoperative decrease. With regard to patellar tilt and shift, only one study identified postoperative lateralization of the patella to be a predictor for poor outcome. The radiological appearance of arthritis of the patellofemoral joint does not significantly influence postoperative knee function except for cases where only the lateral patellar facet is affected. Anterior knee pain has no influence on clinical outcome.
Conclusion
Literature data do not allow for a precise statement about the possible influence of patellar position on the outcome after unicompartmental knee replacement. With proper patient selection, good results can be achieved despite patellofemoral osteoarthritis.
This is a preview of subscription content, log in to check access.
Access options
Buy single article
Instant access to the full article PDF.
US$ 39.95
Price includes VAT for USA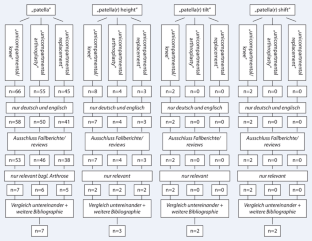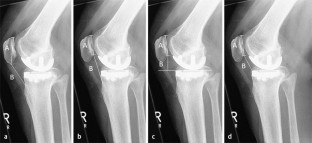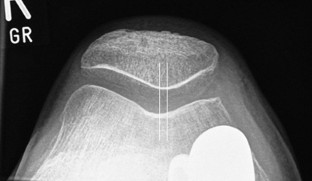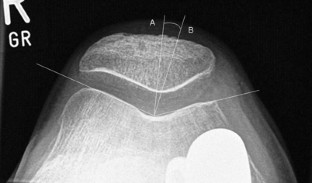 Literatur
1.

Aglietti P, Buzzi R, Gaudenzi A (1988) Patello-femoral functional results and complications with the posterior-stabilized total condylar knee prosthesis. J Arthroplasty 3:17–25

2.

Anagnostakos K, Lorbach O, Kohn D (2012) Patella baja after unicompartmental knee arthroplasty. Knee Surg Sports Traumatol Arthrosc 20:1456–1462

3.

Anglin C, Ho KC, Briard JL, de Lambilly C, Plaskos C, Nodwell E, Stindel E (2008) In vivo patellar kinematics during total knee arthroplasty. Comput Aided Surg 13:377–391

4.

Antoniou J, Hadjipavlou A, Enker P, Antoniou A (1996) Unicompartmental knee arthroplasty with patelloplasty. Int Orthop 20:94–99

5.

Beard DJ, Pandit H, Gill HS, Hollinghurst Dodd CA, Murray DW (2007) The influence of the presence and severity of pre-existing patellofemoral degenerative changes on the outcome of the Oxford medial unicompartmental knee replacement. J Bone Joint Surg Br 89:1597–1601

6.

Beard DJ, Pandit H, Ostlere S, Jenkins C, Dodd CA, Murray DW (2007) Pre-operative clinical and radiological assessment of the patellofemoral joint in unicompartmental knee replacement and its influence on the outcome. J Bone Joint Surg Br 89:1602–1607

7.

Berger RA, Meneghini RM, Sheinkop MB, Della Valle CJ, Jacobs JJ, Rosenberg AG, Galante JO (2004) The progression of patellofemoral arthrosis after medial unicompartmental replacement: results at 11 to 15 years. Clin Orthop Relat Res 428:92–99

8.

Blackburne JS, Peel TE (1977) A new method of measuring Patellar height. J Bone Joint Surg Br 59:241–242

9.

Caton J, Deschamps G, Chambat P, Lerat JL, Dejour H (1982) Patella infera: apropos 128 cases. Rev Chir Orthop Reparatrice Appar Mot 68:317–325

10.

Chinzei N, Ishida K, Matsumoto T, Kuroda Y, Kitagawa A, Kuroda R, Akisue T, Nishida K, Kurosaka M, Tsumura N (2013) Evaluation of patellofemoral joint in ADVANCE® Medial-pivot total knee arthroplasty. Int Orthop 38:509-15

11.

Fern ED, Winson IG, Getty CJM (1992) Anterior knee pain in rheumatoid patients after total knee replacement: possible selection criteria for patellar resurfacing. J Bone Joint Surg Br 74:745–748

12.

Goodfellow J, O' Conner J (1986) Clinical results of the Oxford knee surface arthroplasty of the tibiofemoral joint with meniscal bearing prosthesis. Clin Orthop Relat Res 205:21–42

13.

Grelsamer RP, Meadows S (1992) The modified Insall-Salvati-ratio for Patellar height. Clin Orthop Relat Res 280:170–176

14.

Hauptmann SM, Kreul U, Mazoochian F, V Schulze-Pellengahr C, Jansson V, Müller PE (2005) Influence of patellofemoral osteoarthritis on functional outcome after unicondylar knee arthroplasty. Orthopade 34:1088, 1090–1093

15.

Insall J, Salvati E (1971) Patella position in the normal knee joint. Radiology 101:101–104

16.

Kong CG, Cho CM, Suhl KH, Kim MU, In Y (2012) Patellar tracking after total knee arthroplasty performed without lateral release. Knee 19:692–695

17.

Kozinn S, Scott R (1989) Unicondylar knee arthroplasty. J Bone Joint Surg Am 71:145–150

18.

Lemon M, Packham I, Narang K, Craig DM (2007) Patellar tendon length after knee arthroplasty with and without preservation of the infrapatellar fat pad. J Arthroplasty 22:574–580

19.

Merchant AC, Mercer RL, Jacobsen RH, Cool CR (1974) Ronetgenographic analysis of patellofemoral congruence. J Bone Joint Surg Am 56:1391–1396

20.

Miyagi T, Matsuda S, Miura H, Nagamine R, Urabe K, Inoue S, Iwamoto Y (2002) Changes in patellar tracking after total knee arthroplasty: 10-year follow-up of Miller-Galante I knees. Orthopedics 25:811–813

21.

Munk S, Odgaard A, Madsen F, Dalsgaard J, Jorn LP, Langhoff O, Jepsen CF, Hansen TB (2011) Preoperative lateral subluxation of the patella is a predictor of poor early outcome of Oxford phase-III medial unicompartmental knee arthroplasty. Acta Orthop 82:582–588

22.

Naal FD, Neuerburg C, von Knoch F, Salzmann GM, Kriner M, Munzinger U (2009) Patellar height before and after unicompartmental knee arthroplasty: association with early clinical outcome? Arch Orthop Trauma Surg 129:541–547

23.

Pandit H, Jenkins C, Gill HS, Barker K, Dodd CAF, Murray DW (2011) Minimally invasive Oxford phase 3 unicompartmental knee replacement. Results of 1000 cases. J Bone Joint Surg Br 93:198–204

24.

Price AJ, Oppold PT, Murray DW, Zavatsky AB (2006) Simultaneous in vitro measurement of patellofemoral kinematics and forces following Oxford medial unicompartmental knee replacement. J Bone Joint Surg Br 88:1591–1595

25.

Schröter S, Lobenhoffer P, Mueller J, Ihle C, Stöckle U, Albrecht D (2012) Changes of the patella position after closed and open wedhe high tibial osteotomy: review of the literature. Orthopade 41:186, 188–194

26.

Scuderi GR, Windsor RE, Insall JN (1989) Obsevations on Patellar height after proximal tibial osteotomy. J Bone Joint Surg Am 71:245–248

27.

Seyler TM, Mont MA, Lai LP, Xie J, Marker DR, Zywiel MG, Bonutti PM (2009) Mid-term results and factors affecting the outcome of a metal-backed unicompartmental knee design: a case series. J Orthop Surg Res 4:39

28.

Shin HN, Shih LY, Wong Y, Hsu RW (2004) Long-term changes of the nonresurfaced patella after total knee arthroplasty. J Bone Joint Surg Am 86:935–939

29.

Stern SH, Becker MW, Insall JN (1993) Unicondylar knee arthroplasty: an evaluation of selection criteria. Clin Orthop Relat Res 286:143–148

30.

Tigani D, Ferrari D, Trentani P, Barbanti-Brodano G, Trentani F (2001) Patellar height after high tibial osteotomy. Int Orthop 24:331–333

31.

Tria AJ Jr., Alicea JA, Cody RP (1994) Patella baja in anterior cruciate ligament reconstruction of the knee. Clin Orthop Relat Res 299:229–234

32.

Weale AE, Murray DW, Newman JH, Ackroyd CE (1999) The length of the patellar tendon after unicompartmental and total knee replacement. J Bone Joint Surg Br 81:790–795
Einhaltung ethischer Richtlinien
Interessenskonflikt
K. Anagnostakos, O. Lorbach, D. Kohn, P. Orth geben an, dass kein Interessenkonflikt besteht.
Dieser Beitrag beinhaltet keine Studien an Menschen oder Tieren.
About this article
Cite this article
Anagnostakos, K., Lorbach, O., Kohn, D. et al. Patellaposition und Patellofemoralarthrose nach unikompartimentellem Kniegelenkersatz. Orthopäde 43, 891–897 (2014). https://doi.org/10.1007/s00132-014-3004-9
Schlüsselwörter
Patellahöhe

Patellalateralisation

Patellaverkippung

Patellofemoralarthrose

Unikompartimenteller Kniegelenkersatz
Keywords
Patellar height

Patellar tilt

Patellar shift

Patellofemoral arthritis

Unicompartmental knee replacement