Zusammenfassung
Hintergrund
Bei insgesamt steigender Zahl implantierter Schulterendoprothesen nach Trauma oder Omarthrose in den vergangenen Jahren ist in Zukunft mit einem vermehrten Auftreten periprothetischer Humerusfrakturen zu rechnen.
Fragestellung
Für Frakturen Typ B nach Worland empfiehlt die aktuelle Literatur eindeutig die operative Versorgung mit winkelstabiler Plattenosteosynthese oder langstieliger, zementierter Revisionsendoprothese.
Im Rahmen dieser Arbeit soll an einer Kasuistik das klinische und radiologische Ergebnis einer konservativ ausbehandelten periprothetischen Humerusfraktur (Typ B nach Wright, Typ B2 nach Worland) nach 19 Monaten vorgestellt und die aktuelle Literatur diskutiert werden.
Material und Methode
Bei einer 70-jährigen Patientin wurde eine periprothetische Humerusfraktur bei liegender Frakturendoprothese (Typ B nach Wright) diagnostiziert. Die operative Versorgung mit einer winkelstabilen Plattenosteosynthese sowie alternativ eine konservative Therapie im angefertigten Brace wurden mit der Patientin besprochen. Die Patientin entschied sich zur konservativen Therapie mit regelmäßigen radiologischen Verlaufskontrollen.
Ergebnisse
Die konservative Therapie periprothetischer Humerusfrakturen Typ B2 nach Worland mithilfe einer Retention im Oberarmbrace kann zu ausgezeichneten radiologischen und funktionellen Ergebnissen führen.
Abstract
Background
Due to the increasing number of implanted shoulder prostheses following trauma or omarthritis in the recent past, an increase in the occurrence of periprosthetic humeral fractures is to be expected in the future.
Problem
For type B fractures according to Worland the current literature clearly recommends operative treatment with fixed angle plate osteosynthesis or a long-stemmed cement-free revision endoprosthesis. This article presents a case study on the clinical and radiological results of a conservatively treated periprosthetic humeral fracture (Wright type B or type B2 according to Worland) and a discussion of the current literature.
Material and methods
A 70-year-old woman was diagnosed with a periprosthetic humeral fracture with an enclosed fracture endoprosthesis (Wright type B). The operative treatment with fixed angle plate osteosynthesis and the alternative conservative therapy with a brace construct were discussed with the patient. The patient decided on the conservative therapy with regular radiological course control.
Results
The conservative therapy of periprosthetic type B2 humeral fractures according to Worland using retention in an upper arm brace can lead to excellent radiological and functional results
This is a preview of subscription content, log in to check access.
Access options
Buy single article
Instant access to the full article PDF.
US$ 39.95
Price includes VAT for USA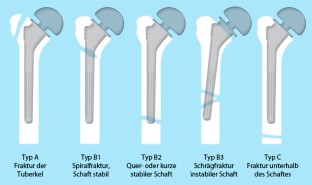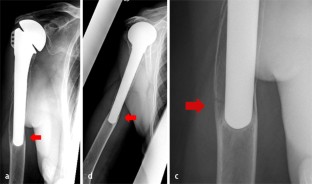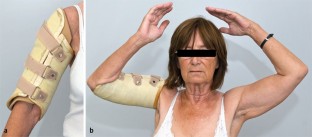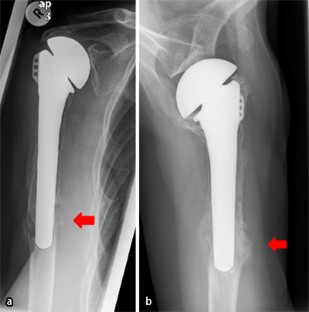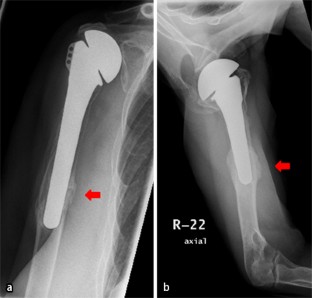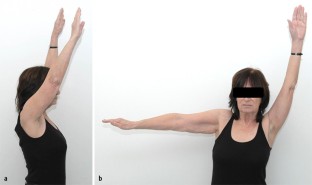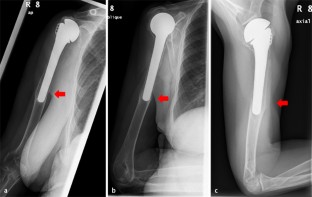 Literatur
1.

Kumar S, Sperling JW, Haidukewych GH, Cofield RH (2004) Periprosthetic humeral fractures after shoulder arthroplasty. J Bone Joint Surg [Am] 86A:680–689

2.

Wright TW, Cofield RH (1995) Humeral fractures after shoulder arthroplasty. J Bone Joint Surg [Am] 77:1340–1346

3.

Wolf H, Pajenda G, Sarahrudi J (2011) Analysis of factors predicting success and failure of treatment after type B periprosthetic humeral fractures: a case series study. Eur J Trauma Emerg Surg 38:177–183

4.

Greiner S, Stein V, Scheibel M (2011) Periprosthetic humeral fractures after shoulder and elbow arthroplasty. Acta Chir Orthop Traumatol Cech 78:490–500

5.

Worland RL, Kim DY, Arredondo J (1999) Periprosthetic humeral fractures: management and classification. J Shoulder Elbow Surg 8:590–594

6.

Campbell JT, Moore RS, Iannotti JP et al (1998) Periprosthetic humeral fractures: mechanisms of fracture and treatment options. J Shoulder Elbow Surg 7:406–413

7.

Aldinger PR, Raiss P, Rickert M, Loew M (2010) Complications in shoulder arthroplasty: an analysis of 485 cases. Int Orthop 34:517–524

8.

Wolf H, Pajenda G, Sarahrudi K (2012) Analysis of factors predicting success and failure of treatment after type B periprosthetic humeral fractures: a case series study. Eur J Trauma Emerg Surg 38:177–183

9.

Trapp OM, Bühren V (2011) Implantatassoziierte Frakturen. Behandlungsoptionen am Humerus. Trauma Berufskrankh 13:133–140

10.

Lill H, Hepp P, Rose T et al (2004) Mennen clamp-on plate fixation of periprosthetic fractures of the humerus after shoulder arthroplasty – a report on 3 patients. Acta Orthop Scand 75:772–774

11.

Wutzler S, Laurer HL, Huhnstock S et al (2009) Periprosthetic humeral fractures after shoulder arthroplasty: operative management and functional outcome. Arch Orthop Trauma Surg 129:237–243

12.

Stöckle U, Ochs BG, Albrecht D (2012) Periprothetische Frakturen bei Schulterendoprothese. Trauma Berufskrankh 14:196–200

13.

Mahabier KC, Vogels LMM, Punt BJ et al (2012) Humeral shaft fractures: retrospective results of non-operative and operative treatment of 186 patients. http://dx.doi.org/10.1016/j.injury.2012.08.003

14.

Stange R, Raschke MJ, Fuchs T (2011) Periprothetische Frakturen. Eine interdisziplinäre Herausforderung. Unfallchirurg 114:688–696

15.

Durchholz H, Moro F, Flury M (2011) Periprothetische Humerusfraktur bei Schultertotalprothese – Osteosynthese mit Attachement Plate. In: Meyer R-P, Moro F, Schwyzer, H-K, Simmen BR (Hrsg) Traumatologie am Schultergürtel. Springer, Berlin Heidelberg New York, S 227–232

16.

Buck FM, Jost B, Hodler J (2008) Shoulder arthroplasty. Eur Radiol 18:2937–2948

17.

Groh G, Heckmann M, Curtis R et al (1994) Treatment of fractures adjacent to humeral prosthesis. Annual Meeting of the American Acadamy of Orthopaedic Surgeons. New Orleans

18.

Gohlke F, Rolf O (2007) Wechsel fehlgeschlagener Frakturprothesen auf inverse Revisionsimplantate über den transhumeralen Zugang. Oper Orthop Traumatol 19:185–208

19.

Kim DH, Clavert P, Warner JJP (2005) Displaced periprosthetic humeral fracture treated with functional bracing: a report oft two cases. J Shoulder Elbow Surg 14:221–223

20.

Woon CY (2010) Cutaneous complications of functional bracing of the humerus. J Bone Joint Surg [Am] 92:1786–1789

21.

Krakauer JD, Cofield RH (1994) Periprosthetic fractures in total shoulder replacement. Oper Tech Orthop 4:243–252

22.

Carroll EA, Lorich DG, Helfet DL (2009) Surgical management of a periprosthetic fracture between a total elbow and total shoulder prostheses: a case report. J Shoulder Elbow Surg 18:9–12

23.

Dehghan N, Chehade M, McKee MD (2011) Current perspectives in the treatment of periprsthetic upper extremity fractures. J Orthop Trauma 25:71–76
Danksagung
Wir bedanken uns bei Herrn Gandyra (Fotostelle der Universitätsklinik Halle) für die graphische Darstellung der Klassifikation periprothetischer Humerusfrakturen nach Worland.
Einhaltung ethischer Richtlinien
Interessenkonflikt. D. Adler und H. Siekmann geben an, dass kein Interessenkonflikt besteht. Dieser Beitrag beinhaltet keine Studien an Menschen oder Tieren.
About this article
Cite this article
Adler, D., Siekmann , H. Konservative Therapie mit einem Brace bei periprothetischer Humerusfraktur. Orthopäde 43, 575–581 (2014). https://doi.org/10.1007/s00132-014-2312-4
Schlüsselwörter
Schulterendoprothetik

Frakturendoprothese

Klassifikation

Risikofaktoren

Verlaufskontrollen
Keywords
Shoulder arthroplasty

Fracture arthroplasty

Classification

Risk factors

Follow-up