Zusammenfassung
Fragestellung
In einer randomisierten klinischen Studie sollte geprüft werden, ob die Anwendung einer wassergefilterten Infrarot-A-Strahlung zur milden Ganzkörperhyperthermie in Kombination mit einer 2-wöchigen stationären multimodal orientierten Schmerztherapie bei Patienten mit chronischen unspezifischen lumbalen Rückenschmerzen mit Röntgen- und/oder MR-morphologisch nachgewiesenen degenerativen Veränderungen der Lendenwirbelsäule eine höhere Wirksamkeit zeigt als die alleinige multimodal orientierte Schmerztherapie.
Material und Methode
Es wurden 88 Patienten randomisiert einer Kombination aus stationärer multimodal orientierter Schmerztherapie und milder Ganzkörperhyperthermie vs. einer alleinigen multimodal orientierten Schmerztherapie zugeordnet. Als Einschlusskriterium zeigten alle Patienten lumbale Rückenschmerzen mit nachgewiesenen morphologischen degenerativen Veränderungen der Lendenwirbelsäule. In einer 12-tägigen stationären multimodal orientierten Schmerztherapie wurden bei 44 Patienten 6 Sitzungen der milden Ganzkörperhyperthermie über jeweils 60 min integriert, bei weiteren 44 Patienten wurde nur eine multimodal orientierte Therapie durchgeführt. Bei stationärer Aufnahme, bei Entlassung sowie 3 Monate danach wurde der patientenbezogene Nutzen mittels Fragebögen quantifiziert. Als primärer klinischer Endpunkt der Untersuchung wurde der 3-monatige Verlauf im Oswestry-Index (Oswestry Low Back Pain Disability Questionnaire) in Prozent festgelegt. Die Stichproben zeigten ein medianes Alter von jeweils 50 Jahren. Die Interventionsgruppe wies jedoch mit 70 vs. 55 % einen merklich höheren Anteil weiblicher Patienten als die Kontrollgruppe auf. Auch der Anteil mindestens halbtägig Erwerbstätiger war mit 56 vs. 43 % in der Interventionsgruppe höher ausgeprägt. Bezüglich dem medianem Body Mass Index und Anteil alleine lebender Patienten zeigten sich keine tendenziellen Unterschiede zwischen den Stichproben.
Ergebnisse
Es ergab sich ein zum Niveau 5 % signifikanter Unterschied zwischen den Stichproben im primären Endpunkt "3-monatige intraindividuelle Änderung des Oswestry-Index" (Wilcoxon p = 0,050). Die Interventionsgruppe zeigte einen medianen Anstieg des Index um + 6 % (Quartilspanne 0±13 %) gegenüber einer medianen Änderung um 0 % (− 6± 8 %) in der Kontrollgruppe. Dabei stieg der Oswestry-Index in der Interventionsgruppe von im Median 60 % vor auf im Median 66 % 3 Monate nach Therapiebeginn, in der Kontrollgruppe betrug er vor und 3 Monate nach Therapiebeginn jeweils im Median 64 %.
Schlussfolgerung
Im primären Endpunkt der Untersuchung – der 3-monatigen Änderung des Oswestry-Index – zeigte sich ein statistisch sicherbarer Nutzen durch eine im Rahmen einer multimodal orientierten stationären Schmerztherapie verabreichten Ganzkörperhyperthermietherapie. Mit medianen Anstiegen von 6 vs. 0 % in der Interventions- und Kontrollgruppe muss jedoch der klinische Nutzen des gesamten zugrunde liegenden multimodalen Therapiekonzepts bei Anwendung auf Patienten mit chronischen unspezifischen lumbalen Rückenschmerzen mit gesicherten morphologischen degenerativen Veränderungen kritisch diskutiert werden, unabhängig von dessen Kombination mit einer milden Ganzkörperhyperthermietherapie.
Abstract
Purpose
A randomized controlled clinical trial was implemented to evaluate the effectiveness of combined mild hyperthermia therapy (body core temperature 38.4 °C) and multimodal inpatient rehabilitation for patients suffering from chronic low back pain when compared to multimodal pain therapy alone.
Patients and methods
A total of 88 patients were randomly assigned to the combined or single therapeutic schemes according to a block randomization scheme. According to the trial inclusion criteria all patients suffered from chronic low back pain and showed morphological degeneration. All patients underwent a 12-day inpatient multimodal pain therapy, which was complemented with a 6-session schedule of mild hyperthermia therapy for the intervention group (1 h at 38.6 °C). On admission and 3 months after treatment the study patients were asked to complete an interview assessment with the Oswestry low back pain disability questionnaire (Oswestry disability index). The change in the Oswestry disability index total score (%) 3 months after versus before therapy was defined as the primary clinical endpoint of the investigation. The patients in the control group and in the intervention group had a median age of 50 years. In the intervention group 70 % of the patients were female and 55 % reported having half to full time employment compared to 55 % and 43 % in the control group, respectively.
Results
On admission the control patients reported a median Oswestry disability index of 64 % and on recall the same of 64 %. The intervention group showed median Oswestry disability index estimates of 60 % and 66 %, respectively. The changes in the overall Oswestry disability index after 3 months differed significantly with an estimated 6 % for the intervention group versus 0 % for the control group (Wilcoxon p = 0.050).
Conclusion
When combined with a multimodal inpatient lower back pain functional therapy in patients showing morphological degeneration, the mild hyperthermia therapy demonstrated statistically significant, although not clinically relevant benefits in comparison to the multimodal treatment alone. However, regarding the moderate overall patient-related benefits as measured in terms of the Oswestry disability index, the benefit of the underlying multimodal therapy concept implementation must be critically discussed irrespective of its combination with mild hyperthermia therapy.
This is a preview of subscription content, log in to check access.
Access options
Buy single article
Instant access to the full article PDF.
US$ 39.95
Price includes VAT for USA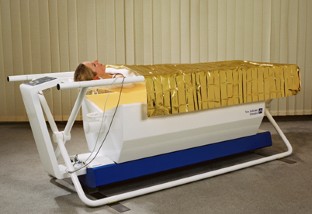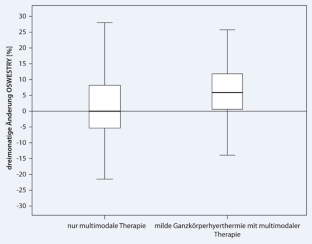 Literatur
1.

Niesert W, Zenz M (2005) Prophylaxe chronischer Schmerzen. Dtsch Aerztebl 22:1329–1338

2.

Kohlmann T, Schmidt CO (2005) Rückenschmerzen in Deutschland – eine epidemiologische Bestandsaufnahme. Orthop Rheumatol 1:38–41

3.

Gatchel RJ, Rollings KH (2008) Evidence-informed management of chronic low back pain with cognitive behavioural therapy. Spine J 8:40–44

4.

Neubauer E, Zahlten-Hinguranage A, Schiltenwolf M et al (2006) Multimodale Therapie bei chronischem HWS- und LWS-Schmerz. Man Med 44:397–403

5.

Mesrian A, Neubauer E, Pirron P et al (2005) Multimodale Schmerztherapie bei chronifizierenden Rückenschmerzen. Man Med 43:85–92

6.

Wagner E, Ehrenhofer B, Lackerbauer E et al (2007) Rehabilitation des chronisch unspezifischen Kreuzschmerzes – Ergebnisse eines multimodalen stationären Behandlungskonzeptes. Schmerz 21:226–233

7.

Pfingsten M, Hildebrandt J, Franz C et al (1997) Das Göttinger Rücken Intensiv Programm (GRIP). Ein multimodales Behandlungsprogramm für Patienten mit chronischen Rückenschmerzen, Teil 4 (Prognostik und Fazit). Schmerz 11:30–41

8.

Saur P, Hildebrandt J, Pfingsten M et al (1996) Das Göttinger Rücken Intensiv Programm (GRIP). Ein multimodales Behandlungsprogramm für Patienten mit chronischen Rückenschmerzen, Teil 2 (Somatische Aspekte). Schmerz 10:237–253

9.

Guzman J, Esmail R, Karjalainen K et al (2006) Multidisciplinary bio-psych-social rehabilitation for chronic low-back-pain. Cochrane Database Syst Rev 1:1–29

10.

Green JW van, Edelaar MJA, Janssen M (2007) The long-term effect of multidisciplinary back training. Spine 32:249–255

11.

Poiraudeau S, Rannou F, Revel M (2007) Functional restoration programs for low back pain: a systemstic review. Ann Readapt Med Phys 50:425–429

12.

Pöhlmann K, Tonhauser T, Joraschky P et al (2008) Die multimodale Schmerztherapie Dachau (MSD). Schmerz 22:1–7

13.

Casser HR, Riedel T, Everett CV et al (1999) Das multimodale interdisziplinäre Therapieprogramm beim chronifizierten Rückenschmerz. Eine neue Behandlungsperspektive. Orthopade 28:946–957

14.

Schöeffel D, Casser HR, Bach M et al (2008) Risikoabschätzung in der Schmerztherapie. Schmerz 22:594–603

15.

Van Tulder MW, Koes B, Malmivaara A (2006) Outcome of non-invasive treatment modalities on back pain: an evidence-based review. Eur Spine J 15:64–81

16.

Heinrich M, Hafenbrack K, Michel C et al (2011) Vorhersage verschiedener Erfolgsmaße in der Behandlung chronischer Rückenschmerzen: Schmerzintensität, Beeinträchtigung und Funktionskapazität. Schmerz 25:282–289

17.

Becker A (2011) Multimodale Therapie – wer profitiert? Schmerz 25:243–244

18.

Schmidt CO, Moock J, Fahland RA et al (2011) Rückenschmerz und Sozialschicht bei Berufstätigen-Ergebnisse einer deutschen Bevölkerungsstichprobe. Schmerz 25:306–314

19.

Tarner IH, Müller-Ladner U, Uhlemann C et al (2008) The effect of mild whole-body hyperthermia on systemic levels of TNF-α, IL-1β and IL-6 in patients with anklylosing spondylitis. Clin Rheumatol 7:367–372

20.

Arnold B, Brinkschmidt T, Casser HR et al (2009) Multimodale Schmerztherapie-Konzepte und Indikation. Schmerz 23:112–120

21.

Dietl M, Korczak D (2011) Over-, under- and misuse of pain treatment in Germany. GMS Health Technol Assess 7:1–10

22.

Brockow T, Wagner A, Franke A et al (2007) A randomized controlled trial on the effectiveness of mild water-filtered near infrared whole-body hyperthermia as an adjunct to a standard multimodal rehabilitation in the treatment of fibromyalgia. Clin J Pain 23:67–75

23.

Schütze A, Kaiser U, Ettrich U et al (2009) Evaluation einer multimodalen Schmerztherapie am UniversitätsSchmerzCentrum Dresden. Schmerz 23:609–617

24.

Peer A, Grimm MJ, Zynda ER et al (2009) Diverse immune mechanism may contribute to the survival benefit seen in cancer patients receiving hyperthermia. Immunol Res 9:815–825

25.

Schmidt KL (2004) Zur Wirkung einer Ganzkörperhyperthermie auf Entzündungen und Immunreaktion: Experimentelle Grundlagen. Phys Rehab Kur Med 14:227–235

26.

Wenig CM, Schmidt CO, Kohlmann T et al (2009) Costs of back pain in Germany. Eur J Pain 2009(3):280–286

27.

Schleenbecker HG, Schmidt KL (1998) Zur Wirkung einer iterativen milden Ganzkörperhyperthermie auf den Fibromyalgieschmerz. Phys Rehab Kur Med 8:113–117
Einhaltung ethischer Richtlinien
Interessenkonflikt. U. Ettrich, B. Konrad, K. Prate, J. Seifert, F. Krummenauer geben an, dass kein Interessenkonflikt besteht. Alle angewandten Verfahren stehen im Einklang mit den ethischen Normen der verantwortlichen Kommission für Forschung am Menschen (institutionell und national) und mit der Deklaration von Helsinki von 1975 in der revidierten Fassung von 2008. Alle Patienten wurden erst nach erfolgter Aufklärung und Einwilligung in die Studie eingeschlossen. Soweit der Beitrag personenbezogene Daten enthält, wurde von den Patienten eine zusätzliche Einwilligung nach erfolgter Aufklärung eingeholt.
Danksagung
Die Autoren danken der Studienassistentin Frau Brit Brethfeld für die Behandlung der Studienpatienten mit Interventions- bzw. Kontrolltherapie sowie für die Dokumentation der Patientendaten und Frau Heike Voigt für deren Assistenz bei der Aufbereitung der Rohdaten. Herrn Dr. Alexander von Ardenne (von-Ardenne-Institut für angewandte medizinische Forschung GmbH Dresden) danken die Autoren für seine Unterstützung bei der Konzeption und Durchführung der Studie, ferner Frau Katharina Schaper für ihre Unterstützung bei der statistischen Auswertung und Berichterstellung.
About this article
Cite this article
Ettrich, U., Konrad, B., Prate, K. et al. Milde Ganzkörperhyperthermie in Kombination mit stationärer multimodal orientierter Schmerztherapie. Orthopäde 43, 165–174 (2014). https://doi.org/10.1007/s00132-013-2180-3
Schlüsselwörter
Lendenwirbelsäule

Degenerative Veränderungen

Oswestry-Index

Primärer Endpunkt

Klinischer Nutzen
Keywords
Lumbar spine

Degenerative alterations

Oswestry index

Primary endpoint

Clinical benefits