Zusammenfassung
Neoplasien der oberen Halswirbelsäule (HWS) sind sehr selten, sie stellen weniger als 0,5 % aller Wirbelsäulentumoren dar. Die Tumorentitäten und ihre Ausprägung sind ebenso mannigfaltig wie ihre Behandlungsmöglichkeiten. Aufgrund der einzigartigen Anatomie der oberen Halswirbelsäule mit ihrem hohen physiologischen Bewegungsumfang spielen biomechanische Überlegungen und die Zusammenhänge mit den angrenzenden Strukturen (A. vertebralis, Medulla oblongata, untere Hirnnerven, Pharynx usw.) ein besonders wichtige Rolle bei der Erstellung des Behandlungsplans. Je nach Tumorart muss das Gleichgewicht zwischen vollständiger Tumorresektion, Erhalt und Wiederherstellung der Stabilität und Funktion sowie Gewährleistung einer etwaigen postoperativen Radiotherapie individuell bestimmt werden. In der folgenden Übersicht werden wichtige Punkte zur Vorbereitung des Patienten, Operationsplanung und chirurgischen Vorgehensweise bei Tumoren des kraniozervikalen Übergangs diskutiert.
Abstract
Tumors of the upper cervical spine are rare and represent less than 0.5 % of all spinal tumors. The types of tumor and the clinical presentation are as varied as the modalities used for treatment. The unique anatomy of the upper cervical spine with its high physical mobility means that biomechanical considerations and neighboring anatomical structures (e.g. vertebral artery, medulla oblongata, lower cranial nerves and pharynx) must be considered when creating a treatment plan. Finding a balance between complete tumor removal, the preservation and reestablishment of stability and function and the possible necessity for postoperative radiotherapy is of utmost importance and must be assessed on an individual basis. In this review paper some important points will be presented concerning the preparation of the patient, the planning of the operation and the surgical approach used in treating tumors of the craniocervical junction.
This is a preview of subscription content, log in to check access.
Access options
Buy single article
Instant access to the full article PDF.
US$ 39.95
Price includes VAT for USA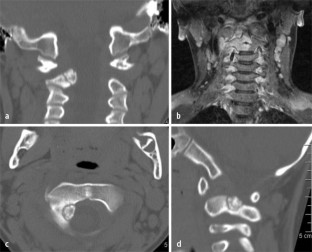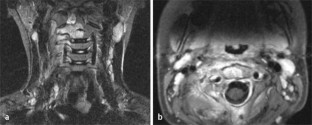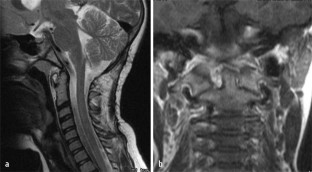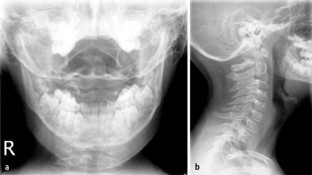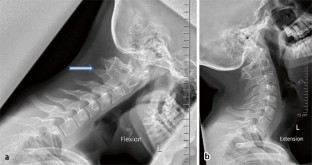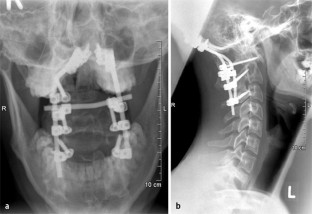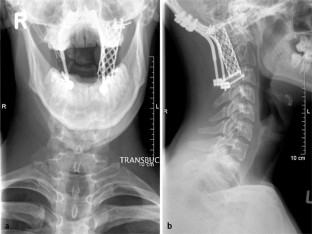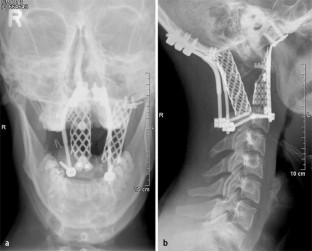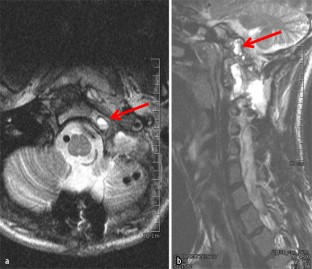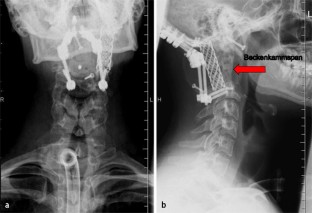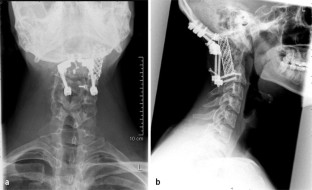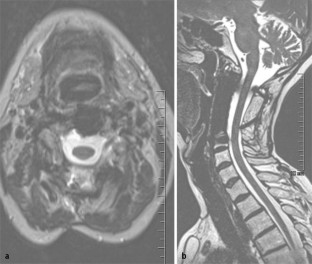 Literatur
1.

Akbar M, Ayache A, Eichler M et al (2012) Management of spinal metastases, strategies and surgical indications. Orthopade 41:632–639

2.

Arguello F, Baggs RB, Duerst RE et al (1990) Pathogenesis of vertebral metastasis and epidural spinal cord compression. Cancer 65:98–106

3.

Askins V, Eismont FJ (1997) Efficacy of five cervical orthoses in restricting cervical motion. A comparison study. Spine (Phila Pa 1976) 22:1193–1198

4.

Bambakidis NC, Feiz-Erfan I, Horn EM et al (2008) Biomechanical comparison of occipitoatlantal screw fixation techniques. J Neurosurg Spine 8:143–152

5.

Bilsky MH, Shannon FJ, Sheppard S et al (2002) Diagnosis and management of a metastatic tumor in the atlantoaxial spine. Spine (Phila Pa 1976) 27:1062–1069

6.

Crisco JJ 3rd, Oda T, Panjabi MM et al (1991) Transections of the C1–C2 joint capsular ligaments in the cadaveric spine. Spine (Phila Pa 1976) 16:S474–S479

7.

Dickman CA, Crawford NR, Paramore CG (1996) Biomechanical characteristics of C1–2 cable fixations. J Neurosurg 85:316–322

8.

Dickman CA, Sonntag VK, Spetzler RF (2012) Surgery of the craniovertebral junction. Thieme, Stuttgart

9.

Donthineni R (2009) Diagnosis and staging of spine tumors. Orthop Clin North Am 40:1–7, v

10.

Feiz-Erfan I, Gonzalez LF, Dickman CA (2005) Atlantooccipital transarticular screw fixation for the treatment of traumatic occipitoatlantal dislocation. Technical note. J Neurosurg Spine 2:381–385

11.

George B, Dematons C, Cophignon J (1988) Lateral approach to the anterior portion of the foramen magnum. Application to surgical removal of 14 benign tumors: technical note. Surg Neurol 29:484–490

12.

George B, Lot G, Velut S et al (1993) French language Society of Neurosurgery. 44th Annual Congress. Brussels, 8–12 June 1993. Tumors of the foramen magnum. Neurochirurgie 39(Suppl 1):1–89

13.

Grob D, Jeanneret B, Aebi M et al (1991) Atlanto-axial fusion with transarticular screw fixation. J Bone Joint Surg [Br] 73:972–976

14.

Hurlbert RJ, Crawford NR, Choi WG et al (1999) A biomechanical evaluation of occipitocervical instrumentation: screw compared with wire fixation. J Neurosurg 90:84–90

15.

Jeszenszky D, Fekete TF, Lattig F et al (2010) Intraarticular atlantooccipital fusion for the treatment of traumatic occipitocervical dislocation in a child: a new technique for selective stabilization with nine years follow-up. Spine (Phila Pa 1976) 35:E421–E426

16.

Jeszenszky D, Fekete TF, Melcher R et al (2007) C2 prosthesis: anterior upper cervical fixation device to reconstruct the second cervical vertebra. Eur Spine J 16:1695–1700

17.

Jeszenszky D, Harms J, Schmelzle R (1995) Der transorale Zugang zum kraniozervikalen Übergang. In: Steudel WI (Hrsg) Transfaziale Zugänge zur Schädelbasis. Einhorn Presse Verlag, Hamburg, S 86–92

18.

Johnson RM, Hart DL, Simmons EF et al (1977) Cervical orthoses. A study comparing their effectiveness in restricting cervical motion in normal subjects. J Bone Joint Surg [Am] 59:332–339

19.

Kloth JK, Wolf M, Rehnitz C et al (2012) Radiological diagnostics of spinal tumors. Part 1: general tumor diagnostics and special diagnostics of extradural tumors. Orthopade 41:595–607

20.

Leithner A, Radl R, Gruber G et al (2008) Predictive value of seven preoperative prognostic scoring systems for spinal metastases. Eur Spine J 17:1488–1495

21.

Madawi AA, Casey AT, Solanki GA et al (1997) Radiological and anatomical evaluation of the atlantoaxial transarticular screw fixation technique. J Neurosurg 86:961–968

22.

Menezes AH, Vangilder JC (1988) Transoral-transpharyngeal approach to the anterior craniocervical junction: ten-year experience with 72 patients. J Neurosurg 69:895–903

23.

Mouchaty H, Perrini P, Conti R et al (2009) Craniovertebral junction lesions: our experience with the transoral surgical approach. Eur Spine J 18(Suppl 1):13–19

24.

Moulding HD, Bilsky MH (2010) Metastases to the craniovertebral junction. Neurosurgery 66:113–118

25.

Naderi S, Crawford NR, Song GS et al (1998) Biomechanical comparison of C1–C2 posterior fixations. Cable, graft, and screw combinations. Spine (Phila Pa 1976) 23:1946–1955 (discussion 1955–1946)

26.

Panjabi M, Dvorak J, Crisco JJ 3rd et al (1991) Effects of alar ligament transection on upper cervical spine rotation. J Orthop Res 9:584–593

27.

Panjabi MM (1992) The stabilizing system of the spine. Part II. Neutral zone and instability hypothesis. J Spinal Disord 5:390–396 (discussion 397)

28.

Panjabi MM, Oda T, Crisco JJ 3rd et al (1993) Posture affects motion coupling patterns of the upper cervical spine. J Orthop Res 11:525–536

29.

Pilge H, Holzapfel BM, Prodinger PM et al (2011) Diagnostics and therapy of spinal metastases. Orthopade 40:185–193 (quiz 194–185)

30.

Rhines LD, Fourney DR, Siadati A et al (2005) En bloc resection of multilevel cervical chordoma with C-2 involvement. Case report and description of operative technique. J Neurosurg Spine 2:199–205

31.

Schaser KD, Melcher I, Druschel C et al (2012) Surgical management of thoracolumbar spinal sarcoma. Orthopade 41:659–673

32.

Sciubba D, Molina CA, Gokaslan ZL et al (2012) Primary osseous and metastatic neoplasm of the craniovertebral junction. In: Bambakidis NC, Dickman CA, Spetzler RF, Sonntag VKH (Hrsg) Surgery of the craniovertebral junction. Thieme, Stuttgart

33.

Sciubba D, Molina CA, Gokaslan ZL et al (2013) Primary osseus and metastatic neoplasms of the craniovertebral junction. In: Bambakidis NC, Dickman CA, Spetzler RF, Sonntag VK (Hrsg) Surgery of the craniovertebral junction. Thieme, Stuttgart

34.

Sengupta DK, Grevitt MP, Mehdian SM (1999) Hypoglossal nerve injury as a complication of anterior surgery to the upper cervical spine. Eur Spine J 8:78–80

35.

Sherk HH (1975) Lesions of the atlas and axis. Clin Orthop Relat Res 33–41

36.

American Cancer Society (2005) Cancer facts and figures. American Cancer Society, Atlanta, GA

37.

Sundaresan N, Boriani S, Rothman A et al (2004) Tumors of the osseous spine. J Neurooncol 69:273–290

38.

Sundaresan N, Rosen G, Boriani S (2009) Primary malignant tumors of the spine. Orthop Clin North Am 40:21–36, v

39.

Wiedenhofer B, Mohlenbruch M, Hemmer S et al (2012) Vertebral stability in management of spinal metastases. Criteria and strategies for operative interventions. Orthopade 41:623–631

40.

Yang X, Huang W, Xiao J et al (2011) Combined pre- and retrovascular extraoral approach for tumors at lateral mass of the atlas. Spine (Phila Pa 1976) 36:129–136

41.

York JE, Wildrick DM, Gokaslan ZL (1999) Metastatic tumors. In: Benzel EC, Stillerman CB (Hrsg) The thoracic spine. Quality Medical Publishing, St. Louis, S 392–411
Einhaltung der ethischen Richtlinien
Interessenkonflikt. D. Jeszenszky, D. Haschtmann, O. Pröbstl, F.S. Kleinstück, C.E. Heyde, T.F. Fekete geben an, dass kein Interessenkonflikt besteht. Dieser Beitrag beinhaltet keine Studien an Menschen oder Tieren.
About this article
Cite this article
Jeszenszky, D., Haschtmann, D., Pröbstl, O. et al. Tumoren und Metastasen der oberen Halswirbelsäule (C0–2). Orthopäde 42, 746–754 (2013). https://doi.org/10.1007/s00132-013-2069-1
Schlüsselwörter
Kaniozervikaler Übergang (CCÜ)

Interdisziplinäre Zusammenarbeit

Operationsplanung

Chirurgische Behandlung

Biomechanik
Keywords
Craniocervical junction

Interdisciplinary cooperation

Operation planning

Surgical treatment

Biomechanics