Zusammenfassung
Metastasen sind die häufigste maligne Läsion der Wirbelsäule unabhängig vom Primarius und Indikator für ein disseminiertes Tumorleiden. Aufgrund der Optimierung der spezifischen onkologischen Therapiestrategien in den letzten Dekaden und der damit assoziierten steigenden Lebenserwartung stellen Wirbelsäulemetastasen ein wachsendes Problem dar. Deshalb muss gerade bei diesen Patienten eine onkologisch optimale, sinnvolle und patientengerechte Wahl des Therapieverfahrens unter Einbeziehung der Tumorbiologie, Prognose der Überlebenszeit, Vorliegen neurologischer Defizite, Instabilität und Allgemeinzustand des Patienten erfolgen. Die Therapie muss die Lebensqualität des Patienten berücksichtigen. Die Therapieoptionen reichen von einer rein konservativen Behandlung bis zu einer En-bloc-Spondylektomie der metastatischen Läsion. Basierend auf prognostischen Scores muss die chirurgische Entscheidungsfindung unter Berücksichtigung der Differenzialindikationen zu verschiedenen chirurgischen Therapieverfahren individuell entschieden werden.
Abstract
The number of bone metastases increases with prolonged survival of primary tumors of kidney, breast, prostate and other tumors. The spine is the most frequent site of bone metastases. This leads to high number of patients where the decision has to be made what kind of treatment should be the best. Several scores have been developed to solve this problem. The decision has to include the biology of the metastatic disease according to primary tumor and dissemination of the disease, the general condition of the patient, the residual stability of the spine, the neurologic status and most important the quality of life of the patient. Treatment options range from conservative treatment up to en bloc resection of the metastatic lesion. Therefore, the strategy of treatment always has to be decided on an individual base.
This is a preview of subscription content, log in to check access.
Access options
Buy single article
Instant access to the full article PDF.
US$ 39.95
Price includes VAT for USA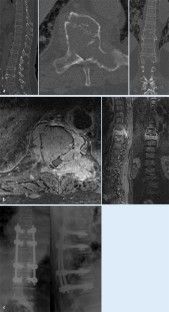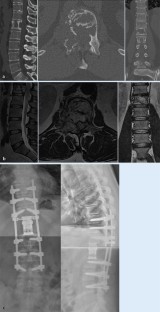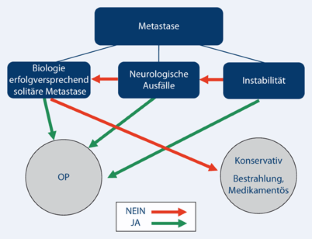 Literatur
1.

Akeyson EW, Mccutcheon IE (1996) Single-stage posterior vertebrectomy and replacement combined with posterior instrumentation for spinal metastasis. J Neurosurg 85:211–220

2.

Allan JM, Travis LB (2005) Mechanisms of therapy-related carcinogenesis. Nature reviews. Cancer 5:943–955

3.

Barron KD, Hirano A, Araki S et al (1959) Experiences with metastatic neoplasms involving the spinal cord. Neurology 9:91–106

4.

Bauer HC, Wedin R (1995) Survival after surgery for spinal and extremity metastases. Prognostication in 241 patients. Acta Orthop Scand 66:143–146

5.

Bentzen SM (2006) Preventing or reducing late side effects of radiation therapy: radiobiology meets molecular pathology. Nature reviews. Cancer 6:702–713

6.

Bilsky M, Smith M (2006) Surgical approach to epidural spinal cord compression. Hematol Oncol Clin North Am 20:1307–1317

7.

Bilsky MH, Laufer I, Burch S (2009) Shifting paradigms in the treatment of metastatic spine disease. Spine (Phila Pa 1976) 34:S101–107

8.

Bilsky MH, Lis E, Raizer J et al (1999) The diagnosis and treatment of metastatic spinal tumor. Oncologist 4:459–469

9.

Boriani S, Bandiera S, Biagini R et al (2000) The use of the carbon-fiber reinforced modular implant for the reconstruction of the anterior column of the spine. A clinical and experimental study conducted on 42 cases. La Chirurgia degli organi di movimento 85:309–335

10.

Broaddus WC, Grady MS, Delashaw JB Jr et al (1990) Preoperative superselective arteriolar embolization: a new approach to enhance resectability of spinal tumors. Neurosurgery 27:755–759

11.

Byrne TN (1992) Spinal cord compression from epidural metastases. N Engl J Med 327:614–619

12.

Constans JP, De Divitiis E, Donzelli R et al (1983) Spinal metastases with neurological manifestations. Review of 600 cases. J Neurosurg 59:111–118

13.

Cox JD, Stetz J, Pajak TF (1995) Toxicity criteria of the Radiation Therapy Oncology Group (RTOG) and the European Organization for Research and Treatment of Cancer (EORTC). Int J Radiat Oncol Biol Phys 31:1341–1346

14.

Domchek SM, Younger J, Finkelstein DM et al (2000) Predictors of skeletal complications in patients with metastatic breast carcinoma. Cancer 89:363–368

15.

Ernstberger T, Bruning T, Konig F (2005) Vertebrectomy and anterior reconstruction for the treatment of spinal metastases. Acta Orthop Belg 71:459–466

16.

Ernstberger T, Kogel M, Konig F et al (2005) Expandable vertebral body replacement in patients with thoracolumbar spine tumors. Arch Orthop Trauma Surg 125:660–669

17.

Galasko CS, Norris HE, Crank S (2000) Spinal instability secondary to metastatic cancer. J Bone Joint Surg [Am] 82:570–594

18.

Gasbarrini A, Li H, Cappuccio M et al (2010) Efficacy evaluation of a new treatment algorithm for spinal metastases. Spine (Phila Pa 1976) 35:1466–1470

19.

Ghogawala Z, Mansfield FL, Borges LF (2001) Spinal radiation before surgical decompression adversely affects outcomes of surgery for symptomatic metastatic spinal cord compression. Spine (Phila Pa 1976) 26:818–824

20.

Gilbert RW, Kim JH, Posner JB (1978) Epidural spinal cord compression from metastatic tumor: diagnosis and treatment. Ann Neurol 3:40–51

21.

Heary RF, Bono CM (2001) Metastatic spinal tumors. Neurosurg Focus 11:e1

22.

Hess T, Kramann B, Schmidt E et al (1997) Use of preoperative vascular embolisation in spinal metastasis resection. Arch Orthop Trauma Surg 116:279–282

23.

Jacobs WB, Perrin RG (2001) Evaluation and treatment of spinal metastases: an overview. Neurosurg Focus 11:e10

24.

Jefferies S, Rajan B, Ashley S et al (1998) Haematological toxicity of cranio-spinal irradiation. Radiother Oncol 48:23–27

25.

Karnofsky DA, Burchenal JH (1949) The clinical evaluation of chemotherapeutic agents in cancer. In: Macleod CM (ed) Evaluation and chemotherapeutic agents. Columbia University Press, New York, pp 199–205

26.

Klimo P Jr, Thompson CJ, Kestle JR et al (2005) A meta-analysis of surgery versus conventional radiotherapy for the treatment of metastatic spinal epidural disease. Neuro Oncol 7:64–76

27.

Leithner A, Radl R, Gruber G et al (2008) Predictive value of seven preoperative prognostic scoring systems for spinal metastases. Eur Spine J 17:1488–1495

28.

Merk H, Koch H, Liebau C et al (2000) Implantation of a Harms titanium mesh cylinder for vertebral body replacement in spinal metastases. Z Ortho Ihre Grenzgeb 138:169–173

29.

O'Rourke T, George CB, Redmond J 3rd et al (1986) Spinal computed tomography and computed tomographic metrizamide myelography in the early diagnosis of metastatic disease. J Clin Oncol 4:576–583

30.

Olerud C, Jonsson H Jr, Lofberg AM et al (1993) Embolization of spinal metastases reduces peroperative blood loss. 21 patients operated on for renal cell carcinoma. Acta Orthop Scand 64:9–12

31.

Patchell RA, Tibbs PA, Regine WF et al (2005) Direct decompressive surgical resection in the treatment of spinal cord compression caused by metastatic cancer: a randomised trial. Lancet 366:643–648

32.

Rades D, Huttenlocher S, Dunst J et al (2010) Matched pair analysis comparing surgery followed by radiotherapy and radiotherapy alone for metastatic spinal cord compression. J Clin Oncol 28:3597–3604

33.

Roscoe MW, Mcbroom RJ, St Louis E et al (1989) Preoperative embolization in the treatment of osseous metastases from renal cell carcinoma. Clin Orthop Relat Res 238:302–307

34.

Rose PS, Laufer I, Boland PJ et al (2009) Risk of fracture after single fraction image-guided intensity-modulated radiation therapy to spinal metastases. J Clin Oncol 27:5075–5079

35.

Ruff RL, Lanska DJ (1989) Epidural metastases in prospectively evaluated veterans with cancer and back pain. Cancer 63:2234–2241

36.

Ryken TC, Eichholz KM, Gerszten PC et al (2003) Evidence-based review of the surgical management of vertebral column metastatic disease. Neurosurg Focus 15:E11

37.

Schaberg J, Gainor BJ (1985) A profile of metastatic carcinoma of the spine. Spine (Phila Pa 1976) 10:19–20

38.

Schaser KD, Melcher I, Mittlmeier T et al (2007) Surgical management of vertebral column metastatic disease. Unfallchirurg 110:137–159 (quiz 160–131)

39.

Simmons ED, Zheng Y (2006) Vertebral tumors: surgical versus nonsurgical treatment. Clin Orthop Relat Res 443:233–247

40.

Sioutos PJ, Arbit E, Meshulam CF et al (1995) Spinal metastases from solid tumors. Analysis of factors affecting survival. Cancer 76:1453–1459

41.

Sundaresan N, Boriani S, Rothman A et al (2004) Tumors of the osseous spine. J Neurooncol 69:273–290

42.

Sundaresan N, Digiacinto GV, Hughes JE et al (1991) Treatment of neoplastic spinal cord compression: results of a prospective study. Neurosurgery 29:645–650

43.

Tokuhashi Y, Matsuzaki H, Oda H et al (2005) A revised scoring system for preoperative evaluation of metastatic spine tumor prognosis. Spine (Phila Pa 1976) 30:2186–2191

44.

Tokuhashi Y, Matsuzaki H, Toriyama S et al (1990) Scoring system for the preoperative evaluation of metastatic spine tumor prognosis. Spine (Phila Pa 1976) 15:1110–1113

45.

Tomita K, Kawahara N, Baba H et al (1997) Total en bloc spondylectomy. A new surgical technique for primary malignant vertebral tumors. Spine (Phila Pa 1976) 22:324–333

46.

Tomita K, Kawahara N, Kobayashi T et al (2001) Surgical strategy for spinal metastases. Spine (Phila Pa 1976) 26:298–306

47.

Van Der Linden YM, Dijkstra SP, Vonk EJ et al (2005) Prediction of survival in patients with metastases in the spinal column: results based on a randomized trial of radiotherapy. Cancer 103:320–328

48.

Wang JC, Boland P, Mitra N et al (2004) Single-stage posterolateral transpedicular approach for resection of epidural metastatic spine tumors involving the vertebral body with circumferential reconstruction: results in 140 patients. Invited submission from the Joint Section Meeting on Disorders of the Spine and Peripheral Nerves, March 2004. J Neurosurg Spine 1:287–298

49.

Wibmer C, Leithner A, Hofmann G et al (2011) Survival analysis of 254 patients after manifestation of spinal metastases: evaluation of seven preoperative scoring systems. Spine (Phila Pa 1976) 36:1977–1986

50.

Wong DA, Fornasier VL, Macnab I (1990) Spinal metastases: the obvious, the occult, and the impostors. Spine (Phila Pa 1976) 15:1–4

51.

Young RF, Post EM, King GA (1980) Treatment of spinal epidural metastases. Randomized prospective comparison of laminectomy and radiotherapy. J Neurosurg 53:741–748
Interessenkonflikt
Der korrespondierende Autor gibt für sich und seine Koautoren an, dass kein Interessenkonflikt besteht.
About this article
Cite this article
Akbar, M., Ayache, A., Eichler, M. et al. Management der Wirbelsäulenmetastasen, Strategien und operative Indikationen. Orthopäde 41, 632–639 (2012). https://doi.org/10.1007/s00132-012-1910-2
Schlüsselwörter
Wirbelsäulenmetastasen

Behandlungsalgorithmus

Behandlungsstrategie

Differentialindikationen

Operative Therapie
Keywords
Spinal metastases

Treatment algorithm

Treatment strategy

Differential indications

Surgical treatment