Zusammenfassung
Bislang sind Quietschphänomene bei Hüfttotalendoprothesen lediglich bei Hart/Hart-Paarungen wie Keramik/Keramik oder Metall/Metall beobachtet worden. Wir berichten über den Fall einer Patientin, bei der mehrfache Wechsel eines Keramikkopfs in Kombination mit einer Kompositkeramikpfanne (Polyurethan/Keramik) nach 6 Jahren zu einem revisionspflichtigen Quietschen führten. Als ursächlich ist hier eine sekundäre Formveränderung des Inlays mit Einklemmung des Kopfs und resultierender Reibungserhöhung beschrieben. Dies sollte bei der Beurteilung und Beratung von Patienten mit quietschenden Hüfttotalendoprothesen als mögliche Ursache berücksichtigt werden, sofern Polyurethankeramikkomponenten verwendet wurden.
Abstract
Squeaking in total hip arthroplasty (THA) has been observed only in hard-on-hard bearings, such as ceramic-on-ceramic or metal-on-metal. We report the case of a patient with a squeaking THA who had undergone multiple femoral head revisions combined with a composite ceramic cup (polyurethane, ceramic). Squeaking started 6 years postoperatively and acetabular revision was necessary to resolve the issue. Secondary deformation of the inlay resulted in clamping of the femoral head and increased friction. This should be considered when assessing and advising patients with squeaking THA when composite ceramic components are involved.
This is a preview of subscription content, log in to check access.
Access options
Buy single article
Instant access to the full article PDF.
US$ 39.95
Price includes VAT for USA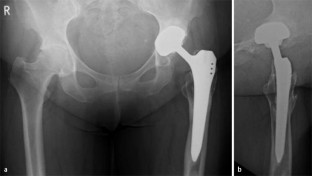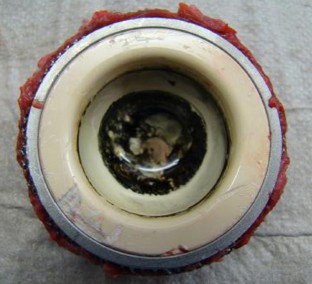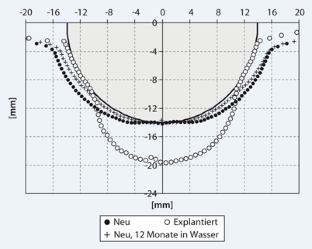 Literatur
1.

Brockett CL, Harper P, Williams S et al (2008) The influence of clearance on friction, lubrication and squeaking in large diameter metal-on-metal hip replacements. J Mater Sci Mater Med 19:1575–1579

2.

Chevillotte C, Trousdale RT, Chen Q et al (2010) The 2009 Frank Stinchfield Award: "Hip squeaking": a biomechanical study of ceramic-on-ceramic bearing surfaces. Clin Orthop Relat Res 468:345–350

3.

Keurentjes JC, Kuipers RM, Wever DJ, Schreurs BW (2008) High incidence of squeaking in THAs with alumina ceramic-on-ceramic bearings. Clin Orthop Relat Res 466:1438–1443

4.

Kleinhans JA, Jakubowitz E, Seeger JB et al (2009) Macroscopic third-body wear caused by porous metal surface fragments in total hip arthroplasty. Orthopedics 32:364

5.

Mai K, Verioti C, Ezzet KA et al (2010) Incidence of 'squeaking' after ceramic-on-ceramic total hip arthroplasty. Clin Orthop Relat Res 468:413–417

6.

Restrepo C, Matar WY, Parvizi J et al (2010) Natural history of squeaking after total hip arthroplasty. Clin Orthop Relat Res 468:2340–2345

7.

Scholz J, Grundei H, Klingbeil K (2000) ESKA-Ceram – a new material in hip endoprosthetics. Biomed Tech (Berl) 45:377–379

8.

Taylor S, Manley MT, Sutton K (2007) The role of stripe wear in causing acoustic emissions from alumina ceramic-on-ceramic bearings. J Arthroplasty 22:47–51

9.

Walter WL, O'Toole GC, Walter WK et al (2007) Squeaking in ceramic-on-ceramic hips: the importance of acetabular component orientation. J Arthroplasty 22:496–503

10.

Walter WL, Waters TS, Gillies M et al (2008) Squeaking hips. J Bone Joint Surg [Am] 90(suppl 4):102–111
Interessenkonflikt
Der korrespondierende Autor gibt an, dass kein Interessenkonflikt besteht.
About this article
Cite this article
Schlegel, U., Bishop, N., Sobottke, R. et al. Quietschen als Revisionsursache einer Kompositkeramikpfanne. Orthopäde 40, 812 (2011). https://doi.org/10.1007/s00132-011-1743-4
Schlüsselwörter
Tribologie

Pfannenrevision

Friktion

Quietschen

Kompositkeramik
Keywords
Tribology

Cup revision

Friction

Squeaking

Composite ceramic