Zusammenfassung
Berichtet wird über den protrahierten Krankheitsverlauf eines 22-jährigen Mannes mit einem Osteoidosteom des rechten Talus. Durch MRT- und CT-Diagnostik konnte 2 Jahre nach Auftreten der Symptomatik die Diagnose gestellt und anschließend durch eine Thermokoagulation therapiert werden. Zwölf Monate postinterventionell zeigt sich der Patient symptomfrei.
Abstract
The case of a 22-year-old man with an osteoid osteoma of the right talus neck is reported. After 2 years of pain and swelling we confirmed the diagnosis by CT and MRI scan. Afterwards we performed CT-guided thermocoagulation; 12 months afterwards the patient shows no symptoms anymore.
This is a preview of subscription content, log in to check access.
Access options
Buy single article
Instant access to the full article PDF.
US$ 39.95
Price includes VAT for USA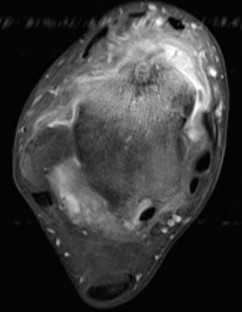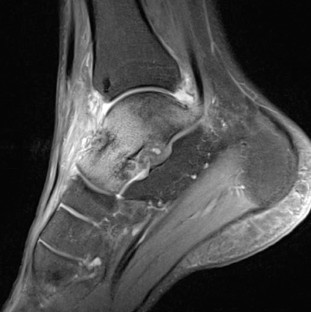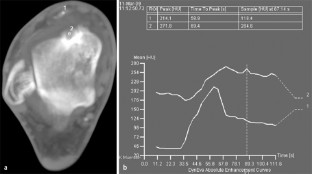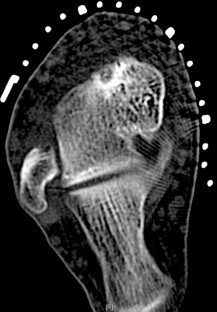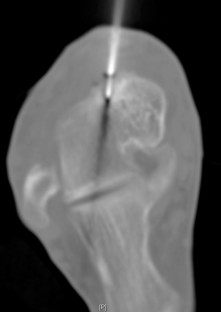 Literatur
1.

Bruners P, Penzkofer T, Gunther RW et al (2009) Percutaneous radiofrequency ablation of osteoid osteomas: technique and results. Rofo 181:740–747

2.

Campanacci M, Ruggieri P, Gasbarrini A et al (1999) Osteoid osteoma. Direct visual identification and intralesional excision of the nidus with minimal removal of bone. J Bone Joint Surg Br 81:814–820

3.

Cichon CW, Bottner F, Rodl R et al (2006) Minimally invasive treatment of osteoid osteoma with CT-guided radiofrequency ablation in long-term follow-up. Z Orthop Ihre Grenzgeb 144:332–337

4.

Franceschi F, Marinozzi A, Papalia R et al (2006) Intra- and juxta-articular osteoid osteoma: a diagnostic challenge: misdiagnosis and successful treatment: a report of four cases. Arch Orthop Trauma Surg 126:660–667

5.

Freyschmidt J (2007) Skeletterkrankungen: Klinisch-radiologische Diagnose und Differentialdiagnose. Springer, Berlin Heidelberg New York, S 554–562

6.

Garcia-German D, Sanchez-Gutierrez S, Bueno A et al (2010) Intra-articular osteoid osteoma simulating a painful fabella syndrome. Knee 17(4):310–312

7.

Motamedi D, Learch TJ, Ishimitsu DN et al (2009) Thermal ablation of osteoid osteoma: overview and step-by-step guide. Radiographics 29:2127–2141

8.

Rosenthal DI, Hornicek FJ, Torriani M et al (2003) Osteoid osteoma: percutaneous treatment with radiofrequency energy. Radiology 229:171–175

9.

Vanderschueren GM, Taminiau AH, Obermann WR et al (2002) Osteoid osteoma: clinical results with thermocoagulation. Radiology 224:82–86
Interessenkonflikt
Der korrespondierende Autor gibt an, dass kein Interessenkonflikt besteht.
About this article
Cite this article
Henrichs, M., Hardes, J., Gosheger, G. et al. Monarthritis des oberen Sprunggelenks bei Osteoidosteom des Talus. Orthopäde 40, 344–350 (2011). https://doi.org/10.1007/s00132-010-1697-y
Schlüsselwörter
Osteoidosteom

Talus

Monarthritis

Oberes Sprunggelenk

CT-gesteuerte Thermokoagulation
Keywords
Osteoid osteoma

Talus

Monarthritis

Ankle

CT-guided thermocoagulation