Zusammenfassung
Für die multimodale Behandlung der implantatassoziierten Infektion gibt es bis heute keine gültigen Leitlinien, wohl aber, auf der Basis langjähriger Erfahrungen spezialisierter septischer Chirurgen und ebensolcher Behandlungszentren, bewährte Prinzipien.
Die Therapieplanung sollte stets die individuelle Komorbidität des Patienten, die zugrunde liegende Verletzung, das Implantat, das Keimspektrum und die Compliance des Patienten berücksichtigen. Das Konzept der Behandlung von implantatassoziierten Infektionen umfasst 5 Säulen und lässt sich im Überblick wie folgt darstellen: an erster Stelle steht die rasche und radikale chirurgische Sanierung des Infekts durch Débridement allen infizierten und avitalen oder minderperfundierten Gewebes.
Behandlungspfade im eigentlichen Sinn, also als interdisziplinäre Festlegung von Aktivitäten, Kontrollparametern und Verantwortlichkeiten für einen typischen Patienten mit einer gut definierten Erkrankung können wir für das Gebiet der implantatassoziierten Infektionen nicht anbieten, wohl aber strategische Konzepte zur Diagnostik und Therapie.
Abstract
There are at present no valid guidelines for multimodal treatment of implant-associated infections; however, based on many years of experience gathered by specialized septic surgeons and likewise specialized treatment centers, established principles do exist.
Treatment planning should always take into consideration the individual comorbidity of the patient, the underlying injury, the implant, the spectrum of germs, and the patient's compliance. The concept for managing implant-associated infections comprises five pillars and can be summarized as follows: first priority is given to rapid and radical surgical eradication of the infection by débridement of all infected and non-vital or underperfused tissue.
We cannot propose clinical pathways as such for implant-related infections, i.e., by specifying interdisciplinary activities, control parameters, and responsibilities for a typical patient with clearly defined disease, but we can proffer strategic concepts for diagnostic work-up and treatment as we have already described.
This is a preview of subscription content, log in to check access.
Access options
Buy single article
Instant access to the full article PDF.
US$ 39.95
Price includes VAT for USA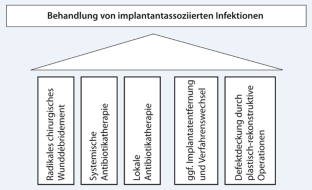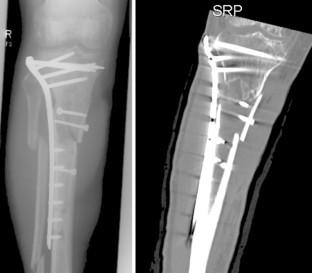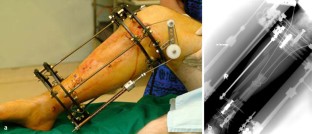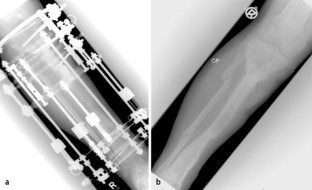 Literatur
1.

Cierny G 3rd, DiPasquale D (2002) Periprosthetic total joint infections: Staging, treatment, and outcomes. Clin Orthop Relat Res 403:23–28

2.

Geipel U, Herrmann M (2004) Das infizierte Implantat. Orthopade 33:1411–1428

3.

Frommelt L (2004) Prinzipien der Antibiotikabehandlung bei periprothetischen Infektionen. Orthopade 33:822–826

4.

Hendrich C, Frommelt L, Eulert J (2004) Septische Knochen- und Gelenkchirurgie. Springer, Berlin Heidelberg New York

5.

Heppert V (2008) Die akute Osteitis. Behandlungskonzept und Stellenwert der lokalen Antibiose. CHAZ 11(12):491–500

6.

Hofmann GO (Hrsg) (2004) In: Infektion der Knochen und Gelenke. Urban & Fischer, München

7.

McPherson (1999) Outcome of infected total knee utilizing a staging system for prosthetic joint infection. Am J Orthop 28:161–165

8.

Ostermann PA, Seligson D, Henry SL (1995) Local antibiotic therapy for severe open fractures. A review of 1085 consecutive cases. J Bone Joint Surg Br 77:93–97

9.

Penner MJ, Masri BA, Duncan CP (1996) Elution characteristics of commercially prepared antibiotic PMMA beads. J Arthroplasty 11(8):939–944

10.

Perl TM, Cullen JJ, Wenzel RP et al (2002) Mupirocin and the risk of staphylococcus aureus study team: Intranasal mupirocin to prevent postoperative staphylococcus aureus infections. N Engl J Med 13(346):1871–1877

11.

Schäfer P, Fink B, Sandow D et al (2008) Prolonged bacterial culture to identify late periprosthetic joint infection: A promising strategy. CID 47:1403–1409

12.

Schnettler R, Steinau HU (Hrsg) (2004) In: Septische Knochenchirurgie. Thieme, Stuttgart

13.

Seifert J, Ekkernkamp A (2007) Vom Eiter, den Kontagien und Lebertranplomben: Die Geschichte der Antisepsis und über Therapiemöglichkeiten von Knochen- und Weichteilinfektionen. CHAZ 369–374

14.

Stengel D, Bauwens J, Sehouli J et al (2001) Systematic review and meta-analysis of antibiotic therapy for bone and joint infections. Lancet Infect Dis 1:175–188

15.

Stengel D, Bauwens K, Seifert J, Ekkernkamp A (2003) Perioperative Antibiotikaprophylaxe bei aseptischen Knochen und Gelenkeingriffen. Oper Orthop Traumatol 15:101–112

16.

Tiemann AH, Hofmann GO (2009) Principles of the therapy of bone infections in adult extremities. Strat Traum Limb Recon 4:57–64

17.

Trampuz A, Widmer AF (2006) Infections associated with orthopedic implants. Curr Opin Infect Dis 19(4):349–356

18.

Trampuz A, Zimmerli W (2006) Antimicrobial agents in orthopedic surgery. Drugs 66:1089–10105

19.

Trampuz A, Piper KE, Jacobson MJ et al (2007) Sonication of removed hip and knee prostheses for diagnosis of infection. N Engl J Med 357(7):654–663

20.

Winkle S (1997) Geisseln der Menschheit. Kulturgeschichte der Seuchen. Artemis & Winkler, Düsseldorf

21.

Zimmerli W, Widmer AF, Blatter M et al (1998) Role of rifampin for treatment of orthopedic implant-related staphylococcal infections. JAMA 279:1537–1541

22.

Zimmerli W, Trampuz A, Ochsner P (2004) Prosthetic joint infections. N Engl J Med 351(16):1645–1654
Interessenkonflikt
Der korrespondierende Autor gibt an, dass kein Interessenkonflikt besteht.
About this article
Cite this article
Seifert, J., Apostel, S., Frank, M. et al. Grenzen klinischer Behandlungspfade. Orthopäde 39, 777–784 (2010). https://doi.org/10.1007/s00132-010-1628-y
Schlüsselwörter
Klinische Behandlungspfade

Implantatassoziierte Infektionen

Therapieplanung
Keywords
Clinical pathways

Implant-associated infections

Treatment planning