Zusammenfassung
Ziel
Ziel der vorliegenden Untersuchung ist eine Evaluation der Zufriedenheit orthopädisch-unfallchirurgisch tätiger PACS-Nutzer mit einem Web-basierten PACS ("picture archiving and communication system") ein Jahr nach dessen Inbetriebnahme.
Material und Methoden
Ein Jahr nach der PACS-Einführung wurden alle ärztlichen Nutzer über die Zufriedenheit anonym befragt. Der Fragebogen beinhaltet folgende Aspekte: Geschwindigkeit des PACS und der damit verbundenen Patientenversorgung, radiologische Demonstration, Monitorqualität, Schulung und Performance. Die Daten wurden getrennt für die orthopädisch-unfallchirurgisch tätigen Ärzte und dem Vergleichskollektiv bestehend aus den anderen Fachgebieten ausgewertet.
Ergebnisse
Die Bildverfügbarkeit sahen 92% der Orthopäden und Unfallchirurgen rascher als in der Vor-PACS-Ära, 64% sahen einen zeitlichen Gewinn in der Patientenversorgung. Nach PACS-Einführung fanden 82%, dass die Voraufnahmen rascher als nach 5 min zur Verfügung standen, vor PACS-Einführung fanden dies 8%. Alle würden ein PACS weiterempfehlen. Für alle Befragten hatte sich der Informationsgehalt der Besprechung durch die Beamerpräsentation verbessert. Die Betrachtungsmöglichkeit von Röntgenaufnahmen im Operationssaal wurde von 83% als gut oder sehr gut bewertet, die Monitore in den Ambulanzen wurden besser beurteilt (100% gut oder sehr gut). 56% der Ärzte vermissten die konventionellen Aufnahmen bei der Visite. Die PACS-Schulung wurde von 67% als gut angesehen, 15% sahen einen Nachschulungsbedarf. Bei den anderen Fachdisziplinen sahen 60% einen Nachschulungsbedarf. PACS wurde durch Orthopäden, Unfallchirurgen in Relation zum Vergleichskollektiv besser bewertet, insbesondere was den Umgang mit der Betrachtungssoftware und die Monitorqualität betrifft.
Schlussfolgerungen
PACS findet bei Orthopäden, Unfallchirurgen eine hohe Akzeptanz. Die Geschwindigkeit der Verfügbarkeit von Aufnahmen ist deutlich besser geworden. Die Monitorqualität bzw. die Betrachtungsbedingungen im Operationssaal sollten noch weiter verbessert werden. Eine konsequente Ersteinweisung von PACS-Nutzern ist notwendig. Über die Hälfte der Befragten vermisst oft oder gelegentlich die konventionellen Aufnahmen bei der Visite.
Abstract
Purpose
The goal of the study was to evaluate the acceptance of a web-based picture archiving and communication system (PACS) by orthopedic surgeons 1 year after implementation.
Materials and methods
One year after the implementation of a web-based PACS all physicians were surveyed with a standardized questionnaire. Questions included: speed of PACS, quality of clinicoradiological meetings, quality of monitors, PACS training, and performance. Data were evaluated separately for the Department of Orthopedic Surgery and the reference group of all other physicians.
Results
Among the respondents, 92% of the orthopedic surgeons stated there was a reduction of time required to receive images, and 64% concluded that patient care was faster. Archived images were received in less than 5 min in 82% after PACS and in 8% before PACS. The clinicoradiological meetings improved with PACS in 100% due to beamer presentation. All would recommend a PACS. The equipment to view images in the operating theater was assessed as being good or very good by 83%; monitor quality was judged better for the outpatient clinics (100% good or very good). Conventional radiograms were missed at the ward rounds by 56%. Training for PACS was considered sufficient by 67%, and 15% asked for refresher courses. In the reference group 60% asked for refresher courses. In the comparison of orthopedic surgeons with the reference group PACS was judged better especially concerning the viewing software and quality of monitors.
Conclusion
There is an over all acceptance of PACS by physicians outside the radiology department. The availability of images was not only facilitated it was faster as well. However, the quality of monitors in the operating theater should be improved. To achieve sustained success of PACS consistent training on PACS and its features is necessary. Conventional radiograms were often missed at the ward rounds
This is a preview of subscription content, log in to check access.
Access options
Buy single article
Instant access to the full article PDF.
US$ 39.95
Price includes VAT for USA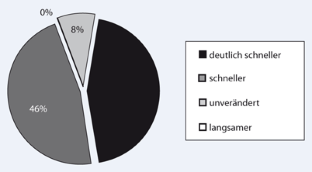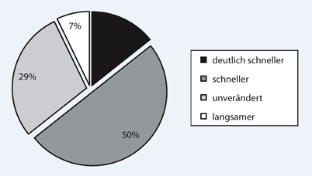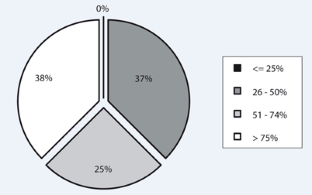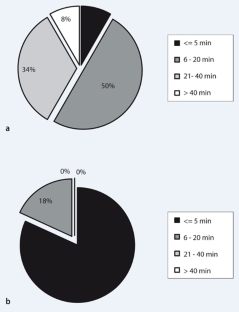 Literatur
1.

Ataseven B, Eiermann W (2006) Mammakarzinom. Dtsch Med Wochenschr 131:1091–1099

2.

Bumm R, Siess M, Lange M, Siewert JR (2002) Notwendige Voraussetzungen für die Funktion eines onkologischen Kompetenzzentrums. Informationstechnologie, Befunddokumentation und Telekommunikation. Dtsch Med Wochenschr 127:907–912

3.

Fang YC, Yang MC, Hsueh YS (2006) Financial assessment of a picture archiving and communication system implemented all at once. J Digit Imag 19(Suppl 1):44–51

4.

Fründ R, Jähnig V, Strotzer M et al (2007) Akzeptanzanalyse einer digitalen Bildverteilung in einem filmlosen Universitätsklinikum. Fortschr Röntgenstr 179:160–165

5.

Gross-Fengels W (2002) PACS: vom Projekt zur Realität. Radiologe 42:119–124

6.

Hubauer H, Lehr H (1998) Akzeptanz der digitalen Bildverteilung eines "Filmlosen Krankenhauses". Fortschr Röntgenstr 169(4):412–419

7.

Imhof H, Dirisamer A, Fischer H et al (2002) Prozessmanagementänderung durch den Einsatz von RIS, PACS und Festkörperdetektoren. Radiologe 42:344–350

8.

Kotter E, Jäger D, Binder M et al (2003) Elektronische Befund- und Bildverteilung aus einem PACS: Umsetzung der datenschutzrechtlichen Aspekte am Beispiel des Universitätsklinikums Freiburg. Fortschr Röntgenstr 175:849–854

9.

Kröger M, Nissen-Meyer S, Wetekam V, Reiser M (1999) Wirtschaftliche Effekte einer integrierten RIS-PACS-Lösung im universitären Umfeld. Radiologe 39:260–268

10.

Langen HJ, Bielmeier J, Wittenberg G et al (2003) Workflowverbesserung und Effizienzsteigerungsaspekte durch nahezu vollständige Digitalisierung einer Röntgenabteilung. Fortschr Röntgenstr 175:1309–1316

11.

Mariani C, Tronchi A, Oncini L et al (2006) Analysis of the x-ray work flow in two diagnostic imaging departments with and without a RIS/PACS System. J Digit Imaging 19(Suppl 1):18–28

12.

Mäurer J (2006) Wirtschaftliche Bedeutung der Radiologie in der wirtschaftlichen Kooperation. Fortschr Röntgenstr 178:575–577

13.

Mildenberger P (1999) Standards in der digitalen Bildkommunikation und -archivierung. Fortschr Röntgenstr 171:1–2

14.

Nissen-Meyer S, Holzknecht N, Wieser B et al (2002) Pruduktivitätsverbesserung durch klinikweite RIS und PACS: eine Fallstudie. Radiologe 42:351–360

15.

Reddy AS, Loh S, Kane RA (2006) Budget variance analysis of a departmentwide implementation of a PACS at a major academic medical center. J Digit Imag 19(Suppl 1):66–71

16.

Reiner BI, Siegel EL, Hooper FJ et al (2001) Radiologists' Productivity in the interpretation of CT scans: a comparison of PACS with conventional film. AJR 176:861–864

17.

Reiner BI, Siegel EL (2002) Technologists' productivity when using PACS: Comparison of film-based versus filmless radiography. AJR 179:33–37

18.

Schütze B, Kamler M (2007) Juristische Aspekte der Telemedizin in Deutschland. Dtsch Med Wochenschr 132:453–457

19.

Siegel E, Reiner B (2002) Work flow redesign: The key to success when using PACS. AJR 178:563–566

20.

Teichgräber UKM, Gillessen C, Neumann F (2003) Methoden des Prozessmanagements in der Radiologie. Fortschr Röntgenstr 175:1627–1633

21.

Teichgräber UKM, Lehmkuhl L, Harderer A et al (2003) Aufbau und Datentransferanalyse eines proprietären digitalen Open-Source-Bildarchivs für radiologische Dienstleistungen. Fortschr Röntgenstr 175:973–980

22.

Van de Wetering R, Batenburg R, Versendaal J et al (2006) A balanced evaluation perspective: picture archiving and communication system impacts on hospital workflow. J Digit Imag 19(Suppl 1):10–17

23.

Völk M, Strotzer M, Lenhart M et al (2000) Analysis of the availability and completeness of previous radiological examinations related to plain films. Acta Radiol 41:106–110
Interessenkonflikt
Der korrespondierende Autor gibt an, dass kein Interessenkonflikt besteht.
About this article
Cite this article
Lenhart, M., Haueis, A., Schneider, H. et al. PACS. Orthopäde 39, 994–1002 (2010). https://doi.org/10.1007/s00132-010-1616-2
Schlüsselwörter
Picture archiving and communication system (PACS)

Workflow

Digitale Radiographie

Bilddatenarchivierung
Keywords
Picture archiving and communication system (PACS)

Workflow

Computer-assisted radiography

Image: storage and retrieval