Zusammenfassung
Die Osteosynthese mit Klingenplatten oder dynamischen Schraubensystemen galt lange als Standardverfahren für verschiedene Frakturstabilisierungen bzw. für bestimmte rekonstruktive Eingriffe. In dieser Übersicht werden die heutigen Versorgungsmöglichkeiten mit Klingenplattenosteosynthesen und am Femur mit dynamischen Kondylenschrauben sowie mit der dynamischen Hüftschraube beschrieben. Im Rahmen einer Literaturübersicht werden die aktuellen Indikationen, Ergebnisse und lokalisationsspezifischen Probleme der jeweiligen Osteosyntheseverfahren diskutiert.
Klingenplatten kommen insbesondere im Rahmen von rekonstruktiven Eingriffen sowie bei der Pseudarthrosenversorgung zur Anwendung. Wesentliche Indikation ist die Osteosynthese der Schenkelhalspseudarthrose im Rahmen der Pauwels-Umlagerungsosteotomie. Demgegenüber muss die dynamische Hüftschraube (DHS) als Goldstandardimplantat in der Rekonstruktion von Schenkelhalsfrakturen sowie pertrochantären Frakturen angesehen werden. Die dynamische Kondylenschraube (DCS) hat als Alternative zu anderen winkelstabilen Implantaten unverändert ihre Berechtigung in der Stabilisierung von proximalen und distalen Femurfrakturen.
Abstract
Osteosynthesis in fracture treatment and in some reconstructive procedures with blade plates or dynamic screw systems was the standard procedure for several decades. In this review, the current options and concepts using blade plate osteosynthesis, stabilization of proximal and distal femur fractures and reconstructive procedures with the dynamic hip screw or the dynamic condylar blade are discussed. On the basis of a literature review, the present indications, results and region-specific complications are reported and discussed.
Blade plates are used mainly in the context of reconstructive procedures, as well as in the treatment of pseudoarthroses. The Pauwel procedure in femoral neck non-unions is one of the best known indications. In contrast, the dynamic hip screw is the gold standard for stabilization of femoral neck and most pertrochanteric fractures, whereas the dynamic condylar screw is still an alternative to internal fixators for proximal and distal femoral fracture fixations.
This is a preview of subscription content, log in to check access.
Access options
Buy single article
Instant access to the full article PDF.
US$ 39.95
Price includes VAT for USA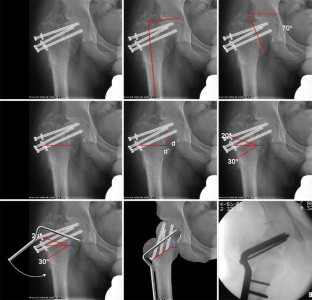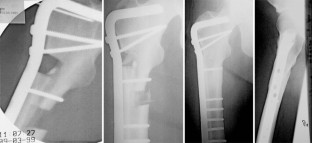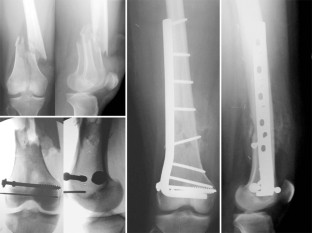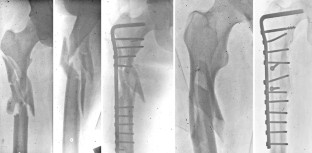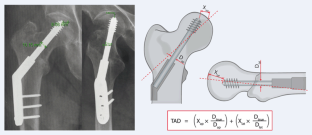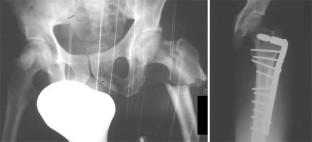 Literatur
1.

Bartoníc¡ek J, Skála-Rosenbaum J, Douša P (2003) Valgus intertrochanteric osteotomy for malunion and nonunion of trochanteric fractures. J Orthop Trauma 17:606–612

2.

Baumgaertner M, Curtin S, Lindskog D et al (1995) The value of the tip-apex distance in predicting failure of fixation in pertrochanteric fractures of the hip. J Bone Joint Surg 77-A(7):1058–1064

3.

Bellabarba C, Ricci W, Bolhofner B (2002) Indirect reduction and plating of distal femoral nonunions. J Orthop Trauma 16(5):287–196

4.

Bonnaire F, Lein T (2008) Hüftgelenknahe Frakturen/Luxationen. Orthopädie und Unfallchirurgie up2date 3:392–412

5.

Carpenter C, Jupiter J (1996) Blade plate reconstruction of metaphyseal nonunion of the tibia. Clin Orthop Relat Res 332:23–28

6.

Chapman M, Finkemeier C (1999) Treatment of supracondylar nonunions of the femur with plate fixation and bone graft. J Bone Joint Surg 81-A:1217–1228

7.

Dar G, Tak S, Kangoo K et al (2009) Bridge plate osteosynthesis using dynamic condylar screw (DCS) or retrograde intramedullary supracondylar nail (RIMSN) in the treatment of distal femoral fractures: comparison of two methods in a prospective randomized study. Ulus Travma Acil Cerrahi Derg 15(2):148–153

8.

Ertel W, Schulz R, Siebenrock K et al (1999) Die "biologische" Stabilisierung der subtrochantären Femurfraktur mit einer Kondylenplatte. Oper Orthop Traumatol 11(4):296–306

9.

Gerber A, Ganz R (2000) Berner Technik der intertrochantären Verkürzungsosteotomie. Oper Orthop Traumatol 12:16–23

10.

Gruen G, Mears D (1991) Arthrodesis of the ankle and subtalar joints. Clin Orthop 268:15–20

11.

Haidukewych G, Berry D (2003) Salvage of failed internal fixation of intertrochanteric hip fractures. Clin Orthop Relat Res 412:184–188

12.

Haidukewych G, Berry D (2004) Nonunion of fractures of the subtrochanteric region of the femur. Clin Orthop Relat Res 419:185–188

13.

Hanson T, Cracchiolo A (2002) The use of a 95 degree blade plate and a posterior approach to achieve tibiotalocalcaneal arthrodesis. Foot Ankle Int 23(8):704–710

14.

Heiney J, Barnett M, Vrabec G et al (2009) Distal femoral fixation: a biomechanical comparison of trigen retrograde intramedullary (i.m.) nail, dynamic condylar screw (DCS), and locking compression plate (LCP) condylar plate. J Trauma 66(2):443–449

15.

Herrera D, Kregor P, Cole P et al (2006) Treatment of acute distal femur fractures above a total knee arthroplasty: systematic review of 415 cases (1981–2006). Acta Orthop 79(1):22–27

16.

Higgins T, Pittman G, Hines J et al (2007) Biomechanical analysis of distal femur fracture fixation: fixed-angle screw-plate construct versus condylar blade plate. J Orthop Trauma 21:43–46

17.

Hintermann B, Trouillier H, Schafer D (2000) Rigid internal fixation of fractures of the proximal humerus in older patients. J Bone Joint Surg Br 82(8):1107–1112

18.

Kolb K, Grützner P, Koller H et al (2009) The condylar plate for treatment of distal femoral fractures: a long-term follow-up study. Injury 40:440–448

19.

Krettek C, Schandelmaier P, Miclau T et al (1997) Minimal invasive percutaneous plate osteosynthesis (MIPPO) using the DCS in proximal and distal femoral fractures. Injury 28(Suppl 1):20–30

20.

Magu N, Rohilla R, Singh R et al (2009) Modified Pauwels' intertrochanteric osteotomy in neglected femoral neck fracture. Clin Orthop 467:1064–1073

21.

Magu N, Singh R, Mittal R et al (2005) Osteosynthesis and primary valgus intertrochanteric osteotomy in displaced intracapsular fracture neck of femur with osteoporosis in adults. Injury 36:110–122

22.

Magu N, Singh R, Sharma A et al (2005) Treatment of pathologic femoral neck fractures with modified Pauwels' osteotomy. Clin Orthop Relat Res 437:229–235

23.

Marti R (1978) Zur Technik der Arthrodese des oberen Sprunggelenkes. Hefte Unfallheilkunde 133:71–84

24.

Meier R, Messmer P, Regazzoni P et al (2006) Unexpected high complication rate following internal fixation of unstable proximal humerus fractures with an angled blade plate. J Orthop Trauma 20:253–260

25.

Min B, Bae K, Kang C et al (2006) Valgus intertrochanteric osteotomy for non-union of femoral neck fracture. Injury 37:786–790

26.

Müller M (1957) Die hüftnahen Femurosteotomien unter Berucksichtigung der Form, Funktion und Beanspruchung des Huftgelenkes. Thieme, Stuttgart

27.

Müller M, Allgöwer M, Schneider R et al (1977) Manual der Osteosynthese, 2. Aufl. Springer, Berlin Heidelberg New York, S 360–365

28.

Palmer S, Handley R, Willett K (2000) The use of interlocked 'customised' blade plates in the treatment of metaphyseal fractures in patients with poor bone stock. Injury 31(3):187–191

29.

Parker MJ, Handoll HH (2008) Gamma and other cephalocondylic intramedullary nails versus extramedullary implants for extracapsular hip fractures in adults (Review). Cochrane Database Syst Rev (3):CD000093

30.

Pauwels F (1935) Der Schenkelhalsbruch: ein mechanisches Problem. Grundlagen des Heilungsvorganges, Prognose und kausale Therapie. Ferdinand Enke, Stuttgart

31.

Pauwels F (1949) Grundsätzliches über Indikation und Technik der "Umlagerung" bei Schenkelhalspseudarthrosen. Langenbecks Arch Dtsch Z Chir 262:404–422

32.

Poigenfürst J (1993) Osteosynthesis of the distal tibia and simultaneous arthrodesis of the upper ankle joint with a 130 degree angled plate. Aktuelle Traumatol 23(7):314–316

33.

Rahme D, Harris I (2007) Intramedullary nailing versus fixed angle blade plating for subtrochanteric femoral fractures: a prospective randomised controlled trial. J Orthop Surg 15(3):278–281

34.

Rehman S, Damron T, Geel C (2000) Humeral blade plate fixation of intercalary allografts and segmentally comminuted proximal humeral fractures: a preliminary report. Injury 31(10):783–788

35.

Reichel H (2004) Koxarthrose: Nichtendoprothetische operative Eingriffe. In: Wirth CJ, Zichner L (Hrsg) Orthopädie und Orthopädische Chirurgie: Becken, Hüfte. Thieme, Stuttgart, S 324–329

36.

Ring D, McKee M, Perey B et al (2001) The use of a blade plate and autogenous cancellous bone graft in the treatment of ununited fractures of the proximal humerus. J Shoulder Elbow Surg 10(6):501–507

37.

Rüedi T, Buckley R, Moran C (2008) AO-Prinzipien des Frakturmanagements. AO Foundation Publishing, Thieme, Stuttgart

38.

Santore R, Kantor S (2004) Intertrochanteric femoral osteotomies for developmental and posttraumatic conditions. J Bone Joint Surg Br 86-A(11):2542–2553

39.

Schandelmaier P, Gössling T, Partenheimer A et al (2002) Distale Femurfrakturen. Chirurg 73:1221–1234

40.

Schatzker J (1984) The intertrochanteric Osteotomy. Springer, Berlin Heidelberg New York

41.

Siebenrock K, Ekkernkamp A, Ganz R (2000) Die intertrochantäre adduzierende Korrekturosteotomie ohne Knochenkeilentnahme. Oper Orthop Traumatol 12:3–15

42.

Sringari T, Jain U, Sharma V (2005) Role of valgus osteotomy and fixation by double-angle blade plate in neglected displaced intracapsular fracture of neck of femur in younger patients. Injury 36:630–634

43.

Tronzo R (1973) Surgery of the hip joint. Lea & Febiger, Philadelphia

44.

Vaidya S, Dholakia D, Chatterjee A et al (2002) Technik der biologischen Osteosynthese von subtrochantären Frakturen mit der dynamischen Kondylenschraube (DCS). Oper Orthop Traumatol 14(4):335–343

45.

Wang J, Weng L (2003) Treatment of distal femoraln nonunion with internal fixation, cortical allograft struts, and autogenous bone-grafting. J Bone Joint Surg 85-A:436–440

46.

Wenda K, Runkel M, Degreif J et al (1997) Minimally invasive plate fixation in femoral shaft fractures. Injury 28(Suppl 1):S-A13–S-A19

47.

Wu C (2006) Salvage of proximal tibial malunion or non-union with the use of angled blade plate. Arch Orthop Trauma Surg 126:82–87

48.

Wu C, Lee Z (2008) Speeded gradual lengthening and secondary angled blade plate stabilisation for proximal tibial shaft non-union with shortening. Int Orthop (SICOT) 32:693–696

49.

Yoo M, Cho Y, Kim K et al (2005) Treatment of unstable peritrochanteric femoral fractures using a 95° angled blade plate. J Orthop Trauma 19:687–692

50.

Zlowodzki M, Bhandari M, Marek D et al (2006) Operative treatment of acute distal femur fractures: systematic review of 2 comparative studies and 45 case series (1989 to 2005). J Orthop Trauma 20:366–371

51.

Zlowodzki M, Williamson S, Cole P et al (2004) Biomechanical evaluation of the less invasive stabilization system, angled blade plate, and retrograde intramedullary nail for the internal fixation of distal femur fractures. J Orthop Trauma 18:494–502

52.

Zlowodzki M, Williamson S, Zardiackas L et al (2006) Biomechanical evaluation of the less invasive stabilization system and the 95-degree angled blade plate for the internal fixation of distal femur fractures in human cadaveric bones with high bone mineral density. J Trauma 60:836–840
Interessenkonflikt
Der korrespondierende Autor gibt an, dass kein Interessenkonflikt besteht.
About this article
Cite this article
Oestern, H., Gänsslen, A. Anwendung der Klingen- und der dynamischen Schraubplattenosteosynthese. Orthopäde 39, 160–170 (2010). https://doi.org/10.1007/s00132-009-1521-8
Schlüsselwörter
Klingenplatte

Dynamische Schraubenosteosynthese

Indikationen

Ergebnisse

Komplikationen
Keywords
Blade plate

Dynamic screw osteosynthesis

Indications

Results

Complications