Zusammenfassung
Chronische Rückenschmerzsyndrome erzwingen eine therapeutische Neuorientierung. Gefordert werden eine Teambehandlung und konsequente Berücksichtigung des Spektrums einschlägig wirksamer Therapieformen. Vom Arzt sollte ein kooperierendes Team mit einem Psychologen und einem Physio-/Sporttherapeuten organisiert und ein enger diagnostisch/therapeutischer Informationsaustausch entsprechend der Kriterien einer "interdisziplinären multimodalen Schmerztherapie" institutionalisiert werden. Je nach individuellem Problemmuster werden die therapeutischen Aufgaben im Team gewichtet und verteilt. Auf fraglich relevante, vorwiegend körperbezogene diagnostische und therapeutische Maßnahmen sollte strikt verzichtet werden. Das Setting im Team ermöglicht in idealer Weise arbeitsteilig und zeitgleich den professionellen Einsatz der effektivsten Therapie in enger Abstimmung: der pharmakologischen Therapie durch den Arzt inklusive wirbelsäulennaher Infiltrationen, der systematischen kontrollierten Belastungssteigerung durch den Sporttherapeuten und der psychosozialen Hilfestellung durch den Psychologen.
Abstract
Chronic back pain compels a new therapeutic strategy. A therapeutic team setting and consequent consideration of proven treatments are required. The orthopedic specialist should manage a cooperating team with a psychologist and a physiotherapist, and information should be continuously exchanged according to the criteria for interdisciplinary multimodal pain therapy. The team's therapeutic tasks should be determined and distributed according to the individual patient's problems. Questionably relevant – in particular, somatic-oriented – diagnostic and therapeutic measures should be avoided. The team setting facilitates optimal task sharing and simultaneous professional application of the most effective therapy for chronic back pain: pharmaceutical therapy, including peridural infiltrations by the medical doctor; systematic and controlled increased load by the physiotherapist; and psychosocial assistance from the psychologist.
This is a preview of subscription content, log in to check access.
Access options
Buy single article
Instant access to the full article PDF.
US$ 39.95
Price includes VAT for USA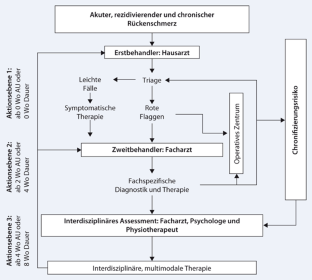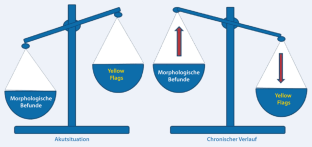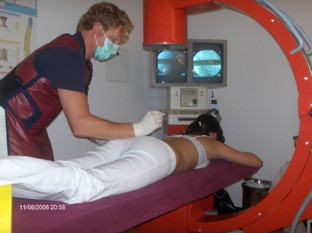 Literatur
1.

Arnold B, Brinkschmidt T, Casser HR et al (2009) Multimodale schmerztherapie, konzepte und indikation. Schmerz 23:112–120

2.

Bendix AF, Bendix T (1997) Comparision of the intensive programs for chronic low back pain patients: a prospective, randomized, observer-blinded study with one year follow-up. Scand J Rehabil Med 29(Suppl):81–89

3.

Bertelsmannstiftung (2007) Expertenpanel Rückenschmerz: http://www.bertelsmann-stiftung.de/cps/rde/xbcr/SID-0A000F14 41F4AE/bst/Gesundheitspfad_Ruecken_2007.pdf

4.

Bonnemann C, Bonnemann D, Hoffmann D et al (2007) Bielefelder Rückenmodell. Dtsch Ärztebl 104:2248–2251

5.

Böttcher K (2009) Pressekonferenz der KV Berlin, 2.3.09

6.

Bronfort G, Haas M, Evans RL, Bouter LM (2004) Efficacy of spinal manipulation and mobilization for low back pain and neck pain. Spine 4(3):335–356

7.

Buenaventura RM, Datta S, Abdi S, Smith HS (2009) Systematic review of therapeutic lumbar transforaminal epidural steroid injections. Pain Physician 12(1):233–251

8.

Chou R, Fu R, Carrino JA, Deyo RA (2009) Imaging strategies for low-back pain. Lancet 7:463–472

9.

Franklin GM, Stover BD, Turner JA et al (2008) Early opioid prescription and subsequent disability among workers with back injuries. Spine 15:199–204

10.

Gerbershagen HU, Lindena G, Kramer S (2002) Gesundheitsbezogene lebensqualität bei patienten mit chronischen schmerzen. Schmerz 16:271–284

11.

Gibson JN, Waddell G (2005) Surgery for degenerative lumbar spondylosis: updated Cochrane Review. Spine 30(20):2312–2320

12.

Gibson JN, Waddell G (2007) Surgical interventions for lumbar disc prolapse. Spine 32(16):1735–1747

13.

Hildebrandt J, Pfingsten M (2003) GRIP – das Manual. Congress-Verlag, Berlin

14.

Janlert U (1997) Unemployment as a disease and diseases of the unemployed. Scand J Work Environ Health 23(Suppl 3):79–83

15.

Kohlmann T (2003) Die chronifizierung von rückenschmerzen. Bundesgesundheitsblatt Gesundheitsforschung Gesundheitsschutz 46:327–335

16.

Lambeek LC (2007) Multidisciplinary outpatient care program for patients with chronic low back pain: design of a randomized controlled trial and cost-effectiveness study. BMC Public Health 7:254

17.

Liddle SD, Gracey JH, Baxter GD (2007) Advice for the management of low back pain: a systematic review of randomized controlled trials. Man Ther 12:310–327

18.

Marnitz U, Weh L, Müller G et al (2008) Integrationsversorgung von patienten mit rückenschmerzen. schmerzbezogene ergebnisse und arbeitsfähigkeit (DAK-Berlin-Brandenburger Rückennetz). Schmerz 22:415–423

19.

Urquhart DM, Hoving JL, Assendelft WW et al (2008) Antidepressants for non-specific low back pain. Cochrane Database Syst Rev 23(1):CD001703

20.

Van Tulder MW, Koes B, Malmivaara A (2006) Outcome of noninvasive treatment modalities on back pain: an evidence based review. Eur Spine J 15:64–81

21.

van Tulder MW, Scholten RJ, Koes BW, Deyo RA (2007) Non-steroidal anti-inflammatory drugs for low-back pain. Cochrane Database Syst Rev 18(2)

22.

Verdu B, Decosterd I, Buclin T et al (2008) Antidepressants for the treatment of chronic pain. Drugs 68(18):2611–2632

23.

DAK (2009) Verträge der Integrierten Versorgung der DAK. DAK

24.

Waddell G (1993) A fear-avoidance beliefs questionnaire (FABQ) and the role of fear-avoidance beliefs in chronic low-back pain. Pain 52:157–168

25.

Waddell G, Feder G, Lewis M (1997) Systematic reviews of bedrest and advice to stay active for acute low back pain. BJGP 47:647–652

26.

Weh L, Danner H, Skerhutt W, Lipke J (2006) Erniedrigte druckschmerzschwelle bei fibromyalgie und chronischem lumbalsyndrom – konsequenzen für die therapie. MOT 2:59–64
Interessenkonflikt
Der korrespondierende Autor gibt an, dass kein Interessenkonflikt besteht.
About this article
Cite this article
Weh, L., Marnitz, U. Der Orthopäde im interdisziplinären Setting. Orthopäde 38, 913 (2009). https://doi.org/10.1007/s00132-009-1483-x
Schlüsselwörter
Chronischer Rückenschmerz

Bandscheibenvorfall

Interdisziplinäre multimodale Schmerztherapie

Konservative Therapie
Keywords
Chronic back pain

Functional restoration of the spine

Sciatica

Multimodal therapy