Zusammenfassung
Skoliosechirurgie im Kindesalter ist eine Herausforderung für den Kinderanästhesisten: Die Invasivität des Eingriffs bei einem inhomogenen Patientenkollektiv verschiedenster Größe, Gewicht und zugrunde liegender Pathologie stellt besondere Anforderungen an Monitoring, Narkoseführung, Lagerung des Patienten, Blutersatzverfahren, altersspezifischer (Patho)physiologie, Ventilation und postoperative Schmerztherapie. Die Einführung von Monitoringverfahren der Rückenmarkfunktionen erfordert eine Anpassung der Narkoseverfahren, sodass auch die Anästhesie einer permanenten Weiterentwicklung aufgeschlossen bleiben muss, deren aktuelle Konzepte in dieser Übersichtsarbeit besprochen werden.
Abstract
Anaesthesia for scoliosis surgery in children is a challenge for the paediatric anaesthesiologist. The large range of underlying pathologies causing deranged physiology in an inhomogeneous patient group ranging from neonates to adolescents necessitates diligent and individual preparation for each case. Due to the invasiveness of the operation demanding anaesthetic care is necessary. This review highlights current approaches to monitoring, anaesthetic regimen, positioning of the patient, blood conservation and transfusion, age-related pathophysiology, ventilation and postoperative pain therapy. The introduction of neurophysiologic spinal cord monitoring requires certain adaptations of the anaesthetic regimen to suit technological advances.
This is a preview of subscription content, log in to check access.
Access options
Buy single article
Instant access to the full article PDF.
US$ 39.95
Price includes VAT for USA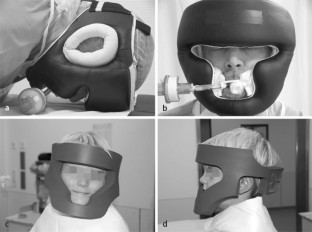 Literatur
1.

Almenrader N, Patel D (2006) Spinal fusion surgery in children with non-idiopathic scoliosis: is there a need for routine postoperative ventilation? Br J Anaesth 97(6): 851–857

2.

Amaranath L, Andrish JT, Gurd AR et al (1989) Efficacy of intermittent epidural morphine following posterior spinal fusion in children and adolescents. Clin Orthop Relat Res 249: 223–226

3.

Chau A, Wu J, Ansermino M et al (2008) A Jehovah's Witness child with hemophilia B and factor IX inhibitors undergoing scoliosis surgery. Can J Anaesth 55(1): 47–51

4.

Dorgan JC, Abbott TR, Bentley G (1984) Intra-operative awakening to monitor spinal cord function during scoliosis surgery. Description of the technique and report of four cases. J Bone Joint Surg Br 66(5): 716–719

5.

Gibson PR (2004) Anaesthesia for correction of scoliosis in children. Anaesth Intensive Care 32(4): 548–559

6.

Govindarajan R, Babalola O, Gad-El-Kareem M et al (2006) Intraoperative wake-up test in neonatal neurosurgery. Paediatr Anaesth 16(4): 451–453

7.

Guay J, de Moerloose P, Lasne D (2006) Minimizing perioperative blood loss and transfusions in children. Can J Anaesth 53(6 Suppl): 59–67

8.

Hammer GB, Fitzmaurice BG, Brodsky JB (1999) Methods for single-lung ventilation in pediatric patients. Anesth Analg 89(6): 1426–1429

9.

Imani F, Jafarian A, Hassani V, Khan ZH (2006) Propofol-alfentanil vs propofol-remifentanil for posterior spinal fusion including wake-up test. Br J Anaesth 96(5): 583–586

10.

Innes G (1998) Guidelines for red blood cells and plasma transfusion for adults and children: an emergency physician's overview of the 1997 Canadian blood transfusion guidelines. Part 1: red blood cell transfusion. Canadian Medical Association Expert Working Group. J Emerg Med 16(1): 129–131

11.

Jöhr M (2004) Kinderanästhesie, 6. Aufl. Elsevier, München

12.

Jules-Elysee K, Urban MK, Urquhart BL et al (2004) Pulmonary complications in anterior-posterior thoracic lumbar fusions. Spine J 4(3): 312–316

13.

Levine M, Slinger P (2002) Single-lung ventilation in pediatrics. Can J Anaesth 49(3): 221–225

14.

Macdonald DB (2006) Intraoperative motor evoked potential monitoring: overview and update. J Clin Monit Comput 20(5): 347–377

15.

Mollmann M, Henning M, Liljenqvist U, Wenk M (2007) A foam-cushion face mask and a see-through operation table: a new set-up for face protection and increased safety in prone position. Br J Anaesth 99(4): 597–598

16.

Pajewski TN, Arlet V, Phillips LH (2007) Current approach on spinal cord monitoring: the point of view of the neurologist, the anesthesiologist and the spine surgeon. Eur Spine J 16(Suppl 2): 115–129

17.

Patil CG, Lad EM, Lad SP et al (2008) Visual loss after spine surgery: a population-based study. Spine 33(13): 1491–1496

18.

Salem MR, Kloweden AJ (2002) Anaesthesia for orthopaedic surgery. In: Pediatric anesthesia. Gregory GA (ed) Churchill Livingstone, New York, pp 617–661

19.

Scherer R (2006) Intubation and ventilation during thoracic surgery in children. Anasthesiol Intensivmed Notfallmed Schmerzther 41(10): 660–664

20.

Smetana GW (1999) Preoperative pulmonary evaluation. N Engl J Med 340(12): 937–944

21.

Soliman DE, Maslow AD, Bokesch PM et al (1998) Transoesophageal echocardiography during scoliosis repair: comparison with CVP monitoring. Can J Anaesth 45(10): 925–932

22.

Tzortzopoulou A, Cepeda MS, Schumann R, Carr DB (2008) Antifibrinolytic agents for reducing blood loss in scoliosis surgery in children. Cochrane Database Syst Rev (3)(3):CD006883

23.

Wazeka AN, DiMaio MF, Boachie-Adjei O (2004) Outcome of pediatric patients with severe restrictive lung disease following reconstructive spine surgery. Spine 29(5): 528–535

24.

Zahn PK, Wenk MJ, Pogatzki-Zahn EM et al (2007) Postoperative blindness – a rare but devastating complication. Eur J Anaesthesiol 24(1): 96–97
Interessenkonflikt
Der korrespondierende Autor gibt an, dass kein Interessenkonflikt besteht.
About this article
Cite this article
Wenk, M., Jockenhöfer, D., Pöpping, D. et al. Skoliosechirurgie bei Kindern aus anästhesiologischer Sicht. Orthopäde 38, 170 (2009). https://doi.org/10.1007/s00132-008-1361-y
Schlüsselwörter
Kinderanästhesie

Monitoring

Skoliose

Bauchlage

Ein-Lungen-Ventilation
Keywords
Paediatric anaesthesia

Scoliosis

Prone position

Monitoring

Single-lung ventilation