Zusammenfassung
Die minimal-invasive (minimal invasive surgery, MIS-)Knietotalendoprothetik ist eine logische Weiterentwicklung der positiven Erfahrungen und Ergebnisse bei der minimal-invasiven unikondylären Schlittenprothese. Die Terminologie für die minimal-invasiven Techniken bei Knietotalendoprothesen (KTEP) ist verwirrend und ein Vergleich der einzelnen MIS-Methoden damit schwierig. Eine einfache Unterteilung in weniger invasive und minimal-invasive Zugänge wird vorgestellt. Neben dem Zugang sind jedoch auch minimal-invasive chirurgische Prinzipien ganz entscheidend. Die minimal-invasive Knieendoprothetik wird derzeit noch sehr kontroversiell diskutiert. Die ersten klinischen Ergebnisse dieser neuen chirurgischen Techniken sind jedoch viel versprechend. Zurzeit besteht aber mehr "Gefühl als Wissen". Wesentliche Fragen (Risiko-Nutzen-Analyse, welche Methode für welchen Patienten und Chirurgen, Ausbildung, Kosteneffizienz usw.) müssen von den Proponenten der minimal-invasiven Chirurgie noch beantwortet werden. Ein schrittweises Erlernen dieser neuen Techniken als "Evolution statt Revolution" in entsprechenden Ausbildungsprogrammen ist dringend empfehlenswert. Schlussendlich müssen die Chirurgen und die Patienten entscheiden, ob diese neuen Techniken nur ein moderner Trend oder die Zukunft darstellen werden.
Abstract
Minimally invasive total knee arthroplasty is a logical and further improvement of the good results achieved with minimally invasive unicondylar knee arthroplasty. The terminology for minimally invasive surgery (MIS) is confusing and comparison of different techniques is therefore difficult. A simple separation between less invasive and minimally invasive techniques will be presented. Besides the approach, minimally invasive surgical principles are very important. MIS in total knee arthroplasty is discussed very controversially at the moment. The preliminary results of these new techniques are very promising. Up to now there is much more feeling then knowing. Important questions (risk-benefit analysis, which technique for which patient and surgeon, education and cost-effectiveness) must be addressed by the proponents of this MIS technique. Step by step learning of these new techniques (evolution instead of revolution) in specific education centres is strongly recommended. Ultimately, patients and surgeons will have to decide whether these new techniques will only be a modern trend or represent the future.
This is a preview of subscription content, log in to check access.
Access options
Buy single article
Instant access to the full article PDF.
US$ 39.95
Price includes VAT for USA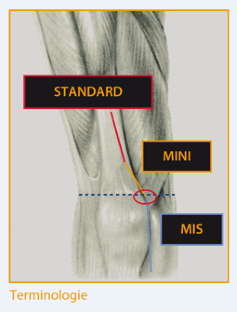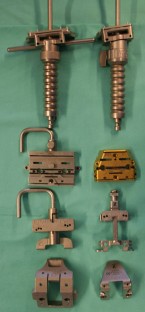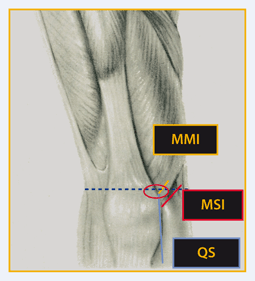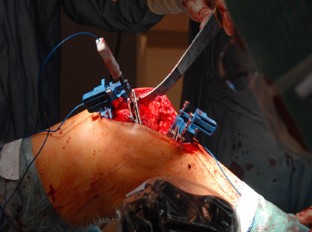 Literatur
1.

Aglietti P, Baldini A, Sensi L (2006) Quadriceps sparing versus mini subvastus approach in total knee arthroplasty. Clin Orthop Relat Res 452: 106–111

2.

Argenson JN, Flecher X (2004) Minimally invasive unicompartmental knee arthroplasty. Knee 11: 341–347

3.

Bonutti PM, Mont MA, Kester MA (2004) Minimally invasive total knee arthroplasty: a 10-feature evolutionary approach. Orthop Clin North Am 35: 217–226

4.

Carlsson LV, Albrektsson BE, Regner LR (2006) Minimally invasive surgery vs conventional exposure using the Miller-Galante unicompartmental knee arthroplasty: a randomized radiostereometric study. J Arthroplasty 21: 151–156

5.

Chang CH, Chen KH, Yang RS, Liu TK (2002) Muscle torques in total knee arthroplasty with subvastus and parapatellar approaches. Clin Orthop Relat Res 398: 189–195

6.

Dalury DF, Dennis DA (2005) Mini-incision total knee arthroplasty can increase risk of component malalignment. Clin Orthop Relat Res 440: 77–81

7.

Drobny T (2006) MIS KTEP: Eine kritische Analyse. JATROS 11: 36–38

8.

Engh GA, Ammeen D (2003) The midvastus approach to the knee. J Knee Surg 16: 48–51

9.

Engh GA, Holt BT, Parks NL (1997) A midvastus muscle-splitting approach for total knee arthroplasty. J Arthroplasty 12: 322–331

10.

Fuchs R, Mills EL, Clarke HD, Scuderi G (2006) A third generation posterior stabilized knee prosthesis: early results after follow-up of 2 to 6 years. J Arthroplasty 6: 821–825

11.

Haas SB, Cook S, Beksac B (2004) Minimally invasive total knee replacement through a mini midvastus approach: a comparative study. Clin Orthop 428: 68–73

12.

Hofmann AA, Plaster RL, Murdock LE (1991) Subvastus (southern) approach for primary total knee arthroplasty. Clin Orthop Relat Res 269: 70–77

13.

Hofmann S, Pietsch M (2006) Minimalinvasive Knietotalendoprothetik – Eine Nutzen-Risiko-Analyse bei 100 konsekutiven Patienten. JATROS 11: 18–21

14.

Jojima H, Whiteside LA, Ogata K (2004) Anatomic consideration of nerve supply to the vastus medialis in knee surgery. Clin Orthop 423: 157–160

15.

King J, Stamper DL, Schaad DC, Leopold SS (2007) Minimally invasive total knee arthroplasty compared with traditional total knee arthroplasty. Assessment of the learning curve and the postoperative recuperative period. J Bone Joint Surg Am 89: 1497–1503

16.

Laskin RS (2003) New techniques and concepts in total knee replacement. Clin Orthop 416: 151–153

17.

Laskin RS (2006) Reduced-incision total knee replacement through a mini-midvastus technique. J Knee Surg 19: 52–57

18.

Pagnano MW, Meneghini RM (2006) Minimally invasive total knee arthroplasty with an optimized subvastus approach. J Arthroplasty 21: 22–26

19.

Pandit H, Jenkins C, Barker K et al. (2006) The Oxford medial unicompartmental knee replacement using a minimally-invasive approach. J Bone Joint Surg Br 88: 54–60

20.

Parentis MA, Rumi MN, Deol GS (1999) A comparison of the vastus splitting and median parapatellar approaches in total knee arthroplasty. Clin Orthop Relat Res 367: 107–116

21.

Pietsch M, Hofmann S (2006) Minimal Invasive KTEP – Quadrizepsschonende Technik vs. Mini-Midvastus Incision. JATROS 11: 22–24

22.

Price AJ, Webb J, Topf H et al. (2001) Rapid recovery after oxford unicompartmental arthroplasty through a short incision. J Arthroplasty 16: 970–976

23.

Ranawat CS, Ranawat AS (2003) Minimally invasive total joint arthroplasty: where are we going? J Bone Joint Surg Am 85: 2070–2071

24.

Repicci JA, Eberle RW (1999) Minimally invasive surgical technique for unicondylar knee arthroplasty. J South Orthop Assoc 8: 20–27

25.

Roysam GS, Oakley MJ (2001) Subvastus approach for total knee arthroplasty: a prospective, randomized and observer blinded trial. J Arthroplasty 16: 454–457

26.

Scuderi GR, Tenholder M, Capeci C (2004) Surgical approaches in mini-incision total knee arthroplasty. Clin Orthop 428: 61–67

27.

Tria AJ Jr, Coon TM (2003) Minimal incision total knee arthroplasty: early experience. Clin Orthop 416: 185–190

28.

Trousdale RT, McGrory JE, Berry DJ et al. (1999) Patients concers prior to undergoing total hip and total knee arthroplasty. Mayo Clin Proc 74: 978–982

29.

Vaughan LM, Johnson S (2000) Total knee arthroplasty: a short(er) incision technique In: New technology and techniques in total joint arthroplasty. Orthop Clin North Am 35(2): 235–245

30.

White RE Jr, Allman JK, Trauger JA, Dales BH (1999) Clinical comparison of the midvastus and medial parapatellar surgical approaches. Clin Orthop Relat Res 367: 117–122
Interessenkonflikt
Der korrespondierende Autor weist auf folgende Beziehung hin: Der korrespondierende Autor hat einen Beratervertrag mit der Fa. Zimmer. Trotz des möglichen Interessenkonflikts ist der Beitrag unabhängig und produktneutral.
About this article
Cite this article
Hofmann, S., Pietsch, M. Entwicklung, Terminologie, Prinzipien und Kontroversen bei der minimal-invasiven Knieendoprothetik. Orthopäde 36, 1086–1092 (2007). https://doi.org/10.1007/s00132-007-1167-3
Schlüsselwörter
Knieendoprothetik

Minimal-invasive Techniken

Entwicklung

Terminologie

Kontroverse
Keywords
Total knee arthroplasty

Minimally invasive surgery

Development

Terminology

Controversy