Zusammenfassung
Bei mittlerweile bis zu 100.000 jährlich implantierten Kniegelenkendoprothesen in Deutschland steigt auch die Zahl der notwendigen Revisionen stetig an. Verschiedene Ursachen können eine Prothesenreimplantation unmöglich machen, sodass in diesen Fällen zur Vermeidung der Oberschenkelamputation die Arthrodese als Alternative der Wahl zu bevorzugen ist. Hauptindikationen sind infizierte Knietotalendoprothesen (Knie-TEP), bei welchen aufgrund von Streckapparatdefekten, Weichteilschäden, Knochendefekten oder persistierenden Infektionen eine Prothesenreimplantation nur mit aufwendigen Rekonstruktionen unter großem Komplikationsrisiko durchgeführt werden können.
Die verschiedenen Arthrodeseverfahren (intramedullär, extramedullär, Fixateur externe) sollten möglichst individuell an die jeweilige Situation angepasst werden. Die Ergebnisse, insbesondere hinsichtlich der Lebensqualität, sind ermutigend und sollen die Entscheidung erleichtern, wenn eine Reimplantation nicht mehr sinnvoll erscheint, oder medizinisch nicht vertretbar ist.
Abstract
Up to 100,000 total knee arthroplasties are performed annually in Germany resulting in an increasing number of revision operations. Different underlying causes might preclude the reimplantation of an endoprosthesis, and knee arthrodesis represents the alternative of first choice to above-knee amputation. The most common indications for arthrodesis are the infected knee arthroplasty with defects of the extensor mechanism, soft tissue and bone defects, and persisting infection. Several procedures of arthrodesis have been introduced and should be well adapted to the individual situation of the patient.
The results – especially related to quality of life – are encouraging and should facilitate the demanding decision if a total joint reimplantation is not reasonable.
This is a preview of subscription content, log in to check access.
Access options
Buy single article
Instant access to the full article PDF.
US$ 39.95
Price includes VAT for USA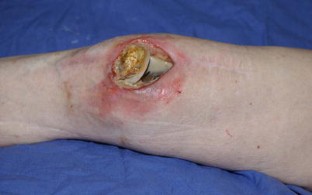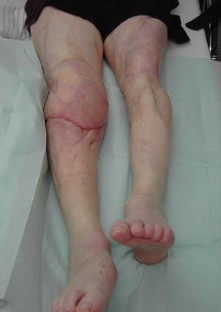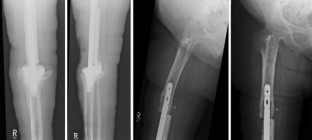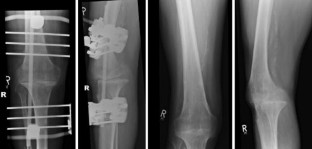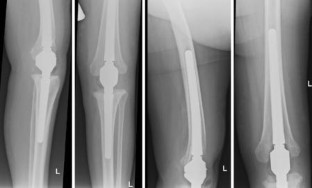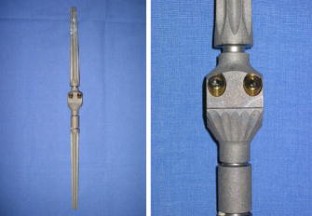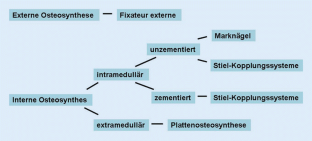 Literatur
1.

Agneskirchner JD, Lobenhofer T (2004) Endoprothetik des Kniegelenkes. Unfallchirurg 107: 219–231

2.

Backe HA Jr, Wolff DA, Windsor RE (1996) Total knee replacement infection after two-stage-reimplantation: Results of subsequent two-stage-reimplantation. Clin Orthop 331: 125–131

3.

Bengtson S (1993) Prosthetic osteomyelitis with special reference to the knee: Risks, treatment and costs. Ann Med 25: 523–529

4.

Bengtson S, Knutson K (1991) The infected knee arthroplasty. A six year follow-up of 357 cases. Acta Orthop Scand 62: 301–311

5.

Benson ER, Resine ST, Lewis CG (1998) Functional outcome of arthrodesis for failed total knee arthroplasty. Orthopedics 21: 875–879

6.

Bose WJ, Gearen TF, Rambal JC, Patty W (1995) Long-term outcome of 42 knees with chronic infection after total knee arthroplasty. Clin Orthop 319: 285–296

7.

Brodersen MP, Fitzgerald RH Jr, Peterson LF et al. (1979) Arthrodesis of the knee following failed total knee arthroplasty. J Bone Joint Surg Am 61: 181–185

8.

Conway JD, Mont MA, Bezwada HP (2004) Arthrodesis of the knee. J Bone Joint Surg Am 86: 835–848

9.

Damron TA, McBeath AA (1995) Arthrodesis following failed total knee arthroplasty: comprehensive review and meta-analysis of recent literature. Orthopedics 18: 361–368

10.

De Cloedt P, Emery R, Legaye J, Lokietec W (1994) Le protheses totales de genou infectees. Orientation du choix therapeutique. Rev Chir Orthop Reparatrice Appar Mot 80: 626–633

11.

Drobny TK, Munziner U (1991) Zur Problematik der infizierten Knieprothese. Orthopäde 20: 239–243

12.

Enneking WF, Shirley PD (1977) Resection-arthrodesis for malignant and potentially malignant lesions about the knee using an intramedullary rod and local bone grafts. J Bone Joint Surg Am 59: 223–236

13.

Fern ED, Stewart HD, Newton G (1989) Curved Kuntscher nail arthrodesis after failure of knee replacement. J Bone Joint Surg Br 71: 588–590

14.

Förster G, Kluber D, Kabler O (1991) Mittel- bis langfristige Ergebnisse nach Behandlung von 118 periprothetischen Infektionen nach Kniegelenksersatz durch einzeitige Austauschoperation. Orthopäde 20: 244–252

15.

Frommelt L (2004) Prinzipien der Antibiotikabehandlung bei periprothetischen Infektionen. Orthopäde 33: 822–828

16.

Fuchs S, Mersmann A (2000) Ergebnisse von Arthrodesen nach infizierten Knieendoprothesen. Unfallchirurg 103: 626–631

17.

Gerdesmeyer L, Gollwitzer H, Diehl P et al. (2006) Rekonstruktion der Strecksehneninsertion im Rahmen von Knieendoprothesenwechsel und Tumorendoprothetik. Orthopäde 35: 169–175

18.

Hanssen HD, Trousdale RT, Osmon DR (1995) Patient outcome with reinfection following reimplantation for the infected total knee arthroplasty. Clin Orthop 328: 55–67

19.

Harle A (1991) Die Infektion bei Knieendoprothesen. Orthopäde 20: 327–338

20.

Harris IE, Leff AR, Gitelis S, Simon MA (1990) Function after amputation, arthrodesis, or arthroplasty for tumors about the knee. J Bone Joint Surg Am 72: 1477–1485

21.

Hart R, Janecek M, Bucek P et al. (2003) Indications for arthrodesis of the knee joint in modern orthopaedics. Rozhl Chir 82: 227–232

22.

Husted H, Toftgaard Jensen T (2002) Clinical outcome after treatment of infected primary total knee arthroplasty. Acta Orthop Belg 68: 500–507

23.

Incavo SJ, Lilly JW, Bartlett CS, Churchill DL (2000) Arthrodesis of the knee: experience with intramedullary nailing. J Arthroplasty 15: 871–876

24.

Isiklar ZU, Landon GC, Tullos HS (1994) Amputation after failed total knee arthroplasty. Clin Orthop 299: 173–178

25.

Jorgensen PS, Torholm C (1995) Arthrodesis after infected knee arthroplasty using long arthrodesis nail. A report of five cases. Am J Knee Surg 8: 110–113

26.

Knutson K, Hovelius L, Lindstrand A, Lidgren L (1984) Arthrodesis after failed knee arthroplasty. A nationwide multicenter investigation of 91 cases. Clin Orthop 191: 202–211

27.

Kramhoft M, Bodtker S, Carlson A (1994) Outcome of infected total knee arthroplasty. J Arthroplasty 9: 617–621

28.

Kuhne CA, Taeger G, Nast-Kolb D, Ruchholtz S (2003) Knee arthrodesis after infected tumor mega prosthesis of the knee using an intramedullary nail for callus distraction. Langenbecks Arch Surg 388: 56–59

29.

Lai KA, Shen WJ, Yang CY (1998) Arthrodesis with a short Huckstep-nail as a salvage procedure for failed total knee arthroplasty. J Bone Joint Surg Am 80: 380–388

30.

Manzotti A, Pullen C, Deromedis B, Catagni MA (2001) Knee arthrodesis after infected total knee arthroplasty using the Ilizarov method. Clin Orthop 389: 143–149

31.

Munzinger U, Knessl J, Gschwend N (1987) Arthrodesis following knee arthroplasty. Orthopäde 16: 301–309

32.

Nichols SJ, Landon GC, Tullos HS (1991) Arthrodesis with dual plates after failed total knee arthroplasty. J Bone Joint Surg Am 73: 1020–1024

33.

Oostenbroek HJ, van Roermund PM (2001) Arthrodesis of the knee after an infected arthroplasty using the Ilizarov method. J Bone Joint Surg Br 83: 50–54

34.

Petty W (1995) Operative management of infected knee. Orthopaedics 18: 927–929

35.

Pring DJ, Marks L, Angel JC (1988) Mobility after amputation for failed knee replacement. J Bone Joint Surg Br 70: 770–771

36.

Puranen J, Kortelainen P, Jalovaara P (1990) Arthrodesis of the knee with intramedullary nail fixation. J Bone Joint Surg Am 72: 433–442

37.

Rand JA (1994) Evaluation and management of infected total knee arthroplasty. Semin Arthroplasty 5: 178–182

38.

Rand JA, Bryan RS, Chao EY (1987) Failed total knee arthroplasty treated by arthrodesis of the knee using the Ace-Fischer apparatus. J Bone Joint Surg Am 69: 39–45

39.

Rasmussen MR, Bischop AT, Wood MB (1995) Arthrodesis of the knee with a vascularized fibular rotatory graft. J Bone Joint Surg Am 77: 751–759

40.

Ruchholtz S, Täger G, Nast-Kolb D (2004) Die infizierte Hüftgelenksendoprothese. Unfallchirurg 107: 307–319

41.

Vlasak R, Gearen PF, Petty W (1995) Knee arthrodesis in the treatment of failed total knee replacement. Clin Orthop 321: 138–144

42.

Wasielewsky RC, Barden RM, Rosenberg AG (1996) Results of different surgical procedures on total knee arthroplasty infections. J Arthroplasty 11: 931–938

43.

Wiedl JD (2002) Salvage of infected total knee fusion: The last option. Clin Orthop 404: 139–142
Interessenkonflikt
Es besteht kein Interessenkonflikt. Der korrespondierende Autor versichert, dass keine Verbindungen mit einer Firma, deren Produkt in dem Artikel genannt ist, oder einer Firma, die ein Konkurrenzprodukt vertreibt, bestehen. Die Präsentation des Themas ist unabhängig und die Darstellung der Inhalte produktneutral.
About this article
Cite this article
von Stein, T., Gollwitzer, H., Kruis, C. et al. Arthrodese nach Knietotalendoprothetik am Beispiel der septischen Lockerung. Orthopäde 35, 946–955 (2006). https://doi.org/10.1007/s00132-006-0980-4
Schlüsselwörter
Knie-TEP

Revision

Arthrodese

Lebensqualität

Operationsverfahren
Keywords
Knee arthroplasty

Revision

Arthrodesis

Quality of life

Procedures