Zusammenfassung
Weichteildefekte nach Knieendoprothetik stellen ein schwerwiegendes Problem dar, sodass sogar die Prothese oder das gesamte Bein gefährdet sein können. Sorgfältig geplante Strategien sind für eine suffiziente Defektdeckung notwendig, die ein möglichst optimales funktionelles und ästhetisches Ergebnis gewährleisten.
Der vorliegende Beitrag erläutert die Stadieneinteilung der Weichteildefekte und stadienangepasste Möglichkeiten der operativen Sanierung. Neben den für alle Stadien gleichen grundlegenden Therapieprinzipien der Ruhigstellung, des Débridements, der programmierten Lavage und der Antibiotikatherapie stehen heutzutage sämtliche operativen Mittel der rekonstruktiven Chirurgie zur Verfügung. Dazu zählen die Hauttransplantation, lokale fasziokutane Verschiebelappen, gestielte lokale Muskellappenplastiken und freie Lappenplastiken. Für den optimalen Erfolg ist folglich ein interdisziplinäres Regime von Orthopäden, Plastischen Chirurgen, Mikrobiologen und Physiotherapeuten notwendig.
Abstract
Soft tissue defects after knee arthroplasty are a severe problem, which can even result in a loss of the prosthesis or the limb. Well-planned strategies are necessary for sufficient soft tissue reconstruction, resulting in optimal functional and aesthetic results.
This report provides information on the classification of the tissue defects and the appropriate options for surgical reconstruction. Besides the basic therapy principles of immobilisation, débridement, planned lavages and antibiotic therapy, defect-dependent surgical techniques of reconstructive surgery are implemented. These include skin transplantation, local fasciocutaneous flaps, local pedicled muscle flaps and free flaps. For best results, interdisciplinary treatment by orthopaedic surgeons, plastic surgeons, microbiologists and physiotherapists is mandatory.
This is a preview of subscription content, log in to check access.
Access options
Buy single article
Instant access to the full article PDF.
US$ 39.95
Price includes VAT for USA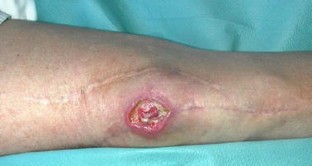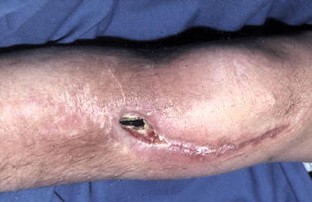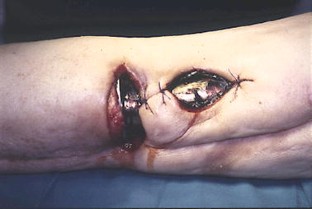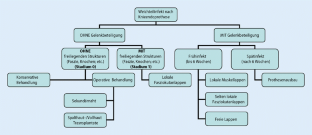 Literatur
1.

Arnold PG (1985) Vastus medialis myocutaneus and myocutaneus-tendinous composite flaps. Plast Reconstr Surg 75: 685

2.

Alexiades M, Sands A, Craig SM, Scott WN (1989) Management of selected problems in revision knee arthroplasty. Orthop Clin North Am 20: 211–219

3.

Bruner S, Jester A, Sauerbier M, Germann G (2004) Use of a cross-over arteriovenous fistula for simultaneous microsurgical tissue transfer and restoration of blood flow to the lower extremity. Microsurgery 24: 114–117

4.

Buechel FF (2004) The infected total knee arthroplasty: just when you thought it was over. J Arthroplasty 19: 51–55

5.

Chandrasekhar B, Brien W (1993) Coverage strategies in total joint replacement. Orthop Clin North Am 24: 523–529

6.

Cormack GC, Lamberty BG (1984) A classification of fascio-cutaneous flaps according to their patterns of vascularisation. Br J Plast Surg 37: 80–87

7.

Erler K, Neumann U, Anders C et al. (2003) Nachuntersuchungsergebnisse mittels EMG-Mapping — 5 Jahre nach Knieprothesenimplantation. Z Orthop Ihre Grenzgeb 141: 48–53

8.

Gardetto A, Raschner C, Schoeller T, Pavelka ML, Wechselberger G (2005) Rectus femoris muscle flap donor-site morbidity. Br J Plast Surg 58: 175–182

9.

Gerwin M, Rothaus KO, Windsor RE, Brause BD, Insall JN (1993) Gastrocnemius muscle flap coverage of exposed or infected knee prostheses. Clin Orthop Relat Res 286: 64–70

10.

Hallock GG (1990) Salvage of total knee arthroplasty with local fasciocutaneous flaps. J Bone Joint Surg Am 72: 1236–1239

11.

Hayashi A, Maruyama Y (1990) The lateral genicular artery flap. Ann Plast Surg 24: 310–317

12.

Hayashi A, Maruyama Y (1990) The medial genicular artery flap. Ann Plast Surg 25: 174–180

13.

Hong JP, Lee HB, Chung YK, Kim SW, Tark KC (2003) Coverage of difficult wounds around the knee joint with prefabricated, distally based sartorius muscle flaps. Ann Plast Surg 50: 484–490

14.

Johnson DP, Bannister GC (1986) The outcome of infected arthroplasty of the knee. J Bone Joint Surg Br 68: 289–291

15.

König A, Kirschner S (2003) Langzeitergebnisse in der Knieendoprothetik. Orthopäde 32: 516–526

16.

Laing JH, Hancock K, Harrison DH (1992) The exposed total knee replacement prosthesis: a new classification and treatment algorithm. Br J Plast Surg 45: 66–69

17.

Li Z, Liu K, Lin Y, Li L (1990) Lateral sural cutaneous artery island flap in the treatment of soft tissue defects at the knee. Br J Plast Surg 43: 546–550

18.

Mathes SJ, Nahai F (1981) Classification of the vascular anatomy of muscles. Experimental and clinical correlation. Plast Reconstr Surg 67: 177–187

19.

Mathes SJ, Alpert BS, Chang N (1982) Use of the muscle flap in chronic osteomyelitis: experimental and clinical correlation. Plast Reconstr Surg 69: 815–829

20.

Menderes A, Demirdover C, Yilmaz M, Vayvada H, Barutcu A (2002) Reconstruction of soft tissue defects following total knee arthroplasty. Knee 9: 215–219

21.

Petty CT, Hogue RJ Jr (1978) Closure of an exposed knee joint by use of a sartorius muscle flap: case report. Plast Reconstr Surg 62: 458–461

22.

Pico R, Luscher NJ, Rometsch M, de Roche R (1991) Why the denervated gastrocnemius muscle flap should be encouraged. Ann Plast Surg 26: 312–324

23.

Ponten B (1981) The fasciocutaneous flap: its use in soft tissue defects of the lower leg. Br J Plast Surg 34: 215–220

24.

Recalde Rocha JF, Gilbert A, Masquelet A, Yousif NJ, Sanger JR, Matloub HS (1987) The anterior tibial artery flap: anatomic study and clinical application. Plast Reconstr Surg 79: 396–406

25.

Rorabeck CH (2002) Salvage of the infected total knee replacement. Clin Orthop 404: 113–115

26.

Satoh K, Fukuya F, Matsui A, Onizuka T (1989) Lower leg reconstruction using a sural fasciocutaneous flap. Ann Plast Surg 23: 97–103

27.

Shaw AD, Ghosh SJ, Quaba AA (1998) The island posterior calf fasciocutaneous flap: an alternative to the gastrocnemius muscle for cover of knee and tibial defects. Plast Reconstr Surg 101: 1529–1536

28.

Stark WJ (1946) The use of pedicled muscle flaps in the surgical treatment of chronic osteomyelitis resulting from compound fractures. J Bone Joint Surg 28: 343–350

29.

Tsai CC, Lin SD, Lai CS, Chou CK, Lin TM (1995) Reconstruction of the upper leg and knee with a reversed flow saphenous island flap based on the medial inferior genicular artery. Ann Plast Surg 35: 480–484
Interessenkonflikt:
Es besteht kein Interessenkonflikt. Der korrespondierende Autor versichert, dass keine Verbindungen mit einer Firma, deren Produkt in dem Artikel genannt ist, oder einer Firma, die ein Konkurrenzprodukt vertreibt, bestehen. Die Präsentation des Themas ist unabhängig und die Darstellung der Inhalte produktneutral.
About this article
Cite this article
Kovacs, L., Zimmermann, A., Juhnke, P. et al. Weichteildefekte als Komplikation nach Knieendoprothetik. Orthopäde 35, 162–168 (2006). https://doi.org/10.1007/s00132-005-0909-3
Schlüsselwörter
Knieendoprothetik

Weichteildefekte

Protheseninfektion

Lappenplastiken
Keywords
Knee arthroplasty

Soft tissue defects

Prosthesis infection

Flaps