Zusammenfassung
Das Nagel-Patella-Syndrom (NPS) gehört zu den hereditären, autosomal-dominant vererbten Onychoosteodysplasien und ist typischerweise charakterisiert durch Veränderungen im Bereich der Fingernägel, des Skelettsystems, der Nieren und der Augen.
Zugrundeliegend ist eine Mutation im Bereich des für die Kollagensynthese und -vernetzung relevanten Transkriptionsfaktors LMX1B. Das Krankheitsbild ist jedoch durch eine außergewöhnliche interindividuelle Varianz des phänotypischen Ausbildungsgrades charakterisiert; eine Korrelation zwischen genetischer Mutation und Phänotyp konnte bisher nicht gezeigt werden.
Die klinischen Besonderheiten bei Patienten mit NPS sind gut beschrieben. Die zur Verfügung stehende Literatur berücksichtigt jedoch in erster Linie klinische und radiologische Befunde.
In der vorliegenden Arbeit wird der Fall eines 40-jährigen Patienten mit NPS mit speziellem Fokus auf die arthroskopischen Besonderheiten im Bereich der Kniegelenke berichtet und die aktuelle Literatur diskutiert. Zusätzlich werden die ebenfalls betroffenen Familienmitglieder berücksichtigt.
Die Arthroskopie beider Kniegelenke im vorliegenden Fall zeigte eine ausgeprägte abnorme biomechanische Konstellation im Sinne einer hypoplastischen und lateralisierten Patella. Ausgeprägte Synovialplicae wurden beobachtet, die bereits zu Knorpelschäden auf den korrespondierenden Gelenkflächen geführt haben.
Unter Berücksichtigung der Ätiologie der Erkrankung und der zur Verfügung stehenden Literatur könnte es sich bei dem Plicasyndrom des Kniegelenks um eine weitere bei Patienten mit NPS auftretende Manifestation des Syndroms handeln, welches konsekutiv die arthroskopische Beurteilung des Gelenkes mit Plicaresektion bei unspezifischen Kniegelenksschmerzen bei Patienten mit NPS sinnvoll erscheinen lässt.
Abstract
Nail patella syndrome (NPS) is an autosomal dominant hereditary disorder affecting the nails, skeletal system, kidneys, and eyes. Skeletal features include absent or hypoplastic patellae, patella dislocations, elbow abnormalities, talipes and iliac horns on plain films. The existing literature focuses on clinical and radiographic findings in patients with NPS. We also report the case of a 40-year-old male patient and his family affected by NPS and includes clinical, radiographic as well as arthroscopic findings. Arthroscopic findings in this case are characterized by multiple synovial plicae in the knee joint leading to cartilage defects on the corresponding cartilage surfaces. A review of the recent literature suggests that the occurrence of synovial plicae might be related to NPS and might account for at least part of the characteristic symptoms of these patients. Therefore, in cases of unspecific knee pain associated with NPS arthroscopy of the knee joints and plicae resection seems to be recommendable.
This is a preview of subscription content, log in to check access.
Access options
Buy single article
Instant access to the full article PDF.
US$ 39.95
Price includes VAT for USA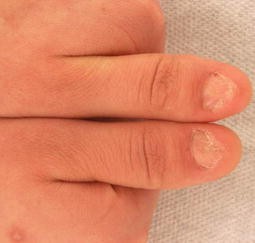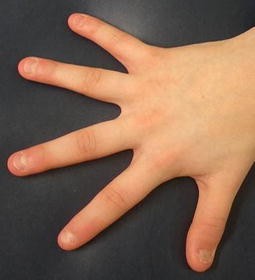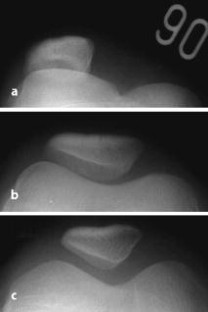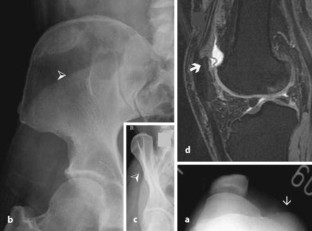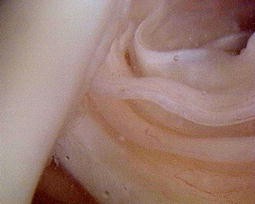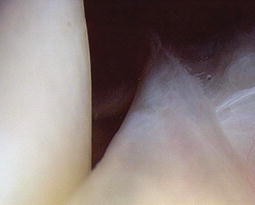 Literatur
1.

Baran R, Juhlin L (1986) Bone dependent nail formation. Br J Dermatol 114(3): 371–375

2.

Beals RK, Eckhardt AL (1969) Hereditary onycho-osteodysplasia (Nail-Patella syndrome). A report of nine kindreds. J Bone Joint Surg Am 51(3): 505–516

3.

Bennett WM, Musgrave JE, Campbell RA, Elliot D, Cox R, Brooks RE, Lovrien EW, Beals RK, Porter GA (1973) The nephropathy of the nail-patella syndrome. Clinicopathologic analysis of 11 kindred. Am J Med 54(3): 304–319

4.

Bodziak KA, Hammond WS, Molitoris BA (1994) Inherited diseases of the glomerular basement membrane. Am J Kidney Dis 23(4): 605–618

5.

Bongers EM, Gubler MC, Knoers NV (2002) Nail-patella syndrome. Overview on clinical and molecular findings. Pediatr Nephrol 17(9): 703–712

6.

Carbonara P, Alpert M (1964) Hereditary Osteo-Onycho-Dysplasia (Hood). Am J Med Sci 248: 139–151

7.

Chan PC, Chan KW, Cheng IK, Chan MK (1988) Living-related renal transplantation in a patient with nail-patella syndrome. Nephron 50(2): 164–166

8.

Chen H, Lun Y, Ovchinnikov D et al. (1998) Limb and kidney defects in Lmx1b mutant mice suggest an involvement of LMX1B in human nail patella syndrome. Nat Genet 19(1): 51–55

9.

Daniel CR, Osment LS, Noojin RO (1980) Triangular lunulae. A clue to nail-patella syndrome. Arch Dermatol 116(4): 448–449

10.

Doughty KS, Richmond JC (2005) Arthroscopic findings in the knee in nail-patella syndrome: a case report. Arthroscopy 21(1): e1–5

11.

Duthie RB (1964) Autosomal linkage in man: the nail-patella syndrome. Clin Orthop Relat Res 33:129–137

12.

Fidalgo Valdueza A (1973) The nail-patella syndrome. A report of three families. J Bone Joint Surg Br 55(1): 145–162

13.

Green ST, Natarajan S (1986) Bilateral first-rib hypoplasia: a new feature of the nail-patella syndrome. Dermatologica 172(6): 323–325

14.

Gubler MC, Dommergues JP, Foulard M et al. (1993) Collagen type III glomerulopathy: a new type of hereditary nephropathy. Pediatr Nephrol 7(4): 354–360

15.

Guidera KJ, Satterwhite Y, Ogden JA, Pugh L, Ganey T (1991) Nail patella syndrome: a review of 44 orthopaedic patients. J Pediatr Orthop 11(6): 737–742

16.

Hoyer JR, Michael AF, Vernier RL (1972) Renal disease in nail-patella syndrome: clinical and morphologic studies. Kidney Int 2(4): 231–238

17.

Jozwiak M, Pietrzak S (1998) Evaluation of patella position based on radiologic and ultrasonographic examination: comparison of the diagnostic value. J Pediatr Orthop 18(5): 679–682

18.

Lommen EJ, Hamel BC, te Slaa RL (1989) Nephropathy in hereditary osteo-onycho dysplasia (HOOD): variable expression or genetic heterogeneity? Prog Clin Biol Res 305: 157–160

19.

Looij BJ Jr., te Slaa RL, Hogewind BL, van de Kamp JJ (1988) Genetic counselling in hereditary osteo-onychodysplasia (HOOD, nail-patella syndrome) with nephropathy. J Med Genet 25(10): 682–686

20.

Loomer RL (1989) Shoulder girdle dysplasia associated with nail patella syndrome. A case report and literature review. Clin Orthop Relat Res (238): 112–116

21.

Lucas GL (1967) Hereditary onycho osteodysplasia (nail-patella syndrome) masquerading as arthrogryposis. South Med J 60(7): 751–755

22.

Marumo K, Fujii K, Tanaka T, Takeuchi H, Saito H, Koyano Y (1999) Surgical management of congenital permanent dislocation of the patella in nail patella syndrome by Stanisavljevic procedure. J Orthop Sci 4(6): 446–449

23.

McIntosh I, Dreyer SD, Clough MV et al. (1998) Mutation analysis of LMX1B gene in nail-patella syndrome patients. Am J Hum Genet 63(6): 1651–1658

24.

Morello R, Lee B (2002) Insight into podocyte differentiation from the study of human genetic disease: nail-patella syndrome and transcriptional regulation in podocytes. Pediatr Res 51(5): 551–558

25.

Renwick JH (1956) Nail-patella syndrome: evidence for modification by alleles at the main locus. Ann Hum Genet 21(2): 159–169

26.

Simila S, Vesa L, Wasz-Hockert O (1970) Hereditary onycho-osteodysplasia (the nail-patella syndrome) with nephrosis-like renal disease in a newborn boy. Pediatrics 46(1): 61–65

27.

Sweeney E, Fryer A, Mountford R, Green A, McIntosh I (2003) Nail patella syndrome: a review of the phenotype aided by developmental biology. J Med Genet 40(3): 153–162

28.

Sweetnam DR, Goodall CM, McCluskey KA, Renwick JH, Brixey AM Jr, Burke RM (1963) Nail-Patella Syndrome. Proc R Soc Med 56(2): 896

29.

Vernier RL, Hoyer JR, Michael AF (1974) The nail-patella syndrome-pathogenesis of the kidney lesion. Birth Defects Orig Artic Ser 10(4): 57–59

30.

Zidorn T, Barthel T, Eulert J (1994) Nail-patella syndrome. A 4-generation family study. Z Orthop Ihre Grenzgeb 132(6): 486–490
Interessenkonflikt:
Der korrespondierende Autor versichert, dass keine Verbindungen mit einer Firma, deren Produkt in dem Artikel genannt ist, oder einer Firma, die ein Konkurrenzprodukt vertreibt, bestehen.
About this article
Cite this article
Niemeyer, P., Edlich, M., Hauschild, O. et al. Klinische, radiologische und arthroskopische Aspekte des Nagel-Patella-Syndroms (NPS): Literaturübersicht am Beispiel einer betroffenen Familie. Orthopäde 35, 197–203 (2006). https://doi.org/10.1007/s00132-005-0872-z
Schlüsselwörter
Nagel-Patella-Syndrom

Dysplastische Patella

Nageldeformität

LMX1B

Arthroskopie
Keywords
Patella nail syndrome

Patella dysplasia

Nail deformity

LMX1B

Arthroscopy