Zusammenfassung
Die Literatur zur Mengen-Ergebnis-Relation bei Knietotalendoprothese (Knie-TEP) wird evaluiert und mögliche Auswirkungen einer Mindestmengenregelung auf die medizinische Versorgung demonstriert.
Eine systematische Literaturrecherche in den verfügbaren Datenbanken wurde durchgeführt und die Publikationen analysiert. Auf Basis der Abrechnungsdaten der Ersatzkassen in 2003 wurden Modellrechnungen zur Auswirkung verschiedener Mindestmengenszenarios auf die medizinische Versorgung (Umverteilung bei Krankenhäusern und Patienten) durchgeführt.
Die Literaturergebnisse hinsichtlich einer Mengen-Ergebnis-Beziehung bei Knie-TEP bezüglich bestimmter Ergebnisparameter sind uneinheitlich, im Trend aber eindeutig, da in nur einer Studie keine positive Korrelation nachweisbar war. Eine Mindestmengenregelung mit den Cut-off-Punkten 20/50/100 Knie-TEP/Jahr würde—hochgerechnet auf Basis der VdAK-Daten—242/502/709 Krankenhäuser betreffen. In der Konsequenz müssten 2358 (2,9%)/10752 (13,2%)/25482 (31,2%) Patienten/Jahr umverteilt werden.
Eine Mindestmengenregelung muss unter Beachtung der Evidenzlage, der Versorgungsfolgen und der Ergebnisse der Begleitevaluation erfolgen, da erhebliche Effekte zu erwarten sind.
Abstract
This report assesses the volume-outcome relationship of total knee replacement and the effects of its application on medical care in Germany.
Electronic bibliographic databases, the reference lists of relevant articles, and research-related resources of various health services were searched and selected studies were assessed. Additionally, the consequences of implementing a regulation based on volume-outcome relationship were calculated using different models.
The results in the literature concerning defined outcome parameters are inconsistent, but in all but one publication a general correlation between high volume and low complication rate could be identified. Implementing a regulation based on volume-outcome relationship with cutoff points of 20/50/100 total knee replacements/year would lead to an exclusion of 242/502/709 hospitals, respectively, from medical care. This would result in a reallocation of 2358 (2.9%)/10752 (13.2%)/25482 (31.2%) patients/year, respectively (extrapolation).
The application of a regulation based on volume-outcome considerations in the German healthcare system must be performed very carefully because significant effects are to be expected.
This is a preview of subscription content, log in to check access.
Access options
Buy single article
Instant access to the full article PDF.
US$ 39.95
Price includes VAT for USA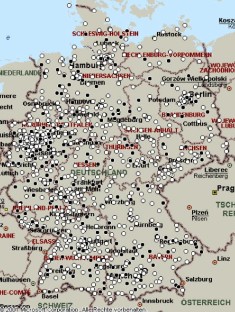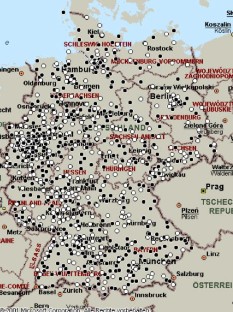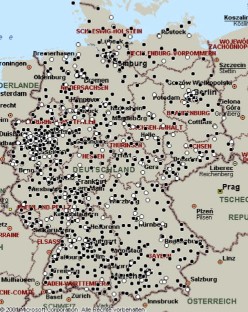 Literatur
1.

Benjamin G (1995) Three essays on volume, complications and hospital resource use: the case of knee replacement surgery. Indiana University, Indiana, pp 1–114

2.

Birkmeyer Stukel TA, Siewers AE, Goodney PP, Wennberg DE, Lucas FL (2003) Surgeon volume and operative mortality in the United States. N Engl J Med 349: 2117–2127

3.

Burns RL, Wholey DR (1991) The effects of patient, hospital, and physician characteristics on length of stay and mortality. Med Care 29 (3): 251–271

4.

Culler SD, Holmes AM, Gutierrez B (1995) Expected hospital costs of knee replacement for rural residents by location of service. Med Care 33: 1188–1209

5.

Feinglass J, Amir H, Taylor P, Lurie I, Manheim LM, Chang RW (2004) How safe is primary knee replacement surgery? Perioperative complication rates in Northern Illinois, 1993–1999. Arthritis Rheum 51: 110–116

6.

Gandjour A, Günster C, Klauber J, Lauterbach KW (2003). Mindestmengen in der stationären Versorgung. Bundesweite Analyse ausgewählter Interventionen und Forschungsbedarf. Deutsche Gesellschaft für Chirurgie, Mitteilungen 2/03, S 116–123

7.

Geraedts M (2003) Evidenz zur Ableitung von Mindestmengen in der Medizin. Gutachten im Auftrag der Bundesärztekammer. Heinrich-Heine-Universität, Düsseldorf

8.

Gutierrez B, Culler SD, Freund DA (1998) Does hospital procedure-specific volume affect treatment costs? A national study of knee replacement surgery. Health Serv Res 33: 489–511

9.

Halm EA, Lee C, Chassin MR (2002) Is volume related to outcome in health care? A systematic review and methodological critique of the Literature. Ann Intern Med 137: 511–520

10.

Heck DA, Robinson RL, Partridge CM, Lubitz RM, Freund DA (1998) Patient outcomes after knee replacement. Clin Orthop 356: 93–110

11.

Hervey SL, Purves HR, Guller U, Toth AP, Vail TP, Pietrobon R (2003) Provider volume of total knee arthroplasties and patient outcomes in the HCUP-Nationwide Inpatient Sample. J Bone Joint Surg Am 85: 1775–1783

12.

Khuri SF, Daley J, Henderson W et al. (1999) Relation of surgical volume to outcome in eight common operations: results from the VA National Surgical Quality Improvement Program. Ann Surg 230: 414–429

13.

Kreder HJ, Grosso P, Williams JI, Jaglal S, Axcell T, Wal EK, Stephen DJ (2003) Provider volume and other predictors of outcome after total knee arthroplasty: a population study in Ontario. Can J Surg 46: 15–22

14.

Lavernia CJ, Guzman JF (1995) Relationship of surgical volume to short-term mortality, morbidity, and hospital charges in arthroplasty. J Arthroplasty 10: 133–140

15.

Luft HS, Bunker JP, Enthoven AC (1979) Should operations be regionalized? The empirical relation between surgical volume and mortality. N Engl J Med 301: 1364–1369

16.

Mohr VD, Bauer J, Döbler K, Eckert O, Fischer B, Woldenga C (Hrsg) (2004) Qualität sichtbar machen. BQS-Qualitätsreport 2003. BQS Bundesgeschäftsstelle Qualitätssicherung gGmbH, Düsseldorf

17.

NHS Centre for Reviews and Dissemination, University of York (1996). Hospital volume and health care outcomes, costs, and patient access. Effect Health Care 2 (8): 1–16

18.

National Institutes of Health (2004) National Institutes of Health Consensus Statement on Total Knee Replacement. http://www.consensus.nih.gov/cons/117/117cdc_statementFINAL.html

19.

Norton EC, Garfinkel SA, McQuay LJ, Heck DA, Wright JG, Dittus R, Lubitz RM (1998) The effect of hospital volume on the in-hospital complication rate in knee replacement patients. Health Serv Res 33: 1191–1210

20.

Rathmann W, Windeler J (2002) Zusammenhang zwischen Behandlungsmenge und Behandlungsqualität. Evidenzbericht. Medizinischer Dienst der Spitzenverbände der Krankenkassen, Essen

21.

Shahian DM, Normand S-LT (2003) The volume-outcome-relationship: from luft to leapfrog. Ann Thorac Surg 75: 1048–1058

22.

Sowden AJ, Grilli R, Rice N (1997) The relationship between hospital volume and quality of health outcomes. CRD Report (NHS Centre for Reviews & Dissemination) 8, Part I

23.

Taylor HD, Dennis DA, Crane HS (1997) Relationship between mortality rates and hospital patient volume for Medicare patients undergoing major orthopaedic surgery of the hip, knee, spine, and femur. J Arthroplasty 12: 235–242

24.

Teisberg P, Hansen FH, Hotvedt R et al. (2001) Pasientvolum og behandlingskvalitet. Metodevurderiung basert på egen og internasjonal litteraturgransking. SINTEF Rapport. Sosial-og helsedepartementet, Oslo

25.

Wenning M, Hupe K, Scheuer I, Senninger N, Smektala R, Windhorst T (2000) Ist viel gleich gut? Eine Analyse von 116000 Patienten zum Zusammenhang zwischen Fallzahl und Ergebnisqualität. Chirurg 71: 717–722
Interessenkonflikt:
Der korrespondierende Autor versichert, dass keine Verbindungen mit einer Firma, deren Produkt in dem Artikel genannt ist, oder einer Firma, die ein Konkurrenzprodukt vertreibt, bestehen.
About this article
Cite this article
Schräder, P., Rath, T. Mindestmengen in der Kniegelenkendoprothetik. Orthopäde 34, 198–209 (2005). https://doi.org/10.1007/s00132-005-0763-3
Schlüsselwörter
Mindestmengenregelung

Knieendoprothetik

Literaturübersicht

Modellrechnung
Keywords
Volume-outcome relationship

Total knee replacement

Literature review

Model calculation