Zusammenfassung
Die Entdeckung und Sequenzierung von Wachstumsfaktoren für die Knochenheilung bietet ein enormes Potenzial für die minimal-invasive Behandlung von Knochendefekten oder -frakturen. Für die klinische Praktikabilität muss jedoch die Applikationsform des Injektionssystems aus Trägermaterial und Wachstumsfaktor eine anwenderfreundliche Form finden. In dieser Studie wurden 2 Injektionssysteme hinsichtlich ihrer Praktikabilität und Effektivität zur Kallusreifungsbeschleunigung bei der Kallusdistraktion untersucht. Dabei zeigten sich bei Kalziumphosphatträgermaterialien größere Probleme als bei Kollagenträgern. Kollagene zeigten als Träger auch eine größere Effektivität im Modell der Kallusdistraktion.
Abstract
The characterization and cloning of growth factors for bone healing provide an enormous potential for minimally invasive treatment procedures for bone defects or fractures. However, the clinical application of injection vehicles for these growth factors must be made user-friendlier. In this study, two different injection vehicles were tested for their practicability and efficacy to enhance callus maturation during distraction osteogenesis. Calcium phosphate carriers showed a rather low user-friendliness and were less efficient in the animal model of distraction osteogenesis in sheep. Collagen carriers provided both a higher practicability for injection procedures and a higher efficacy.
This is a preview of subscription content, log in to check access.
Access options
Buy single article
Instant access to the full article PDF.
US$ 39.95
Price includes VAT for USA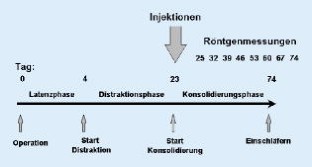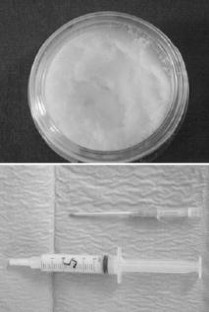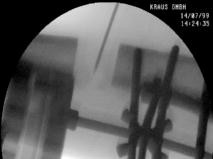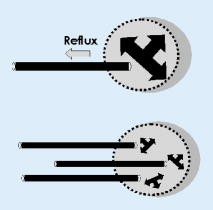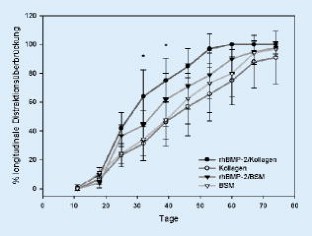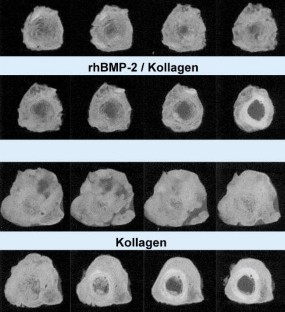 Literatur
1.

Bostrom MP, Lane JM, Berberian WS et al. (1995) Immunolocalization and expression of bone morphogenetic proteins 2 and 4 in fracture healing. J Orthop Res 13: 357–367

2.

Bruder SP, Fink DJ, Caplan AI (1994) Mesenchymal stem cells in bone development, bone repair, and skeletal regeneration therapy. J Cell Biochem 3: 283–294

3.

Celeste AJ, Iannazzi JA, Taylor RC, Hewick RM, Rosen V, Wang EA, Wozney JM (1990) Identification of transforming growth factor beta family members present in bone-inductive protein purified from bovine bone. Proc Natl Acad Sci USA 24: 9843–9847

4.

De Groot J (1998) Carriers that concentrate native bone morphogenetic protein in vivo. Tissue Eng 4: 337–341

5.

Govender S, Csimma C, Genant HK et al. (2002) Recombinant human bone morphogenetic protein-2 for treatment of open tibial fractures: a prospective, controlled, randomized study of four hundred and fifty patients. J Bone Joint Surg Am 12: 2123–2134

6.

Kawaguchi H, Kurokawa T, Hoshino Y, Kawahara H, Ogata E, Matsumoto T (1992) Immunohistochemical demonstration of bone morphogenetic protein-2 and transforming growth factor-beta in the ossification of the posterior longitudinal ligament of the cervical spine. Spine 3 [Suppl]: S33–S36

7.

Kirker-Head CA (2000) Potential applications and delivery strategies for bone morphogenetic proteins. Adv Drug Deliv Rev 1: 65–92

8.

Li RH, Bouxsein ML, Blake CA et al. (2003) rhBMP-2 injected in a calcium phosphate paste (alpha-BSM) accelerates healing in the rabbit ulnar osteotomy model. J Orthop Res 6: 997–1004

9.

Lind MC, Laursen M, Jensen TB, Overgaard S, Soballe K, Bunger CE (2000) Stimulation of bone healing with growth factors in orthopedic surgery. Ugeskr Laeger 47: 6399–6403

10.

Miyamoto S, Takaoka K (1993) Bone induction and bone repair by composites of bone morphogenetic protein and biodegradable synthetic polymers. Ann Chir Gynaecol [Suppl] 207: 69–75

11.

Mizumoto Y, Moseley T, Drews M, Cooper VN, III, Reddi AH (2003) Acceleration of regenerate ossification during distraction osteogenesis with recombinant human bone morphogenetic protein-7. J Bone Joint Surg Am 85-A [Suppl 3]: 124–130

12.

Onishi T, Ishidou Y, Nagamine T et al. (1998) Distinct and overlapping patterns of localization of bone morphogenetic protein (BMP) family members and a BMP type II receptor during fracture healing in rats. Bone 6: 605–612

13.

Rosenzweig BL, Imamura T, Okadome T et al. (1995) Cloning and characterization of a human type II receptor for bone morphogenetic proteins. Proc Natl Acad Sci USA 17: 7632–7636

14.

Seeherman H, Li R, Wozney J (2003) A review of preclinical program development for evaluating injectable carriers for osteogenic factors. J Bone Joint Surg Am 85-A [Suppl 3]: 96–108

15.

Uludag H, Friess W, Williams D et al. (1999) rhBMP-collagen sponges as osteoinductive devices: effects of in vitro sponge characteristics and protein pI on in vivo rhBMP pharmacokinetics. Ann NY Acad Sci 875: 369–378

16.

Urist MR (1965) Bone: Formation by autoinduction. Science 150: 893–899

17.

Vail TB, Trotter GW, Powers BE (1994) Equine demineralized bone matrix: relationship between particle size and osteoinduction [see comments]. Vet Surg 5: 386–395

18.

Valentin-Opran A, Wozney J, Csimma C, Lilly L, Riedel GE (2002) Clinical evaluation of recombinant human bone morphogenetic protein-2. Clin Orthop 395: 110–120

19.

Wang EA (1993) Bone morphogenetic proteins (BMPs): therapeutic potential in healing bony defects. Trends Biotechnol 9: 379–383

20.

Winn SR, Uludag H, Hollinger JO (1999) Carrier systems for bone morphogenetic proteins. Clin Orthop 367 [Suppl]: S95–106
Interessenkonflikt:
Der korrespondierende Autor weist auf eine Verbindung mit folgender Firma/Firmen hin: Wyeth
About this article
Cite this article
Windhagen, H., Witte, F., Thorey, F. et al. Injizierbare Trägersysteme für die Wachstumsfaktorapplikation zur minimal-invasiven Knochenheilungsstimulation. Orthopäde 33, 1378–1385 (2004). https://doi.org/10.1007/s00132-004-0736-y
Schlüsselwörter
Wachstumsfaktoren

Distraktionsosteoneogenese

BMP

Trägermaterialien

Kollagen
Keywords
Growth factors

Distraction osteogenesis

BMP

Carrier material

Collagen