Zusammenfassung
Humane mesenchymale Stammzellen (MSC) stellen eine viel versprechende Zellpopulation zum Tissue Engineering mesenchymaler Gewebe dar. Sie sind negativ für immunologisch relevante Oberflächenmarker, inhibieren in vitro die Proliferation allogener T-Zellen und führen nach allogener und xenogener Transplantation zu keiner Abstoßungsreaktion. Vor diesem Hintergrund werden sie als immunprivilegiert beschrieben und stehen evtl. für allogene Transplantationen z. B. für die Knorpel- oder Knochenregeneration zur Verfügung. Hier ist jedoch zu klären, ob eine In-vitro-Vordifferenzierung humaner MSC zur Ausbildung einer Antigenität führt oder ob das Immunprivileg undifferenzierter MSC im osteogenen Differenzierungsprozess erhalten bleibt.
hMSC wurden nach Standardprotokoll isoliert und nach Expansion in vitro osteogen differenziert. An den Tagen 0, 8, 16 und 24 wurden die Zellen mit allogenen T-Lymphozyten co-kultiviert und deren Stimulation gemessen. Parallel wurde die Expression immunologisch relevanter Oberflächenantigene untersucht. Unsere Ergebnisse zeigen, dass sowohl undifferenzierte als auch osteogen differenzierte humane MSC bei Co-Kultivierung mit allogenen T-Lymphozyten zu keiner Immunantwort führen und negativ für die Antigene MHC-II, CD40, CD40L, CD80 (B7-1) und CD86 (B7-2) sind. Die Arbeit stützt somit die These, dass es sich bei MSC und von MSC-abgeleiteten osteogenen Progenitoren um immunprivilegierte Zellen handelt, die potenziell für eine allogene HLA-inkompatible Zellersatztherapie zur Verfügung stehen.
Abstract
Due to their plasticity and high proliferation capacity in vitro, human mesenchymal stem cells (MSC) are promising candidates for tissue engineering approaches of mesenchymal tissues like bone, cartilage, or tendon. Undifferentiated MSC do not express immunologically relevant cell surface markers. They inhibit the proliferation of allogeneic T-cells in vitro and elicit no immune response after allogeneic or xenogenic transplantation. Thus, MSC ought to be seen as immunoprivileged or immunomodulating cells. Here, we characterize the immune status and -behavior of MSC and MSC-derived osteogenic precursors in order to evaluate the usefulness of allogeneic MSC for tissue engineering of bone.
Human MSC were isolated from bone marrow of hematologically normal voluntary donors. Osteogenic differentiation was induced by adding dexamethasone, ascorbic acid and β-glycerophosphate. After 0, 8, 16 and 24 days, MSC were co-cultivated with allogeneic mononuclear cells. In parallel, the expression of immunologically relevant cell surface markers was monitored by flow cytometry. Undifferentiated and differentiated MSC did not stimulate allogeneic lymphocytes. MSC were negative for MHC-II, CD40, CD40L, CD80 (B7-1) and CD86 (B7-2), positive for MHC-I, and kept this expression pattern during osteogenic differentiation. Our results support the hypothesis that MSC are immunoprivileged cells which are potentially at disposal for HLA-incompatible cell replacement therapies.
This is a preview of subscription content, log in to check access.
Access options
Buy single article
Instant access to the full article PDF.
US$ 39.95
Price includes VAT for USA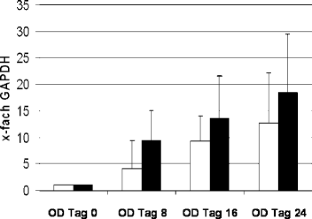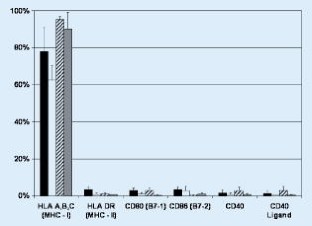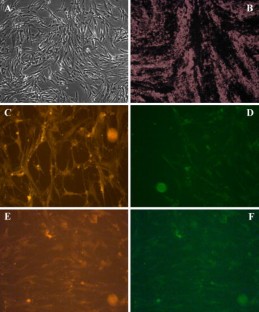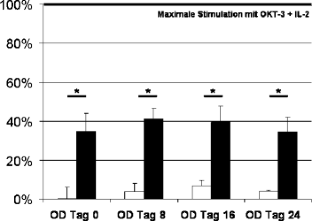 Literatur
1.

Ashton BA, Allen TD, Howlett CR, Eaglesom CC, Hattori A, Owen M (1980) Formation of bone and cartilage by marrow stromal cells in diffusion chambers in vivo. Clin Orthop 151: 294–307

2.

Awad HA, Butler DL, Harris MT et al. (2000) In vitro characterization of mesenchymal stem cell-seeded collagen scaffolds for tendon repair: effects of initial seeding density on contraction kinetics. J Biomed Mater Res 51: 233–240

3.

Bach FH (1973) The major histocompatibility complex in transplantation immunology. Transplant Proc 5: 23–29

4.

Cancedda R, De Luca M (1993) Tissue engineering for clinical application. Year Immunol 7: 193–198

5.

Cancedda R, Dozin B, Giannoni P, Quarto R (2003) Tissue engineering and cell therapy of cartilage and bone. Matrix Biol 22: 81–91

6.

Chen JL, Guo ZK, Xu C, Li YH, Hou CM, Mao N, Chen H (2002) Mesenchymal stem cells suppress allogeneic T cell responses by secretion of TGF-beta1. Zhongguo Shi Yan Xue Ye Xue Za Zhi 10: 285–288

7.

Dean RM, Bishop MR (2003) Graft-versus-host disease: emerging concepts in prevention and therapy. Curr Hematol Rep 2: 287–294

8.

DiNicola M, Carlo-Stella C, Magni M et al. (2002) Human bone marrow stromal cells suppress T-lymphocyte proliferation induced by cellular or nonspecific mitogenic stimuli. Blood 99: 3838–3843

9.

Kasten P, Luginbuhl R, van Griensven M, Barkhausen T, Krettek C, Bohner M, Bosch U (2003) Comparison of human bone marrow stromal cells seeded on calcium-deficient hydroxyapatite, beta-tricalcium phosphate and demineralized bone matrix. Biomaterials 24: 2593–2603

10.

Kornacker M, Verneris MR, Kornacker B, Scheffold C, Negrin RS (2001) Survivin expression correlates with apoptosis resistance after lymphocyte activation and is found preferentially in memory T cells. Immunol Lett 76: 169–173

11.

Kovacic JC, Graham RM (2004) Stem-cell therapy for myocardial diseases. Lancet 363: 1735–1736

12.

Le Blanc K, Tammik L, Sundberg B, Haynesworth SE, Ringden O (2003) Mesenchymal stem cells inhibit and stimulate mixed lymphocyte cultures and mitogenic responses independently of the major histocompatibility complex. Scand J Immunol 57: 11–20

13.

Matzinger P (1994) Tolerance, danger, and the extended family. Annu Rev Immunol 12: 991–1045

14.

Niemeyer P, Krause U, Punzel M, Fellenberg J, Simank HG (2003) Mesenchymale Stammzellen zum Tissue Engineering von Knochen: 3-D-Kultivierung und Osteogene Differenzierung auf mineralisiertem Kollagen. Z Orthop 141: 712–717

15.

Ohgushi H, Goldberg VM, Caplan AI (1989) Repair of bone defects with marrow cells and porous ceramic. Experiments in rats. Acta Orthop Scand 60: 334–339

16.

Pittenger MF, Mackay AM, Beck SC et al. (1999) Multilineage potential of adult human mesenchymal stem cells. Science 284: 143–147

17.

Rasmusson I, Ringden O, Sundberg B, Le Blanc K (2003) Mesenchymal stem cells inhibit the formation of cytotoxic T lymphocytes, but not activated cytotoxic T lymphocytes or natural killer cells. Transplantation 76: 1208–1213

18.

Reyes M, Lund T, Lenvik T, Aguiar D, Koodie L, Verfaillie CM (2001) Purification and ex vivo expansion of postnatal human marrow mesodermal progenitor cells. Blood 98: 2615–2625

19.

Rothstein DM, Sayegh MH (2003) T-cell costimulatory pathways in allograft rejection and tolerance. Immunol Rev 196: 85–108

20.

Service RF (2000) Tissue engineers build new bone. Science 289: 1498–1500

21.

Shang Q, Wang Z, Liu W, Shi Y, Cui L, Cao Y (2001) Tissue-engineered bone repair of sheep cranial defects with autologous bone marrow stromal cells. J Craniofac Surg 12: 586–593

22.

Vulliet PR, Greeley M, Halloran SM, MacDonald KA, Kittleson MD (2004) Intra-coronary arterial injection of mesenchymal stromal cells and microinfarction in dogs. Lancet 363: 783–784

23.

Wakitani S, Imoto K, Yamamoto T, Saito M, Murata N, Yoneda M (2002) Human autologous culture expanded bone marrow mesenchymal cell transplantation for repair of cartilage defects in osteoarthritic knees. Osteoarthritis Cartilage 10: 199–206

24.

Wakitani S, Yamamoto T (2002) Response of the donor and recipient cells in mesenchymal cell transplantation to cartilage defect. Microsc Res Tech 58: 14–18

25.

Young RG, Butler DL, Weber W, Caplan AI, Gordon SL, Fink DJ (1998) Use of mesenchymal stem cells in a collagen matrix for Achilles tendon repair. J Orthop Res 16: 406–413
Interessenkonflikt:
Der korrespondierende Autor versichert, dass keine Verbindungen mit einer Firma, deren Produkt in dem Artikel genannt ist, oder einer Firma, die ein Konkurrenzprodukt vertreibt, bestehen.
About this article
Cite this article
Niemeyer, P., Seckinger, A., Simank, H.G. et al. Allogene Transplantationsmöglichkeiten humaner mesenchymaler Stammzellen. Orthopäde 33, 1346–1353 (2004). https://doi.org/10.1007/s00132-004-0731-3
Schlüsselwörter
Mesenchymale Stammzelle

Tissue Engineering

Knochenregeneration

Allogene Lymphozyten

HLA-DR
Keywords
Mesenchymal stem cell

Mixed lymphocyte reaction

Tissue engineering

Bone regeneration

HLA-DR