Zusammenfassung
Hintergrund.
Mittels cDNA-Microarrays konnten konstant differenziell exprimierte entzündungsassoziierte Gene in der abriebinduzierten und infektiösen periprothetischen Membran nachgewiesen werden. Ziel der vorliegenden Arbeit ist die Validierung der Microarraydaten, um signifikante Unterschiede im Genexpressionsprofil auf RNA- und Proteinebene darzustellen.
Patienten und Methoden.
Gewebeproben von 16 abriebinduzierten und 20 infektiösen periprothetischen Membranen wurden mittels RT-PCR und Immunhistologie auf die Expression entzündungsassoziierter Gene untersucht.
Ergebnisse.
Mittels RT-PCR konnten die Gene cd9, cd11b, cd18 und cd52 sowie pdgfrβ in Interfacemembranen nachgewiesen werden. Die Immunhistochemie zeigte in der abriebinduzierten Membran eine signifikant geringere Genexpression von PDGFRβ, dagegen eine differenzielle Überexpression von CD9, CD11b und CD52. CD18 zeigte keinen signifikanten Expressionsunterschied zwischen abriebinduziertem und infektiösem periprothetischem Gewebe.
Schlussfolgerung.
Unterschiedliche Typen der periprothetischen Membran spiegeln sich in differenten Genexpressionsprofilen wider. Mittels RT-PCR und Immunhistochemie konnten die Microarraydaten der Gene cd9, cd11b, cd52 und pdgfrβ validiert werden. Die Bestimmung der Genprodukte von cd9, cd11b und cd52 im Blut oder im Gewebe kann helfen, eine abriebinduzierte von einer infektiösen Lockerung zu unterscheiden.
Abstract
Background.
A previous cDNA-microarray analysis described constantly differentially expressed genes in wear particle induced and infectious SLIM (synovial-like interface membrane). This study aims to validate the cDNA microarray data in order to approve differences of the gene expression profiles of RNA and proteins.
Methods.
Tissue from 16 wear particle induced and 20 infectious periprosthetic membranes were analyzed by RT-PCR and immunohistology with regard to the expression of inflammatoric associated genes.
Results.
RT-PCR showed the genes cd9, cd11b, cd18, cd52 as well as pdgfrβ in interface membranes. In the wear particle induced membrane the immunohistochemical analysis showed a significantly weaker gene expression of PDGFRβ, whereas the differential overexpression of CD9, CD11b and CD52 was confirmed. For CD18, there was no difference in expression between wear induced and infectious periprosthetic tissue.
Conclusion.
Different pathomechanisms, which are reflected by different gene expression profiles, might produce different types of periprosthetic membranes. By RT-PCR and immunohistochemical analysis the micro array data of the genes cd9, cd11b, cd52 and pdgfrβ could be validated. Identifying the gene products of cd9, cd11b and cd52 in blood or tissue may help to differentiate between wear induced and infectious loosening.
This is a preview of subscription content, log in to check access.
Access options
Buy single article
Instant access to the full article PDF.
US$ 39.95
Price includes VAT for USA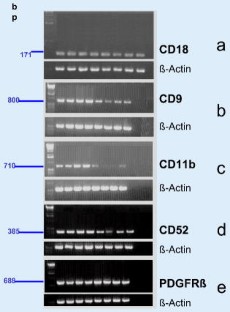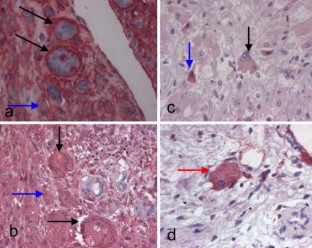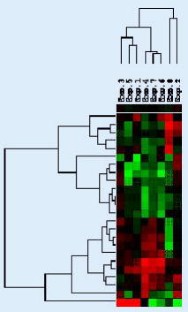 Literatur
1.

Albrektsson T, Albrektsson B (1987) Osseointegration of bone implants: a review of an alternative mode of fixation. Acta Orthop Scand 58: 567–577

2.

An YH, Friedman RJ (1998) Concise review of mechanisms of bacterial adhesion to biomaterial surfaces. J Biomed Mater Res 43: 338–348

3.

Aspenberg P, Goodman S, Toksvig-Larsen S, Ryd L, Albrektsson T (1992) Intermittent micromotion inhibits bone growth. Titanium implants in rabbits. Acta Orthop Scand 63: 141–145

4.

Barden B, H. C (1999) Failure mechanisms in total hip and knee arthroplasty: a morphological and radiologic study. Mat Wiss Werkstofftech 30: 746–754

5.

Burton DS, Schurman DJ (1975) Hematogenous infection in bilateral total hip arthroplasty. Case report. J Bone Joint Surg Am 57: 1004–1005

6.

Campbell P, C. I, Kossowsky N (1991) Clinical significance of wear debris. In: Amstutz HC (ed) Hip arthroplasty. Churchill Livingstone, New York, pp 112–117

7.

Charnley J (1961) Arthroplasty of the hip. A new operation. Lancet 1: 1129–1132

8.

Clay D, Rubinstein E, Mishal Z et al. (2001) CD9 and megakaryocyte differentiation. Blood 97: 1982–1989

9.

Delling G, Kofeldt C, Engelbrecht E (1987) Knochen- und Grenzschichtveränderungen nach Anwendung von Knochenzement- und Langzeituntersuchungen an humanen Biopsie-, Operations- und Autopsiematerial. Aktuelle Probl Chir Orthop 31: 163–171

10.

Gehrke T, Sers C, Morawietz L, Fernahl G, Neidel J, Frommelt L, Krenn V (2003) Receptor activator of nuclear factor kappaB ligand is expressed in resident and inflammatory cells in aseptic and septic prothesis loosening. Scand J Pleumatol 32: 287–294

11.

Gentzsch C, Kaiser E, Plutat J, Sellckau R, Wodtke J, Delling G (2002) cDNA-Arrays. Pathologe 23: 373–378

12.

Giese NA, Marijianowski MM, McCook O et al. (1999) The role of alpha and beta platelet-derived growth factor-receptor in the vascular response to injury in nonhuman primates. Arterioscler Thromb Vasc Biol 19: 900–909

13.

Hayashi T, Inoue H (1986) Tissue reaction around loosened prostheses: a histological, X-ray, microanalytic and immunological study. Acta Med Okayama 40: 229–241

14.

Hirakawa K, Bauer TW, Stulberg BN, Wilde AH (1996) Comparison and quantitation of wear debris of failed total hip and total knee arthroplasty. J Biomed Mater Res 31: 257–263

15.

Jellicoe PA, Cohen A, Campbell P (2002) Haemophilus parainfluenzae complicating total hip arthroplasty. J Arthroplasty 17: 114–116

16.

Johanson NA, Bullough P, Wilson PD, Salvati EA, Ranawat CS (1987) The microscopic anatomy of the bone-cemented interface in failed total hip athroplasties. Clin Orthop 218: 123–135

17.

Kataoka M, Torisu T, Tsumura H, Hirayama T, Fujikawa Y (2000) Role of multinuclear cells in granulation tissue in osteomyelitis. Acta Orthop Scand 71: 414–418

18.

Katzer F (2003) Frühlockerung von Hüftgelenksendoprothesen. Dtsch Ärtzebl 100: B661–B666

19.

König A, G. J, Kirschner S (2001) Ergebnisse der Press-Fit-Condylar-Prothese (PFC). Eulert J, Hasenpflug J (Hrsg) Praxis der Knieendoprothetik. Springer, Berlin Heidelberg New York, S 226–233

20.

Krismer M, Stockl B, Fischer M, Bauer R, Maryhofer P, Orgon M (1996) Early migration predicts late aseptic failure of hip sockets. J Bone Joint Surg Br 78: 422–426

21.

Malchau H, Herberts P, Eisler T, Garellick G, Soderman P (2002) The Swedish Total Hip Replacement Register. J Bone Joint Surg Am 84-A: 2–20

22.

McNally AK, A. J (1994) Complement C3 participation in monocyte adhesion to different surfaces. Proc Natl Acad Sci USA, 91: 10119–10123

23.

McNally AK, Anderson JM (2002) β1 and β2 integrins mediate adhesion during macrophage fusion and multinucleated foreign body giant cell formation. Am J Pathol 160: 621–630

24.

Morawietz L, Gehrke T, Frommelt L et al. (2003) Differentiel gene expression in the periprosthetic membrane: lumbricin as an new possible factor in prosthesis loosening. Virchow Arch 443: 57–66

25.

Pandey R, Drakoulakis E, Athanasou NA (1999) An assessment of the histological criteria used to diagnose infection in hip revision arthroplasty tissues. J Clin Pathol 52: 118–123

26.

Rader CP, Baumann B, Rolf O et al. (2002) Detection of differentially expressed genes in particle disease using array-filter analysis. Biomed Tech 47: 111–116

27.

Scherberich A, Moog S, Haan-Archipoff G, Azorsa DO, Lanza F, Beretz A (1998) Tetraspanin CD9 is associated with very late-acting integrins in human vascular smooth muscle cells and modulates collagen matrix reorganization. Arterioscler Thromb Vasc Biol 18: 1691–1697

28.

Shephard R (2003) Adhesion molecules, catecholamines and leukocyte redistribution during and following exercise. Sports Med 33: 261–284

29.

Tarrant JM, Robb L, van Spriel AB, Wright MD (2003) Tetraspanins: molecular organisers of the leukocyte surface. Trends Immunol 24: 610–617

30.

Treumann A, Lifely MR, Schneider P, Ferguson MA (1995) Primary structure of CD52. J Biol Chem 270: 6088–6099

31.

Urban RM, Jacobs JJ, Tomlinson MJ, Gavrilovic J, Black J, Peoc'h M (2000) Dissemination of wear particles to the liver, spleen, and abdominal lymph nodes of patients with hip or knee replacement. J Bone Joint Surg Am 82: 457–476

32.

Uren A, Merchant MS, Sun CJ et al. (2003) Beta-platelet-derived growth factor receptor mediates motility and growth of Ewing's sarcoma cells. Oncogene 22: 2334–2342

33.

Willert HG, S. M, Buchhorn G, Kriete U (1978) Materialverschleiß und Gewebereaktion bei künstlichen Gelenken (Histopathologie, Biokompatibilität, biologische und klinische Probleme). Orthopäde 7: 62–83

34.

Xu JW, Konttinen YT, Li TF et al. (1998) Production of platelet-derived growth factor in aseptic loosening of total hip replacement. Rheumatol Int 17: 215–221

35.

Zhao Y, Haginoya K, Sun G, Dai H, Onuma A, Iinuma K (2003) Platelet-derived growth factor and its receptors are related to the progression of human muscular dystrophy: an immunohistochemical study. J Pathol 201: 149–159

36.

Morawietz L et al. (2004) Proposal for the classification of the periprosthetic membrane from loosened hip and knee endoprotheses. Pathologe 25: 375–384
Danksagung.
Frau G. Fernahl und Frau J. Karle gebührt unser herzlichster Dank für exzellente technische Unterstützung. Das Verfahren zur Diagnostik einer Prothesenlockerung ist durch die oligene GmbH zum Patent angemeldet. Diese Arbeit entstand im Rahmen des nationalen Genomforschungsnetzes (NGFN), Berlin Flame.
Interessenkonflikt:
Keine Angaben
Additional information
Gefördert durch Berlin Flame (nationales Genomforschungsnetz [NGFN]), SFB 421 und Gemeinnütziger Verein ENDO-Klinik e.V., Hamburg (Projekt W1/01, T.G., L.F., M.D., V.K.).
About this article
Cite this article
Günther, R., Morawietz, L., Gehrke, T. et al. Inflammatorische Reaktion bei abriebinduzierter und infektiöser Lockerung von Hüft- und Knieendoprothesen. Orthopäde 34, 55–64 (2005). https://doi.org/10.1007/s00132-004-0709-1
Schlüsselwörter
Endoprothesenlockerung

cDNA-Microarrays

Genexpressionsprofile

Immunhistochemie
Keywords
Endoprosthesis loosening

cDNA-micro arrays

Gene expression profiles

Immunohistology