Zusammenfassung
Fragestellung
Die neurogene Osteoarthropathie zieht oft eine invalidisierende und konservativ nicht mehr beherrschbare Deformität des Fußes nach sich. Eine Operationsindikation ergibt sich bei rezidivierenden Ulzera, tiefen Infektionen und bei dekompensierter Statik mit progredienter Deformierung. Die Methode der externen Fixation steht dabei auf dem Prüfstand.
Methodik
65 zwischen 1997 und 2003 operierte Füße mit Neuroarthropathie bei 21 Frauen und 43 Männern konnten retrospektiv untersucht werden. Bei 56 Patienten lag eine diabetische Polyneuropathie vor. Als Operationsmethode kam in 59 Fällen ein Fixateur externe zur Anwendung, 9-mal erfolgte die Fixation mit Steinmann-Nägeln. Die Nachbehandlung sah die Mobilisation in einer Unterschenkelorthese bis zu 1 Jahr Dauer vor.
Ergebnisse
Bei den Diabetikern betrug die durchschnittliche Erkrankungsdauer für Typ 1 24,8 und für Typ 2 13,7 Jahre. Alle Füße entsprachen dem Levin-Stadium 3 oder 4, hinsichtlich der Sanders-Klassifikation waren die Typen II bis V vertreten. In 5 Fällen sahen wir reine Luxationen, weitere 9-mal eine Kombination aus ligamentären und ossären Veränderungen. Operative Revisionen infolge von Komplikationen waren in 7 Fällen erforderlich, zum Teil mehrfach. Folgeoperationen im weiteren Krankheitsverlauf waren 13-mal erforderlich, in 6 Fällen wegen eines Korrekturverlustes. Durchschnittlich 752 Tage nach der Fußkorrektur führten 3 Nachamputationen bei 2 Patienten zu einer prothetischen Versorgung. Pin-Infekte und Wundheilungsstörungen waren häufig, aber konservativ beherrschbar und unabhängig von vorbestehenden Ulzerationen oder Infekten. Innerhalb des ersten Jahres nach der Operation kam es bei 13,9% der Füße zu einem Ulkus. Alle Patienten wurden mit Hilfsmitteln mobilisiert, 47 mit einer Unterschenkelorthese und 15 mit Maßschuhen.
Schlussfolgerungen
Die externe Fixation zur Stellungskorrektur bei Neuroarthropathie stellt ein geeignetes und variables Verfahren mit geringer Komplikationsrate dar. Es können floride wie auch zum Stillstand gekommene Osteoarthropathien behandelt werden. In der Regel wird eine fibröse Ankylose hergestellt, die eine schmerzfreie Mobilisation unter Vollbelastung erlaubt. In geeigneten Fällen—bei gutem Alignement des Fußes und guter Mitarbeit des Patienten—ist nach etwa 12-monatiger Tragedauer der Unterschenkelorthese eine Versorgung mit Maßschuhen möglich.
Abstract
Question
Neurogenic osteoarthropathy often results in a debilitating deformity of the foot which can not be handled conservatively. Indications for surgery are recurrent ulcers, deep tissue infection and decompensated statics with progressing deformity. External fixation as a possible method of correction has to show its efficiency and methods.
Methods
Between 1997 and 2003, 65 feet which could be examined retrospectively, were operated for neuroarthropathy in 21 women and 43 men. A diabetic polyneuropathy was present in 56 patients. In 59 cases, an external fixation was used while in nine cases Steinmann pins were used. Follow-up treatment consisted of mobilisation in a ankle-foot-orthosis (AFO) for up to a year.
Results
For diabetics, the mean duration of illness was 24.8 years (Type 1) and 13.7 years (Type 2). All feet were Levin stage 3 or 4 and for the classification types II–V. In five cases there was only luxation, another nine had a combination of luxation and osseous changes. Surgical revision was necessary in seven cases, sometimes more than once. Additional operations as the illness progressed were necessary 13 times, in six cases due to loss of correction. The application of a prosthesis was necessary in three cases following amputations in two patients after an average of 752 days. Pin infections and disturbances in healing wound were common but could be successfully treated conservatively and were independent of previous ulceration or infection. Within the first year after operation, 13.9% of the feet developed an ulcer. All of the patients could be mobilised with the help of an orthosis (47 cases) or orthopedic shoes (15 cases)
Conclusions
External fixation is a suitable and variable method for correcting malalignment of the foot in cases of neuroarthropathy. It has a low complication rate and can be used for rapidly developing as well as non-progressing osteoarthropathies. In general, a fibrous ankylosis is the result of treatment, which allows pain free mobilisation under full whight bearing. In suitable cases, with a good alignment of the foot and good patient cooperation, the use of the AFO can be changed to orthopedic shoes after about 12 months.
This is a preview of subscription content, log in to check access.
Access options
Buy single article
Instant access to the full article PDF.
US$ 39.95
Price includes VAT for USA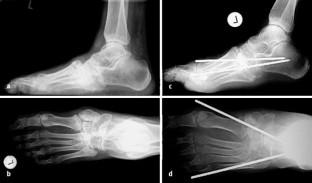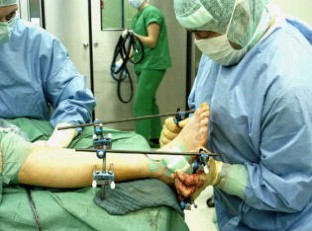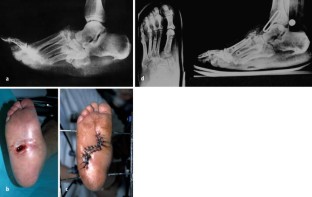 Literatur
1.

Armstrong DG, Lavery LA (1998) Acute Charcot's arthropathy of the foot and ankle. Phys Ther 78: 74–80

2.

Armstrong DG, Todd WF, Lavery LA, Harkless LB, Bushman TR (1997) The natural history of acut Charcot's arthropathy in a diabetic foot speciality clinic. Diabet Med 14: 357–363

3.

Baumgartner R, Greitemann B (1994) Die Resektion von Mittelfußknochen als Alternative zur Vorfußamputation, Operat Orthop Traumatol 6: 119–131

4.

Brink DS, Eickmeier KM, Levitsky DR, Solomon MG (1994) Subtalar and talonavicular joint dislocation as a presentation of diabetic neuropathic arthropathy with salvage by triple arthrodesis, J Foot Ankle Surg 33/6: 583–589

5.

Charcot JM, Féré CH (1883) Affections osseuses et articulaires du pied chez les tabetiques. Archives de Neurologie, pp 305–319

6.

Clohisy GR, Thompson RC (1998) Fractures associated with neuropathic arthropathy in adults who have juvenile-onset diabetes. J Bone Joint Surg 70A: 1192–2000

7.

Eichenholtz SN (1966) Charcot joints. Thomas, Springfield/IL

8.

Hintermann B (1999) Operative Behandlungsmöglichkeiten des diabetischen Fußes. Praxis 88: 1191–1195

9.

Johnson JE (1998) Operative Treatment of neuropathic arthropathy of the foot and ankle. J Bone Joint Surg A80/11: 1700–1709

10.

Jolly GP, Zgonis T, Polyzois V (2003) External fixation in the management of Charcot neuroarthropathy. Clin Podiatr Med Surg 20/4: 741–756

11.

Jordan WR (1936) Neuritic manifestations in diabetes mellitus. Arch Intern Med 36: 45–49

12.

Kelly M (1963) Musgrave's De arthritide symptomatica (1703) His description of neuropathic arthritis. Bull Hist Med 37: 372

13.

Kessler SB, Kalteis TA, Botzlar A (1999) Prinzipien der chirurgischen Behandlung bei diabetisch-neuropathischer Osteoarthropathie. Internist 40: 1029–1035

14.

Koller A, Fiedler R, Wetz HH (2001) Der Fixateur externe zur Rekonstruktion der Fußstatik bei neurogener Osteoarthropathie. Orthopäde 30: 218–25

15.

Myerson MS, Edwards WH (1999) Management of neuropathic fractures in the foot and ankle. J Am Acad Orthop Surg 7: 8–18

16.

Papa J, Myerson M, Girard P (1993) Salvage with arthrodesis, in intractible diabetic neuropathic arthropathy of the foot and ankle, J Bone Joint Surg (Br) 75: 1056–1066

17.

Rajbhandari SM, Jenkins RC, Davies C, Tesfaye S (2002) Charcot neuroarthropathy in diabetes mellitus, Diabetologia 45: 1085–1096

18.

Sammarco GJ, Conti SF (1998) Surgical treatment of neuroarthopathic foot deformity, Foot Ankle Int 19: 102–109

19.

Sanders LJ, Frykberg RG (1993), Diabetic Neuropathic Osteoarthropathy: The Charcot foot. In: Frykberg RG (ed) The high risk foot in diabetes mellitus. New York, Livingstone, pp 297–336

20.

Schon LC, Easley ME, Weinfeld SB (1998) Charcot Neuroarthropathy of the foot and ankle. Clin Orthop 349: 116–131

21.

Sommer TC, Lee TH (2001) Charcot foot: The diagnostic dilemma. Am Fam Physician 64: 1591–1598

22.

Stuart MJ, Morray BE (1990) Arthrodeses of the diabetic neuropathic ankle joint. Clin Orthop 253: 209–211

23.

Thompson RC Jr., Clohisy DR (1993) Deformity following fracture in diabetic neuropathic osteoarthropathy. Operativemanagement of adults who have type-I diabetes, J Bone Joint Surg A75: 1765–1773

24.

Wetz HH, Fortmann A, Fiedler R (1999) Neue Behandlungsergebnisse der diabetisch-neuropathischen Osteoarthropathie. Med Orthop Techn 119: 11–15

25.

Young MJ (1999) The management of neurogenic arthropathy: a tale of two Charcots. Diabetes Metab Res Rev 15: 59–64
Interessenkonflikt:
Der korrespondierende Autor versichert, dass keine Verbindungen mit einer Firma, deren Produkt in dem Artikel genannt ist, oder einer Firma, die ein Konkurrenzprodukt vertreibt, bestehen.
About this article
Cite this article
Koller, A., Hafkemeyer, U., Fiedler, R. et al. Rekonstruktive Fußchirurgie bei diabetisch-neuropathischer Osteoarthropathie. Orthopäde 33, 983–991 (2004). https://doi.org/10.1007/s00132-004-0700-x
Schlüsselwörter
Fußchirurgie

Diabetes mellitus

Osteoarthropathie
Foot surgery

Diabetes mellitus

Osteoarthropathy