Zusammenfassung
Bei neurologischen Störungen, welche den Muskel nicht primär betreffen (wie bei Muskeldystrophien), reagiert der Muskel physiologisch und passt sich an veränderte Anforderungen an. Veränderungen des Muskel-Sehnen-Apparates müssen daher als größtenteils sekundär angesehen werden. Wechselnde Belastungen eines Muskels, wie beim Sport, stimulieren den Aufbau von Muskelfasern, während Dauerzug zu Bindegewebsvermehrung (Fibrose) führt.
Zur Planung einer operativen Weichteilkorrektur und zum Verständnis des postoperativen Ergebnisses ist es wesentlich, den Längenbereich, über den der Muskel Kraft produziert, im Verhältnis zum Bewegungsumfang des Gelenks zu betrachten. Eine optimale Einstellung der Muskellänge auf den Bewegungsumfang kann die Muskelkraft verbessern, während übermäßige Verlängerungen die Kraft reduzieren. Letzteres kann bei störender spastischer Muskelaktivität durchaus der gewünschte Effekt einer operativen Behandlung sein. Umgekehrt kann eine Sehnenverkürzung sinnvoll sein, um eine Überlänge des Muskel-Sehnen-Apparates zu korrigieren und die Muskelkraft zu verbessern.
Intramuskuläre Verlängerungen, aponeurotisch oder als intramuskuläre Tenotomie, wirken erst bei postoperativer Dehnungsbehandlung, während Sehnenverlängerungen sofort den gewünschten Längengewinn bringen. Dafür ist die Gefahr von übermäßigen Verlängerungen mit späterem Kraftverlust bei rein sehnigen Operationstechniken größer.
Abstract
The muscle reacts physiologically in neuromuscular disorders which do not affect muscle tissue directly (such as muscular dystrophies), and adapts to altered demands. For this reason, alterations in the muscle-tendon apparatus are grossly secondary. Changing load stimulates an increase in muscle fibres, whereas continuous pull results in an increase in collagen fibres (fibrosis).
The length range in which a muscle produces force must be considered with respect to the range of motion of the joint in order to plan soft tissue corrections and to understand the postoperative result. An optimal correction of muscle length can increase muscle force whereas overlengthening will reduce it. The latter is desired in cases where spastic muscle force needs to be reduced. In contrast shortening the muscle-tendon apparatus may be indicated in order to correct overlength and to increase muscle force.
The effect of intramuscular lengthening procedures, performed as an aponeurotomy or an intramuscular tenotomy, depends on the stretching program after surgery. Extramuscular tendon lengthening, on the other hand, results in an immediate length gain. The danger of overlengthening and consecutive muscle weakening, however, is greater with the tendinous procedures.
This is a preview of subscription content, log in to check access.
Access options
Buy single article
Instant access to the full article PDF.
US$ 39.95
Price includes VAT for USA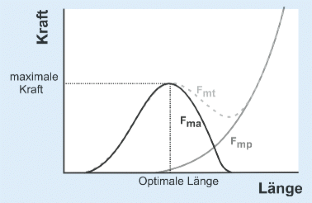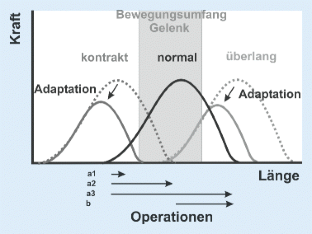 Literatur
1.

Beals RK (2001) Treatment of knee contracture in cerebral palsy by hamstring lengthening, posterior capsulotomy, and quadriceps mechanism shortening. Dev Med Child Neurol 43: 802–805

2.

Borton DC, Walker K, Pirpiris M, Nattrass GR, Graham HK (2001) Isolated calf lengthening in cerebral palsy. Outcome analysis of risk factors. J Bone Joint Surg 83-B: 364–370

3.

Brunner R, Jaspers RT, Pel JJM, Huijing PA (2000) Acute and long-term effects on muscle force after intramuscular aponeurotic lengthening. Clin Orthop 378: 264–273

4.

Brunner, R (1998) Die Auswirkungen der Aponeurosendurchtrennung auf den Muskel. Habilitation-Dissertation, Universität Basel, Basel, Schweiz

5.

Davies TC, Kiefer G, Zernicke RF (2001) Kinematics and kinetics of the hip, knee, and ankle of children with clubfoot after posteromedial release. J Pediatr Orthop 21: 366–371

6.

De Deyne PG, Meyer R, Paley D, Herzenberg JE (2000) The adaptation of perimuscular connective tissue during distraction osteogenesis. Clin Orthop 379: 259–269

7.

Delp SL, Statler K, Carroll NC (1995) Preserving plantar flexion strength after surgical treatment for contracture of the triceps surae: a computer simulation study. J Orthop Res 13: 96–104

8.

Gil-Albarova J, Melgosa M, Gil-Albarova O, Canadell J (1997) Soft tissue behavior during limb lengthening: an experimental study in lambs. J Pediatr Orthop B 6: 266–273

9.

Goldspink G, Williams P (1993) Muscle fibre and connective tissue changes assiciated with use and disuse. In: Ada L, Canning C: Key issues in neurological physiotherapy. Butterworth-Heinemann, Oxford

10.

Hastings MK, Mueller MJ, Sinacore DR, Salsich GB, Engsberg JR, Johnson JE (2000) Effects of a tendo-Achilles lengthening procedure on muscle function and gait characteristics in a patient with diabetes mellitus. J Orthop Sports Phys Ther 30: 85–90

11.

Holm I, Nordsletten L, Steen H, Folleras G, Bjerkreim I (1994) Muscle function after mid-shaft femoral shortening. A prospective study with a two-year follow-up. J Bone Joint Surg Br 76: 143–146

12.

Hughes RE, Schneeberger AG, An KN, Morrey BF, O'Driscoll SW (1997) Reduction of triceps muscle force after shortening of the distal humerus: a computational model. J Shoulder Elbow Surg 6: 444–448

13.

Jaspers RT, Brunner R, Pel JJM, Huijing PA (1999) Acute effects of intramuscular aponeurotomy on rat gastrocnemius medialis: Force transmission, muscle force and sarcomere length. J Biomech 32: 71–79

14.

Kanbe K, Hasegawa A, Takagishi K, Shirakura K, Nagase M, Yanagawa T (1998) Analysis of muscle bioenergetic metabolism in rabbit leg lengthening. Clin Orthop 351: 214–221

15.

Karol LA, Concha MC, Johnston CE (1997) Gait analysis and muscle strength in children with surgically treated clubfeet. J Pediatr Orthop 17: 790–795

16.

Olney BW, Williams PF, Menelaus MB (1988) Treatment of spastic equinus by aponeurosis lengthening. J Ped Orthop 8: 422–425

17.

Orendurff MS, Aiona MD, Dorociak RD, Pierce RA (2002) Length and force of the gastrocnemius and soleus during gait following tendo Achilles lengthenings in children with equinus. Gait Posture 15: 130–135

18.

Oudet CL, Petrovic AG (1981) Regulation of the anatomical length of the lateral pterygoid muscle in the growing rat. Adv Physiol Sci 24: 115–121

19.

Rattey TE, Leathey L, Hyndman J, Brown DCS, Gross M (1993) Recurrence after Achilles tendon lengthening in cerebral palsy. J Ped Orthop 13: 184–187

20.

Saraph V, Zwick EB, Uitz C, Linhart W, Steinwender G (2000) The Baumann procedure for fixed contracture of the gastrosoleus in cerebral palsy. Evaluation of function of the ankle after multilevel surgery. J Bone Joint Surg 82-B: 535–540

21.

Tardieu C, Huet de la Tour E, Bret MD, Tardieu G (1982) Muscle hypoextensibility in children with cerebral palsy: I. Clinical and experimental observations. Arch Phys Med Rehabil 63: 97–107

22.

Tardieu G, Thuilleux G, Tardieu C, Huet de la Tour E (1979) Long-term effects of surgical elongation of the tendo calcaneus in the normal cat. Develop Med Child Neurol 21: 83–94

23.

Williams PE, Goldspink G (1976) The effect of sarcomere number on the functional length of the muscle in young and adult mice. J Anat 122: 455–465

24.

Williams PE, Catanase T, Lucey EG, Goldspink G (1988) The importance of stretch and contractile activity in the prevention of connective tissue accumulation in muscle. J Anat 158: 109–114

25.

Yngve DA, Chambers C (1996) Vulpius and Z-lengthening. J Pediatr Orthop 16: 759–764
Interessenkonflikt:
Keine Angaben
About this article
Cite this article
Brunner, R. Muskelphysiologie und Auswirkung der Operationsmethoden bei infantiler Zerebralparese. Orthopäde 33, 1096–1102 (2004). https://doi.org/10.1007/s00132-004-0680-x
Schlüsselwörter
Muskellänge

Muskelkraft

Bewegungsumfang

Spastizität

Zerebralparese
Keywords
Muscle length

Muscle force

Range of motion of joint

Spasticity

Cerebral palsy