Zusammenfassung
Umschriebene, progressive Osteolysen nach Totalendoprothesenimplantation des Hüftgelenks werden mit einer Häufigkeit von 8% und 56% angegeben. Meist werden diese makrophageninduzierten osteoklastischen Knochenresorptionen einer entzündlichen Gewebsantwort auf Abriebpartikel zugeschrieben. In jüngster Zeit werden diese Phänomene zunehmend in Zusammenhang mit zementierten Hüftendoprothesen als mögliche Folge einer allergischen Reaktion gebracht.
Wir berichten über eine Patientin, die nach beidseitiger zementierter Hüfttotalendoprothesenimplantation (Müllergeradschaft) 5 Jahre später bilateral eine umschriebene Osteolyse unmittelbar distal des Zementköchers entwickelte. Zentral in den Osteolysen fanden sich kleine Knochenzementfragmente. Im Epikutantest zeigten sich keine Reaktionen auf Kobalt, Chrom oder Nickel. Die Testung mit Bestandteilen des Knochenzements wurde abgelehnt. Der histologische Befund zeigte eine histiozytäre Reaktion auf Abriebmaterial mit umgebenden Fremdkörperriesenzellen.
Unseres Wissens ist der vorgestellte Fall der erste einer bilateralen lokalisierten Osteolyse nach zementierter Totalendoprothesenimplantation des Hüftgelenks. Inwiefern eine lymphozytäre, bei Kontaktallergie anzutreffende Immunreaktion hierzu beitrug, lässt sich aufgrund der vorliegenden Ergebnisse nicht klären. Berichte zu immunologisch vermittelter Unverträglichkeit von Knochenzementkomponenten, die Entwicklung erweiteter Testverfahren sowie geplante Forschungsvorhaben sollen jedoch zur Optimierung der Patientenversorgung beitragen.
Abstract
The incidence of focal progressive osteolysis after THR is about 8% and 56%. Most often osteolysis is correlated with macrophage-induced osteoclastic bone resorption as a sequel of inflammatory reaction to wear particles. Recently these findings were published in respect to allergic reactions to implants, their alloying constituents, or bone cement.
We report about a patient who developed bilateral localized osteolysis just below the cement mantle 5 years after cemented THR with a Müller straight stem. In the middle of the osteolysis small fragments of bone cement could be detected. Epicutaneous testing showed no reaction against cobalt, chromium, or nickel. Further epicutaneous testing in respect to ingredients of the bone cement were refused by the patient.
Histological examination revealed a histiocytic reaction to wear particles and surrounding giant cells. To our knowledge, this is the first case of bilateral localized osteolysis after cemented total hip replacement.
Taking all results of the current case into account, it is still unclear if a lymphocytic allergic contact reaction did contribute to the sequel of this case. Reports of immunologically induced incompatibility to components of bone cement, the development of extended testing procedures, and further scientific research should contribute to optimizing the care of patients.
This is a preview of subscription content, log in to check access.
Access options
Buy single article
Instant access to the full article PDF.
US$ 39.95
Price includes VAT for USA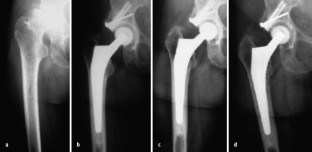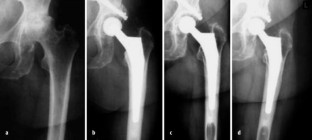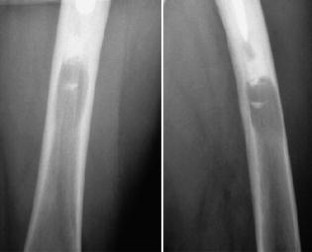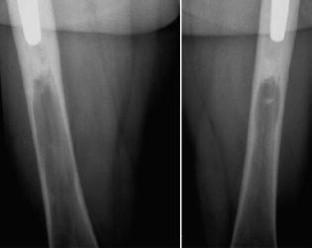 Literatur
1.

Austin RT, Stoney PJ (1982) Granulomatosis of bone from high density polyethylene. Injury 13: 414–418

2.

Evans EM (1974) Metal sensitivity as a cause of bone necrosis and loosening of the prosthesis in total joint replacement. J Bone Joint Surg Br 56: 626–642

3.

Haddad FS, Cobb AG, Bentley G, Levell NJ, Dowd PM (1996) Hypersensitivity in aseptic loosening of total hip replacements. The role of constituents of bone cement. J Bone Joint Surg Br 78: 546–549

4.

Harris WH, Schiller AL, Scholler JM, Freiberg RA, Scott R (1976) Extensive localized bone resorption in the femur following total hip replacement. J Bone Joint Surg Am 58: 612–618

5.

Jasty MJ, Floyd WE 3rd, Schiller AL, Goldring SR, Harris WH (1986) Localized osteolysis in stable, non-septic total hip replacement. J Bone Joint Surg Am 68: 912–919

6.

Lewis JL, Nicola T, Keer L et al. (1985) Failure processes at the cancellous bone- PMMA interface. Trans Orthop Res Soc 10: 144–146

7.

Pazzaglia UE (1990) Fragmentation of methylmethacrylate: a cause of late failure of total hip replacement. A case report. Arch Orthop Trauma Surg 109: 49–52

8.

Schmidt AH, Walker G, Kyle RF, Thompson RC Jr (1996) Periprosthetic metastatic carcinoma. Pitfalls in the management of two cases initially diagnosed as osteolysis. J Arthroplasty 11: 613–619

9.

Schuh A, Holzwarth U, Zeiler G (2002) Malignes fibröses Histiozytom im Bereich einer Totalendoprothese des Hüftgelenks—Koinzidenz oder Komplikation? Aktuelle Traumatologie 32: 143–146

10.

Thomas P, Summer B, Sander CA, Przybilla B, Thomas M, Naumann T (2000) Intolerance of osteosynthesis material: evidence of dichromate contact allergy with concomitant oligoclonal T-cell infiltrate and TH1-type cytokine expression in the peri-implantar tissue. Allergy 55: 969–972

11.

Thomas P (2003) Allergic reactions to implant materials. Orthopäde 32: 60–64

12.

Willert HG, Mueller K, Semlitsch M (1979) The morphology of polymethylmethacrylate (PMMA) bone cement: surface structures and causes of their origin. Arch Orthop Trauma Surg 94: 265–292

13.

Willert HG, Semlitsch M (1983) Problems associated with cement anchorage of artificial joints. In: Schaldach M, Hohman D (eds) Advances in artificial hip and knee joint technology. Engineering in medicine, vol 2. Springer, Berlin Heidelberg New York Tokio, pp 325–342

14.

Winemaker MJ, Boucher MA, de V deBeer J, Colterjohn N, Petruccelli D (2001) Arteriovenous malformation mimicking femoral osteolysis after total hip arthroplasty. J Arthroplasty 16: 394–399
Interessenkonflikt:
Der korrespondierende Autor versichert, dass keine Verbindungen mit einer Firma, deren Produkt in dem Artikel genannt ist, oder einer Firma, die ein Konkurrenzprodukt vertreibt, bestehen.
About this article
Cite this article
Schuh, A., Thomas, P., Holzwarth, U. et al. Bilaterale umschriebene Osteolyse nach zementierter Hüfttotalendoprothesenimplantation. Orthopäde 33, 727–732 (2004). https://doi.org/10.1007/s00132-004-0642-3
Schlüsselwörter
Osteolyse

Allergie

Hüfttotalendoprothese

Knochenzement
Keywords
Osteolysis

Allergic reaction

Hip endoprosthesis

Bone cement