Zusammenfassung
Fragestellung
Sind Schmerzreduktion und Funktionsverbesserung bei Kyphoplastie unter Verwendung des nicht toxischen Calcibon ebenso gut wie mit Polymethylmethacrylat (PMMA)?
Patienten und Methode
In einer prospektiven interdisziplinären Monocenterstudie wurden 99 Patienten (173 Wirbelkörper, "WK") mit osteoporotischen und traumabedingten Frakturen von 12/2001–3/2003 mit Kyphoplastie behandelt. Bei 66 Patienten (127 WK) führten wir die Augmentation mit PMMA , bei 33 (46 WK) mit Calcibon durch. Nachuntersucht wurde klinisch mit einem VAS-Schmerz- und Funktionsscore und radiomorphometrisch mit Nativ-Röntgen und CT.
Ergebnisse
Schmerz und Funktion besserten sich bei 87% der Patienten—bei einer durchschnittlichen Aufrichtung der mittleren WK-Höhe von 16%. Die Zementaustrittsrate lag bei Verwendung von PMMA bei 9% und bei Calcibon mit modifizierter Injektionstechnik bei 10%. Schmerz, Funktion und Radiomorphometrie zeigten in der 6-Monats-Kontrolle keine signifikanten Unterschiede.
Fazit
Die Kyphoplastie ist ein zuverlässiges und sicheres minimal-invasives Verfahren zur Stabilisierung frakturierter WK. Nach Augmentation mit Calcibon wird eine gute Schmerzreduktion, Funktionsverbesserung und Aufrichtung der behandelten WK erzielt.
Abstract
Question
Can the same levels of pain reduction and increase in function be achieved in kyphoplasty procedures with Calcibon as with polymethylmethacrylate (PMMA) cement?
Patients and methods
In a prospective, interdisciplinary single-center study, 99 patients (173 vertebral fractures) were treated with kyphoplasty. Augmentation was performed with PMMA in 66 cases (127 vertebral bodies) and with Calcibon in 33 patients (46 vertebral bodies). Outcome data were obtained with a VAS spine score and by radiomorphometric evaluation of X-rays before and after treatment.
Results
Pain and function improved in 87% of the patients; an average of 16% of the lost vertebral height was regained. A 9% cement leakage rate was observed with PMMA and 10% with Calcibon. There was no significant difference in pain reduction and radiomorphometric evaluation between the two techniques.
Conclusion
Kyphoplasty is a reliable, minimally invasive method to stabilize fractured vertebral bodies. Augmentation with Calcibon improves pain and function and enables the treated vertebral body to regain of height.
This is a preview of subscription content, log in to check access.
Access options
Buy single article
Instant access to the full article PDF.
US$ 39.95
Price includes VAT for USA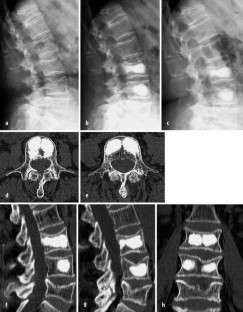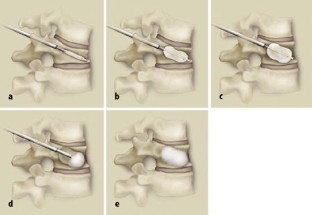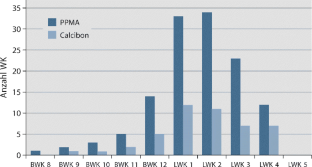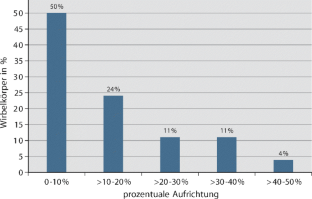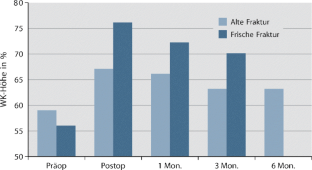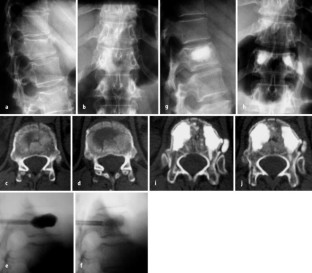 Literatur
1.

Bai B, Jazrawi LM, Kummer FJ et al. (1999) The use of injectable, biodegradable calcium phosphat bone substitute for the prophylactic augmentation of osteoporotic vertebrae and the management of vertebral compression fractures. Spine 24/15: 1521–1526

2.

Belkoff S M, Mathis JM, Jasper LE, Deramond H (2001) An ex vivo biomechanical evaluation of a hydroxyapatite cement for use with vertebroplasty. Spine 26/14: 1542–1546

3.

Belkoff SM, Mathis JM, Erbe EM, Fenton D C (2000) Biomechanical evaluation of a new bone cement for use in vertebroplasty. Spine 25/9: 1061–1064

4.

Berlemann U, Heini PF (2002) Perkutane Zementierungstechniken zur Behandlung osteoporotischer Wirbelkörpersinterungen. Unfallchirurg 105: 2–8

5.

Charnley J (1960) Anchorage of femoral head prosthesis to the shaft of the femur. J Bone Joint Surg Br 42: 28–30

6.

Dahl OE, Garvic LJ, Lyberg T (1994) Toxic effects of methylmethacrylate monomer on leucocytes and endothelial cells in vitro. Acta Orthop Scand 65/2: 147–153

7.

Deramond H, Wright N, Belkoff S (1999) Temperature elevation caused by bone cement polymerization during vertebroplasty. Bone 25: 17–21

8.

Freeman MAR, Bradley GW, Ravell PA (1982) Observation upon the interface between bone and polymethylmethacrylate cement. J Bone Joint Surg Br 64: 489–493

9.

Garfin SR, Hansen A, Yuan HA et al. (2001) Kyphoplasty and vertebroplasty for treatment of painful osteoporotic compression fractures. Spine 26/14: 1511–1515

10.

Gold DT (1996) The clinical impact of vertebral fractures: quality of life in women with osteoporosis. Bone 18/3: 185–189

11.

Goldring SR, Schiller AL, Roelke M et al. (1983) Formation of a synovial-like membrane at the bone-cement interface. J Bone Joint Surg Am 65: 575–584

12.

Hitchon PW, Goel V, Drake J, Torner J C et al. (2001) Comparison of biomechanics of hydroxyapatite and polymethylmethacrylate vertebroplasty in a cadaveric spinal compresion fracture model. J Neurosurg (Spine 2) 95: 215–220

13.

Jahnke K (1980) Zur Rekonstruktion der Frontobasis mit Keramikwerkstoffen. Laryng Rhinol 59: 11–115

14.

Jansen JA, De Ruijter JE, Schaeken HG, Driessens FC et al.(1995) Evaluation of tricalciumphosphate/hydroxyapatite cement for tooth replacement, an experimental animal study. J Mater Sci Mater Med 6: 653–657

15.

Khairon I, Boltong MG, Driessens FC, Planell JA (1997) Effect of calcium carbonate on clinical compliance of apatic calcium phosphate cement. J Biomed Mater Res 38: 356–360

16.

Kindt-Larsen T, Smith DB, Jensen JS (1995) Innovations in acrylic bone cement and application equipement. J Appl Biomat 6: 75–83

17.

Knop C, Oeser M, Blauth M et al. (2001) Entwicklung und Validierung des VAS-Wirbelsäulenscores. Unfallchirurg 104: 488–497

18.

Kurashina K, Kurita H, Hirano M Kotani A et al. (1997) In vivo study of calcium phosphate cements: Implantation of an alpha-tricalcium phosphate/dicalcium phosphate dibasic/tetracalcium phosphate monoxide cement paste. Biomaterials 18: 539–543

19.

Kurashina K, Kurita H, Hirano M et al. (1995) Calcium phosphate cement: in vitro and in vivo studies of the alpha-tricalcium phosphate-dicalcium phosphate dibasic-teracalcium phosphate monoxide system. J Mater Sci Mater Med 6: 340–347

20.

Lieberman IH, Dudeney S, Reinhardt MK et al. (2001) Initial outcome and efficacy of kyphoplasty in the treatment of painful osteoporotic vertebral compression fractures. Spine 26/14: 1631–1638

21.

Magerl F, Aebi M, Gertzbein D et al. (1994) A comprehensive classification of thoracic and lumbar injuries. Eur Spine J 3: 184–201

22.

Mermelstein L, Mc Lain R, Yerby S (1998) Reinforcement of thoracolumbar burst fractures with a calcium phosphate cement. A biomechanical study. Spine 23: 664–671

23.

Nakano M, Hirano N, Kawaguchi Y et al.(2002) Percutaneous transpedicular vertebroplasty with calcium phosphate cement in the treatment of osteoporotic vertebral compression and burst fractures. J Neurosurg (Spine) 97: 287–293

24.

O'Neil TW, Felsenberg D, Varlow J et al. (1998) The prevalence of vertebral deformity in european men and women: The European Vertebral Osteoporosis Study. J Bone Mineral Res 11: 1010–1018

25.

Ooms EM, Wolke JGC, van der Waerden JP, Jansen JA (2002) Trabecular bone response to injectable calcium phosphat cement. J Biomed Mater Res 61: 9–18

26.

Ooms EM, Egglezos EA, Wolke JGC, Jansen JA (2003) Soft-tissue response to injectable calcium phosphat cements. Biomaterials 24: 749–757

27.

Rüger JM (1998) Knochenersatzmittel: Heutiger Stand und Ausblick. Orthopäde 27: 72–79

28.

Schnettler R, Dingeldein E, Tausch W, Ritter T (1997) Untersuchungen zur knöchernen Integration einer Hydroxylapatitkeramik (Endobon) und fibroblast growth factor im Vergleich zu autogenen Spongiosazylindern. In: Schnettler R, Markgraf H (Hrsg) Knochenersatzmaterialien und Wachstumsfaktoren. Thieme, Stuttgart, S 31–42

29.

Silverman SL (2001) The relationship of health-related quality of life to prevalent and incident vertebral fractures in postmenopausal women in osteoporosis. Arthritis Rheum 44: 2611–2619

30.

Wong W, Reiley MA, Garfin S (2000) Vetebroplasty/kyphoplasty. J Womens Imaging 2: 117–124
About this article
Cite this article
Hillmeier, J., Meeder, P.J., Nöldge, G. et al. Augmentation von Wirbelkörperfrakturen mit einem neuen Calciumphosphat-Zement nach Ballon-Kyphoplastie. Orthopäde 33, 31–39 (2004). https://doi.org/10.1007/s00132-003-0578-z
Schlüsselwörter
Injizierbarer Calciumphosphat-Zement

Kyphoplastie

Osteokonduktiv
Keywords
Injectable calcium phosphate cement

Kyphoplasty

Osteoconductive