Zusammenfassung
Bei schwerer Osteoporose ist der progressive Kollaps mehrerer Wirbelkörper mit konsekutivem Haltungsverlust ein ungelöstes Problem. Die medikamentöse Therapie greift zu langsam, um diesen Verlauf aufzuhalten. Die zunehmende Erfahrung mit der Vertebroplastik hat dazu geführt, bei hochgradiger Osteoporose die mehrsegmentale Zementierungen durchzuführen. Von 362 Patienten, die im Verlauf der letzten 5 Jahre mit perkutaner Zement Injektion behandelt wurden, sind bei 100 Patienten 5 oder mehr Höhen augmentiert worden (Range=7,3; maximal 14,0). Die operative Technik wurde dahingehend verfeinert, dass problemlos 6 Niveaus monolateral in Lokalanästhesie verstärkt werden können. Pro Eingriff sollte diese Anzahl nicht überschritten bzw. nicht mehr als 25–30 ml Zement appliziert werden.
Die Ergebnisse sind ermutigend. In 84% der Patienten konnte ein ausgeprägtes Schmerzsyndrom reduziert werden (von 7,6 nach 2,7 VAS). Noch eindrücklicher ist die subjektive Angabe der Patienten, die eine bessere Körperhaltung und mehr Kraft in ihrem Rücken beobachten und dadurch ihr Leben wieder aktiver gestalten können. Die radiologische Nachuntersuchung über 1 Jahr zeigt einen stationären Verlauf ohne weitere Sinterung der augmentierten Wirbel und einen erhaltenen Zwischenwirbelraum. Multisegmentale Vertebroplastik ist effizient und kann das weitere Zusammensintern und damit den Haltungsverlust verhindern. Aufgrund des Risikos der Fettembolie sollte die Augmentation auf 6 Höhen pro Eingriff beschränkt bleiben.
Abstract
In severe osteoporosis progressive collapse of multiple vertebrae is an unsolved problem. Medical treatment appears to be too slow to prevent the course. The evolving experience with vertebroplasty led us to treat these problems with more extensive cement injections. Of 362 patients who were treated with percutaneous cement injection over a 5-year period, 100 were injected at five and more levels (average 7.3, maximum 14). The surgical technique has been refined, allowing six levels to be injected monolaterally under local anesthesia. No more than six levels or 25–30 cc of cement should be injected per session.
The outcome of the procedure is favorable in 84% of patients with a significant pain decrease (from 7.6 to 2.7 VAS). More impressive is the subjective report of the patients about better posture and increased force in their back, allowing them to become more active again. The radiological follow-up for 1 year shows a stable situation without further sintering of the reinforced vertebrae and maintained disc space in between these vertebrae. Vertebroplasty on multiple levels is efficient and can prevent further collapse. Due the risk of fat embolism the injections should be limited to six levels per session.
This is a preview of subscription content, log in to check access.
Access options
Buy single article
Instant access to the full article PDF.
US$ 39.95
Price includes VAT for USA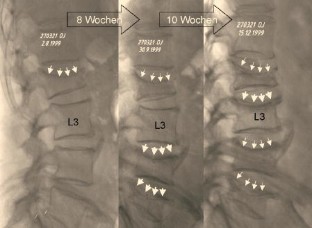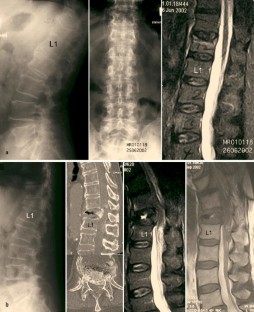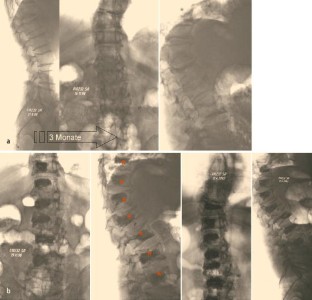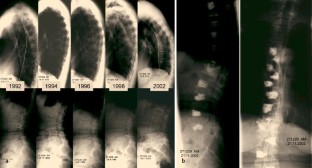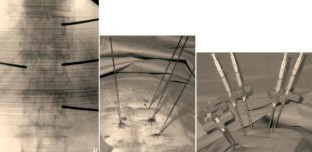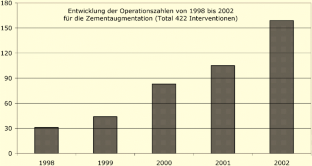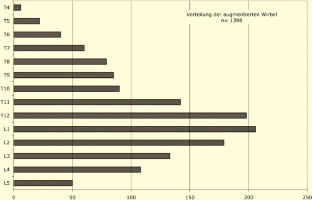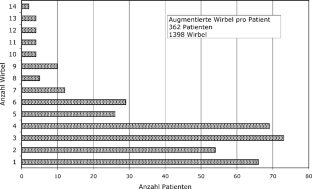 Literatur
1.

European Prospective Osteoporosis Study (2002) Incidence of vertebral fracture in europe: results from the European Prospective Osteoporosis Study (EPOS). J Bone Miner Res 17: 716–724

2.

Melton LJ, 3rd, Kan SH, Frye MA, Wahner HW, O'Fallon WM, Riggs BL (1989) Epidemiology of vertebral fractures in women. Am J Epidemiol 129: 1000–1011

3.

Kanis JA, Pitt FA (1992) Epidemiology of osteoporosis. Bone 13 (Suppl 1): 7–15

4.

Lee YL, Yip KM (1996) The osteoporotic spine. Clin Orthop 323: 91–97

5.

Ryan PJ, Blake G, Herd R, Fogelman I (1994) A clinical profile of back pain and disability in patients with spinal osteoporosis. Bone 15: 27–30

6.

Leech JA, Dulberg C, Kellie S, Pattee L, Gay J (1990) Relationship of lung function to severity of osteoporosis in women. Am Rev Respir Dis 141: 68–71

7.

Heggeness MH (1993) Spine fracture with neurological deficit in osteoporosis. Osteoporos Int 3: 215–221

8.

Korovessis P, Maraziotis T, Piperos G, Spyropoulos P (1994) Spontaneous burst fracture of the thoracolumbar spine in osteoporosis associated with neurological impairment: a report of seven cases and review of the literature. Eur Spine J 3: 286–288

9.

Barrett-Connor E (1995) The economic and human costs of osteoporotic fracture. Am J Med 98: 3–8

10.

Lippuner K, von Overbeck J, Perrelet R, Bosshard H, Jaeger P (1997) Incidence and direct medical costs of hospitalizations due to osteoporotic fractures in Switzerland. Osteoporos Int 7: 414–425

11.

Center JR, Nguyen TV, Schneider D, Sambrook PN, Eisman JA (1999) Mortality after all major types of osteoporotic fracture in men and women: an observational study. Lancet 353: 878–882

12.

Kanis JA (2002) Diagnosis of osteoporosis and assessment of fracture risk. Lancet 359: 1929–1936

13.

Black DM, Steinbuch M, Palermo L, Dargent-Molina P, Lindsay R, Hoseyni MS, Johnell O (2001) An assessment tool for predicting fracture risk in postmenopausal women. Osteoporos Int 12: 519–528

14.

Ross PD, Genant HK, Davis JW, Miller PD, Wasnich RD (1993) Predicting vertebral fracture incidence from prevalent fractures and bone density among non-black, osteoporotic women. Osteoporos Int 3: 120–126

15.

Lindsay R (2001) Risk of new vertebral fracture in the year following a fracture. JAMA 285: 320–323

16.

McGuigan FE, Armbrecht G, Smith R, Felsenberg D, Reid DM, Ralston SH (2001) Prediction of osteoporotic fractures by bone densitometry and COLIA1 genotyping: a prospective, population-based study in men and women. Osteoporos Int 12: 91–96

17.

Heini PF, Walchli B, Berlemann U (2000) Percutaneous transpedicular vertebroplasty with PMMA: operative technique and early results. A prospective study for the treatment of osteoporotic compression fractures. Eur Spine J 9: 445–450

18.

Glanzmann MC, Heini PF (2002) Vertebroplasty. Percutaneous cement injection for osteoporotic vertebral fractures. 1/2002 ed: www.memmedia.org

19.

Riggs BL, Melton LJ 3rd (1986) Involutional osteoporosis. N Engl J Med 314: 1676–1686

20.

Cook DJ, Guyatt GH, Adachi JD, Clifton J, Griffith LE, Epstein RS, Juniper EF (1993) Quality of life issues in women with vertebral fractures due to osteoporosis. Arthritis Rheum 36: 750–756

21.

Silverman SL (1992) The clinical consequences of vertebral compression fracture. Bone 13 (Suppl 2): 27–31

22.

Lyles KW, Gold DT, Shipp KM, Pieper CF, Martinez S, Mulhausen PL (1993) Association of osteoporotic vertebral compression fractures with impaired functional status. Am J Med 94: 595–601

23.

Heini PF, Walchli B, Berlemann U (2000) Percutaneous transpedicular vertebroplasty with PMMA: operative technique and early results. A prospective study for the treatment of osteoporotic compression fractures. Eur Spine J 9: 445–450

24.

McGraw JK, Lippert JA, Minkus KD, Rami PM, Davis TM, Budzik RF (2002) Prospective evaluation of pain relief in 100 patients undergoing percutaneous vertebroplasty: results and follow-up. J Vasc Interv Radiol 13: 883–886

25.

Zoarski GH, Snow P, Olan WJ, Stallmeyer MJ, Dick BW, Hebel JR, De Deyne M (2002) Percutaneous vertebroplasty for osteoporotic compression fractures: quantitative prospective evaluation of long-term outcomes. J Vasc Interv Radiol 13: 139–148

26.

Mathis JM, Barr JD, Belkoff SM, Barr MS, Jensen ME, Deramond H (2001) Percutaneous vertebroplasty: a developing standard of care for vertebral compression fractures. Am J Neuroradiol 22: 373–381

27.

Heini PF, Berlemann U, Kaufmann M, Lippuner K, Fankhauser C, van Landuyt P (2001) Augmentation of mechanical properties in osteoporotic vertebral bones—a biomechanical investigation of vertebroplasty efficacy with different bone cements. Eur Spine J 10: 164–171

28.

Berlemann U, Ferguson SJ, Nolte LP, Heini PF (2002) Adjacent vertebral failure after vertebroplasty. A biomechanical investigation. J Bone Joint Surg Br 84: 748–752

29.

Heini PF, Berlemann U (2001) Bone substitutes in vertebroplasty. Eur Spine J 10 (Suppl 2): 205–213

30.

Heini PF, Dain Allred C (2002) The use of a side-opening injection cannula in vertebroplasty: a technical note. Spine 27: 105–109
About this article
Cite this article
Heini, P.F., Orler, R. Vertebroplastik bei hochgradiger Osteoporose. Orthopäde 33, 22–30 (2004). https://doi.org/10.1007/s00132-003-0574-3
Schlüsselwörter
Wirbelsäule

Osteoporose

Sinterungsfraktur

Haltungsverlust

Vertebroplastik
Keywords
Spine

Osteoporosis

PMMA

Posture

Vertebroplasty

Sagittal alignment