Zusammenfassung
Die zunehmende Integration der genetischen Diagnostik in die pränatale Medizin hat das Fachgebiet in den letzten Jahren maßgeblich verändert. Die traditionelle Zytogenetik mit ihrer grob auflösenden Chromosomenanalyse wird mehr und mehr durch hochauflösende molekulare Technologien, wie chromosomale Mikroarrays (CMA) und "next generation sequencing" (NGS), ergänzt oder sogar ersetzt. Das verändert das diagnostische Vorgehen und stellt neue Herausforderungen an Gynäkologen und Humangenetiker. Im Beitrag beschreiben wir die aktuellen diagnostischen Analyseverfahren bis hin zur Gesamtexomsequenzierung ("whole exome sequencing", WES) und Gesamtgenomsequenzierung ("whole genome sequencing", WGS) als zukünftige Methoden in der pränatalen Diagnostik und diskutieren deren Möglichkeiten und Grenzen.
Abstract
The increasing integration of genetic diagnostics into prenatal medicine has significantly changed the discipline in recent years. Traditional cytogenetics, with gross resolution chromosomal analysis, is increasingly being supplemented or even replaced by high-resolution molecular technologies, such as chromosomal microarrays (CMA) and next generation sequencing (NGS) techniques. This changes the diagnostic procedure and poses new challenges for gynecologists and human geneticists. This article describes the current diagnostic analysis methods, including whole exome sequencing (WES) and whole genome sequencing (WGS) as future methods in prenatal diagnosis and discuss their possibilities and limitations.
This is a preview of subscription content, log in to check access.
Access options
Buy single article
Instant access to the full article PDF.
US$ 39.95
Price includes VAT for USA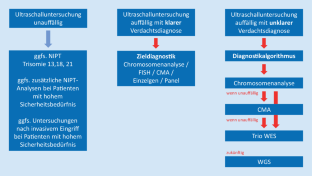 Literatur
1.

Bocklandt S, Hastie A, Cao H (2019) Bionano genome mapping: high-throughput, ultra-long molecule genome analysis system for precision genome assembly and haploid-resolved structural variation discovery. Adv Exp Med Biol 1129:97–118

2.

Bolz HJ, Hoischen A (2019) NGS: Gestern, heute und morgen. medgen 31:185–190

3.

Gemeinsamer Bundesauschuss, Pressemitteilung Nr. 26/2019 vom 19. September 2019

4.

Hartman P, Beckman K, Silverstein K, Yohe S, Schomaker M, Henzler C et al (2019) Next generation sequencing for clinical diagnostic: five year experience of an academic laboratory. Mol Genet Metab Rep 19:100464

5.

Hillman SC, McMullan DJ, Williams D, Maher ER, Kilby MD (2012) Microarray comparative genomic hybridization in prenatal diagnosis: a review. Ultrasound Obstet Gynecol 40(4):385–391

6.

Kozlowski P, Burkhardt T, Gembruch U, Gonser M, Kähler C, Kagan KO et al (2019) Empfehlungen der DEGUM, der ÖGUM, der SGUM und der FMF Deutschland zum Einsatz von Ersttrimester-Screening, früher Fehlbildungsdiagnostik, Screening an zellfreier DNA (NIPT) und diagnostischen Punktionen. Ultraschall Med 40:176–193

7.

Kraft F, Kurth I (2019) Long-read sequencing in human genetics. medgen 31:198–204

8.

Prenatal Assessment of Genomes and Exomes Consortium, Lord J, McMullan DJ, Eberhardt RY, Rinck G, Hamilton SJ, Quinlan-Jones E, Prigmore E, Keelagher R, Best SK, Carey GK, Mellis R, Robart S, Berry IR, Chandler KE, Cilliers D, Cresswell L, Edwards SL, Gardiner C, Henderson A, Holden ST, Homfray T, Lester T, Lewis RA, Newbury-Ecob R, Prescott K, Quarrell OW, Ramsden SC, Roberts E, Tapon D, Tooley MJ, Vasudevan PC, Weber AP, Wellesley DG, Westwood P, White H, Parker M, Williams D, Jenkins L, Scott RH, Kilby MD, Chitty LS, Hurles ME, Maher ER (2019) Prenatal exome sequencing analysis in fetal structural anomalies detected by ultrasonography (PAGE): a cohort study. Lancet 393:747–757

9.

Mahler EA, Johannsen J, Tsiakas K, Kloth K, Lüttgen S, Mühlhausen C, Alhaddad B, Haack TB, Strom TM, Kortüm F, Meitinger T, Muntau AC, Santer R, Kubisch C, Lessel D, Denecke J, Hempel M (2019) Exom-Sequenzierung bei Kindern. Dtsch Arztebl Int 116:197–204

10.

Petrovski S, Aggarwal V, Giordano JL, Stosic M, Wou K, Bier L, Spiegel E, Brennan K, Stong N, Jobanputra V, Ren Z, Zhu X, Mebane C, Nahum O, Wang Q, Kamalakaran S, Malone C, Anyane-Yeboa K, Miller R, Levy B, Goldstein DB, Wapner RJ (2019) Whole-exome sequencing in the evaluation of fetal structural anomalies: a prospective cohort study. Lancet 393:758–767

11.

Rummer A, Sieben W, Mosch C, Assall O, Sauerland S (2019) Nicht invasive Pränataldiagnostik mittels molekulargenetischer Tests (NIPT) zur Erkennung der Trisomien 13, 18 und 21. medgen 31:275–282

12.

Sagi-Dain L, Cohen Vig L, Kahana S, Yacobson S, Tenne T, Agmon-Fishman I, Klein C, Matar R, Basel-Salmon L, Maya I (2019) Chromosomal microarray vs. NIPS: analysis of 5541 low-risk pregnancies. Genet Med 21:2462–2467

13.

Stumm M (2016) Nichtinvasive pränatale Tests aus der Sicht der Humangenetikers. Gynäkologe 49:429–436

14.

Stumm M (2017) Aktuelle Aspekte der Pränatalmedizin. Unimed, Bremen

15.

Stumm M, Schröer A (2018) Sollen die Indikationen für nichtinvasive Pränataltests erweitert werden? Gynäkologe 51:24–31

16.

Stuurman KE, Joosten M, van der Burgt I, Elting M, Yntema HG, Meijers-Heijboer H, Rinne T (2019) Prenatal ultrasound findings of rasopathies in a cohort of 424 fetuses: update on genetic testing in NGS era. J Med Genet. https://doi.org/10.1136/jmedgenet-2018-105746

17.

Vora NL, Hui L (2018) Next-generation sequencing and prenatal omics: advanced diagnostics and new insights into human development. Genet Med 20(8):791–799

18.

Wapner RJ, Martin CL, Levy B, Ballif BC, Eng CM, Zachary JM, Savage M, Platt LD, Saltzman D, Grobman WA, Klugman S, Scholl T, Simpson JL, McCall K, Aggarwal VS, Bunke B, Nahum O, Patel A, Lamb AN, Thom EA, Beaudet AL, Ledbetter DH, Shaffer LG, Jackson L (2012) Chromosomal microarray versus karyotyping for prenatal diagnosis. N Engl J Med 367:2175–2184

19.

Wegner RD, Trimborn M, Stumm M, Wieacker P (2016) Humangenetische Grundlagen für Gynäkologen. De Gruyter, Berlin Boston

20.

Wright CF, FitzPatrick DR, Firth HV (2018) Paediatric genomics: diagnosing rare disease in children. Nat Rev Genet 19(5):253–268

21.

Yadava SM, Ashkinadze E (2018) Whole exome sequencing for prenatal diagnosis in cases with fetal anomalies: criteria to improve diagnostic yield. J Genet Couns 28:251–255
Danksagung
Die Autoren danken Dr. Rainer Wimmer und Dr. Michael Entezami für die Hilfe beim Erstellen des Manuskripts.
Ethics declarations
Interessenkonflikt
M. Stumm und M. Isau geben an, dass kein Interessenkonflikt besteht.
Für diesen Beitrag wurden von den Autoren keine Studien an Menschen oder Tieren durchgeführt. Für die aufgeführten Studien gelten die jeweils dort angegebenen ethischen Richtlinien.
Additional information
Redaktion
R. Zimmermann, Zürich
K. Vetter, Berlin
A. Schröer, Berlin
About this article
Cite this article
Stumm, M., Isau, M. Aktuelle und künftige pränatale genetische Analysemethoden – vom Chromosom zum Genom. Gynäkologe (2020). https://doi.org/10.1007/s00129-020-04562-x
Schlüsselwörter
Pränatale Diagnostik

Chromosomaler Mikroarray

Zytogenetik

Gesamtexomsequenzierung

Gesamtgenomsequenzierung
Keywords
Prenatal diagnosis

Chromosomal microarray

Cytogenetics

Whole exome sequencing

Whole genome sequencing