Zusammenfassung
Mehr als zwei Drittel der neu diagnostizierten Brustkrebserkrankungen sind hormonabhängige Tumoren. Als Standard bei prämenopausalen Patientinnen galt lange die 5‑jährige adjuvante Therapie mit Tamoxifen und bei postmenopausalen Patientinnen mit einem Aromatasehemmer. Studien der letzten Jahre zur erweiterten adjuvanten Antihormontherapie und zur ovariellen Suppression bei ausgewählten Patientinnengruppen haben prognostische Vorteile, aber auch Nachteile in Bezug auf Nebenwirkungen gezeigt. Darüber hinaus haben diese neuen Erkenntnisse zu einer Personalisierung der endokrinen Therapie – abhängig von Alter, Tumorbiologie und -stadium – geführt.
Abstract
More than two thirds of newly diagnosed cases of breast cancer are hormone-dependent tumors. For a long time 5 years of adjuvant treatment with tamoxifen in premenopausal patients and aromatase inhibitors in postmenopausal patients were the standard treatment; however, evidence from recent studies on extended adjuvant antihormone treatment and ovarian suppression in selected groups of patients has shown significant prognostic advantages but also disadvantages with respect to side effects. Furthermore, this new evidence has led to personalized strategies for endocrine therapy depending on age, tumor biology and stage.
This is a preview of subscription content, log in to check access.
Access options
Buy single article
Instant access to the full article PDF.
US$ 39.95
Price includes VAT for USA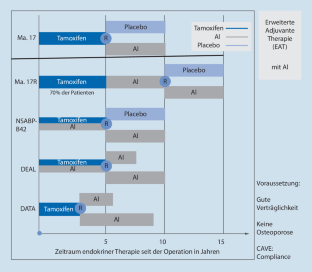 Literatur
1.

Blok EJ, Kreop JR, Meershoek-Klein, Kranenbang E et al (2018) Optimal duration of extended adjuvant endocrine therapy for early breast cancer; results of the IDEAL trial (BOOG 2006-05). J Natl Cancer Inst 110:djx134

2.

Boccardo F, Guglielmini P, Bordonaro R, Fini A (2013) Switching to anastrozole versus continued tamoxifen treatment of early breast cancer: long term results of the Italian Tamoxifen Anastrozole trial. Eur J Cancer 49(7):1546–1554

3.

Davis C, Gray R, Pan H, Peto R, ATLAS collaborative group (2013) Tamoxifen therapy for patients with breast cancer—Authors' reply. Lancet 381(9883):2078–2079

4.

Dowsett M, Forbes JF, Bradley R, Ingle J, Aihara T et al (2015) Early Breast Cancer Trialists' Collaborative Group (EBCTCG) Aromatase inhibitors versus tamoxifen in early breast cancer patient-level meta-analysis of the randomised trials. Lancet 386:1341–1352

5.

Dubsky PC, Jakesz R, Mlineritsch B, Pöstlberger S, Samonigg H, Kwasny W, Tausch C, Stöger H, Haider K, Fitzal F, Singer CF, Stierer M, Sevelda P, Luschin-Ebengreuth G, Taucher S, Rudas M, Bartsch R, Steger GG, Greil R, Filipcic L, Gnant M (2012) Tamoxifen and anastrozole as a sequencing strategy: a randomized controlled trial in postmenopausal patients with endocrine-responsive early breast cancer from the Austrian Breast and Colorectal Cancer Study Group. J Clin Oncol 30(7):722–728

6.

Francis PA, Regan MM, Fleming GF (2015) Adjuvant ovarian suppression in premenopausal breast cancer. N Engl J Med 372(17):1673

7.

Goldhirsch A, Winer EP, Coates AS, Gelber RD, Piccart-Gebhart M, Thürlimann B, Senn HJ, Panel members (2013) Personalizing the treatment of women with early breast cancer: highlights of the St Gallen International Expert Consensus on the Primary Therapy of Early Breast Cancer 2013. Ann Oncol 24(9):2206–2223

8.

Goss PE, Ingle JN, Pritchard KI, Robert NJ et al (2016) Extending Aromatase-inhibitor adjuvant therapy to 10 years. N Engl J Med 375(3):209–219

9.

Gray R (2018) Effects of prolonging adjuvant aromatase inhibitor therapy beyond five years on recurrence and cause-specific mortality: an EBCTCG meta-analysis of individual patient data from 12 randomised trials including 24,912 women. GS3-03. SABCS, 2018 (Oral presentation)

10.

Metzger Filho O, Giobbie-Hurder A, Mallon E, Gusterson B, Viale G, Winer EP, Thürlimann B, Gelber RD, Colleoni M, Ejlertsen B, Debled M, Price KN, Regan MM, Coates AS, Goldhirsch A (2015) Relative effectiveness of Letrozole compared with Tamoxifen for patients with lobular carcinoma in the BIG 1‑98 trial. J Clin Oncol 33(25):2772–2779

11.

Pagani O, Regan MM, Francis PA, TEXT and SOFT Investigators (2014) International Breast Cancer Study Group. Exemestane with ovarian suppression in premenopausal breast cancer. N Engl J Med 371(14):1358–1359

12.

Pagani O, Regan MM, Walley BA, Fleming GF, Colleoni M, Láng I, Gomez HL, Tondini C, Burstein HJ, Perez EA, Ciruelos E, Stearns V, Bonnefoi HR, Martino S, Geyer CE Jr, Pinotti G, Puglisi F, Crivellari D, Ruhstaller T, Winer EP, Rabaglio-Poretti M, Maibach R, Ruepp B, Giobbie-Hurder A, Price KN, Bernhard J, Luo W, Ribi K, Viale G, Coates AS, Gelber RD, Goldhirsch A, Francis PA, TEXT and SOFT Investigators (2014) International Breast Cancer Study Group. Adjuvant exemestane with ovarian suppression in premenopausal breast cancer. N Engl J Med 371(2):107–118

13.

Regan MM, Neven P, Giobbie-Hurder A, Goldhirsch A, Ejlertsen B, Mauriac L, Forbes JF, Smith I, Láng I, Wardley A, Rabaglio M, Price KN, Gelber RD, Coates AS, Thürlimann B, BIG 1‑98 Collaborative Group, International Breast Cancer Study Group (IBCSG) (2011) Assessment of letrozole and tamoxifen alone and in sequence for postmenopausal women with steroid hormone receptor-positive breast cancer: the BIG 1‑98 randomised clinical trial at 8·1 years median follow-up. Lancet Oncol 12(12):1101–1108

14.

Saha P, Regan MM, Pagani O, Francis PA, Walley BA, Ribi K, Bernhard J, Luo W, Gómez HL, Burstein HJ, Parmar V, Torres R, Stewart J, Bellet M, Perelló A, Dane F, Moreira A, Vorobiof D, Nottage M, Price KN, Coates AS, Goldhirsch A, Gelber RD, Colleoni M, Fleming GF, SOFT and TEXT Investigators (2017) International Breast Cancer Study Group. Treatment Efficacy, Adherence, and Quality of Life Among Women Younger Than 35 Years in the International Breast Cancer Study Group TEXT and SOFT Adjuvant Endocrine Therapy Trials. J Clin Oncol 35(27):3113–3122

15.

Saphner T, Tormey DC, Gray R et al (1996) Annual hazard rates of recurrence for breast cancer after primary therapy. J Clin Oncol 14:2738–2746

16.

Tjan-Heijnen VCT, van Hellmond IEG, Peer PGM et al (2017) Extended adjuvant aromatase inhibitor after sequential endocrine therapy (DATA): a randomised, phase 3 trial. Lancet Oncol 18:1502–1511

17.

van der Velde RD, Seynaeve C, Putter H et al (2011) Adjuvant tamoxifen and exemestane in early breast cancer (TEAM): a randoised phase 3 trial. Lancet 37(9762):321–331

18.

Wimmer K, Stroble S, Bollinger M et al (2017) Optimal duration of adjuvant endocrine therapy: how to apply the newest data. Ther Adv Med Oncol 8:679–682
Ethics declarations
Interessenkonflikt
S. Krämer, M. Thill, N. Fersis, N. Maas und M. Friedrich geben an, dass kein Interessenkonflikt besteht.
Für diesen Beitrag wurden von den Autoren keine Studien an Menschen oder Tieren durchgeführt. Für die aufgeführten Studien gelten die jeweils dort angegebenen ethischen Richtlinien.
Additional information
Redaktion
M. Friedrich, Krefeld
K. Diedrich, Groß Sarau
M. Thill, Frankfurt am Main
About this article
Cite this article
Krämer, S., Thill, M., Fersis, N. et al. Adjuvante endokrine Therapie beim Mammakarzinom: Was ist der aktuelle Stand?. Gynäkologe 52, 354–359 (2019). https://doi.org/10.1007/s00129-019-4426-6
Schlüsselwörter
Aromataseinhibitoren

Tamoxifen

Postmenopause

Prämenopause

Lebensqualität
Keywords
Aromatase inhibitors

Tamoxifen

Postmenopause

Premenopause

Quality of life