This is a preview of subscription content, log in to check access.
Access options
Buy single article
Instant access to the full article PDF.
US$ 39.95
Price includes VAT for USA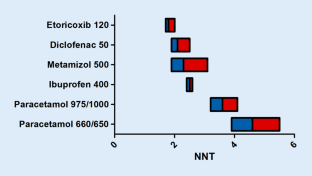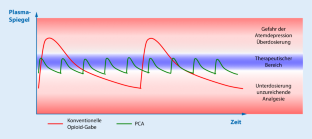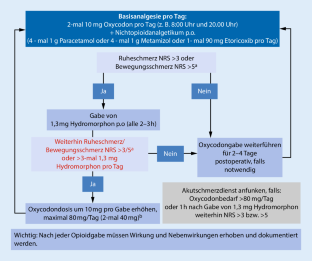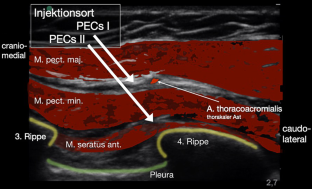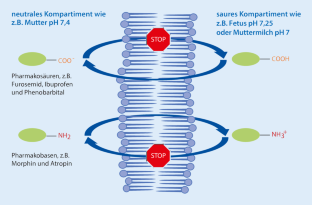 Literatur
1.

Rawal N (2016) Current issues in postoperative pain management. Eur J Anaesthesiol 33(3):160–171

2.

Wu CL, Raja SN (2011) Treatment of acute postoperative pain. Lancet 377(9784):2215–2225

3.

Postoperative Schmerztherapie WH (2018) Wie geht's uns denn heute? AINS – Anästhesiologie · Intensivmedizin · Notfallmedizin. Schmerztherapie 53(04):235–236

4.

Gerbershagen HJ, Aduckathil S, van Wijck AJ, Peelen LM, Kalkman CJ, Meissner W (2013) Pain intensity on the first day after surgery: a prospective cohort study comparing 179 surgical procedures. Anesthesiology 118(4):934–944

5.

Ballantyne JC, Sullivan MD (2015) Intensity of chronic pain—the wrong metric? N Engl J Med 373(22):2098–2099

6.

Chooi CS, White AM, Tan SG, Dowling K, Cyna AM (2013) Pain vs comfort scores after Caesarean section: a randomized trial. Br J Anaesth 110(5):780–787

7.

Ljungqvist O, Scott M, Fearon KC (2017) Enhanced recovery after surgery: a review. JAMA Surg 152(3):292–298

8.

Jage J, Tryba M, Neugebauer E, Wulf H, Rothemund M, Rommens PM et al (2005) Postoperative Schmerztherapie – eine interdisziplinäre Notwendigkeit. Dtsch Arztebl 102(6):361–366

9.

Moore RA, Derry S, Aldington D, Wiffen PJ (2015) Single dose oral analgesics for acute postoperative pain in adults—an overview of Cochrane reviews. Cochrane Database Syst Rev 9. https://doi.org/10.1002/14651858.CD008659.pub3

10.

Ärzteschaft Add (2011) Agranulozytose nach Metamizol – sehr selten, aber häufiger als gedacht (Aus der UAW-Datenbank). Dtsch Arztebl 108(33):1758–1759

11.

Reist L, Erlenwein J, Meissner W, Stammschulte T, Stuber F, Stamer UM (2018) Dipyrone is the preferred nonopioid analgesic for the treatment of acute and chronic pain. A survey of clinical practice in German-speaking countries. Eur J Pain 22(6):1103–1112

12.

Coxib and traditional NSAID Trialists' (CNT), Bhala N, Emberson J, Merhi A, Abramson S et al (2013) Vascular and upper gastrointestinal effects of non-steroidal anti-inflammatory drugs: meta-analyses of individual participant data from randomised trials. Lancet 382(9894):769–779

13.

Walker NJ, Jones VM, Kratky L, Chen H, Runyan CM (2019) Hematoma risks of nonsteroidal anti-inflammatory drugs used in plastic surgery procedures. Ann Plast Surg 82:S437–S445

14.

McNicol ED, Ferguson MC, Hudcova J (2015) Patient controlled opioid analgesia versus non-patient controlled opioid analgesia for postoperative pain. Cochrane Database Syst Rev 6:Cd3348

15.

Melson TI, Boyer DL, Minkowitz HS, Turan A, Chiang YK, Evashenk MA et al (2014) Sufentanil sublingual tablet system vs. intravenous patient-controlled analgesia with morphine for postoperative pain control: a randomized, active-comparator trial. Pain Pract 14(8):679–688

16.

Chou R, Gordon DB, de Leon-Casasola OA, Rosenberg JM, Bickler S, Brennan T et al (2016) Management of postoperative pain: a clinical practice guideline from the American pain society, the American society of regional anesthesia and pain medicine, and the American society of anesthesiologists' committee on regional anesthesia, executive committee, and administrative council. J Pain 17(2):131–157

17.

Cheung CW, Ching Wong SS, Qiu Q, Wang X (2017) Oral oxycodone for acute postoperative pain: a review of clinical trials. Pain Physician 20(2s):Se33–se52

18.

Hart AM, Broecker JS, Kao L, Losken A (2018) Opioid use following outpatient breast surgery: are physicians part of the problem? Plast Reconstr Surg 142(3):611–620

19.

Pogatzki-Zahn EM, Englbrecht JS, Popping D, Boche R, Zahn PK (2013) Oral therapy algorithm for the treatment of postoperative pain. A prospective observational study. Schmerz 27(1):26–37

20.

Rai AS, Khan JS, Dhaliwal J, Busse JW, Choi S, Devereaux PJ et al (2017) Preoperative pregabalin or gabapentin for acute and chronic postoperative pain among patients undergoing breast cancer surgery: a systematic review and meta-analysis of randomized controlled trials. J Plast Reconstr Aesthet Surg 70(10):1317–1328

21.

Li XD, Han C, Yu WL (2017) Is gabapentin effective and safe in open hysterectomy? A PRISMA compliant meta-analysis of randomized controlled trials. J Clin Anesth 41:76–83

22.

Weibel S, Jelting Y, Pace NL, Helf A, Eberhart LH, Hahnenkamp K et al (2018) Continuous intravenous perioperative lidocaine infusion for postoperative pain and recovery in adults. Cochrane Database Syst Rev 6:CD9642

23.

Lirk P, Thiry J, Bonnet MP, Joshi GP, Bonnet F, Group PW. (2019) Pain management after laparoscopic hysterectomy: systematic review of literature and PROSPECT recommendations. Reg Anesth Pain Med 44(4):425–436

24.

Cheng GS, Ilfeld BM (2016) A review of postoperative analgesia for breast cancer surgery. Pain Manag 6(6):603–618

25.

Adesope O, Ituk U, Habib AS (2016) Local anaesthetic wound infiltration for postcaesarean section analgesia: a systematic review and meta-analysis. Eur J Anaesthesiol 33(10):731–742

26.

Schnabel A, Reichl SU, Kranke P, Pogatzki-Zahn EM, Zahn PK (2010) Efficacy and safety of paravertebral blocks in breast surgery: a meta-analysis of randomized controlled trials. Br J Anaesth 105(6):842–852

27.

Hussain N, Shastri U, McCartney CJL, Gilron I, Fillingim RB, Clarke H et al (2018) Should thoracic paravertebral blocks be used to prevent chronic postsurgical pain after breast cancer surgery? A systematic analysis of evidence in light of IMMPACT recommendations. Pain 159(10):1955–1971

28.

Blanco R (2011) The 'pecs block': a novel technique for providing analgesia after breast surgery. Anaesthesia 66(9):847–848

29.

Kulhari S, Bharti N, Bala I, Arora S, Singh G (2016) Efficacy of pectoral nerve block versus thoracic paravertebral block for postoperative analgesia after radical mastectomy: a randomized controlled trial. Br J Anaesth 117(3):382–386

30.

Ueshima H, Otake H (2017) Ultrasound-guided pectoral nerves (PECS) block: complications observed in 498 consecutive cases. J Clin Anesth 42:46

31.

Griffiths JD, Barron FA, Grant S, Bjorksten AR, Hebbard P, Royse CF (2010) Plasma ropivacaine concentrations after ultrasound-guided transversus abdominis plane block. Br J Anaesth 105(6):853–856

32.

Bos EME, Hollmann MW, Lirk P (2017) Safety and efficacy of epidural analgesia. Curr Opin Anaesthesiol 30(6):736–742

33.

Kooij FO, Schlack WS, Preckel B, Hollmann MW (2014) Does regional analgesia for major surgery improve outcome? Focus on epidural analgesia. Anesth Analg 119(3):740–744

34.

Rosero EB, Joshi GP (2016) Nationwide incidence of serious complications of epidural analgesia in the United States. Acta Anaesthesiol Scand 60(6):810–820

35.

Bardia A, Sood A, Mahmood F, Orhurhu V, Mueller A, Montealegre-Gallegos M et al (2016) Combined epidural-general anesthesia vs general anesthesia alone for elective abdominal aortic aneurysm repair. JAMA Surg 151(12):1116–1123

36.

Seaton S, Reeves M, McLean S (2007) Oxycodone as a component of multimodal analgesia for lactating mothers after Caesarean section: relationships between maternal plasma, breast milk and neonatal plasma levels. Aust N Z J Obstet Gynaecol 47(3):181–185

37.

Böhm R, Ohnesorge H (2018) Pharmakotherapie in der Schwangerschaft und Stillzeit. In: Kranke P (Hrsg) Die geburtshilfliche Anästhesie. Springer, Berlin, S 139–184
Ethics declarations
Interessenkonflikt
H. Ohnesorge hat Vortragshonorare von der Firma Grünenthal GmbH und CSL Behring erhalten. I. Alkatout gibt an, dass kein Interessenkonflikt besteht.
Für diesen Beitrag wurden von den Autoren keine Studien an Menschen oder Tieren durchgeführt. Für die aufgeführten Studien gelten die jeweils dort angegebenen ethischen Richtlinien.
Additional information
Redaktion
T. Fehm, Düsseldorf
L. Kiesel, Münster
R. Kimmig, Essen
N. Maass, Kiel
About this article
Cite this article
Ohnesorge, H., Alkatout, I. Postoperative Schmerztherapie in der Gynäkologie und Geburtshilfe. Gynäkologe 53, 130–138 (2020). https://doi.org/10.1007/s00129-019-04553-7