Zusammenfassung
Hintergrund
Die Malaria ist die wichtigste tropische Infektionskrankheit. Der gefährlichste der 5 Malariaerreger, Plasmodium falciparum, kann innerhalb kurzer Zeit zu einer lebensbedrohlichen Erkrankung führen. In der Schwangerschaft stellt die Malaria eine besonders hohe Gefährdung für Mutter und Kind dar.
Ziel der Arbeit
Darstellung der Pathophysiologie, Therapie und Prävention der Malaria.
Material und Methoden
Sichtung der medizinischen Fachliteratur, Leitlinien der Fachgesellschaften, eigene Erfahrungen.
Ergebnisse
Eine Malariaerkrankung muss immer rasch erkannt und behandelt werden. In der Schwangerschaft ist im ersten Trimenon nur Chinin in Kombination mit Clindamycin, im weiteren Verlauf Artemether/Lumefantrin einzusetzen, bei schweren Fällen in allen Schwangerschaftsabschnitten intravenöses Artesunate. Reisen in malariaendemische Gebiete sollten in der Schwangerschaft nicht angetreten werden. Unter den möglichen Medikamenten zur Chemoprophylaxe weist Mefloquin die beste Datenlage zur Sicherheit im ersten Trimenon der Schwangerschaft auf, in späteren Stadien kann auch Atovaquon/Proguanil eingesetzt werden.
Abstract
Background
Malaria is the most important tropical infectious disease. The most dangerous of the five human malarial parasites, Plasmodium falciparum, can quickly cause a life-threatening condition. In pregnancy malaria presents a great danger for mother and child.
Objective
Description of the pathophysiology, treatment and prevention of malaria.
Material and methods
Review of current scientific literature, guidelines of scientific societies and personal experience.
Results
Malaria must be quickly diagnosed and treated. In the first trimester of pregnancy only quinine in combination with clindamycin should be used but in later stages artemether and lumefantrine are the drugs of choice. Severe cases require intravenous artesunate in all stages of pregnancy. Travel to endemic malarial areas should be discouraged during pregnancy. Chemoprophylaxis in the first trimester can be done with mefloquine, which has the best safety profile. Atovaquone/proguanil can also be administered in later stages.
This is a preview of subscription content, log in to check access.
Access options
Buy single article
Instant access to the full article PDF.
US$ 39.95
Price includes VAT for USA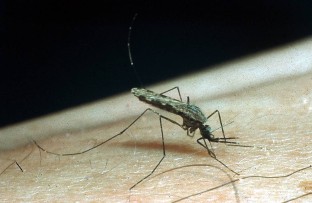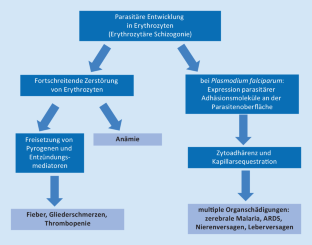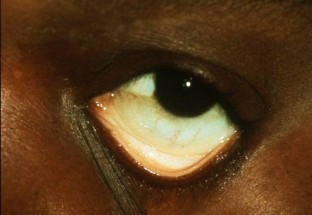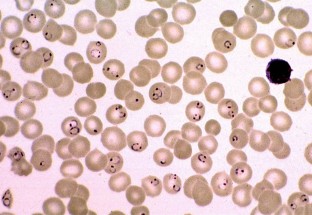 Literatur
1.

WHO (2019) World malaria report 2018. WHO, Geneva. ISBN 978-92-4-156565‑3

2.

Ashley EA, Pyae Phyo A, Woodrow CJ (2018) Malaria. Lancet 391(10130):1608–1621

3.

Storm J, Craig AG (2014) Pathogenesis of cerebral malaria—inflammation and cytoadherence. Front Cell Infect Microbiol 29(4):100

4.

Andrews KT, Lanzer M (2002) Maternal malaria: plasmodium falciparum sequestration in the placenta. Parasitol Res 88(8):715–723

5.

AWMF S1-Leitlinie: Diagnostik und Therapie der Malaria. https://www.awmf.org/uploads/tx_szleitlinien/042-001l_S1_Malaria_Diagnostik_Therapie_2016-08_verlaengert.pdf. Zugegriffen: 14. Nov. 2019

6.

Rothe C et al (2019) Empfehlungen zur Malariaprophylaxe. Flug u Reisemed 26(3):105–132

7.

WHO (2017) Malaria prevention works. WHO, Geneva (WHO/HTM/GMP/2017.6)
Ethics declarations
Interessenkonflikt
A. Stich erhielt in der Vergangenheit Honorare und Reisekostenerstattungen von einigen pharmazeutischen Unternehmen, die auch in der Entwicklung und Herstellung von Malariamedikamenten tätig sind. Wirtschaftliche oder rechtliche Verbindungen zu pharmazeutischen Unternehmen bestehen nicht.
Für diesen Beitrag wurden vom Autor keine Studien an Menschen oder Tieren durchgeführt. Für die aufgeführten Studien gelten die jeweils dort angegebenen ethischen Richtlinien.
Additional information
Redaktion
K. Friese, Oberaudorf
H. Hof, Heidelberg
About this article
Cite this article
Stich, A. Malaria und Schwangerschaft – eine gefährliche Kombination. Gynäkologe 53, 94–98 (2020). https://doi.org/10.1007/s00129-019-04551-9
Schlüsselwörter
Proguanil

Atovaquon

Clindamycin

Plasmodium falciparum

Mefloquin
Keywords
Proguanil

Atovaquone

Clindamycin

Plasmodium falciparum

Mefloquine