Zusammenfassung
Hintergrund
Frühgeborene (unterhalb von 30 SSW) Kinder sind in besonderem Maß von perinatalen Hirnschäden betroffen. Typische Läsionen sind periventrikuläre Hirnblutungen (PIVH) und periventrikuläre Leukomalazien (PVL), die infolge einer Ischämie, aber auch einer aszendierenden intrauterinen Infektion auftreten können. Beide Insulte betreffen v. a. die Pyramidenbahnen und führen zu einer beinbetonten spastischen Zerebralparese. Viele der so geschädigten Kinder sind schwerbehindert. Ihre Versorgung stellt eine enorme Belastung für Familien, Ärzte, Pflegekräfte und Kostenträger dar.
Ziel der Arbeit
Ziel der Arbeit ist es, den Stand der Neuroprotektion bei frühgeborenen Kindern darzustellen.
Ergebnisse
Eine Vermeidung der Frühgeburt, aber auch eine frühzeitige Intervention bei drohender intrauteriner Infektion reduziert die Inzidenz frühkindlicher Hirnläsionen. Eine hoch dosierte intravenöse Gabe von Magnesium bei drohender Frühgeburt führt zu einer signifikanten Reduktion der kindlichen Zerebralparese sowie schwerwiegender grobmotorischer Beeinträchtigungen. Ein spätes Abnabeln bei Geburt senkt die Hirnblutungsrate bei diesen Kindern um bis zu 50 %. Mesenchymale Stammzellen zeigen in tierexperimentellen Untersuchungen ein erhebliches neuroprotektives Potenzial, sie verbessern die Regeneration der geschädigten zerebralen Areale nach Insult signifikant. Eine klinische Testung dieser therapeutischen Intervention scheint sich anzubahnen. Im letzten Trimester der Schwangerschaft steigt die Serumkonzentration von Östradiol und Progesteron sehr stark an, bis auf das 100-fache des Ausgangwertes. Frühgeborene werden diesem Milieu abrupt entzogen. Östradiol und Progesteron schützen im Tierexperiment das unreife Gehirn vor hypoxisch-ischämischen Läsionen. Es liegt deshalb nahe, frühgeborene Kinder nach Partus mit Östradiol und Progesteron zu substituieren.
Diskussion
Die antenatale Applikation von Magnesium sowie spätes Abnabeln bei Geburt reduziert die Inzidenz von Hirnschäden bei frühgeborenen Kindern.
Abstract
Background
Prematurely born infants (less than 30 weeks gestation) are particularly affected by perinatal brain injury. Typical lesions are periventricular/intraventricular hemorrhage (PIVH) and periventricular leucomalacia (PVL) which can occur subsequent to ischemia and also ascending intrauterine infections. Both insults affect the pyramidal tracts in particular and lead to spastic cerebral palsy mostly affecting the lower extremities. Many infants injured in this way are severely handicapped and caring for them is an enormous burden for the family, physicians, nursing personnel and health insurance.
Objective
The aim of this study is to present the current state of neuroprotection for prematurely born infants.
Results
Avoidance of premature birth and also a timely intervention for imminent intrauterine infections reduce the incidence of early childhood brain lesions. A high dose of intravenously administered magnesium for imminent premature birth leads to a significant reduction of childhood cerebral palsy and severe gross motor impairments. A delayed clamping of the umbilical cord at birth reduces the rate of brain hemorrhage in these children by up to 50 %. Mesenchymal stem cells showed a substantial neuroprotective potential in animal experiments and significantly improved the regeneration of damaged cerebral regions after the insult. Clinical testing of these therapeutic interventions seems to be approaching. In the last trimester of pregnancy the serum concentrations of estradiol and progesterone increase greatly, up to 100-fold of the original values. Prematurely born infants are abruptly removed from this environment. In animal experiments estradiol and progesterone were shown to protect the immature brain from hypoxic-ischemic lesions. It therefore appears self-evident that prematurely born infants should be treated with estradiol and progesterone after parturition.
Discussion
The antenatal administration of magnesium and delayed separation of the umbilical cord at parturition reduce the incidence of brain injuries in prematurely born infants.
This is a preview of subscription content, log in to check access.
Access options
Buy single article
Instant access to the full article PDF.
US$ 39.95
Price includes VAT for USA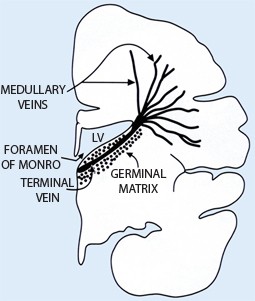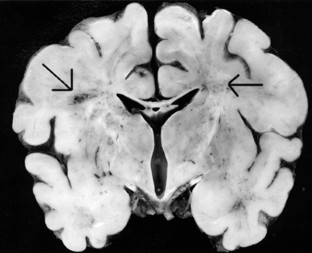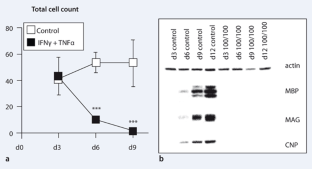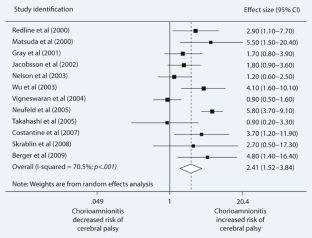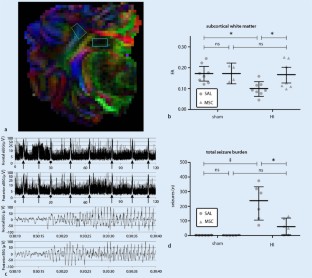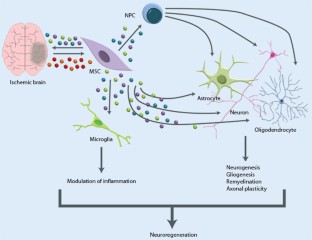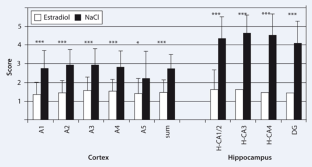 Literatur
1.

American College of Obstetricians and Gynecologists Committee on Obstetric Practice Society for Maternal-Fetal Medicine (2013) Committee Opinion No. 573: magnesium sulfate use in obstetrics. Obstet Gynecol 122(3):727–728. doi:10.1097/01.AOG.0000433994.46087.85

2.

American College of Obstetricians and Gynecologists (2012) Committee Opinion No.543: timing of umbilical cord clamping after birth. Obstet Gynecol 120(6):1522–1526. doi:10.1097/01.AOG.0000423817.47165.48

3.

Behl C (2002) Oestrogen as a neuroprotective hormone. Nat Rev Neurosci 3(6):433–442

4.

Bennet L, Roelfsema V, Pathipati P et al (2006) Relationship between evolving epileptiform activity and delayed loss of mitochondrial activity after asphyxia measured by near-infrared spectroscopy in preterm fetal sheep. J Physiol 572(Pt 1):141–154

5.

Berger R, Garnier Y (1999) Pathophysiology of perinatal brain damage. Brain Res Brain Res Rev 30(2):107–134

6.

Society for Maternal-Fetal Medicine Publications Committee, with assistance of Vincenzo Berghella (2012) Progesterone and preterm birth prevention: translating clinical trials data into clinical practice. Am J Obstet Gynecol 206(5):376–386. doi:10.1016/j.ajog.2012.03.010

7.

Blauert C, Garnier Y, Berger R (2011) Neuroprotektion durch Magnesium – Ein Überblick. Geburtsh Frauenheilk 71:79–82

8.

Cahill AG, Caughey AB (2009) Magnesium for neuroprophylaxis: fact or fiction? Am J Obstet Gynecol 200(6):590–594. doi:10.1016/j.ajog.2009.04.003

9.

Conde-Agudelo A, Romero R (2009) Antenatal magnesium sulfate for the prevention of cerebral palsy in preterm infants less than 34 weeks' gestation: a systematic review and metaanalysis. Am J Obstet Gynecol 200(6):595–609. doi:10.1016/j.ajog.2009.04.005

10.

Coumans AB, Middelanis JS, Garnier Y et al (2003) Intracisternal application of endotoxin enhances the susceptibility to subsequent hypoxic-ischemic brain damage in neonatal rats. Pediatr Res 53(5):770–775

11.

Dammann O, Leviton A (1997) Maternal intrauterine infection, cytokines, and brain damage in the preterm newborn. Pediatr Res 42(1):1–8

12.

DeReuck J, Chattha AS, Richardson EP Jr (1972) Pathogenesis and evolution of periventricular leukomalacia in infancy. Arch Neurol 27(3):229–236

13.

Deutsch ER, Espinoza TR, Atif F et al (2013) Progesterone's role in neuroprotection, a review of the evidence. Brain Res 1530:82–105. doi:10.1016/j.brainres.2013.07.014

14.

Doyle LW, Crowther CA, Middleton P et al (2009) Magnesium sulphate for women at risk of preterm birth for neuroprotection of the fetus. Cochrane Database Syst Rev 1:CD004661. doi:10.1002/14651858.CD004661.pub3

15.

Elovitz M, Wang Z (2004) Medroxyprogesterone acetate, but not progesterone, protects against inflammation-induced parturition and intrauterine fetal demise. Am J Obstet Gynecol 190(3):693–701

16.

Elovitz MA, Mrinalini C (2005) Can medroxyprogesterone acetate alter Toll-like receptor expression in a mouse model of intrauterine inflammation? Am J Obstet Gynecol 193(3 Pt 2):1149–1155

17.

Feldhaus B, Dietzel ID, Heumann R, Berger R (2004) Effects of interferon-gamma and tumor necrosis factor-alpha on survival and differentiation of oligodendrocyte progenitors. J Soc Gynecol Investig 11(2):89–96

18.

Garnier Y, Coumans A, Berger R et al (2001) Endotoxemia severely affects circulation during normoxia and asphyxia in immature fetal sheep. J Soc Gynecol Investig 8(3):134–142

19.

Garnier Y, Coumans AB, Jensen A et al (2003) Infection-related perinatal brain injury: the pathogenic role of impaired fetal cardiovascular control. J Soc Gynecol Investig 10(8):450–459

20.

Hofmeyr GJ, Bolton KD, Bowen DC, Govan JJ (1988) Periventricular/intraventricular haemorrhage and umbilical cord clamping. Findings and hypothesis. S Afr Med J 73(2):104–106

21.

Jellema RK, Wolfs TG, Lima Passos V et al (2013) Mesenchymal stem cells induce T-cell tolerance and protect the preterm brain after global hypoxia-ischemia. PLoS One 8(8):e73031. doi:10.1371/journal.pone.0073031

22.

Lai RC, Arslan F, Lee MM et al (2010) Exosome secreted by MSC reduces myocardial ischemia/reperfusion injury. Stem Cell Res 4(3):214–222. doi:10.1016/j.scr.2009.12.003

23.

Mercer JS, Vohr BR, McGrath MM et al (2006) Delayed cord clamping in very preterm infants reduces the incidence of intraventricular hemorrhage and late-onset sepsis: a randomized, controlled trial. Pediatrics 117(4):1235–1242

24.

Müller MM, Middelanis J, Meier C et al (2013) 17β-estradiol protects 7-day old rats from acute brain injury and reduces the number of apoptotic cells. Reprod Sci 20(3):253–261. doi:10.1177/1933719112452471

25.

Nuñez J, Yang Z, Jiang Y et al (2007) 17beta-estradiol protects the neonatal brain from hypoxia-ischemia. Exp Neurol 208(2):269–276

26.

Ow LL, Kennedy A, McCarthy EA, Walker SP (2012) Feasibility of implementing magnesium sulphate for neuroprotection in a tertiary obstetric unit. Aust N Z J Obstet Gynaecol 52(4):356–360. doi:10.1111/j.1479-828X.2012.01434.x

27.

Quasebarth A (2001) Periventrikuläre Leukomalazie und Perinatale Telenzephale Leukoenzephalopathie. Ein und dieselbe Krankheit? Eine neuropathologische Studie anhand von 10 Falldarstellungen. Dissertation, Johann Wolfgang Goethe Universität Frankfurt am Main

28.

Rabe H, Jewison A, Alvarez RF et al (2011) Milking compared with delayed cord clamping to increase placental transfusion in preterm neonates: a randomized controlled trial. Obstet Gynecol 117(2 Pt 1):205–211. doi:10.1097/AOG.0b013e3181fe46ff

29.

Romero R, Savasan ZA, Chaiworapongsa T et al (2011) Hematologic profile of the fetus with systemic inflammatory response syndrome. J Perinat Med 40(1):19–32. doi:10.1515/JPM.2011.100

30.

Rouse DJ, Hirtz DG, Thom E et al (2008) A randomized, controlled trial of magnesium sulfate for the prevention of cerebral palsy. N Engl J Med 359(9):895–905. doi:10.1056/NEJMoa0801187

31.

Salmeen KE, Jelin AC, Thiet MP (2014) Perinatal neuroprotection. F1000Prime Rep 6:6. doi:10.12703/P6-6

32.

Shatrov JG, Birch SC, Lam LT et al (2010) Chorioamnionitis and cerebral palsy: a meta-analysis. Obstet Gynecol 116(2 Pt 1):387–392. doi:10.1097/AOG.0b013e3181e90046

33.

Velthoven CT van, Kavelaars A, Heijnen CJ (2012) Mesenchymal stem cells as a treatment for neonatal ischemic brain damage. Pediatr Res 71(4 Pt 2):474–481. doi:10.1038/pr.2011.64

34.

Volpe JJ (1995) Neurology of the newborn. WB Saunders, Philadelphia

35.

Wu YW, Colford JM Jr (2000) Chorioamnionitis as a risk factor for cerebral palsy: a meta-analysis. JAMA 284(11):1417–1424

36.

X4PB (2013) Prädiktion und Prävention der Frühgeburt. Frauenarzt 54:1060–1071

37.

Trotter A, Bokelmann B, Sorgo W et al (2001) Follow-up examination at the age of 15 months of extremely preterm infants after postnatal estradiol and progesterone replacement. J Clin Endocrinol Metab 86(2):601−603
Einhaltung ethischer Richtlinien
Interessenkonflikt. R. Berger, S. Söder, H. Abele, Y. Garnier, R. Kuon, W. Rath, E. Schleussner und H. Maul geben an, dass kein Interessenkonflikt besteht. Dieser Beitrag beinhaltet keine Studien an Menschen oder Tieren.
Additional information
R. Berger, H. Abele, Y. Garnier, R. Kuon, W. Rath, E. Schleussner und H. Maul gehören der Arbeitsgruppe "Experts for the Prediction of Preterm Birth" an.
Aufgrund enger Vorgaben wurden in dieser Arbeit größtenteils nur Übersichtsartikel zitiert. Bei den Autoren kann ein detailliertes Literaturverzeichnis angefordert werden.
About this article
Cite this article
Berger, R., Söder, S., Abele, H. et al. Neuroprotektion bei Frühgeborenen. Gynäkologe 47, 856–864 (2014). https://doi.org/10.1007/s00129-014-3380-6
Schlüsselwörter
Intrazerebrale Blutung

Leukomalazie

Magnesium

Zerebralparese

Progesteron
Keywords
Intracerebral hemorrhage

Leucomalacia

Magnesium

Cerebral palsy

Progesterone