Zusammenfassung
Unter dem Oberbegriff der molekularen Karyotypisierung werden in der Humangenetik eingesetzte Mikroarray-basierte Methoden zusammengefasst, die in einem einzigen Experiment die hochauflösende Analyse des menschlichen Genoms zum Nachweis von Kopienzahlveränderungen, also Gewinnen und Verlusten von genomischem Material ermöglichen. Diese Methoden haben sich in den letzten Jahren von der Anwendung in der Forschung weiterentwickelt zu einem wichtigen Bestandteil der genetischen Diagnostik. Die molekulare Karyotypisierung wird in Zukunft die konventionelle Chromosomenuntersuchung als ersten Schritt in der zytogenetischen Diagnostik bei unklarer Diagnose ablösen. In diesem Beitrag wird ein kurzer Überblick über die Grundlagen der molekularen Karyotypisierung, die Möglichkeiten und Grenzen dieser Methode sowie die Indikationen für eine Anwendung in der genetischen Diagnostik gegeben.
Abstract
Molecular karyotyping includes microarray-based methods which allow high-resolution analysis of the human genome with respect to copy number changes, i.e., gains and losses of genomic material. In recent years, these methods, which were initially developed for research only, have been adopted as an important tool in genetic diagnostics. It is expected that molecular karyotyping will replace conventional cytogenetics (chromosome analysis) as the first-line analysis in case of unclear clinical diagnosis. This article provides a brief overview on the technical basics of molecular karyotyping, the advantages and challenges, as well as indications for application of this method in genetic diagnostics.
This is a preview of subscription content, log in to check access.
Access options
Buy single article
Instant access to the full article PDF.
US$ 39.95
Price includes VAT for USA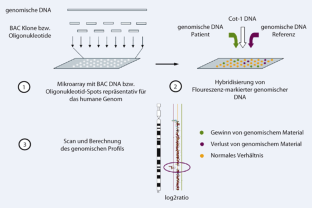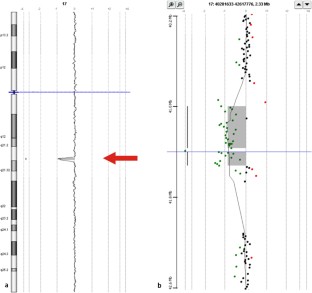 Literatur
1.

(o A) (2009) ISCN 2009: An international system for human cytogenetic nomenclature. S. Karger, Basel

2.

Ballif BC, Rorem EA, Sundin K et al (2006) Detection of low-level mosaicism by array CGH in routine diagnostic specimens. Am J Med Genet A 140:2757–2767

3.

Ben-Shachar S, Lanpher B, German JR et al (2009) Microdeletion 15q13.3: a locus with incomplete penetrance for autism, mental retardation, and psychiatric disorders. J Med Genet 46:382–388

4.

Brunetti-Pierri N, Berg JS, Scaglia F et al (2008) Recurrent reciprocal 1q21.1 deletions and duplications associated with microcephaly or macrocephaly and developmental and behavioral abnormalities. Nat Genet 40:1466–1471

5.

Cremer T, Landegent J, Bruckner A et al (1986) Detection of chromosome aberrations in the human interphase nucleus by visualization of specific target DNAs with radioactive and non-radioactive in situ hybridization techniques: diagnosis of trisomy 18 with probe L1.84. Hum Genet 74:346–352

6.

Darilek S, Ward P, Pursley A et al (2008) Pre- and postnatal genetic testing by array-comparative genomic hybridization: genetic counseling perspectives. Genet Med 10:13–18

7.

Friedman JM, Baross A, Delaney AD et al (2006) Oligonucleotide microarray analysis of genomic imbalance in children with mental retardation. Am J Hum Genet 79:500–513

8.

Helbig I, Mefford HC, Sharp AJ et al (2009) 15q13.3 microdeletions increase risk of idiopathic generalized epilepsy. Nat Genet 41:160–162

9.

Kallioniemi A, Kallioniemi OP, Sudar D et al (1992) Comparative genomic hybridization for molecular cytogenetic analysis of solid tumors. Science 258:818–821

10.

Koolen DA, Vissers LE, Pfundt R et al (2006) A new chromosome 17q21.31 microdeletion syndrome associated with a common inversion polymorphism. Nat Genet 38:999–1001

11.

Ledbetter DH, Riccardi VM, Airhart SD et al (1981) Deletions of chromosome 15 as a cause of the Prader-Willi syndrome. N Engl J Med 304:325–329

12.

Mefford HC, Sharp AJ, Baker C et al (2008) Recurrent rearrangements of chromosome 1q21.1 and variable pediatric phenotypes. N Engl J Med 359:1685–1699

13.

Meins M, Lehmann J, Gerresheim F et al (2005) Submicroscopic duplication in Xq28 causes increased expression of the MECP2 gene in a boy with severe mental retardation and features of Rett syndrome. J Med Genet 42:e12

14.

Pinkel D, Segraves R, Sudar D et al (1998) High resolution analysis of DNA copy number variation using comparative genomic hybridization to microarrays. Nat Genet 20:207–211

15.

Pinkel D, Straume T, Gray JW (1986) Cytogenetic analysis using quantitative, high-sensitivity, fluorescence hybridization. Proc Natl Acad Sci U S A 83:2934–2938

16.

Schröck E (2010) Indikationskriterien und Bewertung der Molekularen Karyotypisierung mittels Mikroarray-Analysen für die genetische Diagnostik konstitutioneller DNA-Veränderungen – Grundlagen zur Einführung der Abrechnung der Molekularen Karyotypisierung mittels Mikroarray-Analyse in den EBM und die GOÄ. medgen 22:20–25

17.

Sharp AJ, Mefford HC, Li K et al (2008) A recurrent 15q13.3 microdeletion syndrome associated with mental retardation and seizures. Nat Genet 40:322–328

18.

Shaw-Smith C, Pittman AM, Willatt L et al (2006) Microdeletion encompassing MAPT at chromosome 17q21.3 is associated with developmental delay and learning disability. Nat Genet 38:1032–1037

19.

Solinas-Toldo A, Lampel S, Stilgenbauer S et al (1997) Matrix-based comparative genomic hybridization: biochips to screen for genomic imbalances. Genes Chromosomes Cancer 20:399–407

20.

Van Esch H, Bauters M, Ignatius J et al (2005) Duplication of the MECP2 region is a frequent cause of severe mental retardation and progressive neurological symptoms in males. Am J Hum Genet 77:442–453
Interessenkonflikt
Keine Angabe
About this article
Cite this article
Klopocki, E. Molekulare Karyotypisierung. Gynäkologe 44, 285–290 (2011). https://doi.org/10.1007/s00129-010-2726-y
Schlüsselwörter
Chromosomenaberration

Array CGH

Molekulare Zytogenetik

Kopienzahlveränderung

Mikrodeletionssyndrom
Keywords
Chromosome aberrations

Array CGH

Molecular cytogenetics

Copy number variation

Microdeletion syndrome