Zusammenfassung
Kinder an der Grenze der Lebensfähigkeit, sei es durch Frühgeburt oder schwere Fehlbildungen, sind ein Appell an die Reflexion unseres ärztlichen, pflegerischen, elterlichen und gesetzmäßigen Handelns. Aktive Lebenserhaltung, passives Unterlassen von Wiederbelebung oder selbst aktive Lebensbeendigung durch pränatalen Fetozid oder peri- bzw. postnatale Euthanasie werden in verschiedenen europäischen Ländern trotz gemeinsamer ethischer Wurzeln und vergleichbaren medizinischen Möglichkeiten unterschiedlich praktiziert. Aufgabe dieses Artikels ist es, die Gemeinsamkeit und Vielfalt der Therapiewege und -ziele aufzuzeigen, die Eindeutigkeit der Entscheidungen zu relativieren oder sich gegen extreme Standpunkte abzugrenzen.
Abstract
Peri-viability caused by either early prematurity or severe malformations has generated ongoing medical and ethical discussions and controversies of our decisions as clinicians, caring staff and parents. Even though within Europe, we have common ethical roots and comparable medical possibilities, life-sustaining treatment has been balanced versus a withdrawal of therapy with caring support, active termination of pregnancy, with or without feticide or finally even postnatal euthanasia. Aim of this article is to demonstrate the common goals and variations of therapy and thereby to help to find better common solutions apart from extreme views.
This is a preview of subscription content, log in to check access.
Access options
Buy single article
Instant access to the full article PDF.
US$ 39.95
Price includes VAT for USA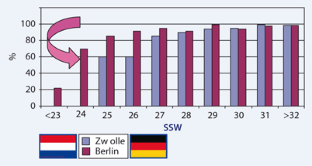 Literatur
1.

Arzt W, Chalubinski K, Dadak C et al (2002) Konsensus-Statement: "Spät-Abbruch". Speculum 20(4):4–5

2.

Asociación Española de Pediatría, Sociedad Española de Neonatología (2007) Reanimacion neonatale. http://www.aeped.es/protocolos/neonatologia/index.htm

3.

Baschat AA, Cosmi E, Bilardo CM et al (2007) Predictors of neonatal outcome in early-onset placental dysfunction. Obstet Gynecol 109:253–261

4.

Berger T, Büttiker V, Fauchère JC et al (2005) Empfehlungen zur Betreuung von Frühgeborenen an der Grenze der Lebensfähigkeit (Gestationsalter 22–26 SSW). Swiss society of neonatology. http://www.neonet.ch/assets/doc/gestationsalter-d.pdf

5.

Bundesärztekammer (1998) Erklärung zum Schwangerschaftsabbruch nach Pränataldiagnostik. Dtsch Arztebl 95(47):(73) A-3013

6.

Chervenak FA, McCullough LB (2009) An ethically justified practical approach to offering, recommending, performing and referring for induced abortion and feticide. Am J Obstet Gynecol 201:560 e1–e6

7.

Chervenak FA, McCullough LB, Arabin B (2009) The groningen protocol: is it necessary? Is it scientific? Is it ethical? J Perinat Med 37:199–205

8.

Chervenak FA, McCullough LB, Levene MI (2007) An ethically justified, clinically comprehensive approach to peri-viability: gynaecological, obstetric, perinatal and neonatal dimensions. J Obstet Gynaecol 27:3–7

9.

Costeloe K (2006) EPICure: facts and figures: why preterm labour should be treated. BJOG 113(Suppl 3):10–12

10.

De Vigan C, Baena N, Cariati E et al (2001) Contribution of ultrasonographic examination to the prenatal detection of chromosomal abnormalities in 19 centres across Europe. Ann Genet 44:209–217

11.

Deutsche Gesellschaft für Gynäkologie und Geburtshilfe, Board für Pränatal- und Geburtsmedizin, Deutsche Gesellschaft für Perinatale Medizin (2009) Leitlinie 015/069 Antenatale Corticosteroide zur Lungenreifung. http://www.awmf-leitlinien.de

12.

Deutsche Gesellschaft für Kinderheilkunde und Jugendmedizin, Deutsche Gesellschaft für Perinatale Medizin, Gesellschaft für Neonatologie und Pädiatrische Intensivmedizin (2007) Leitlinie 024/019 Frühgeburt an der Grenze der Lebensfähigkeit des Kindes. http://www.awmf-leitlinien.de

13.

Deutsche Gesellschaft für Perinatale Medizin, Gesellschaft für Neonatologie und Pädiatrische Intensivmedizin (1997) Leitlinie 024/001 Antepartaler Transport von Risiko-Schwangeren. http://www.awmf-leitlinien.de

14.

Helmer H (2006) Leitlinien zum Management der drohenden Frühgeburt bei Einlings- und Zwillingsschwangerschaft. Speculum. Z Gynakol Geburtshilfe 24:18–24

15.

Husslein P (2004) Fetozid – Abstoßende Horrorvision oder denkbare Therapiealternative. Österreichische Gesellschaft für Prä- und Perinatale Medizin

16.

Kollee LA, Cuttini M, Delmas D et al (2009) Obstetric interventions for babies born before 28 weeks of gestation in Europe: results of the MOSAIC study. BJOG 116:1481–1491

17.

Nicolaides KH (2004) Nuchal translucency and other first-trimester sonographic markers of chromosomal abnormalities. Am J Obstet Gynecol 191:45–67

18.

Norsk gynekologisk foreningen (2006) Den Norske legeforeningen. http://www.legeforeningen.no/ngf

19.

NVOG (2007) Nota: Verwijzing naar een perinatologisch centrum. http://nvog-documenten.nl/

20.

NVOG (2007) Zwangerschapsafbreking tot 24 weken. http://nvog-documenten.nl/

21.

Pignotti MS, Donzelli G (2008) Periviable babies: Italian suggestions for the ethical debate. J Matern Fetal Neonatal Med 21:595–598

22.

Pignotti MS, Scarselli G, Barberi I et al (2007) Perinatal care at an extremely low gestational age (22–25 weeks). An Italian approach: the "Carta di Firenze". Arch Dis Child Fetal Neonatal Ed 92:F515–F516

23.

Rennie JM, Leigh B (2008) The legal framework for end-of-life decisions in the UK. Semin Fetal Neonatal Med 13:296–300

24.

Royal College of Paediatrics and Child Health (2004) Withholding or withdrawing life sustaining treatment in children – a framework for practice. 2nd edn. RCPCH, London

25.

Sebire NJ, Snijders RJ, Santiago C et al (1997) Management of twin pregnancies with fetal trisomies. Br J Obstet Gynaecol 104:220–222

26.

Skupski D, Saugstadt O, Haumont M et al (n d) Ethical dimensions of periviability – a statement of the world association of perinatal medicine. J Perinat Med Im Druck

27.

Sociedad espagnola de neonatologia (2006) Protocollos diagnostico – therapeuticos della asociacion espagnola de pediatria – Transporte neonatal. http://www.aeped.es/protocollos/neonatologia/index.htm

28.

Verhagen E, Sauer PJ (2005) The groningen protocol–euthanasia in severely ill newborns. N Engl J Med 352:959–962

29.

Verlato G, Gobber D, Drago D et al (2004) Guidelines for resuscitation in the delivery room of extremely preterm infants. J Child Neurol 19:31–34

30.

WHO (2007) International statistical classification of diseases and health related problems. Tenth revision. On line version. http://apps.who.int/classifications/apps/icd/icd10online/

31.

Wilkinson AR, Ahluwalia J, Cole A et al (2009) Management of babies born extremely preterm at less than 26 weeks of gestation: a framework for clinical practice at the time of birth. Arch Dis Child Fetal Neonatal Ed 94:F2–F5

32.

Zeitlin J, Wildman K, Breart G et al (2003) PERISTAT: indicators for monitoring and evaluating perinatal health in Europe. Eur J Public Health 13:29–37
Interessenkonflikt
Die korrespondierende Autorin gibt an, dass kein Interessenkonflikt besteht.
About this article
Cite this article
Arabin, B., Hellmeyer, L. Unterschiede der Behandlungsgrenzen in Europa. Gynäkologe 43, 483–494 (2010). https://doi.org/10.1007/s00129-009-2522-8
Schlüsselwörter
Extreme Frühgeburt

Richtlinien

Schwangerschaftsabbruch

Schwere fetale Fehlbildungen

Euthanasie
Keywords
Early prematurity

Guidelines

Termination of pregnancy

Severe fetal abnormalities

Euthanasia