Zusammenfassung
Im Hinblick auf die therapeutischen Grenzen konventioneller Therapieverfahren ist die Erforschung alternativer Behandlungsmethoden zur Verbesserung der Lebensqualität von Patientinnen mit gynäkologischen Tumoren dringend notwendig. Eine attraktive Möglichkeit besteht darin, das Immunsystem durch gezielte Stimulation in die Tumorbekämpfung einzubeziehen und durch Induktion immunologischer "Memory-Mechanismen" einer Tumorneuentstehung entgegenzuwirken. Die beachtenswerten Fortschritte in der molekularen Immunologie haben zu immer neuen Strategien der Tumorimpfung geführt. Die Ergebnisse klinischer Studien deuten auf eine generelle Aktivierung des Immunsystems bei guter Verträglichkeit hin, wenngleich ein durchschlagender klinischer Erfolg bislang fehlt. Die Identifikation der Schwachpunkte bestehender Konzepte eröffnet für die Zukunft neue Wege, durch kombinatorische Therapiemodalitäten unterschiedliche Ebenen der Host-Tumor-Interaktion gleichzeitig zu beeinflussen.
Abstract
Given the limits of conventional therapeutic regimens, there is an urgent need to investigate alternative treatment approaches for the improvement of quality of life in patients with gynecological tumors. An attractive option is to engage the patient's own immune system to eradicate tumor cells and to induce immunological memory mechanisms, which efficiently prevent the development of new tumors. The considerable progress made in molecular immunology has led to an ongoing search for new strategies in tumor vaccination. The results of clinical studies generally show the immune activity and safety of various tumor vaccines, although until now potent clinical success is missing. However, the identification of crucial weak points in current concepts opens new pathways for combinatory therapy modalities simultaneously affecting different steps of host-tumor interactions.
This is a preview of subscription content, log in to check access.
Access options
Buy single article
Instant access to the full article PDF.
US$ 39.95
Price includes VAT for USA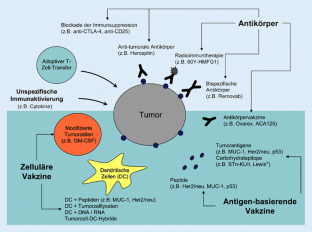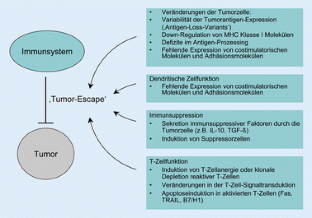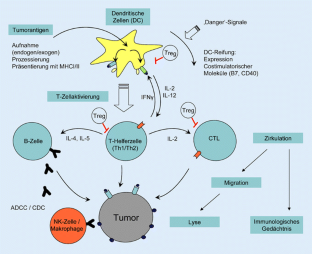 Literatur
1.

Avigan D, Vasir B, Gong J, Borges V, Wu Z, Uhl L, Atkins M, Mier J, McDermott D, Smith T, Giallambardo N, Stone C, Scahdt K, Dolgoff J, Tetreault JC, Villarroel M, Kufe D (2004) Fusion cell vaccination of patients with metastatic breast and renal cancer induces immunological and clinical responses. Clin Cancer Res 10: 4699–4708

2.

Berek JS, Taylor PT, Gordon A, Cunningham MJ, Finkler N, Orr J, Rivkin S, Schultes BC, Whiteside TL, Nicodemus CF (2004) Randomized, placebo-controlled study of oregovomab for consolidation of clinical remission in patients with advanced ovarian cancer. J Clin Oncol 22: 3507–3516

3.

Curiel TJ, Coukos G, Zou L, Alvarez X, Cheng P, Mottram P, Evdemon-Hogan M, Conejo-Garcia JR, Zhang L, Burow M et al. (2004) Specific recruitment of regulatory T cells in ovarian carcinoma fosters immune privilege and predicts reduced survival. Nat Med 10: 942–949

4.

Disis ML, Gooley TA, Rinn K, Davis D, Piepkorn M, Cheever MA, Knutson KL, Schiffman K (2002) Generation of T-cell immunity to the HER2/neu protein after active immunization with HER2/neu peptide-based vaccines. J Clin Oncol 20: 2624–2632

5.

Emens LA, Reilly RT, Jaffee EM (2005) Breast cancer vaccines: maximizing cancer treatment by tapping into host immunity. Endo Rel Cancer 12: 1–17

6.

Garcia AA, Oza AM, Hirte H, Fleming G, Tsao-Wei D, Roman L, Swenson D, Gandara D, Scudder S, Morgan R (2005) Interim report of a phase II clinical trial of bevacizumab (Bev) and low dose metronomic oral cyclophosphamide (mCTX) in recurrent ovarian (OC) and primary peritoneal carcinoma: a California Cancer Consortium Trial. Presentation ASCO

7.

Hodi FS, Mihm MC, Soiffer RJ, Haluska FG, Butler M, Seiden MV, Davis TA, Henry-Spires R, MacRae S, Willman A, Padera R, Jaklitsch MT, Shankar S, Chen TC, Korman A, Allison JP, Dranoff G (2003) Biologic activity of cytotoxic T lymphocyte-associated antigen 4 antibody blockade in previously vaccinated metastatic melanoma and ovarian carcinoma patients. PNAS 100: 4712–4717

8.

Jaeger M, Stroehlein A, Schoberth A, Burges A, Heiss MM, Lindhofer H (2004) Immunotherapy with the trifuncional antibody removab leads to significant elimination of tumor cells from malignant ascites in ovarian cancer: Results of a phase I/II study. J Clin Oncol 22: 2504–2510

9.

Knutson KL, Disis ML (2005) Tumor antigen-specific T helper cells in cancer immunity and immunotherapy. Cancer Immunol Immunother 54: 721–728

10.

Ku BK, Kawano K, Murray JL, Disis ML, Efferson CL, Kuerer HM, Peoples GE, Ioannides CG (2003) Clinical studies of vaccines targeting breast cancer. Clin Cancer Res 9: 3222–3234

11.

Kudo-Saito C, Schlom J, Camphausen K, Coleman N, Hodge JW (2005) the requirement of multimodal therapy (vaccine, local tumor radiation, and reduction of suppressor cells) to eliminate established tumors. Clin Cancer Res 11: 4533–4544

12.

Lake RA, Robinson BWS (2005) Immunotherapy and chemotherapy — a practical partnership. Nat Rev 5: 297–405

13.

Miller KD, Wang M, Gralow J, Dickler M, Cobleigh MA, Perez EA, Shenkier TN, Davidson NE (2005) E2100: a randomized phase III trial of paclitaxel versus paclitaxel plus bevacizumab as first-line therapy for locally recurrent or metastatic breast cancer. Presentation ASCO

14.

Nijman HW, Lambeck A, van der Burg SH, van der Zee AGJ, Daemen T (2005) Immunologic aspect of ovarian cancer and p53 as tumor antigen. J Trans Med 3: 34

15.

Pawelec G (2004) Tumour escape: antitumour effectors too much of a good thing? Cancer Immunol Immunother 53: 262–274

16.

Reinartz S, Köhler S, Schlebusch H, Krista K, Giffels P, Renke K, Huober J, Möbus V, Kreienberg R, duBois A, Sabbatini P, Wagner U (2004) Vaccination of patients with advanced ovarian carcinoma with the anti-idiotype ACA125: immunological response and survival (Phase Ib/II). Clin Cancer Res 10: 1580–1587

17.

Seiden M, Benigno BB (2004) A pivotal phase III trial to evaluate the efficacy and safety of adjuvant treatment with R1549 (yttrium-90-labeled HMFG1 murine monoclonal antibody) in epithelial ovarian cancer (EOC). J Clin Oncol 22: 5008

18.

Svane IM, Pedersen AE, Johnsen HE, Nielson D, Kamby C, Gaarsdal E, Nikolajsen K, Buus S, Claesson MH (2004) Vaccination with p53-peptide-pulsed dendritic cells of patients with advanced breast cancer: report from a phase I study. Cancer Immunol Immunother 53: 633–641

19.

Woo EY, Chu CS, Goletz TJ, Schlienger K, Yeh H, Coukos G, Rubin SC, Kaiser LR, June CH (2001) Regulatory CD4(+)CD25(+) T cells in tumors from patients with early-stage non-small cell lung cancer and late-stage ovarian cancer. Cancer Res 61: 4766–4772
Interessenkonflikt:
Keine Angaben
About this article
Cite this article
Reinartz, S., Wagner, U. Immuntherapie in der gynäkologischen Onkologie. Gynäkologe 39, 158–164 (2006). https://doi.org/10.1007/s00129-005-1796-8
Schlüsselwörter
Immuntherapie

Vakzine

Antikörper

Dendritische Zellen

Immunsuppression
Keywords
Immunotherapy

Vaccine

Antibody

Dendritic cells

Immunosuppression