Zusammenfassung
Primär der Kinderchirurgie zugeordnete Erkrankungen im weiblichen Beckenbodenbereich können in jedem Alter—von der frühen Kindheit bis zur Adoleszenz—eine wichtige Rolle spielen. Im Säuglingsalter steht die funktionsgerechte Therapie der angeborenen anorektalen Malformationen mit den rektogenitalen Fisteln im Vordergrund. Im Schulalter sind vor allem Unfälle mit komplexen Verletzungen des Beckens zu versorgen. Entzündungen des Enddarms und im kleinen Becken werden erst bei jugendlichen Mädchen typisch. Die interdisziplinäre Zusammenarbeit in Diagnostik und Therapie ist bei all diesen Erkrankungen von besonderer Bedeutung.
Abstract
Pediatric surgery pathologies may play a significant role in diseases of the small pelvis in female patients at all ages. In neonates and toddlers the therapy of congenital anorectal malformations with rectogenital fistulas aiming at the restoration of function is one of the predominant among such pathologies. Conversely, in school-age children traumatic injuries of the pelvis often require interdisciplinary pediatric surgery. Finally, in adolescent females inflammatory diseases of the hindgut and in the small pelvis occur more frequently.
This is a preview of subscription content, log in to check access.
Access options
Buy single article
Instant access to the full article PDF.
US$ 39.95
Price includes VAT for USA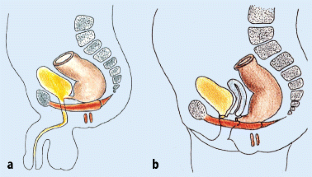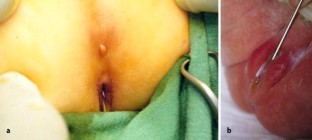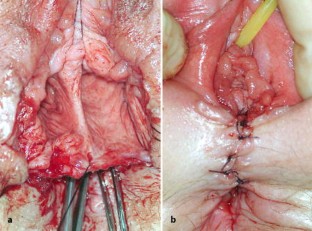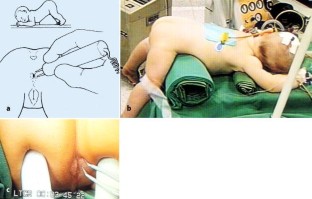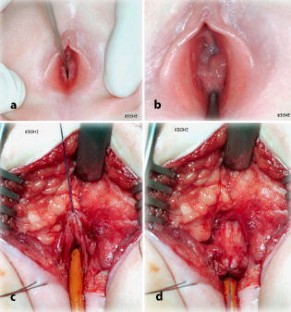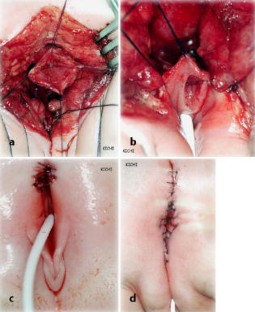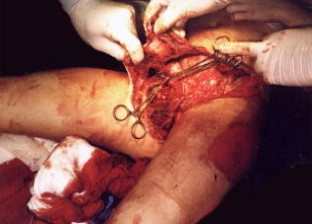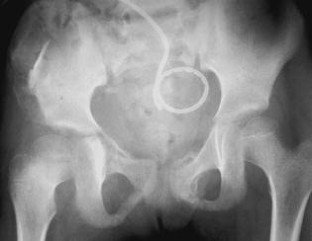 Literatur
1.

Berger S, Linke F, Göppl M, Hofmann v Kap-herr S (2003) Zur Syndromologie der Analatresie. In Hofmann v Kap-herr S, Berger S, Beck S (Hrsg) Anorektale Anomalien. Shaker, Aachen, S 104–113

2.

Bettex M, Genton N, Stockmann M (1982) Kinderchirurgie: Diagnostik, Indikation, Therapie, Prognose. Thieme, Stuttgart New York, 7149–7161

3.

Endo M, Hayashi A, Ishihara M, Maie M, Nagasaki A, Nishi T, Saeki M (1999) Analysis of 1,992 patients with anorectal malformations over the past two decades in Japan. Steering Committee of Japanese Study group of anorectal anomalies. J Pediatr Surg 34: 435–441

4.

Großer K, Göbel P, Roesner D (1997) Bringt die MRT- gegenüber der sonografischen Untersuchungstechnik einen therapierelevanten Erkenntniszuwachs bei anorektalen Fehlbildungen? Langenbecks Arch Chir Suppl 2: 1327–1329

5.

Hecker WC, Holschneider AM (1986) Kinderchirurgie. In: Heberer G, Köle W, Tscherne H (Hrsg) Chirurgie, 5. Aufl. Springer, New York Berlin Heidelberg, S 479–481

6.

Heinrichs T (1999) Computertomographie (CT) und Magnetresonanztomographie (MRT) bei Erkrankungen im Beckenbodenbereich. Zentralbl Chir 124 (Suppl): 25–26

7.

Henne-Bruns D, Barth H (2001) Chirurgie (Duale Reihe). Thieme, Stuttgart New York, S 1173–1181

8.

Henrich W, Meckies J, Friedmann W (2000) Demonstration of a recto-vaginal fistula with the ultrasound contrast medium Echovist. Ultrasound Obstet Gynecol 15: 148–149

9.

Hofmann v Kap-herr S (1984) (Hrsg) Anorektale Fehlbildungen. Fischer, Stuttgart New York

10.

Hümmer HP, Simon S (2003) Urogenitale Implikationen anorektaler Fehlbildungen—Prognose und Operationstaktik. In: Hofmann v Kap-herr S, Berger S, Beck, S (Hrsg) Anorektale Anomalien. Shaker, Aachen, S 91–102

11.

Levitt MA, Stein DM, Pena A (1998) Rectovestibular fistula with absent vagina: a unique anorectal malfirmation. J Pediatr Surg 33: 986–990

12.

Roesner D (2001) Rekonstruktionsverfahren bei Rektumatresien. Zentralbl Chir 126 (Suppl): 1–5

13.

Schärli AF, Gebbers JO (1990) Proktologie im Kindesalter. Gustav Fischer, Stuttgart New York

14.

Schumacher GH (1979) Embryonale Entwicklung des Menschen, 4. Aufl. Volk & Gesundheit, Berlin

15.

Schwemmle K, Schück R. (1999) Kinderchirurgie. In: Koslowski L et al. (Hrsg) Die Chirurgie, 4. Auflage. Schattauer, Stuttgart New York, S 834–835

16.

Stuhldreier G, Drews K, Haber HP (2003) Sonographie in der Diagnostik anorektaler Fehlbildungen. In: Hofmann-v. Kap-herr S, Berger S, Beck, S (Hrsg) Anorektale Anomalien. Shaker, Aachen, S 42–47

17.

Weaver DD, Mapstone CL, Yu PL (1986) The VATER assocoation. Analysis of 46 Patients. Am J Dis Child 140: 225–228

18.

Willital GH, Lehmann RR (2000) Chirurgie im Kindesalter. Spitta, Balingen
Interessenkonflikt:
Der korrespondierende Autor versichert, dass keine Verbindungen mit einer Firma, deren Produkt in dem Artikel genannt ist, oder einer Firma, die ein Konkurrenzprodukt vertreibt, bestehen.
About this article
Cite this article
Großer, K., Roesner, D. Kinderchirurgische Grenzprobleme im Bereich des weiblichen Beckenbodens. Gynäkologe 37, 830–838 (2004). https://doi.org/10.1007/s00129-004-1578-8
Schlüsselwörter
Anorektale Anomalien

Rektogenitale Fisteln

Beckentrauma

Chronische Darmentzündungen
Keywords
Anorectal malformations

Rectogenital fistulas

Pelvic trauma

Chronic enterocolitis