Zusammenfassung
Das Ovarialkarzinom ist der gynäkologische Tumor mit der höchsten Mortalität. In letzter Zeit hat es zahlreiche neue Erkenntnisse über den Stellenwert und Umfang der operativen Therapie dieser Erkrankung gegeben. Die Neuerungen bei der Chemotherapie der Primärerkrankung und des Rezidives sind ebenfalls zahlreich. Die Umsetzung dieser in nationalen und internationalen Standards und Leitlinien implementierten neuen Entwicklungen in den klinischen Alltag ist zur Verbesserung der Situation der Betroffenen dringend erforderlich.
Abstract
Epithelial ovarian cancer is the gynecological tumor with the highest mortality rate. Recently, numerous new findings have emerged about status and extent of surgical therapy of this disease. Innovations regarding chemotherapy of primary and recurrent disease are also numerous. It is essential for the improvement of the patients' situation to transfer these new developments already implemented in national and international standards and guidelines to clinical practice.
This is a preview of subscription content, log in to check access.
Access options
Buy single article
Instant access to the full article PDF.
US$ 39.95
Price includes VAT for USA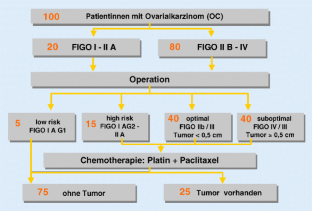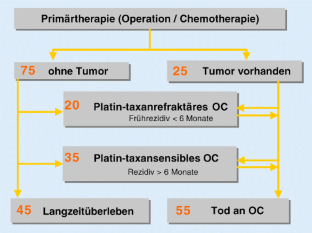 Literatur
1.

Bristow RE, Tomacruz RS, Armstrong DK et al. (2002) Survival effect of maximal cytoreductive surgery for advanced ovarian carcinoma during the platinum era: a meta-analysis. J Clin Oncol 20:1248–1259

2.

Colombo N, Guthrie D, Chiari S et al. (2003) International Collaborative Ovarian Neoplasm trial 1: a randomized trial of adjuvant chemotherapy in women with early-stage ovarian cancer. J Natl Cancer Inst 95:125–132

3.

du Bois A, Lück HJ, Bauknecht T et al. (2000) 2nd-line-Chemotherapie nach Platin- oder Platin-Paclitaxel-haltiger Primärtherapie beim Ovarialkarzinom: eine systematische Übersicht der publizierten Daten bis 1998. Geburtsh Frauenheilk 60:41–58

4.

du Bois A, Lück HJ, Meier W et al. (2003) A randomized clinical trial of Cisplatin/Paclitaxel versus Carboplatin/Paclitaxel as first-line treatment of ovarian cancer. J Natl Cancer Inst 95:1320–1329

5.

du Bois A, Pfisterer J, Kellermann L (2001) Die Therapie des fortgeschrittenen Ovarialkarzinoms in Deutschland. Gynäkologe 34:1029–1040

6.

Markman M, Hoskins W (1992) Responses to salvage chemotherapy in ovarian cancer: a critical need for precise definitions of the treated population. J Clin Oncol 10:513–514

7.

McGuire WP, Hoskins WJ, Brady MF et al. (1996) Cyclophosphamide and cisplatin compared with paclitaxel and cisplatin in patients with stage III and Stage IV ovarian cancer. New Engl J Med 334:1–6

8.

Muggia FM, Braly PS, Brady MF et al. (2000) Phase III randomized study of cisplatin versus paclitaxel versus cisplatin and paclitaxel in patients with suboptimal stage III or IV ovarian cancer: a Gynecologic Oncology Group Study. J Clin Oncol 18:106–115

9.

Ozols RF, Bundy BN, Greer BE et al. (2003) Phase III Trial of Carboplatin and Paclitaxel compared with Cisplatin and Paclitaxel in patients with optimally resected stage III Ovarian cancer. A Gynecologic Oncology Group Study. J Clin Oncol 21:3194–3200

10.

Pfisterer J, Plante M, Vergote I et al. (2004) Gemcitabine/Carboplatin (GC) vs. Carboplatin (C) in Platinum Sensitive Recurrent Ovarian Cancer (OVCA). Results of a Gynecologic Cancer Intergroup Randomized Phase III Trial of the AGO OVAR, the NCIC CTG and the EORTC GCG. Proc Am Soc Clin Oncol:Nr. 5005

11.

Piccart MJ, Bertelsen K, James K et al. (2000) Randomized Intergroup trial of cisplatin-paclitaxel versus cisplatin-cyclophosphamide in women with advanced ovarian cancer. J Natl Cancer Inst 92:699–708

12.

Sakurai S, Shimizu Y, Utsugi K et al. (2002) Validity of complete paraaortic and pelvic lymphadenectomy in apparent stage I (pT1) ovarian carcinoma. Proc Am Soc Clin Oncol:Nr. 801

13.

The ICON and AGO Collaborators (2003) Paclitaxel plus platinum-based chemotherapy versus conventional platinum-based chemotherapy in women with relapsed ovarian cancer: the ICON4/ AGO-OVAR-2.2 trial. Lancet 361:2099–2106

14.

The International Collaborative Ovarian Neoplasm (ICON) Group (2002) Paclitaxel plus carboplatin versus standard chemotherapy with either single agent carboplatin or cyclophosphamide, doxorubicin, and cisplatin in women with ovarian cancer: the ICON3 randomised trial. Lancet 360:505–515

15.

Trimbos JB (2000) Staging of early ovarian cancer and the impact of lymph node sampling. Int J Gynecol Cancer 10 (S1):8–11

16.

Trimbos JB, Vergote I, Bolis G et al. (2003) Impact of adjuvant chemotherapy and surgical staging in early-stage ovarian carcinoma: European Organisation for Research and Treatment of Cancer-Adjuvant ChemoTherapy in Ovarian Neoplasm trial. J Natl Cancer Inst 95:113–125
Interessenkonflikt:
Der korrespondierende Autor versichert, dass keine Verbindungen mit einer Firma, deren Produkt in dem Artikel genannt ist, oder einer Firma, die ein Konkurrenzprodukt vertreibt, bestehen.
About this article
Cite this article
Pfisterer, J., du Bois, A. Standards in der Therapie des Ovarialkarzinoms. Gynäkologe 37, 662–668 (2004). https://doi.org/10.1007/s00129-004-1561-4
Schlüsselwörter
Ovarialkarzinom

Operation

Chemotherapie
Keywords
Ovarian cancer

Surgery

Chemotherapy