Abstract
Fish were separately exposed to 1/2 LC50/96 h values of bulk-Zn and nano-Zn for 7, 14, and 28 days. The induction of micronuclei (MN) and other eight nuclear abnormalities in erythrocytes showed marked time and size dependence. The frequencies of all nuclear anomalies were progressively elevated (p < 0.05) with increasing the time of exposure to both bulk-Zn and nano-Zn. Throughout the study periods, fish exposed to nano-Zn showed the maximum elevation in all studied nuclear anomalies. Based on the fragmented DNA values, both Zn forms induced tissue-specific DNA damage as following gills > liver > muscles. Moreover, nano-Zn exposed groups revealed a maximum percentage of DNA damage among all studied groups, especially after 14 days. The percentage of DNA damage was decreased in all tissues on the 28th day, which reflected the presence of an effective repair mechanism. Finally, nano-Zn exhibited more genotoxic effects than that of its bulk counterparts.
This is a preview of subscription content, log in to check access.
Access options
Buy single article
Instant access to the full article PDF.
US$ 39.95
Price includes VAT for USA
Subscribe to journal
Immediate online access to all issues from 2019. Subscription will auto renew annually.
US$ 199
This is the net price. Taxes to be calculated in checkout.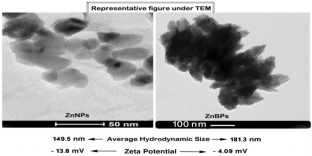 References
Abdel-Khalek AA (2015) Antioxidant responses and nuclear deformations in freshwater fish, Oreochromis niloticus, facing degraded environmental conditions. Bull Environ Contam Toxicol 94:701–708

Abdel-Khalek AA, Kadry M, Hamed A, Marie M-AS (2015) Ecotoxicological impacts of zinc metal in comparison to its nanoparticles in Nile tilapia; Oreochromis niloticus. J Basic Appl Zool 72:113–125

Abdel-Khalek AA (2016) Comparative evaluation of genotoxic effects induced by CuO bulk and nano-particles in Nile Tilapia, Oreochromis niloticus. Water Air Soil Pollut 227:35

Abdel-Khalek AA, Badran SR, Marie M-AS (2016a) Toxicity evaluation of copper oxide bulk and nanoparticles in Nile tilapia, Oreochromis niloticus, using hematological, bioaccumulation and histological biomarkers. Fish Physiol Biochem 42:1225–1236

Abdel-Khalek AA, Hamed A, Marie M-AS (2016b) The accumulation potency of bulk and nano zinc metal and their impacts on the hematological and histological perturbations of Oreochromis niloticus. Water Air Soil Pollut 227:206

Ahamed M, Posgai R, Gorey TJ, Nielsen M, Hussain S, Rowe J (2010) Silver nanoparticles induced heat shock protein 70, oxidative stress and apoptosis in Drosophila melanogaster. Toxicol Appl Pharmacol 242:263–269

American Public Health Association (APHA) (2005) Standard methods for the examination of water and wastewater. American Water Works Association, New York

Carriere M, Sauvaigo S, Douki T, Ravanat JL (2017) Impact of nanoparticles on DNA repair processes: current knowledge and working hypotheses. Mutagenesis 32(1):203–213

Chatterjee N, Walker GC (2017) Mechanisms of DNA damage, repair and mutagenesis. Environ Mol Mutagen 58(5):235–263

Doherty AT (2011) The in vitro micronucleus assay. Methods Mol Biol 817:121–141

Emmanouil C, Sheehan TMT, Chipman JK (2007) Macromolecule oxidation and DNA repair in mussel (Mytilus edulis L.) gill following exposure to Cd and Cr (VI). Aquat Toxicol 82(1):27–35

Ergene S, Avas TC, Celik A, Koleli N, Kaya F, Karahan A (2007) Monitoring of nuclear abnormalities in peripheral erythrocytes of three fish species from the Goksu Delta (Turkey): genotoxic damage in relation to water pollution. Ecotoxicology 16(4):385–391

Fenech M, Chang WP, Kirsch-Volders M, Holland N, Bonassi S, Zeiger E (2003) HUMN project: detailed description of the scoring criteria for the cytokinesis block micronucleus assay using isolated human lymphocyte cultures. Mutat Res 534(1–2):65–75

Gaiser BK, Biswas A, Rosenkranz P, Jepson MA, Lead JR, Stone V, Tyler CR, Fernandes TF (2011) Effects of silver and cerium dioxide micro- and nano-sized particles on Daphnia magna. J Environ Monitor 13:1227–1235

Gercel-Taylor C, Ackermann MA, Taylor DD (2001) Evaluation of cell proliferation and cell death based assays in chemosensitivity testing. Anticancer Res 21:2761–2768

Hu W, Culloty S, Darmodyb G, Lynch S, Davenport J, Ramirez-Garcia S, Dawsonc KA, Lynch I, Blasco J, Sheehana D (2014) Toxicity of copper oxide nanoparticles in the blue mussel, Mytilus edulis: a redox proteomic investigation. Chemosphere 108:289–299

Isani G, Letizia M, Barucca G, Sekar D, Andreani G, Carpenè E, Falcioni G (2013) Comparative toxicity of CuO nanoparticles and CuSO4 in rainbow trout. Ecotoxicol Environ Saf 97:40–46

Khan MS, Qureshi NA, Jabeen F (2017) Assessment of toxicity in fresh water fish Labeo rohita treated with silver nanoparticles. Appl Nanosci 7:167–179

Kirsch-Volders M, Plas G, Elhajouji A, Lukamowicz M, Gonzalez L, Loock KV (2011) The in vitro MN assay in 2011: origin and fate, biological significance, protocols, high through put methodologies and toxicological relevance. Arch Toxicol 85:873–899

Kumar A, Pandey AK, Singh SS, Shanker R, Dhawan A (2011) Engineered ZnO and TiO2 nanoparticles induce oxidative stress and DNA damage leading to reduced viability of Escherichia coli. Free Radic Biol Med 51:1872–1881

Lebedová J, Hedberg YS, Wallinder IO, Karlsson HL (2018) Size-dependent genotoxicity of silver, gold and platinum nanoparticles studied using the mini-gel comet assay and micronucleus scoring with flow cytometry. Mutagenesis 33:77–85

Lindberg HK, Wang X, Järventaus H, Falck GCM, Norppa H, Fenech M (2007) Origin of nuclear buds and micronuclei in normal and folate-deprived human lymphocytes. Mutat Res 617:33–45

Magdolenova Z, Collins A, Kumar A, Dhawan A, Stone V, Dusinska M (2014) Mechanisms of genotoxicity: a review of in vitro and in vivo studies with engineered nanoparticles. Nanotoxicology 8:233–278

Perandones CE, Illera VA, Peckham D, Stunz LL, Ashman RF (1993) Regulation of apoptosis in vitro in mature murine spleen T cells. J Immunol 151:3521–3529

Singh N, Manshian B, Jenkins GJS, Griffiths SM, Williams PM, Maffeis TGG (2009) Nanogenotoxicology: the DNA damaging potential of engineered nanomaterials. Biomaterials 30:3891–3914

Sirelkhatim A, Mahmud S, Seeni A, Kaus NHM, Ann LC, Bakhori SKM, Hasan H, Mohamad D (2015) Review on zinc oxide nanoparticles: antibacterial activity and toxicity mechanism. Nanomicro Lett 7(3):219–242

Vignardi CP, Hasue FM, Sartório PV, Cardoso CM, Machado ASD, Passos MJACR, Santos TCA, Nucci JM, Hewer TLR, Watanabe I-S, Gomes V, Phan NV (2015) Genotoxicity, potential cytotoxicity and cell uptake of titanium dioxide nanoparticles in the marine fish Trachinotus carolinus (Linnaeus, 1766). Aquat Toxicol 158:218–229

Wang Z, Li N, Zhao J, White JC, Qu O, Xing B (2012) CuO nanoparticle interaction with human epithelial cells: cellular uptake, location, export, and genotoxicity. Chem Res Toxicol 25:1512–1521

Zhu B, He W, Hu S, Kong R, Yang L (2019) The fate and oxidative stress of different sized SiO2 nanoparticles in zebrafish (Danio rerio) larvae. Chemosphere 225:705–712
Acknowledgement
The authors extend their appreciation to the Deanship of Scientific Research at King Khalid University for funding this work through Research Group Project under grant no. (R.G.P.1–56 − 40), and to the Faculty of Science, Cairo University, Cairo, Egypt for supporting the current work.
Ethics declarations
Conflicts of interest
The authors declare that they have no conflict of interest.
Ethical approval
This manuscript complies with the ethical rules applicable for this journal. All procedures performed in the present study involving fish were approved (approval no. CUIF4919) and were in accordance with the ethical standards of Faculty of Science, Cairo University, Institutional Animal Care and Use Committee (IACUC) at which the studies were conducted.
About this article
Cite this article
Abdel-Khalek, A.A., Morsy, K. & Shati, A. Comparative Assessment of Genotoxic Impacts Induced by Zinc Bulk- and Nano-Particles in Nile tilapia, Oreochromis niloticus. Bull Environ Contam Toxicol 104, 366–372 (2020). https://doi.org/10.1007/s00128-020-02799-9
Received:

Accepted:

Published:

Issue Date:
Keywords
Zinc nanoparticles

Micronucleus test

DNA damage

Oreochromis niloticus