Abstract
Amynthas agrestis and Metaphire hilgendorfi are being distributed across North America with unknown ecosystem impacts. Forest soils in urban areas sequester trace elements and earthworms may be bioaccumulating them. This study examined Cd, Cr, Co, Cu, Mn, Ni, Pb, V, and Zn in soils and earthworm tissues at 28 urban forest sites in and surrounding Poughkeepsie, NY, USA. Megascolecidae were present at 22 sites with means of 12 to 27 individuals m−2 and 4 to 12 dry weight g m−2. Urban forest soils within commercial uses had Mn, Pb, and Zn concentrations higher than within residential and agricultural uses. Earthworm trace element concentrations were poorly predicted by their respective soil concentrations, except for Pb. Urban forests in commercial uses and land-preserves, earthworm Cd and Pb concentrations were at or above concentrations known to negatively impact small mammal and bird health ( > 10 mg kg−1) with Co and V approaching toxic concentrations.
This is a preview of subscription content, log in to check access.
Access options
Buy single article
Instant access to the full article PDF.
US$ 39.95
Price includes VAT for USA
Subscribe to journal
Immediate online access to all issues from 2019. Subscription will auto renew annually.
US$ 199
This is the net price. Taxes to be calculated in checkout.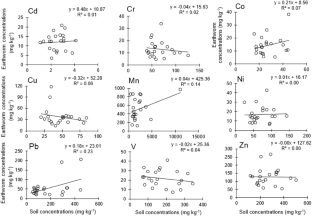 References
Adriano DC (2001) Trace elements in terrestrial environments. Springer, New York, NY

Bityutskii NP, Kaidun PI (2008) The influence of earthworms on the mobility of microelements in soil and their availability for plants. Eurasian Soil Sci 41(12):1306–1313

Dobson AM (2018) Impacts of Deer and Earthworms on understory forest plants. Dissertation, Cornell University. https://doi.org/10.7298/X4P84948

Chang CH, Johnston MR, Görres JH, Dávalos A, McHugh D, Szlavecz K (2017) Co-invasion of three Asian earthworms, Metaphire hilgendorfi, Amynthas agrestis and Amynthas tokioensis in the USA. Biol Invasions 20:1–6

Dai J, Becquer T, Rouiller JH, Reversat G, Bernhard-Reversat F, Nahmani J, Lavelle P (2004) Heavy metal accumulation by two earthworm species and its relationship to total and DTPA-extractable metals in soils. Soil Biol Biochem 36(1):91–98

Dobson AM, Blossey B, Richardson JB (2017) Invasive earthworms change nutrient availability and uptake by forest understory plants. Plant Soil 421(1–2):175–190

Ernst G, Zimmermann S, Christie P, Frey B (2008) Mercury, cadmium and lead concentrations in different ecophysiological groups of earthworms in forest soils. Environ Pollut 156(3):1304–1313

Görres JH, Melnichuk RD (2012) Asian invasive earthworms of the genus Amynthas Kinberg in Vermont. Northeast Nat 19(2):313–323

Groffman PM, Pouyat RV, Cadenasso ML, Zipperer WC, Szlavecz K, Yesilonis ID, Band LE, Brush GS (2006) Land use context and natural soil controls on plant community composition and soil nitrogen and carbon dynamics in urban and rural forests. For Ecol Manag 236(2–3):177–192

Gundale MJ, Jolly WM, Deluca TH (2005) Susceptibility of a northern hardwood forest to exotic earthworm invasion. Conserv Biol 19(4):1075–1083

Laidlaw MA, Zahran S, Mielke HW, Taylor MP, Filippelli GM (2012) Re-suspension of lead contaminated urban soil as a dominant source of atmospheric lead in Birmingham, Chicago, Detroit and Pittsburgh, USA. Atmos Environ 49:302–310

Latif R, Malek M, Mirmonsef H (2013) Cadmium and lead accumulation in three endogeic earthworm species. Bull Environ Contam Toxicol 90(4):456–459

Morgan JE, Morgan AJ (1999) The accumulation of metals (Cd, Cu, Pb, Zn and Ca) by two ecologically contrasting earthworm species (Lumbricus rubellus and Aporrectodea caliginosa): implications for ecotoxicological testing. Appl Soil Ecol 13(1):9–20

Nannoni F, Protano G, Riccobono F (2011) Uptake and bioaccumulation of heavy elements by two earthworm species from a smelter contaminated area in northern Kosovo. Soil Biol Biochem 43(12):2359–2367

National Research Council (2006) Mineral tolerance of animals. National Academies Press, Washington, DC

Pouyat RV, Szlavecz K, Yesilonis ID, Groffman PM, Schwarz K (2010) Chemical, physical, and biological characteristics of urban soils. Urban Ecosystem Ecology 210:119–152

Richardson JB, Görres JH, Jackson BP, Friedland AJ (2015) Trace metals and metalloids in forest soils and exotic earthworms in northern New England, USA. Soil Biol Biochem 85:190–198. https://doi.org/10.1016/j.soilbio.2015.03.001

Richardson JB, Renock DJ, Görres JH, Jackson BP, Webb SM, Friedland AJ (2016) Nutrient and pollutant metals within earthworm residues are immobilized in soil during decomposition. Soil Biol Biochem 101:217–225

Richardson JB, Görres JH, Friedland AJ (2017) Exotic earthworms decrease Cd, Hg, and Pb pools in upland forest soils of Vermont and New Hampshire USA. Bull Environ Contam Toxicol 99(4):428–432

Steinnes E, Friedland AJ (2006) Metal contamination of natural surface soils from long-range atmospheric transport: existing and missing knowledge. Environ Rev 14(3):169–186
Acknowledgements
I would like to thank Brendan Braithwaite and Jonah G. Jordan for field support and laboratory assistance. This research was funded by the University of Massachusetts Amherst through research funds to Justin Richardson.
Electronic supplementary material
Below is the link to the electronic supplementary material.
About this article
Cite this article
Richardson, J.B. Trace Elements in Surface Soils and Megascolecidae Earthworms in Urban Forests Within Four Land-Uses Around Poughkeepsie, New York, USA. Bull Environ Contam Toxicol 103, 385–390 (2019). https://doi.org/10.1007/s00128-019-02669-z
Received:

Accepted:

Published:

Issue Date:
Keywords
Trace metals

Pheretima

Toxic metal

Bioconcentration