Abstract
Soil mercury concentrations at a typical small-scale mine site in the Bolivian Andes were elevated (28–737 mg/kg or ppm) in localized areas where mercury amalgams were either formed or vaporized to release gold, but was not detectable beyond approximately 10 m from its sources. Arsenic was measurable, exceeding known background levels throughout the mine site (77–137,022 ppm), and was also measurable through the local village of Ingenio (36–1803 ppm). Although arsenic levels were high at all surveyed locations, its spatial pattern followed mercury, being highest where mercury was high.
This is a preview of subscription content, log in to check access.
Access options
Buy single article
Instant access to the full article PDF.
US$ 39.95
Price includes VAT for USA
Subscribe to journal
Immediate online access to all issues from 2019. Subscription will auto renew annually.
US$ 199
This is the net price. Taxes to be calculated in checkout.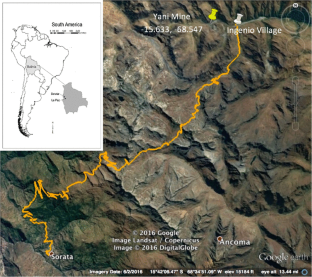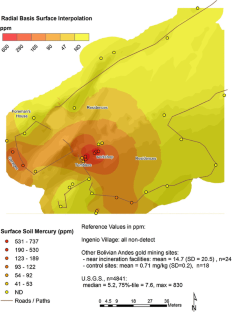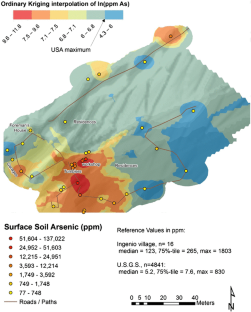 References
Appleton J et al (2001) Fluvial contamination associated with artisanal gold mining in the Ponce Enriquez, Portovelo-Zaruma and Nambija areas, Ecuador. Water Air Soil Pollut 131(1–4):19–39

ATSDR (1999) Toxicological profile for mercury. Agency for Toxic Substances and Disease Registry, US Department of Health and Human Services, Atlanta. https://www.atsdr.cdc.gov/toxprofiles/tp46.pdf. Accessed 15 Aug 2017

Baeuml J et al (2011) Human biomonitoring data from mercury exposed miners in six artisanal small-scale gold mining areas in Asia and Africa. Minerals 1(1):122–143

Castilhos Z et al (2015) Human exposure and risk assessment associated with mercury contamination in artisanal gold mining areas in the Brazilian Amazon. Environ Sci Pollut Res 22(15):11255–11264

Chen K et al (2015) Association of soil arsenic and nickel exposure with cancer mortality rates, a town-scale ecological study in Suzhou, China. Environ Sci Pollut Res 22(7):5395–5404

Cressie N (2015) Statistics for spatial data, revised edn. Wiley, New York

Diringer SE et al (2015) River transport of mercury from artisanal and small-scale gold mining and risks for dietary mercury exposure in Madre de Dios, Peru. Environ Sci Process Impacts 17:478–487

Edinger EN, Siregar PR, Blackwood GM (2007) Heavy metal concentrations in shallow marine sediments affected by submarine tailings disposal and artisanal gold mining, Buyat-Ratototok district, North Sulawesi, Indonesia. Environ Geol 52(4):701–714

Edinger EN et al (2008) Heavy metal contamination from gold mining recorded in Porites lobata skeletons, Buyat-Ratototok district, North Sulawesi, Indonesia. Mar Pollut Bull 56(9):1553–1569

Gibb H, O'Leary KG (2014) Mercury exposure and health impacts among individuals in the artisanal and small-scale gold mining community: a comprehensive review. Environ Health Perspect 122:667–672

Hagan N et al (2013) Residential mercury contamination in adobe brick homes in Huancavelica, Peru. PloS one 8(9):e75179

Harari R et al (2012) Exposure and toxic effects of elemental mercury in gold-mining activities in Ecuador. Toxicol Lett 213(1):75–82

Hentschel T, Hruschka F, Priester M (2002) Global report on artisanal and small-scale mining. Report commissioned by the Mining, Minerals and Sustainable Development of the International Institute for Environment and Development. http://www.ddiglobal.org/login/resources/g00723.pdf. Accessed 15 Aug 2017

Hu H (2000) Exposure to metals. Primary care: clinics in office practice 27(4):983–996

Kilbride C, Poole J, Hutchings T (2006) A comparison of Cu, Pb, As, Cd, Zn, Fe, Ni and Mn determined by acid extraction/ICP–OES and ex situ field portable X-ray fluorescence analyses. Environ Pollut 143(1):16–23

Laidlaw MA, Filippelli GM (2008) Resuspension of urban soils as a persistent source of lead poisoning in children: a review and new directions. Appl Geochem 23(8):2021–2039

Lenschow P et al (2001) Some ideas about the sources of PM10. Atmos Environ 35:S23–S33

Pavilonis B et al (2017) Characterization and risk of exposure to elements from artisanal gold mining operations in the Bolivian Andes. Environ Res 154:1–9

Pearce DC, Dowling K, Sim MR (2012) Cancer incidence and soil arsenic exposure in a historical gold mining area in Victoria, Australia: a geospatial analysis. J Expo Sci Environ Epidemiol 22(3):248–257

Pestana M, Formoso M (2003) Mercury contamination in Lavras do Sul, south Brazil: a legacy from past and recent gold mining. Sci Total Environ 307(1):125–140

Putila JJ, Guo NL (2011) Association of arsenic exposure with lung cancer incidence rates in the United States. PLoS ONE 6(10):e25886

Qiu G et al (2006) Environmental contamination of mercury from Hg-mining areas in Wuchuan, northeastern Guizhou, China. Environ Pollut 142(3):549–558

Radu T, Diamond D (2009) Comparison of soil pollution concentrations determined using AAS and portable XRF techniques. J Hazard Mater 171(1):1168–1171

Santa Rosa RM et al (2000) Determination of total mercury in workers' urine in gold shops of Itaituba, Para State, Brazil. Sci Total Environ 261(1):169–176

Savornin O, Niang K, Diouf A (2007) Artisanal mining in the Tambacounda Region of Senegal. In: First Report on the Reduction of Mercury Emissions through Appropriate Technologies Training. Blacksmith Institute, Kedougou

Schlebusch CM et al (2013) Possible positive selection for an arsenic-protective haplotype in humans. Environ Health Perspect 121(1):53

Schneider AR et al (2016) Comparison of field portable XRF and aqua regia/ICPAES soil analysis and evaluation of soil moisture influence on FPXRF results. J Soils Sediments 16(2):438–448

Seccatore J, Veiga M, Origliasso C, Marin T, De Tomi G (2014) An estimation of the artisanal small-scale production of gold in the world. Sci Total Environ 496:662–667

Smith DB et al (2013) Geochemical and mineralogical data for soils of the conterminous United States. US Geol Surv Data Ser 801:19

Spiegel SJ, Veiga MM (2010) International guidelines on mercury management in small-scale gold mining. J Clean Prod 18(4):375–385

Steckling N et al (2011) Mercury exposure in female artisanal small-scale gold miners (ASGM) in Mongolia: an analysis of human biomonitoring (HBM) data from 2008. Sci Total Environ 409(5):994–1000

Straif K et al (2009) A review of human carcinogens—part C: metals, arsenic, dusts, and fibres. Lancet Oncol 10(5):453–454

Tarras-Wahlberg N et al (2001) Environmental impacts and metal exposure of aquatic ecosystems in rivers contaminated by small scale gold mining: the Puyango River basin, southern Ecuador. Sci Total Environ 278(1):239–261

Tchounwou PB et al (2003) Review: environmental exposure to mercury and its toxicopathologic implications for public health. Environ Toxicol 18(3):149–175

Telmer K, Stapper D (2012) Reducing mercury use in artisanal and small-scale gold mining: a practical guide. A UNEP Global Mercury Partnership document produced in conjunction with Artisanal Gold Council. http://auxicoresources.com/downloads/UNEP-Reducing-Mercury-Use.pdf. Accessed 15 Aug 2017

Terán-Mita TA et al (2013) High altitude artisanal small-scale gold mines are hot spots for mercury in soils and plants. Environmental pollution 173:103–109

USEPA (2017) Regional Screening Levels, Generic Tables. https://semspub.epa.gov/work/03/2245073.pdf. Accessed 15 Aug 2017

Veiga MM et al (2004) Protocols for environmental and health assessment of mercury released by artisanal and small-scale gold miners. United Nations Publications, Vienna

Weindorf DC et al (2012) Use of portable X-ray fluorescence spectrometry for environmental quality assessment of peri-urban agriculture. Environ Monitor Assess 184(1):217–227

Young TM et al (2002) Resuspension of soil as a source of airborne lead near industrial facilities and highways. Environ Sci technol 36(11):2484–2490

Zhao P et al (2006) Characterizations of resuspended dust in six cities of North China. Atmos Environ 40(30):5807–5814
Acknowledgements
This study was funded by the CUNY Collaborative Incentive Research Grant Program (Grant #2026, Round 20) and was made possible by Guido Condarco from Fundación Plagbol, La Paz Bolivia, who established all local connections and transportation.
About this article
Cite this article
Johnson, G.D., Pavilonis, B., Caravanos, J. et al. Geo-Spatial Characterization of Soil Mercury and Arsenic at a High-Altitude Bolivian Gold Mine. Bull Environ Contam Toxicol 100, 259–264 (2018). https://doi.org/10.1007/s00128-017-2213-4
Received:

Accepted:

Published:

Issue Date:
Keywords
Artisanal and small-scale gold mining

Soil metal contamination

Mercury

Arsenic