Abstract
The purpose of this study was to evaluate the steroidogenic effects of sertraline, a popular selective serotonin reuptake inhibitor, on larval fathead minnow (FHM; Pimephales promelas) and adult FHM. Larvae were exposed to 0.1, 1, and 10 µg/L sertraline for 28 days and analyzed for differential mRNA expression of 11β-hydroxysteroid dehydrogenase (11β-HSD), 20β-hydroxysteroid dehydrogenase (20β-HSD), aromatase (CYP19a), nuclear thyroid receptor alpha (TRα), and normalized to RP-L8. Adult FHM were exposed to 3 or 10 µg/L sertraline for 7 days and analyzed for differential expression of the same genes with the addition of thyroid receptor beta (TRβ). Larval FHM exposed to 0.1 μg/L had a significant upregulation of both 20β-HSD and TRα while adult FHM exposed to 10 µg/L had a significant upregulation of 11β-HSD expression in brain tissue. The significance of these findings with respect to survival, growth and reproduction are currently unknown, but represent areas for future research.
This is a preview of subscription content, log in to check access.
Access options
Buy single article
Instant access to the full article PDF.
US$ 39.95
Price includes VAT for USA
Subscribe to journal
Immediate online access to all issues from 2019. Subscription will auto renew annually.
US$ 199
This is the net price. Taxes to be calculated in checkout.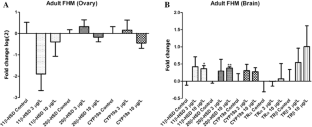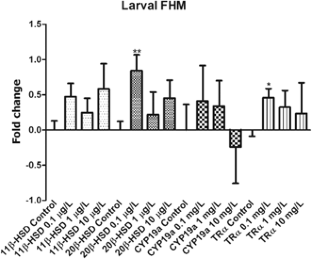 References
Batt AL, Kostich MS, Lazorchak JM (2008) Analysis of ecologically relevant pharmaceuticals in wastewater and surface water using selective solid-phase extraction and UPLC-MS/MS. Anal Chem 80(13):5021–5030. doi:10.1021/ac800066n

Brochet DM, Martin P, Soubrié P, Simon P (1987) Triiodothyronine potentiation of antidepressant-induced reversal of learned helplessness in rats. Psychiatry Res 21(3):267–275. Retrieved from http://www.ncbi.nlm.nih.gov/pubmed/3628611

Brooks BW, Foran CM, Richards SM, Weston J, Turner PK, Stanley JK, La Point TW (2003) Aquatic ecotoxicology of fluoxetine. Toxicol Lett 142(3):169–183. doi:10.1016/S0378-4274(03)00066-3

De Morais A, Traple F (2010) (Section Editor: M. G. Zeier) Hypokalaemia and the thyroid—is there a link? 3:89–90. doi:10.1093/ndtplus/sfp131

Dubé F, Amireault P (2007) Local serotonergic signaling in mammalian follicles, oocytes and early embryos. Life Sci 81(25–26):1627–1637. doi:10.1016/j.lfs.2007.09.034

EPA (2002) Methods for measuring the acute toxicity of effluents and receiving waters to freshwater and marine organisms, Fifth. EPA Office of Water, Washington, DC

Filby AL, Thorpe KL, Maack G, & Tyler CR (2007) Gene expression profiles revealing the mechanisms of anti-androgen- and estrogen-induced feminization in fish. Aquat Toxicol 81:219–231. doi:10.1016/j.aquatox.2006.12.003

Garcia-Reyero N, Ekman DR, Habib T, Villeneuve DL, Collette TW, Bencic DC, Perkins EJ (2014) Integrated approach to explore the mechanisms of aromatase inhibition and recovery in fathead minnows (Pimephales promelas). Gen Comp Endocrinol 203:193–202. doi:10.1016/j.ygcen.2014.03.022

Grzeskowiak LE, Gilbert AL, Morrison JL (2012). Long term impact of prenatal exposure to SSRIs on growth and body weight in childhood: evidence from animal and human studies. Reprod Toxicol 34(1):101–109. doi:10.1016/j.reprotox.2012.03.003

Heid AC, Stevens J, Livak KJ, Williams PM (1996) Real time quantitative PCR. Genome Res 6(10):986–994. doi:10.1101/gr.6.10.986

Kuhl AJ, Brouwer M (2005) Antiestrogens inhibit xenoestrogen-induced brain aromatase activity but do not prevent xenoestrogen-induced feminization in Japanese Medaka (Oryzias latipes). Environ Health Perspect 114(4):500–506. doi:10.1289/ehp.8211

Livak KJ, Schmittgen TD (2001) Analysis of relative gene expression data using real-time quantitative PCR and the 2(-Delta Delta C(T)) Method. Methods 25(4):402–408. doi:10.1006/meth.2001.1262

Matsuda M, Imaoka T, Vomachka AJ, Gudelsky GA, Hou Z, Mistry M, Horseman ND (2004) Serotonin regulates mammary gland development via an autocrine-paracrine loop. Dev Cell 6(2):193–203. Retrieved from http://www.ncbi.nlm.nih.gov/pubmed/14960274

Mennigen JA, Lado WE, Zamora JM, Duarte-Guterman P, Langlois VS, Metcalfe CD, Trudeau VL (2010) Waterborne fluoxetine disrupts the reproductive axis in sexually mature male goldfish, Carassius auratus. Aquat Toxicol 100(4):354–364

Overturf MD, Overturf CL, Carty DR, Hala D, Huggett DB (2014). Levonorgestrel exposure to fathead minnows (Pimephales promelas) alters survival, growth, steroidogenic gene expression and hormone production. Aquat Toxicol 148:152–161. doi:10.1016/j.aquatox.2014.01.012

Painter MM, Buerkley MA, Julius ML, Vajda AM, Norris DO, Barber LB, Schoenfuss H (2009) Pharmaceuticals and personal care products in the environment antidepressants at environmentally relevant concentrations affect predator avoidance behavior of larval fathead minnows (Pimephales promelas). Environ Toxicol Chem 28(12):2677–2684

Schultz MM, Furlong ET (2008) Trace analysis of antidepressant pharmaceuticals and their select degradates in aquatic matrixes by LC/ESI/MS/MS. Anal Chem 80(5):1756–1762. doi:10.1021/ac702154e

Schultz MM, Furlong ET, Kolpin DW, Werner SL, Schoenfuss HL, Barber LB, Vajda AM (2010) Antidepressant pharmaceuticals in two U.S. effluent-impacted streams: occurrence and fate in water and sediment, and selective uptake in fish neural tissue. Environ Sci Technol 44(6):1918–1925. doi:10.1021/es9022706

Simmons PS, Miles JM, Gerich JE, Haymond MW (1984) Increased proteolysis. An effect of increase in plasma cortisol within the physiologic range. J Clin Invest 73:412–420

Taylor D, Senac T (2014) Human pharmaceutical products in the environment—the "problem" in perspective. Chemosphere 1–5. doi:10.1016/j.chemosphere.2014.01.011

Tokumoto M, Nagahama Y, Thomas P, Tokumoto T (2006). Cloning and identification of a membrane progestin receptor in goldfish ovaries and evidence it is an intermediary in oocyte meiotic maturation. Gen Comp Endocrinol 145(1):101–108. doi:10.1016/j.ygcen.2005.07.002

Valenti TW, Gould GG, Berninger JP, Connors KA, Keele NB, Prosser KN, Brooks BW (2012) Human therapeutic plasma levels of the selective serotonin reuptake inhibitor (SSRI) sertraline decrease serotonin reuptake transporter binding and shelter-seeking behavior in adult male fathead minnows. Environ Sci Technol 46(4):2427–2435. doi:10.1021/es204164b

Villeneuve DL, Knoebl I, Kahl MD, Jensen KM, Hammermeister DE, Greene KJ, Ankley GT (2006) Relationship between brain and ovary aromatase activity and isoform-specific aromatase mRNA expression in the fathead minnow (Pimephales promelas). Aquat Toxicol 76:353–368. doi:10.1016/j.aquatox.2005.10.016

Weinberger J, Klaper R (2014) Environmental concentrations of the selective serotonin reuptake inhibitor fluoxetine impact specific behaviors involved in reproduction, feeding and predator avoidance in the fish Pimephales promelas (fathead minnow). Aquat Toxicol 151:77–83. doi:10.1016/j.aquatox.2013.10.012
Acknowledgements
We would like to thank William Baylor Steele IV for his tremendous technical assistance and Hagar Mohamed for supplying adult FHM brain and ovary tissue.
About this article
Cite this article
Carty, D.R., Hala, D. & Huggett, D.B. The Effects of Sertraline on Fathead Minnow (Pimephales promelas) Growth and Steroidogenesis. Bull Environ Contam Toxicol 98, 753–757 (2017). https://doi.org/10.1007/s00128-017-2079-5
Received:

Accepted:

Published:

Issue Date:
Keywords
Pharmaceuticals

Fathead minnow

Endocrine disruption