Abstract
The aim of the study was to assess the water pollution in terms of total content of heavy metals by parameter called Heavy metal pollution index (HPI). The water samples were collected from four different locations along the course of the river during spring and the autumn seasons. The concentrations of lead (Pb), cadmium (Cd), iron (Fe), zinc (Zn), manganese (Mn), copper (Cu), arsenic (As) and mercury (Hg) were determined using atomic absorption spectroscopy. The data were used to evaluate HPI of the river water. The mean value of HPI was 67.487 for the spring season, and 80.676 for the autumn season. The average for both seasons and all sampling sites is 74.082. The maximum value of 112.722 found at one sampling site is above the critical index limit of 100. Also, from the values of mean HPI for each sampling site could be concluded that the pollution load at sampling site-4 is the most significant (HPI 89.575).
This is a preview of subscription content, log in to check access.
Access options
Buy single article
Instant access to the full article PDF.
US$ 39.95
Price includes VAT for USA
Subscribe to journal
Immediate online access to all issues from 2019. Subscription will auto renew annually.
US$ 199
This is the net price. Taxes to be calculated in checkout.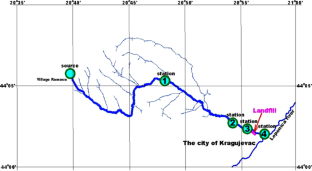 References
Adaikpoh EO, Nwajei GE, Ogala JE (2005) Heavy metals concentrations in coal and sediments from river Ekulu in Enugu, Coal City of Nigeria. J Appl Sci Environ Manag 9:5–8

Adamiec E, Helios-Rybicka E (2002) Distribution of pollutants in the Odra River system part IV. Heavy metal distribution in water of the upper and middle Odra River, 1998–2000. Pol J Environ Stud 11:669–673

Aguasanta S, Miguel NJ, Manuel O, Carlos C (2005) Environmental impact of mining activities in the Odiel river basin (SW Spain). In: 9th international mine water congress, Spain

Ahmad MK, Islam S, Rahman S, Haque MR, Islam MM (2010) Heavy metals in water, sediment and some fishes of Buriganga River, Bangladesh. Int J Environ Res 4:321–332

Akoto O, Bruce TN, Darko G (2008) Heavy metals pollution profiles in streams serving the Owabi reservoir. African J Environ Sci Technol 2:354–359

APHA (2005) Standard methods for the examination of water and waste water. American Public Health Association, Washington DC

Beliles AA (1979) The lesser metals. In: Oehme FW (ed) Toxicity of heavy metals in the environment, part II. Marcel Dekker, New York

Budambula NLM, Mwachiro EC (2006) Metal status of Nairobi River waters and their bioaccumulation in Labeo cylindricus. Water Air Soil Poll 169:275–291

Dan'azumi S, Bichi MH (2010) Industrial pollution and heavy metals profile of Challawa River in Kano, Nigeria. J Appl Sci Environ Sanit 5:23–29

Dundar MS, Altundag H (2007) Investigation of heavy metal contaminations in the lower Sakarya River water and sediments. Environ Monit Assess 128:177–181

EC (1998) The quality of water intended to human consumption. Directive 1998/83/EC, Official Journal L330, European Community

ECDG (2002) European Commission DG ENV. E3 Project ENV. E.3/ETU/0058. Heavy metals in waste, final report, COWI A/S, Denmark

Frankowski M, Sojka M, Ziola-Frankowska A, Siepak M, Murat-Blazejewska S (2009) Distribution of heavy metals in the Mala Welna River system (western Poland). Oceanol Hydrobiol Stud 38:51–61

Gutierrez RL, Rubio-Arias H, Quintana R, Ortega JA, Gutierrez M (2008) Heavy metals in water of the San Pedro River in Chihuahua, Mexico and its potential health risk. Int J Environ Res Public Health 5:91–98

Hardman DJ, McEldowney S, Waite S (1994) Pollution, ecology and biotreatment. Longman Scientific & Technical, Harlow

Kar D, Sur P, Mandal SK, Saha T, Kole RK (2008) Assessment of heavy metal pollution in surface water. Int J Environ Sci Technol 5:119–124

Karageorgis AP, Nikolaidis NP, Karamanos H, Skoulikidis N (2003) Water and sediment quality assessment of the Axios River and its coastal environment. Cont Shelf Res 23:1929–1944

Kikuchi T, Furuichi T, Hai HT, Tanaka S (2009) Assessment of heavy metal pollution in river water of Hanoi, Vietnam using multivariate analyses. B Environ Contam Toxicol 83:575–582

Levkov Z, Krstić S (2002) Use of algae for monitoring of heavy metals in the River Vardar, Macedonia. Mediterr Mar Sci 3:99–112

Mohan SV, Nithila P, Reddy SJ (1996) Estimation of heavy metal in drinking water and development of heavy metal pollution index. J Environ Sci Health A 31:283–289

Mohiuddin KM, Zakir HM, Otomo K, Sharmin S, Shikazono N (2010) Geochemical distribution of trace metal pollutants in water and sediments of downstream of an urban river. Int J Environ Sci Technol 7:17–28

Nair I V, Singh K, Arumugam M, Gangadhar K, Clarson D (2010) Trace metal quality of Meenachil River at Kottayam, Kerala (India) by principal component analysis. World Appl Sci J 9:1100–1107

Prasad B, Mondal KK (2008) The impact of filling an abandoned opencast mine with fly ash on ground water quality: A case study. Mine Water Environ 27:40–45

Prasad B, Singita K (2008) Heavy metal pollution index of ground water of an abandoned open cast mine filled with fly ash: a case study. Mine Water Environ 27:265–267

Reza R, Singh G (2010) Heavy metal contamination and its indexing approach for river water. Int J Environ Sci Technol 7:785–792

Salati S, Moore F (2010) Assessment of heavy metal concentration in the Khoshk River water and sediment, Shiraz, Southwest Iran. Environ Monit Assess 164:677–689

Sinha DK, Navneet K (2008) Level of Gagan river water pollution in and around Morad Abad. Pollut Res 27:743–746

Standard Organization of Serbia (SOS) (1999) Guidelines for drinking water quality of Serbia. Published in "Official Gazette", No. 42/98 and 44/99 (in Serbian)

USEPA (2006) National Recommended Water Quality Criteria. United States Environmental Protection Agency. Office of Water, Office of Science and Technology

USEPA (2009) National Primary Drinking Water Regulations. United States Environmental Protection Agency, EPA 816-F-09-004

Vuković Ž, Radenković M, Stanković SJ, Vuković D (2011) Distribution and accumulation of heavy metals in the water and sediments of the River Sava. J Serbian Chem Soc 76:795–803

WHO (World Health Organization) (2011) Guidelines for drinking-water quality, Library Cataloguing-in-Publication Data, 4th ed. NLM classification: WA 675. Geneva, World Health Organization
Acknowledgments
This research was supported by the Ministry of Education and Science of the Republic of Serbia [Grants 31054, 172016 and 171021].
Ethics declarations
Conflict of Interest
The authors declare that they have no conflict of interest.
About this article
Cite this article
Milivojević, J., Krstić, D., Šmit, B. et al. Assessment of Heavy Metal Contamination and Calculation of Its Pollution Index for Uglješnica River, Serbia. Bull Environ Contam Toxicol 97, 737–742 (2016). https://doi.org/10.1007/s00128-016-1918-0
Received:

Accepted:

Published:

Issue Date:
Keywords
HPI

River water

Water pollution

Heavy metals

Seasonal variations