Abstract
The results of laboratory scale experimental tests of contaminant extraction from marine sediment slurries are presented and discussed. The objective of this study was to compare the effectiveness of EDTA and rhamnolipid in copper removal from an artificially contaminated sediment. The comparison was made in terms of metal extraction yield, and in the evaluation of its mobilization towards the more exchangeable fractions in the sediment. Results show that, under acidic conditions established during washing, EDTA ensured higher extractions efficiencies of Cu (up to 95 %) than rhamnolipid, although there was less mobilization into bioavailable forms with the use of rhamnolipid. In addition, in the view of a biological treatment of the spent solution, the use of rhamnolipid resulted in a lower decrease of the specific oxygen uptake rate with respect to EDTA. In fact, the low surfactants concentration required, partially compensated the toxic effect of Cu towards biomass.
This is a preview of subscription content, log in to check access.
Access options
Buy single article
Instant access to the full article PDF.
US$ 39.95
Price includes VAT for USA
Subscribe to journal
Immediate online access to all issues from 2019. Subscription will auto renew annually.
US$ 199
This is the net price. Taxes to be calculated in checkout.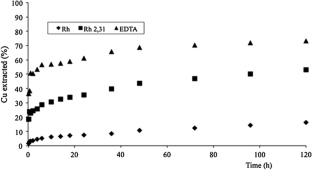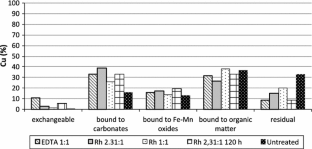 References
APHA, Awwa, WEF (2005) Standard methods for the examination of water and wastewater, 21st edn. American Public Health Association, Washington

Copp J, Spanjers H (2004) Simulation of respirometry-based detection and mitigation of activated sludge toxicity. Control Eng Pract 12:305–313

Dahrazma B, Mulligan CN (2007) Investigation of the removal of heavy metals from sediments using rhamnolipid in a continuous flow configuration. Chemosphere 63:705–711

Dalzell DJ, Alte S, Aspichueta E, de la Sota A, Etxebarria J, Gutirrez M, Hoffmann CC, Sales D, Obst U, Christofi N (2002) A comparison of five rapid direct toxicity assessment methods to determine toxicity of pollutants to activated sludge. Chemosphere 47:535–545

Di Palma L (2009) Influence of indigeneous and added iron on copper extraction from soil. J Hazard Mater 170:96–102

Di Palma L, Ferrantelli P (2005) Copper leaching from a sandy soil: mechanism and parameters affecting EDTA extraction. J Hazard Mater B122:85–90

Di Palma L, Ferrantelli P, Medici F (2005) Heavy metal extraction from contaminated soil: recovery of the flushing solution. J Environ Manage 77:205–211

Di Palma L, Mecozzi R (2007) Heavy metal mobilization from harbour sediments with EDTA and citric acid. J Hazard Mater 147:768–775

Di Palma L, Verdone N (2012) Metals extraction from contaminated soils: model validation and parameters estimation. Chem Eng Trans 28:193–198

Di Palma L, Gonzini O, Mecozzi R (2011) Use of different chelating agents for heavy metal extraction from contaminated harbour sediment. Chem Ecol 27:97–106

Di Palma L, Mancini D, Petrucci E (2012) Experimental assessment of chromium mobilization from polluted soil by washing. Chem Eng Trans 28:145–150

Gutierrez M, Etxebarria J, de las Fuentes L (2002) Evaluation of wastewater toxicity: comparative study between Microtox® and activated sludge oxygen uptake inhibition. Water Res 36:919–924

Herman DC, Artiola JF, Miller RM (1995) Removal of cadmium, lead, and zinc from soil by a rhamnolipid biosurfactant. Environ Sci Technol 29:2280–2285

Italian Environmental Regulation (2006) Environmental standards assessment, G.U.R.I. n. 88 of April 14th 2006

Juliastuti SR, Baeyens J, Creemers C, Bixio D, Lodewyckx E (2003) The inhibitory effects of heavy metals and organic compounds on the net maximum specific growth rate of the autotrophic biomass in activated sludge. J Hazard Mater 100:271–283

Kim C, Lee Y, Ong SK (2003) Factors affecting EDTA extraction of lead from lead-contaminated soils. Chemosphere 51:845–853

Lei M, Liao B, Zeng Q, Qin P, Khan S (2008) Fraction distributions of lead, cadmium, copper, and zinc in metal-contaminated soil before and after extraction with disodium ethylenediaminetetraacetic acid. Commun Soil Sci Plant Anal 39:1963–1978

Liu C, Evett JB (2002) Soil properties, testing, measurement, and evaluation, 5th edn. Prentice-Hall, New York

Madoni P, Davoli D, Guglielmi L (1998) Response of SOUR and AUR to heavy metal contamination in activated sludge. Water Res 33:2459–2464

Maketon W, Zenner CS, Ogden KL (2008) Removal efficiency and binding mechanisms of copper and copper-EDTA complexes using polyethyleneimine. Environ Sci Technol 42:2124–2129

Moutsatsou A, Gregou M, Matsas D, Protonotarios V (2006) Washing as a remediation technology applicable in soils heavily polluted by mining–metallurgical activities. Chemosphere 63:1632–1640

Mulligan CN (2005) Environmental applications for biosurfactants. Environ Pollut 133:183–198

Mulligan CN, Yong RN, Gibbs BF (2001) Heavy metal removal from sediments by biosurfactants. J Hazard Mater 85:111–125

Neale CN, Bricka RY, Chao AC (1997) Evaluating acids and chelating agents for removing heavy metals from contaminated soils. Environ Prog 16:274–280

Neilson JW, Artiola JF, Maier RN (2003) Characterization of lead removal from contaminated soils by non toxic washing agents. J Environ Qual 32:899–908

Ochoa-Loza FJ, Artiola JF, Maier RM (2001) Stability constants for the complexation of various metals with a rhamnolipid biosurfactant. J Environ Qual 30:479–485

Oviedo C, Rodríguez J (2003) EDTA: the chelating agent under environmental scrutiny. Quim Nova 26:901–905

Pernetti M, Di Palma L (2005) Experimental evaluation of inhibition effects of saline wastewater on activated sludge. Environ Technol 26:695–704

Pociecha M, Lestan D (2012) Novel EDTA and process water recycling method after soil washing of multi-metal contaminated soil. J Hazard Mater 201–202:273–279

Vilar S, Gutierrez A, Antezana J, Carral P, Alvarez A (2005) A comparative study of three different methods for the sequential extraction of heavy metals in soil. Toxicol Environ Chem 87:1–10

Voegelin A, Barmettler K, Kretzschmar R (2003) Heavy metal release from contaminated soils: comparison of column leaching and batch extraction results. J Environ Qual 32:865–875
Acknowledgments
This work has been partially supported by INAIL, Grant. B 01/DIPIA, Programme 2009-11 P2.
About this article
Cite this article
Di Palma, L., Petrucci, E. & Pietrangeli, B. Environmental Effects of Using Chelating Agents in Polluted Sediment Remediation. Bull Environ Contam Toxicol 94, 340–344 (2015). https://doi.org/10.1007/s00128-014-1437-9
Received:

Accepted:

Published:

Issue Date:
Keywords
Sediment remediation

Washing

Biosurfactants

Extractions

Metal complexes

Toxicity