Abstract
The disposal of untreated urban and industrial wastewater has a deleterious effect on both the water and sediment quality of Oyster Bay located in south Sydney, Australia. The present investigation was undertaken to evaluate the potential pollution of marine sediments in Oyster Bay. The results of metals were compared with adverse biological effect values effect range low (ERL) and effect range median (ERM). Spatial distribution of trace metals was estimated by applying geographic information system. The results indicated that the sediments were polluted with Cu, Zn, As and Pb, which exceeded ERL levels. However, these metals were still below ERM values, and other metals Cr and Ni were below ERL. Moreover, the highest concentrations of metals were around discharge points and in the inner bay. Further, trace metals could be attributed to human activities within the bay as they declined in concentrations with increasing sediment depth.
This is a preview of subscription content, log in to check access.
Access options
Buy single article
Instant access to the full article PDF.
US$ 39.95
Price includes VAT for USA
Subscribe to journal
Immediate online access to all issues from 2019. Subscription will auto renew annually.
US$ 199
This is the net price. Taxes to be calculated in checkout.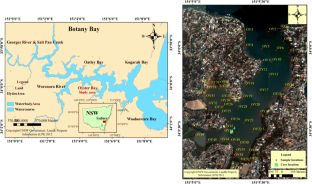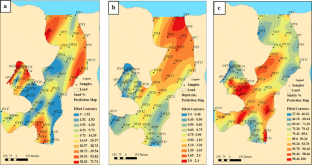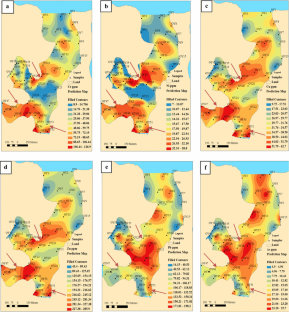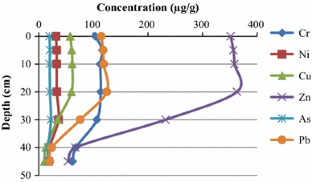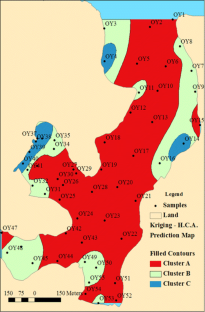 References
Alves AS, Adão H, Ferrero TJ, Marques JC, Costa MJ, Patrício J (2013) Benthic meiofauna as indicator of ecological changes in estuarine ecosystems: the use of nematodes in ecological quality assessment. Ecol Indic 24:462–475

Birch GF (2011) Contaminated soil and sediments in a hghly developed catchment estuary system (Sydney estuary, Australia): an innovative stormwater remediation strategy. J Soils & Sediments 11:194–208

Birch G, Taylor S (1999) Source of heavy metals in sediments of the Port Jackson estuary, Australia. Sci Total Environ 227:123–138

Chen C, Zheng B, Jiang X, Zhao Z, Zhan Y, Yi F, Ren J (2013) Spatial distribution and pollution assessment of mercury in sediments of Lake Taihu, China. J Environ Sci 25:316–325

Foster WJ, Armynot Du, Châtelet E, Rogerson M (2012) Testing benthic foraminiferal distributions as a contemporary quantitative approach to biomonitoring estuarine heavy metal pollution. Mar Pollut Bull 64:1039–1048

Hosono T, Su C-C, Delinom R, Umezawa Y, Toyota T, Kaneko S, Taniguchi M (2011) Decline in heavy metal contamination in marine sediments in Jakarta Bay, Indonesia due to, increasing environmental regulations. Estuar Coast Shelf Sci 92:297–306

Hu G, Yu R, Zhao J, Chen L (2011) Distribution and enrichment of acid-leachable heavy metals in the intertidal sediments from Quanzhou Bay, southeast coast of China. Environ Monit Assess 173:107–116

Huang P, Li TG, Li AC, Yu XK, Hu N-J (2014) Distribution, enrichment and sources of heavy metals in surface sediments of the north Yellow Sea. Cont Shelf Res 73:391–405

Irvine I, Birch GF (1998) Distribution of heavy metals in surficial sediments of Port Jackson, Sydney, New South Wales. Aust J Earth Sci 45:297–304

Johnston CP, Chrysochoou M (2014) Mechanisms of chromate adsorption on hematite. Geochim Cosmochim Acta 138:146–157

Jones BG, Chenhall BE, Debretsion F, Hutton AC (2003) Geochemical comparisons between estuaries with non-industrialised and industrialised catchments: the Huon and Derwent River estuaries, Tasmania. Aust J Earth Sci 50:653–667

Kingsford MJ, Suthers IM (1996) The Influence of tidal phase on patterns of ichthyoplankton abundance in the vicinity of an estuarine front, Botany Bay, Australia. Estuar Coast Shelf Sci 43:33–54

Krivoruchko K (2011) Spatial statistical data analysis for GIS users. Esri Press, United States

Ligero RA, Barrera M, Casas-Ruiz M, Sales D, López-Aguayo F (2002) Dating of marine sediments and time evolution of heavy metal concentrations in the Bay of Cádiz, Spain. Environ Pollut 118:97–108

Mc Lusky DS (1989) The estarine ecosystem (2 nd edition). Blackie Academic Professional, Glasgow

Morelli G, Gasparon M, Fierro D, Hu WP, Zawadzki A (2012) Historical trends in trace metal and sediment accumulation in intertidal sediments of Moreton Bay, southeast Queensland, Australia. Chem Geol 300–301:152–164

Norrish K, Chappell B (1977) X-ray fluorescence spectrometry. In: Zussman J (ed) Physical methods in determinative mineralogy, Academic Press, London, p 201–272

Zhang W, Zhao D, Wang X (2013) Agglomerative clustering via maximum incremental path integral. Pattern Recognit 46:3056–3065

Zoumis T, Schmidt A, Grigorova L, Calmano W (2001) Contaminants in sediments: remobilisation and demobilisation. Sci Total Environ 266:195–202
Acknowledgments
This paper is a part of the first author's PhD. thesis undertaken at the School of Earth and Environmental Sciences, University of Wollongong. It was financially supported by the Ministry of Higher Education and Scientific Research, Iraqi Government and University of Wollongong.
About this article
Cite this article
Alyazichi, Y.M., Jones, B.G. & McLean, E. Spatial and Temporal Distribution and Pollution Assessment of Trace Metals in Marine Sediments in Oyster Bay, NSW, Australia. Bull Environ Contam Toxicol 94, 52–57 (2015). https://doi.org/10.1007/s00128-014-1434-z
Received:

Accepted:

Published:

Issue Date:
Keywords
Oyster Bay

Sediments

Trace metals

Hierarchical cluster analysis and Pollution