Abstract
The purpose of this study was to determine the persistence of 2,4-dichlorophenoxyacetic acid (2,4-D) applied to two lakes (one mesotrophic and one eutrophic) for the control of Eurasian watermilfoil (EWM), and to determine the impacts of 2,4-D on benthic macroinvertebrates in one of the lakes. One lake was treated with a liquid formulation, and the other with a slow release granular formulation of 2,4-D. Concentrations of 2,4-D in the water column were highest 1 and 2 days post-treatment and declined to below detection limits by 7 and 10 days post-treatment. We observed negative correlations between days post-treatment and taxa richness, and between days post-treatment and abundance of three of 12 taxonomic groups of macroinvertebrates. Lake managers need to balance control of EWM with possible impacts of 2,4-D to nontarget organisms.
This is a preview of subscription content, log in to check access.
Access options
Buy single article
Instant access to the full article PDF.
US$ 39.95
Price includes VAT for USA
Subscribe to journal
Immediate online access to all issues from 2019. Subscription will auto renew annually.
US$ 199
This is the net price. Taxes to be calculated in checkout.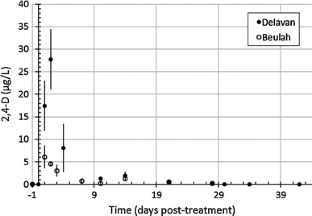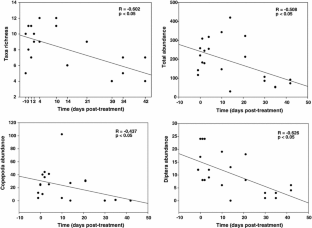 References
Aly OM, Faust SD (1964) Studies on the fate of 2,4-D and ester derivatives in natural surface waters. J Agric Food Chem 12:541–546

Bugbee GJ, White JC, Krol WJ (2003) Control of variable watermilfoil in Bashan Lake, CT with 2,4-D: monitoring of lake and well water. J Aquat Plant Manag 41:18–25

Cason C, Roost BA (2011) Species selectivity of granular 2,4-D herbicide when used to control Eurasian watermilfoil (Myriophyllum spicatum) in Wisconsin lakes. Invasive Plant Sci Manag 4:251–259

Christopher SV, Bird KT (1992) The effects of herbicides on development of Myriophyllum spicatum L. cultured in vitro. J Environ Qual 21:203–207

Horsch EJ, Lewis DJ (2009) The effects of aquatic invasive species on property values: evidence from a quasi-experiment. Land Econ 85:391–409

Madsen JD, Sutherland JW, Bloomfield JA, Eichler LW, Boylen CW (1991) The decline of native vegetation under dense Eurasian watermilfoil canopies. J Aquat Plant Manag 29:94–99

Nault M, Mikulyuk A, Hauxwell J, Skogerboe J, Asplund T, Barton M, Wagner K, Hoyman T, Heath E (2012) Herbicide treatments in Wisconsin Lakes. Lakeline Spring:21-26

Park K, Park J, Kim J, Kwak I-S (2010) Biological and molecular responses of Chironomus riparius (Diptera: Chironomidae) to herbicide 2,4-D (2,4-dichlorophenoxyacetic acid). Comp Biochem Physiol C: Toxicol Pharmacol 151:439–446

Parsons JK, Hamel KS, Madsen JD, Getsinger KD (2001) The use of 2,4-D for selective control of an early infestation of Eurasian watrmilfoil in Loon Lake, Washington. J Aquat Plant Manag 39:117–125

Scott BF, Dickman MD, Hayes P (1985) Effects of 2,4-D on natural phytoplankton systems in association with Myriophyllum spicatum. Verh Intern Verein Limnol 22:2437–2446

Siemering GS, Hayworth JD, Greenfield BK (2008) Assessment of potential aquatic herbicide impacts to California aquatic ecosystems. Arch Environ Contam Toxicol 55:415–431

Stephenson M, Mackie GL (1986) Effects of 2,4-D treatment on natural benthic macroinvertebrate communities in replicate artificial ponds. Aquat Toxicol 9:243–251

USEPA (2005) Reregistration eligibility decision for 2,4-D. USEPA 738-R-05-002. United States Environmental Protection Agency, Office of Prevention, Pesticides and Toxic Substances, Washington, DC

Watson JR (1977) Seasonal variation in the biodegradation of 2,4-D in river water. Water Res 11:153–157

WI DNR (2011) Large-scale treatment research in Wisconsin. Wisconsin Department of Natural Resources Miscellaneous Publication. February 2011

WI DNR (2012a) Find a Lake. In: Lakes. Wisconsin Department of Natural Resources. http://dnr.wi.gov/lakes/lakepages/Results.aspx?location=65. Accessed 10 Jun 2013

WI DNR (2012b) Chapter NR 140 Groundwater Quality, Wisconsin Administrative Code, Register January 2012 No. 673
Acknowledgments
Funding was provided by the Undergraduate Research Program at UW-Whitewater. We thank Gail Swain, Charlie Handel, Stu Alger, Heidi Bunk, Brooke Robinson, Steve Geis, Brian Suffran, Roy Carlson, Peter Schoen, Angie Jacob, Dr. Ellen Davis, and two anonymous reviewers.
About this article
Cite this article
Harrahy, E.A., Edwards, D.S. & Hedman, C.J. Persistence of 2,4-D and its Effects on Benthic Macroinvertebrates Following Spring Treatment of Eurasian Watermilfoil, Myriophyllum spicatum L. in Two Lakes in Southeastern Wisconsin, USA. Bull Environ Contam Toxicol 92, 404–409 (2014). https://doi.org/10.1007/s00128-014-1206-9
Received:

Accepted:

Published:

Issue Date:
Keywords
2,4-D

Persistence

Lake

Benthic macroinvertebrates