Abstract
In this study, juvenile catfish (Clarias gariepinus) were exposed to 2 mg/L Pb, 0.5 μg/L cypermethrin, or both for 96 h. Survival ranged from 100 % in both treatments without cypermethrin, to 50 % in fish exposed to cypermethrin only or the mixture. There were significant decreases in liver lysozyme, γ-glutamyl transpeptidase, and alanine aminotransferase activities in fish exposed to cypermethrin or the mixture. Liver aspartate aminotransferase activity (AST) showed a significant reduction after exposure to Pb or cypermethrin alone, and the effect of the mixture on AST was additive or potentially synergistic. Liver lipid peroxidation (LPO) was increased in fish exposed to the mixture compared to those exposed to cypermethrin only, indicating that Pb presence enhanced LPO caused by cypermethrin. Our study demonstrates the potential for toxic interaction between Pb and cypermethrin in fish and suggests that due to the varying responses to contaminant mixtures in our study, researchers should consider using a variety of biomarkers.
This is a preview of subscription content, log in to check access.
Access options
Buy single article
Instant access to the full article PDF.
US$ 39.95
Price includes VAT for USA
Subscribe to journal
Immediate online access to all issues from 2019. Subscription will auto renew annually.
US$ 199
This is the net price. Taxes to be calculated in checkout.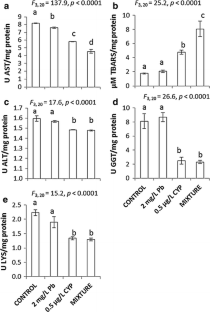 References
Adeyemi JA, Klerks PL (2013) Occurrence of copper acclimation in the least killifish Heterandria formosa, and associated biochemical and physiological mechanisms. Aquat Toxicol 130–131:51–57

Adham KG (2002) Sublethal effects of aquatic pollution in Lake Maryut on the African sharptooth catfish, Clarias gariepinus (Burchell, 1822). J Appl Ichthyol 18:87–94

Altenburger R, Greco WR (2009) Extrapolation concepts for dealing with multiple contamination in environmental risk assessment. Integr Environ Assess Manag 5:62–68

Bradford MM (1976) A rapid and sensitive method for the quantitation of microgram quantities of protein utilizing the principle of protein–dye binding. Anal Biochem 72:248–254

Brüschweiler BJ, Würgler FE, Fent K (1996) Inhibitory effects of heavy metals on cytochrome P4501A induction in permanent fish hepatoma cells. Arch Environ Con Tox 31:475–482

Campana O, Sarasquete C, Blasco J (2003) Effect of lead on ALA-D activity, metallothionein levels, and lipid peroxidation in blood, kidney, and liver of the toadfish Halobatrachus didactylus. Ecotoxicol Environ Saf 55:116–125

Çoğun HY, Şahin M (2013) The effect of lead and zeolite on hematological and some biochemical parameters in Nile fish (Oreochromis niloticus). Curr Prog Biolog Res. doi:10.5772/53076

David M, Mushigeri SB, Shivakumar R, Philip GH (2004) Response of Cyprinus carpio (Linn) to sublethal concentration of cypermethrin: alterations in protein metabolic profiles. Chemosphere 56:347–352

Dorts J, Silvestre F, Tu HT, Tyberghein A, Phuong NT, Kestemont P (2009) Oxidative stress, protein carbonylation and heat shock proteins in the black tiger shrimp, Penaeus monodon, following exposure to endosulfan and deltamethrin. Environ Toxicol Phamacol 28:302–310

Fırat O, Çoğun HY, Yüzereroğlu TA, Gök G, Fırat O, Kargin F, Kötemen Y (2011) A comparative study on the effects of a pesticide (cypermethrin) and two metals (copper, lead) to serum biochemistry of Nile tilapia, Oreochromis niloticus. Fish Physiol Biochem 37:657–666

Jee JH, Masroor F, Kang JC (2005) Responses of cypermethrin-induced stress in haematological parameters of Korean rockfish, Sebastes schlegeli (Hilgendorf). Aquacult Res 36:898–905

Keillor JW, Castonguay R, Lherbet C (2005) Gamma-glutamyl transpeptidase substrate specificity and catalytic mechanism. Method Enzymol 401:449–467

Kelderman P, Osman AA (2007) Effect of redox potential on heavy metal binding forms in polluted canal sediments in Delft (The Netherlands). Water Res 41:4251–4261

Khidr BM, Mekkawy IAA, Harabawy ASA, Ohaida AM (2012) Effect of lead nitrate on the liver of the cichlid fish (Oreochromis niloticus): a light microscope study. Pakistan J Biolog Sci 15:854–862

Kumar A, Sharma B, Pandey RS (2011) Cypermethrin induced alterations in nitrogen metabolism in freshwater fishes. Chemosphere 83:492–501

McCarty LS, Borgert CJ (2006) Review of the toxicity of chemical mixtures: theory, policy, and regulatory practice. Regul Toxicol Pharmacol 45:119–143

Moore A, Waring CP (2001) The effects of a synthetic pyrethroid pesticide on some aspects of reproduction in Atlantic salmon (Salmo salar L.). Aquat Toxicol 52:1–12

Novo EE, Parola M (2012) The role of redox mechanisms in hepatic chronic wound healing and fibrogenesis. Fibrog Tissue Repair 5(Suppl 1):S4

Reddy PM, Bashamohideen M (1995) Alterations in protein metabolism in selected tissues of fish, Cyprinus carpio, during sublethal concentration of cypermethrin. Environ Monit Assess 36:183–190

Reitman S, Frankel S (1957) A colorimetric method for the determination of serum glutamic oxalacetic and glutamic pyruvic transaminases. Am J Clin Pathol 28:56–63

Saha S, Kaviraj A (2003) Acute toxicity of synthetic pyrethroid cypermethrin to freshwater catfish Heteropneustes fossilis (Bloch). Int J Toxicol 22:325–328

Suvetha L, Ramesh M, Saravanan M (2010) Influence of cypermethrin toxicity on ionic regulation and gill Na+/K+-ATPase activity of a freshwater teleost fish Cyprinus carpio. Environ Toxicol Pharmacol 29:44–49

Szasz G (1969) A kinetic photometric method for serum γ-glutamyl transpeptidase. Clin Chem 15:124–136

Tejeda-Vera R, López-López E, Sedeño-Díaz JE (2007) Biomarkers and bioindicators of the health condition of Ameca splendens and Goodea atripinnis (Pisces: goodeidae) in the Ameca River, Mexico. Environ Int 33:521–531

Üner N, Oruç EÖ, Canli M, Sevgler Y (2001) Effects of cypermethrin on antioxidant enzyme activities and lipid peroxidation in liver and kidney of the freshwater fish, Oreochromis niloticus and Cyprinus carpio (L.). Bull Environ Contam Toxicol 67:657–664

Zaki MM, Eissa AE, Saeid S (2011) Assessment of the immune status in Nile Tilapia (Oreochromis niloticus) experimentally challenged with toxogenic/septicemic bacteria during treatment trial with Florfenicol and Enrofloxacin. World J Fish Mar Sci 3:21–36
Acknowledgments
We are grateful to Mr. O. O. Oyedara for assistance with fish handling and maintenance, and to Paul L. Klerks for helpful comments on the manuscript. Financial assistance for the work was provided through an AGNES grant awarded to Joseph Adeyemi by the German Federal Ministry of Education and Research (BMBF).
About this article
Cite this article
Adeyemi, J.A., Adewale, O.O. & Oguma, A.Y. Mortality, Oxidative Stress and Hepatotoxicity in Juvenile African Catfish, Clarias gariepinus Burchell, Exposed to Lead and Cypermethrin. Bull Environ Contam Toxicol 92, 529–533 (2014). https://doi.org/10.1007/s00128-013-1169-2
Received:

Accepted:

Published:

Issue Date:
Keywords
Multiple stressors

Biomarkers

Interactions

Liver dysfunction

Lipid peroxidation

Clarias gariepinus