Abstract
A rapid, sensitive and highly specific HPLC–MS/MS method with direct on-line preparation was applied for the determination of 20 common pharmaceuticals in hospital and urban wastewater. Median drug concentrations were quite similar in the majority of samples, cerca 1 μg L−1 ranging from 0.06 to 2.67 μg L−1 in both water. Pharmaceutical hospital contribution, below 1 %, was negligible, as compared to the huge amount in the municipal plant flow. Due to only partial elimination in the plant, hundreds of kilograms of harmful waste per year are discharged in the River Seine. Therefore, to reduce potential human and environmental exposure, a topic of major concern, an efficient drug treatment procedure should be used at the municipal plant stage in order to reduce urban wastewater pollution. The HPLC–MS/MS method could be a very useful tool to optimize the pharmaceutical wastewater treatment process.
This is a preview of subscription content, log in to check access.
Access options
Buy single article
Instant access to the full article PDF.
US$ 39.95
Price includes VAT for USA
Subscribe to journal
Immediate online access to all issues from 2019. Subscription will auto renew annually.
US$ 199
This is the net price. Taxes to be calculated in checkout.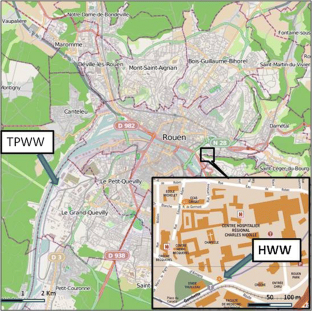 References
Baker DR, Kasprzyk-Hordern B (2011) Multi-residue analysis of drugs of abuse in wastewater and surface water by solid-phase extraction and liquid chromatography-positive electrospray ionisation tandem mass spectrometry. J Chromato A 1218:1620–1631

Baranovska I, Kowalsi B (2012) A rapid UHPLC method for the simultaneous determination of drugs from different therapeutic groups in surface water and wastewater. Bull Environ Contam Toxicol 89:8–14

Deblonde T, Cossu-Leguille C, Hartemann P (2011) Emerging pollutants in wastewater: a review of the literature. Int J Hyg Environ Health 214:442–448

Escher BI, Baumgartner R, Koller M, Treyer K, Lienert J, McArdell CS (2011) Environmental toxicology and risk assessment of pharmaceuticals from hospital wastewater. Water Res 45:75–92

Fatta-Kassinos D, Meric S, Nikolaou A (2011) Pharmaceutical residues in environmental waters and wastewater: current state of knowledge and future research. Anal Bioanal Chem 399:251–275

Ge J, Cong J, Sun Y, Li G, Zhou Z, Qian C, Liu F (2010) Determination of endocrine disrupting chemicals in surface water and industrial wastewater from Beijing, China. Bull Enivron Contam Toxicol 84:401–405

Goullé JP, Saussereau E, Mahieu L, Cellier D, Spiroux J, Guerbet M (2012) Importance of anthropogenic metals in hospital and Urban Wastewater: it's significance for the environment. Bull Environ Contam Toxicol 89:1220–1224

Lacroix C, Saussereau E, Bodin G, Goullé JP (2008) Quantification des opiacés, cocaïniques et amphétaminiques par chromatographie liquide haute performance/spectrométrie de masse tandem après préparation en ligne de l'échantillon. Ann Toxicol Anal 20:25–38

Le-Minh N, Khan SJ, Drewes JE, Stuetz RM (2010) Fate of antibiotics during municipal water recycling treatment processes. Water Res 44:4295–4323

Li J, Wang Z, Ma M, Peng X (2010) Analysis of environmental endocrine disrupting activities using recombinant yeast assay in wastewater treatment plant effluents. Bull Environ Contam Toxicol 84:29–35

Pal A, Gin KY, Lin AY, Reinhard M (2010) Impacts of emerging organic contaminants on freshwater resources: review of recent occurrences, sources, fate and effects. Sci Total Environ 408:6062–6069

Rowan NJ (2011) Defining established and emerging microbial risks in the aquatic environment: current knowledge, implications, and outlooks. Int J Microbiol 2011:462832

Tadeo JL, Sanchez-Brunette C, Albero B, Garcia-Valcarcel AI (2010) Determination of pesticide residues in sewage sludge: a review. J AOAC Int 93:1692–1702

Verlicchi P, Al Aukidy M, Zambello E (2012) Occurrence of pharmaceutical compounds in urban wastewater: removal, mass load and environmental risk after a secondary treatment—a review. Sci Total Environ 429:123–155
Acknowledgments
This research was supported by Grants from the Groupement Régional de Santé Publique de Haute-Normandie, Préfecture de Haute-Normandie, Rouen, France. This study was directed by the Union Régionale des Médecins Libéraux de Haute-Normandie, Rouen, France. The authors are most grateful to Richard Medeiros, Rouen University Hospital Medical Editor, for his valuable editing of the manuscript. The authors are also most grateful to Bernard Daumur, Rouen, University General Manager, for his support.
Conflict of interest
The authors declare that there are no conflicts of interest.
About this article
Cite this article
Saussereau, E., Lacroix, C., Guerbet, M. et al. Determination of Levels of Current Drugs in Hospital and Urban Wastewater. Bull Environ Contam Toxicol 91, 171–176 (2013). https://doi.org/10.1007/s00128-013-1030-7
Received:

Accepted:

Published:

Issue Date:
Keywords
Wastewater

Pharmaceuticals

HPLC–MS/MS

On-line preparation