Abstract
Halali Reservoir is an important freshwater body of Madhya Pradesh. The water of the reservoir is used for drinking, irrigation and aquaculture practices. It receives untreated sewage, wastes from small scale industries and agricultural runoff from the catchment area. Various heavy metal (Cd, Cr, Cu, Ni, Pb and Zn) levels were measured in plankton of Halali Reservoir during 2006–2007 by inductively coupled plasma—optical emission spectrometry. Mean concentration ranges for Cd, Cr, Cu, Ni, Pb and Zn were 0.0018–0.0037, 0.0038–0.2257, 0.0013–0.0228, 0.0011–0.0086, 0.0133–0.0494 and 0.0130–0.1168 μg g−1, respectively. Overall, mean Cr concentrations in the plankton were generally the highest of the six metals at four of the five study sites. Metal concentrations at these four sites generally followed the order: Cr > Zn > Pb > Cu > Ni > Cd. Mean concentrations of all metals at a fifth site were consistently lower than at the other sites. The high levels of Cr in the plankton are in agreement with high Cr levels that have been reported in fish from this reservoir, indicating that plankton may serve as a useful indicator of metal pollution in fish.
This is a preview of subscription content, log in to check access.
Access options
Buy single article
Instant access to the full article PDF.
US$ 39.95
Price includes VAT for USA
Subscribe to journal
Immediate online access to all issues from 2019. Subscription will auto renew annually.
US$ 199
This is the net price. Taxes to be calculated in checkout.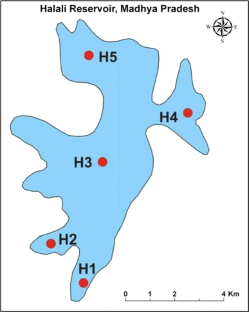 References
Adesalu TA, Nwanko DI (2005) Studies on phytoplankton of Olero creek and parts of Benin River, Nigeria. Ekologiia 1–2:21–23

Duncan DB (1955) Multiple range and F-Test. Biometrics 11:1–42

Gomez AK, Gomez AA (1984) Statistical procedures for agricultural research, II edn. John Wiley and Sons, New York

Malik N, Biswas AK, Raju CB, Mandal BN (2011) Bio-monitoring of heavy metal pollution in a fishery reservoir of Central India. Fresenius Environ Bull 20:3381–3386

Malik N, Biswas AK, Raju CB (2012) Geochemical distribution and fractionation of heavy metals in sediments of a freshwater reservoir of India. Chem Speciat Bioavailab 24:113–123

Pandey BN, Kumar K, Lal AK, Das PKL (1993) The preliminary study on the physico-chemical quality of water of the River Koshi at Purnia. J Ecobiol 5(3):237–239

Pempkowiak J, Walkusz-Miotk J, Beldowski J, Walkusz W (2006) Heavy metals in zooplankton from the Southern Baltic. Chemosphere 62:1697–1708

Puttaiah ET, Kiran BR (2008) Heavy metal transport in a sewage fed lake of Karnataka, India. Proceedings of Taal 2007: The 12th World Lake Conference: 347–354

Shastree NK, Islam MS, Pathak S, Afshan M (1991) Studies on the physico—chemical dimensions of the lentic hydrosphere of Ravindra Sarovar (Gaya). In: Shastree NK (ed) Current trends in limnology, vol 1. Narendra Publishing House, Delhi, pp 132–152

Shrivastava P, Saxena A, Swarup A (2003) Heavy metal pollution in a sewage-fed lake of Bhopal, (M.P.) India. Lakes Reserv Res Manag 8:1–4

Singh KP, Mohan D, Singh VK, Malik A (2005) Studies on distribution and fractionation of heavy metals in Gomti River sediments—a tributary of the Ganges, India. J Hydrol 312:14–27

Ubaidullah M (2003) Studies on heavy metals toxicity of water, sediments, plankton and fish in the River Ravi stretch from Baloki headworks to Sidhnai barrage. Ph. D. Thesis, University of Faisalabad, Pakistan

Yeole SM, Patil GP (2005) Physico-chemical status of Yedshi Lake in relation to water pollution. J Aquat Biol 20(1):41–44
Acknowledgments
The authors wish to thank the Department of Zoology and Applied Aquaculture, Barkatullah University, Bhopal, India for giving the opportunity to work on this project. Authors are also thankful to Dr. A. Subba Rao, Director, Indian Institute of Soil Science (ICAR), Bhopal, for his kind encouragement and for extending laboratory and instrument facilities in the study.
About this article
Cite this article
Malik, N., Biswas, A.K. & Raju, C.B. Plankton as an Indicator of Heavy Metal Pollution in a Freshwater Reservoir of Madhya Pradesh, India. Bull Environ Contam Toxicol 90, 725–729 (2013). https://doi.org/10.1007/s00128-013-0985-8
Received:

Accepted:

Published:

Issue Date:
Keywords
Halali reservoir

Heavy metals

Plankton

Polluted

Fauna