Abstract
The aim of the present study was to analyze the hematological profile of male SD rats treated topically with aqueous solution of para-phenylenediamine (PPD), a component of almost all hair dye formulations. The rats were painted with different concentration of PPD (0, 1, 2 and 3 mg Kg−1Day−1) for 90 days and then sacrificed. The hematological profile indicated severe anemia characterized by significant (p < 0.05, 0.001) reduction of total RBC count (59%), packed cell volume (PCV, 50%) and haemoglobin level (70%) in the peripheral blood of PPD treated animals when compared to control group. The leucocytes profile exhibited an overall elevation of around twofold as compared to the control group with significant lymphocytosis (44.4%) and a higher percentage of blast cells (8.5%) as well as smudge (10.3%) and hairy cells (6.2%) in the peripheral blood of treated animals. Histopathological examination of spleen from treated rat's exhibit red pulp congestion, expansion of the germinal centre, hyperplasia of the membrane capsule and extensive accumulation of hemosidderin pigments in the red pulp of the spleen. Overall this study indicated an abnormal pathophysiological condition indicating adverse effect of PPD in the treated animal groups. The risk assessment of hair dye formulation needs to be reviewed in view of widespread usage of paraphenylenediamine in almost all hair dye formulation.
This is a preview of subscription content, log in to check access.
Access options
Buy single article
Instant access to the full article PDF.
US$ 39.95
Price includes VAT for USA
Subscribe to journal
Immediate online access to all issues from 2019. Subscription will auto renew annually.
US$ 199
This is the net price. Taxes to be calculated in checkout.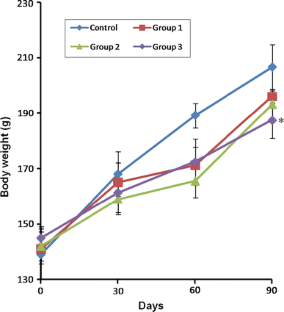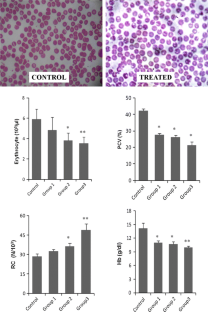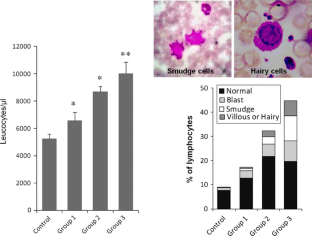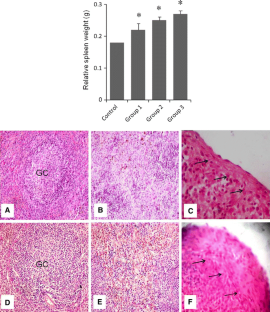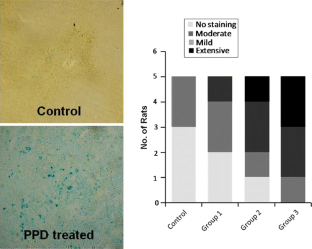 References
Bharali MK, Dutta K (2009) Hepatic histopathological abnormalities in rats treated topically with para-phenylene diamine (PPD). J Pharmacol Toxicol 4:221–228

Chen SC, Chen CH, Tioh YL, Zhong PY, Lin YS, Chye SM (2010) Para-phenylenediamine induced DNA damage and apoptosis through oxidative stress and enhanced caspase-8 and -9 activities in Mardin–Darby canine kidney cells. Toxicol In Vitro 24:1197–1202

Chye SM, Hseu YC, Liang SH, Chen CH, Chen SC (2008) Single strand DNA breaks in human lymphocytes exposed to para-phenylenediamine and its derivatives. Bull Environ Contam Toxicol 80:58–62

Corbett JF, Menkert J (1973) Hair colouring. Cutis 12:190–193

Czene K, Tiikkaja S, Hemminki K (2003) Cancer risks in hairdressers: assessment of carcinogenicity of hair dyes and gels. Int J Cancer 105:108–112

Hansen J, Mollgaard B, Avnstorp C, Menne T (1993) Paraben contact allergy: patch testing and in vitro absorption/metabolism. Am J Contact Dermat 4:78–86

Henley SJ, Thun MJ (2001) Use of permanent hair dye and bladder cancer risk. Int J Cancer 94:903–904

Kandil HH, Al-Ghanem MM, Sarwat MA, Al-Thallab FS (1996) Henna (Lawsonia inermis Linn.) inducing haemolysis among G6PD-deficient newborns, A new clinical observation. Ann Trop Ped 16:287–291

Khan MF, Gu Y, Alcock NW, Boor PJ, Ansari GAS (1997) Oxidative stress in splenotoxicity of aniline. Fundam Appl Toxicol 35:22–30

Krasteva M, Nicolas JF, Chabeau G, Garrigue JL, Bour H, Thivolet J, Schmitt D (1993) Dissociation of allergenic and immunogenic functions in contact sensitivity to para-phenylenediamine. Int Arch Allergy Immunol 102:200–204

Melo JV, Hedge U, Parreira A, Thompson I, Lampert IA, Catovsky D (1987) Splenic B cell lymphoma with circulating vollous lymphocytes: differential diagnosis of B cell leukaemias with large spleens. J Clin Pathol 40:642–651

Nowakowski GS, Hoyer JD, Shanafelt TD, Geyer SM, Laplant BR, Call TG, Jelinek DF, Zent CS, Kay NE (2007) Using smudge cells on routine blood smears to predict clinical outcome in chronic lymphocytic leukemia: a universally available prognostic test. Mayo Clin Proc 82:449–453

Pauluhn J (2004) Subacute inhalation toxicity of aniline in rats: analysis of time-dependence and concentration-dependence of hematotoxic and splenic effects. Toxicol Sci 81:198–215

Rauscher GH, Shore D, Sandler DP (2004) Hair dye use and risk of adult acute leukemia. Am J Epidemiol 160:19–25

Sayre LM, Harris PL, Perry G, Smith MA (2004) In situ localization of nonenzymatic peroxidase-like activity of tissue-bound transition metals. In: Maines MD, Costa LG, Hodgson E, Reed DJ, Sipes IG (eds) Current protocols in toxicology. John Wiley & Sons, Hoboken, NJ, pp 17.4.1–17.4.8

SCCP/0941/05 SCCP (Scientific Committee on Consumer Products) Opinion on exposure to reactants and reaction products of oxidative hair dye formulations adopted 13 December 2005, pp 1–34. http://ec.europa.eu/health/ph_risk/committees/04_sccp/docs/sccp_o_032.pdf

Zhang Y, Sanjose SD, Bracci PM, Morton LM, Wang R, Brennan P, Hartge P, Boffetta P, Becker N, Foretova MML, Cocco P, Staines A, Holford T, Holly EA, Nieters A, Benavente Y, Bernstein L, Zahm SH, Zheng T (2008) Personal use of hair dye and the risk of certain subtypes of non-hodgkin lymphoma. Am J Epidemiol 167:1321–1331
About this article
Cite this article
Bharali, M.K., Dutta, K. Hematopathology in Sprague–Dawley Rats Following Sub-Chronic Topical Application of Para-Phenylenediamine. Bull Environ Contam Toxicol 89, 712–717 (2012). https://doi.org/10.1007/s00128-012-0778-5
Received:

Accepted:

Published:

Issue Date:
Keywords
Para-phenylenediamine

Topical exposure

Hematology

Spleen histology