Abstract
We report the presence of organophosphorus and carbamate residues in 24 surface water samples and five ground water samples from Pirgacha Thana, Rangpur district, Bangladesh using high-performance liquid chromatography. A number of samples of surface water from paddy fields were found to contain chlorpyriphos, carbofuran and carbaryl at concentrations ranging from 0–1.189, 0–3.395 and 0–0.163 μg/L, respectively. Surface water from the lakes had chlorpyriphos, carbofuran and carbaryl at concentrations ranging from 0.544–0.895, 0.949–1.671 and 0–0.195 μg/L, respectively. This result indicates that the general public living in the area of Rangpur is at high risk of pesticide exposure from contaminated waters in the environment.
This is a preview of subscription content, log in to check access.
Access options
Buy single article
Instant access to the full article PDF.
US$ 39.95
Price includes VAT for USA
Subscribe to journal
Immediate online access to all issues from 2019. Subscription will auto renew annually.
US$ 199
This is the net price. Taxes to be calculated in checkout.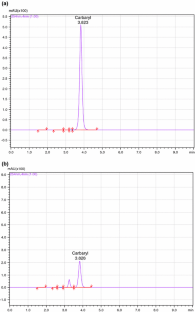 References
APHA (1995) Standard methods for the examination of water and waste water, 19th edn. Washington DC, pp 1–30, 40–175

Aziz J (2005) Management of source and drinking-water quality in Pakistan. East Mediterr Health J 11:1087–1098

Bagchi S, Azad A, Alomgir ZC, Uddin MA, Al-Reza SM, Rahman A (2009) Quantitative analysis of pesticide residues in some pond water samples of Bangladesh. Asian J Water Environ Pollut 6:27–30

Bakore N, John P, Bhatnagar P (2004) Organochlorine pesticide residues in wheat and drinking water samples from Jaipur, Rajasthan, India. Environ Monit Assess 98:381–389

Bortoluzzi EC, Rheinheimer DS, Gonçalves CS, Pellegrini JBR, Maroneze AM (1987) Manual of pesticide residue analysis, vol 1, Pesticide Commission, Weinheim, New York, VCH, pp 297–307

DFG (1987) Manual of pesticide residue analysis. Pesticide Commission, Weinheim, New York 1:297–307

EPA, US Environmental Protection Agency (1984) Health and environmental effects profile for carbaryl. Environmental Criteria and Assessment Office, Office of Health and Environmental Assessment, Office of Research and Development, Cincinnati, OH., EPA/600/x-84/155

EPA, US Environmental Protection Agency (1999) Integrated risk information system (IRIS) on Carbaryl National Center for Environmental Assessment, Office of Research and Development, Washington, DC

Gan J (2002) Pesticide and groundwater quality. Published in PesticideWise by University of California, Riverside Cooperative Extension in the World Wide

Goad RT, Goad JT, Atieh BH, Gupta RC (2004) Carbofuran-induced endocrine disruption in adult male rats. Toxicol Mech Methods 14:233–239

Hayat K, Ashfaq M, Ashfaq U, Saleem MA (2011) Determination of pesticide residues in blood samples of villagers involved in pesticide application at District Vehari (Punjab), Pakistan. Afr J Environ Sci Tech 4:666–684

Hunt DTE, Wilson AL (1986) The chemical analysis of water-general principles and techniques, 2nd edn. The Royal Society of Chemistry, Cambridge, pp 29–43

Iram S, Ahmad I, Ahad K, Muhammad A, Anjum S (2009) Analysis of pesticides residues of Rawal and Simly lakes. Pak J Bot 41:1981–1987

Khatun MZ, Haque SM, Islam MN, Khatoon JA, Hossain MA (2008) Presence of organophosphorous pesticide in surface water in Dhaka city. J Sub Agric Res Dev 6:506–511

Kin CM, Huat TG, Kumari A (2006) Method development for the determination of pesticide residues in vegetables and fruits by using solid-phase microextraction. M J Chem B 8:067–071

Mavrikou S, Flampouri K, Moschopoulou G, Mangana O, Michaelides A, Kintzios S (2008) Assessment of organophosphate and carbamate pesticide residues in cigarette tobacco with a novel cell biosensor. Sensors 8:2818–2832

Molto J, Pico Y, Font G, Manes J (1991) Determination of triazines and organophosphorus pesticides in water samples using solid-phase extraction. J Chromatogr A 555:137–145

Rahman MM (2000) Pestcides: their uses and problems in context of Bangladesh. Paper presented at the National Workshop on conventional and nuclear Technique for Pesticide Residues studies in Food and Environment at IFRB, 15–19 October, AERE, Savar, Bangladesh, pp 1–25

Rauh VA, Garfinkel R, Perera FP, Andrews HF, Hoepner L, Barr DB, Whitehead R, Tang D, Whyatt RW (2006) Impact of prenatal chlorpyrifos exposure on neurodevelopment in the first 3 years of life among inner-city children. Pediatrics 118:e1845

Wilson PC, Foos JF (2006) Survey of carbamate and organophosphorous pesticide export from a South Florida (USA) agricultural watershed: implications of sampling frequency on ecological risk estimation. Environ Toxicol Chem 25:2847–2852
Acknowledgments
We would like to acknowledge the Universiti Sains Malaysia RU grant (1001/PPSP/815058).
About this article
Cite this article
Chowdhury, A.Z., Jahan, S.A., Islam, M.N. et al. Occurrence of Organophosphorus and Carbamate Pesticide Residues in Surface Water Samples from the Rangpur District of Bangladesh. Bull Environ Contam Toxicol 89, 202–207 (2012). https://doi.org/10.1007/s00128-012-0641-8
Received:

Accepted:

Published:

Issue Date:
Keywords
Pesticides

Organophosphorus

Carbamate

HPLC